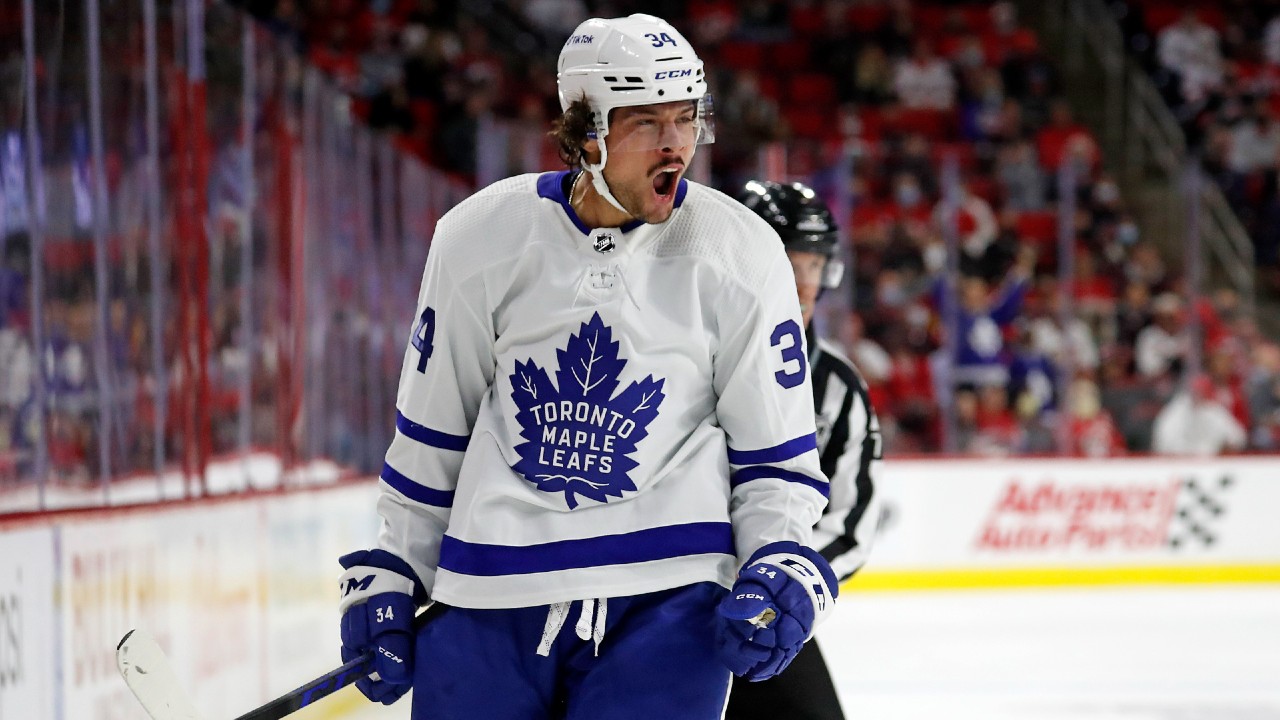 We're nearing the halfway point of the 2021-22 NHL season, which means awards chatter will soon start to heat up.
This year, much like parts of last season, it's difficult to compare teams for the purpose of a power rankings – while the standings tell us a lot, they don't share the full story. A series of COVID-19 outbreaks means there are major discrepancies between clubs' games played. The team to have played the fewest matchups so far, the New York Islanders, have suited up 28 times while the busiest teams (Vegas and Anaheim) have played 39.
This also makes the MVP race difficult to assess, though we've certainly got some interesting cases to be made.
This week's NHL Power Rankings focus on each team's most valuable player as we check in on the race nearing the halfway point of the season.
1. Carolina Hurricanes (24-7-2)
Frederik Andersen's dominant run knows no end. Individually, he's gone more than a month without losing a game while his season totals – 1.97 goals-against average, .929 save percentage – are career highs by a long shot.
2. Florida Panthers (24-7-5)
Florida is firing on all cylinders this season, and the same can be said about the team's top scorer. Jonathan Huberdeau's 47 points through 36 games are fifth league-wide and, with a six-game point streak that's brought a whopping 14 points, the MVP chatter won't be slowing down any time soon.
3. Tampa Bay Lightning (24-9-5)
Goalie Andrei Vasilevskiy backstopped the Lighting to back-to-back Stanley Cups, and is playing like he's poised for a third. Scary good stuff.
4. Colorado Avalanche (22-8-3)
Honestly? Bring out the Oprah meme because we're handing out the MVP trophies all over this roster. Take your pick – this team's full of top-tier candidates. You want points leader Nazem Kadri? Great. How about the always-dazzling Cale Makar? Sure. Nathan MacKinnon is a few games behind but is back and racking up the points at an ever-elite level. There's a reason Colorado is averaging 4.30 goals a game.
5. Toronto Maple Leafs (23-9-3)
Auston Matthews is back to his usual otherworldly ways. With 24 goals through 32 games – second-most in the league, alongside Alex Ovechkin – the centreman is on pace for his most productive season yet.
6. Pittsburgh Penguins (21-9-5)
Crosby and Malkin? Nope, it's Jake Guentzel and Evan Rodrigues you'll find atop the Penguins' stat sheet this season. The two forwards have filled the scoring void admirably as Crosby and Malkin missed time. Still, it's Tristan Jarry, he of an incredible 1.91 goals-against average and .932 save percentage, who gets the MVP nod here.
7. New York Rangers (23-10-4)
This one's tough. You can't ignore the blazing speed with which Chris Kreider (?!?) continues to rack up goals – 21 and counting – and maybe we're just spoiled at this point when it comes to watching Artemi Panarin work his magic night in and night out. Adam Fox continues to play like the Norris winner he is … but it's the man in the blue paint who should be getting MVP love. In his second full-time NHL season, Igor Shesterkin has reached another level. In just 21 appearances, he's got 15 wins – one shy of his rookie total in 35 games – and is the backbone of this talented team.
8. Washington Capitals (20-8-9)
Today's game features so many young playmakers and up-and-coming goal-scorers, and yet here's 36-year-old Alex Ovechkin still putting on a goal-scoring clinic on a near-nightly basis and earning every bit of his MVP attention. His 24 goals and 52 points through 37 games places him second and third league-wide, respectively. Honestly, just create a whole new award in his honour.
9. Nashville Predators (24-11-2)
The league's busiest goalie is also its best. With a 20-9-1 record, a sharp 2.27 goals-against average and .928 save percentage, there's really no question that Juuse Saros deserves Smashville's MVP crown.
10. Minnesota Wild (21-10-2)
"You thought last year was fun? Watch this." – Kirill Kaprizov, probably.
11. St. Louis Blues (21-10-5)
Eight points in his first four games this season had us thinking breakout for Jordan Kyrou, who posted 14 goals and 35 points in 55 games as a rookie last year. Now, with 14 goals and 36 points through 32 games – including five goals and 11 points in a five-game streak since returning from an extended holiday break – we're looking at the second-year NHLer as our St. Louis MVP.
12. Vegas Golden Knights (23-14-2)
Jonathan Marchessault is leading the Golden Knights' goal-scoring charge with 18 – good for 10th in the NHL – and is on pace for his best statistical season yet.
13. Boston Bruins (20-11-2)
If you weren't quite sure whether Bruins scoring leader Brad Marchand was, in fact, worthy of Boston's MVP honours, Wednesday night's three goals – his third straight multi-goal game! – should do the trick.
14. Anaheim Ducks (19-13-7)
Breakout star? Nah, Troy Terry is going straight for the MVP. His team-leading 22 goals on the season – 13 more than second-ranked Trevor Zegras – has him sitting fifth league-wide.
15. Dallas Stars (18-13-2)
Last year's runner-up for rookie of the year, Jason Robertson, is once again – or rather, still – lighting the lamp a lot in the Lone Star State.
16. Winnipeg Jets (16-12-5)
With a team-leading 19 goals and 35 assists, Kyle Connor is on pace to surpass his wonder numbers of 2019-20.
17. Edmonton Oilers (18-14-2)
Ah, yes. This again. There continues to be no wrong answer in Edmonton's MVP conversation between Connor McDavid and Leon Draisaitl. The two share the league lead in total points (53) but we'll give the edge to Draisaitl considering he also holds the NHL lead in goals (26).
18. Calgary Flames (17-10-6)
Though the Flames' momentum has cooled a bit, the team's leading scorer has not. Johnny Gaudreau has scored in four of five games since Calgary's return from an extended holiday break due to COVID-19, registering eight points during that time. That kind of scoring rate is nothing new for Johnny Hockey this season – he's piling up points at a pace that nearly matches that of his incredible 99-point campaign in 2018-19.
19. Vancouver Canucks (16-16-3)
Let's be real: The true MVP here is Bruce Boudreau … but the play of Thatcher Demko? Yeah, that's been pretty great too. While his season totals don't quite jump off the page considering the Canucks' woes in the fall are still dragging down some numbers, Demko has backstopped these surging Canucks to an impressive turnaround and has climbed to ninth league-wide – and rising.
20. San Jose Sharks (20-16-1)
Timo Meier opened the new calendar year with a five-game, eight-point streak, continuing what is looking like a career year for the forward. His production – plus the well-timed rebound year for Tomas Hertl – is a major driving force in the Sharks' resurgence in the Pacific this season.
21. Los Angeles Kings (18-13-5)
Right on schedule – aka Olympic year! – Drew Doughty is playing some of his best hockey. And while we won't get to see him on the big ice this February, we can enjoy the fact that the veteran d-man is looking like his old self in L.A. In fact, his current points per game pace (1.06) is his best yet.
22. Columbus Blue Jackets (16-17-1)
Zach Werenski consistently logs the biggest minutes in Columbus and is undoubtedly the heart and soul of this no-quit club's blue line. Plus, he does stuff like this:
All gas, no breaks for Zach Werenski to give the @BlueJacketsNHL the early lead. pic.twitter.com/tSIeDjq4hV

— Sportsnet (@Sportsnet) January 1, 2022
23. Detroit Red Wings (16-16-5)
Rookies are the top story in Detroit, but Dylan Larkin's point-per-game campaign through 32 games gives the captain our MVP nod.
24. New Jersey Devils (14-17-5)
He's appeared in just over half of the Devils' games this season after an early injury sidelined him, but Jack Hughes is still right in the mix for the Devils' goal-scoring lead. With 20 points in 19 games, we can safely call this his breakout year. Hughes has arrived.
25. Chicago Blackhawks (13-18-5)
One look at the Blackhawks' goal-scoring leaders, and there's no question Alex DeBrincat is it: His 23 goals gives him 15 more than the next Blackhawk (Brandon Hagel, with eight). DeBrincat has six goals in 2022 alone, and his season total – just three shy of Leon Draisaitl's league-leading mark – has him sitting fourth in the NHL in the category.
26. Philadelphia Flyers (13-15-7)
Things you love to see: Flyers captain Claude Giroux back in 2018 form.
27. Buffalo Sabres (10-19-6)
Rasmus Dahlin's offensive game may not measure up to projections just yet, but his style of play – "fearless," as head coach Don Granato put it last week – is what makes this young talent one of the most valued pieces of Buffalo's future.
28. Ottawa Senators (9-18-2)
Amid the stoppages and struggles of this 2021-22 Senators season, Drake Batherson is quietly putting up a career-high in assists (19 through 24 games) while registering more than a point per game.
"That's what you call putting 'er right in the pocky."

We got Drake mic'd#GoSensGo pic.twitter.com/ITKqwMdZ1M

— Ottawa Senators (@Senators) January 13, 2022
29. New York Islanders (10-12-6)
Mathew Barzal scoring at nearly a point-per-game pace is the only thing resembling normalcy in this lost Islanders season.
30. Seattle Kraken (10-21-4)
Seattle's first NHL season hasn't brought a lot of success in the standings, but success is measured differently when you're just starting out (and you're not named the Golden Knights). Mark Giordano has been the locker-room leader the Kraken need, and while he won't be winning any MVP awards, he likely will be the club's Most Valuable Player – as in, trade value. He's likely the Kraken's best shot at landing the most value on the trade market that will help the building team move forward.
31. Arizona Coyotes (8-23-3)
Another difficult season in Arizona brings a bright spot in the form of Clayton Keller's game. The Coyotes' leader in goals (12) and points (26) is becoming a more complete, well-rounded player right before our eyes.
32. Montreal Canadiens (7-24-4)
Bright spots are few and far between in Montreal right now, but seeing Nick Suzuki continue to progress into a lead centreman for the club is one of them.