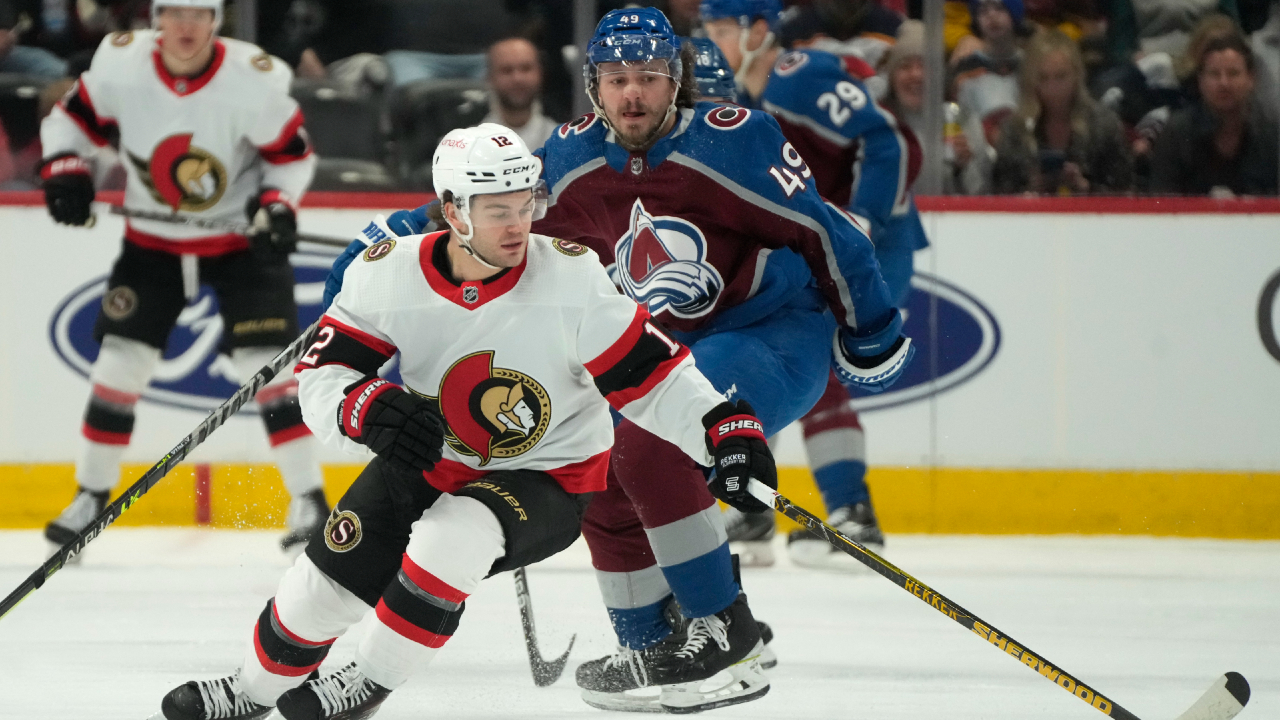 Trade bait, bridge candidates and future superstars who need to be locked up ASAP.
The 2023 class of restricted free agents offers a little bit of everything.
And although several potential '23 RFAs avoided the drama and uncertainty by signing swiftly (Mathew Barzal, Roope Hintz, Matt Boldy, Dan Vladar, Nick Perbix and Stuart Skinner among them), plenty of intriguing young names remain unsigned.
As these RFAs look to bank off their platform seasons and owners wrestle with slow-to-rise salary cap, many tense negotiations (or trades?) are still on deck.
The situations in Winnipeg, San Jose, Ottawa and Anaheim are particularly interesting.
Here's where things stand with the top 12 RFAs of 2023 as the March 3 trade deadline nears:
Age: 25
Position: Centre
2022-23 salary cap hit: $6 million
Arbitration rights: Yes
Bargaining chips: Strong, 220-pound two-way, No. 1 centreman. Third-overall pick. World junior and two-time world championships silver medallist. Expert drawer of penalties. Four-time 20-goal man. Jets surrendered a haul to acquire him from Columbus.
The latest: The grand suspicion is that the Quebec native is biding his time until unrestricted free agency and a chance to sign with his boyhood favourites, the Montreal Canadiens.
Had the Winnipeg Jets not been enjoying such a refreshing bounce-back season under new coach Rick Bowness — and Dubois thriving in his system — surely the trade winds would be swirling.
But with the Jets legit, Dubois's focus has been on playing his best hockey since accepting a one-year qualifying offer.
"I told (Dubois) that when I got the job: 'I'm going to do everything I can to keep you, to help you stay in Winnipeg,' " Bowness said on Jan. 18.
OK. So how about Dubois' agent, Pat Brisson, and his July comments that Dubois would love to be a Canadien someday?
"Time will tell on that. That's totally out of my control right now. He's going to do what's best for him and his career," Bowness said. "All I can do is tell him I'd love to see him be a Winnipeg Jet for a long time, and I'll do everything I can to keep (him) in a Winnipeg Jets uniform."
Dubois' situation most resembles that of Matthew Tkachuk in Calgary last season: playoff-bound team, star player, only one more year of club control.
GM Kevin Cheveldayoff must find the best trade possible this summer if a long-term extension cannot be reached quickly.
Dubois himself has been diplomatic but noncommittal.
"If I think of anything else than finishing first in the West and winning the Stanley Cup, it'd be a disservice to my teammates, the coaching staff and everybody," Dubois said.
On a long-term pact, Dubois should command an AAV in the $9 million range.
2. Timo Meier
Age: 26
Position: Left wing / Right wing
2022-23 salary cap hit: $6 million
Arbitration rights: Yes
Bargaining chips: Top-10 draft pick. World championships silver medallist. About to be a three-time 30-goal scorer. Posted career-best 76-point season in 2021-22. Big body (6-foot-1, 220 pounds). Best forward on a rebuilding squad. A threat off both wings.
The latest: Don't let the cap hit fool you.
Because Meier's agent, Claude Lemieux, shrewdly backloaded the San Jose Shark's contract, Meier requires a monster $10-million qualifying offer to remain in teal.
Essentially, though Meier is technically a restricted free agent, he's being treated similar to a UFA by the rebuilding Sharks and is highly coveted on the trade market.
The Maple Leafs (hungry for a top-six wing), Hurricanes (just lost Max Pacioretty, again) and Sabres (have enough cap space to extend) are among the interested parties here.
There has been zero indication that the Sharks and Meier have held serious contract negotiations.
Lemieux told San Jose Hockey Now in September: "We have not received any offers yet, and don't expect anything until the end of the season."
Tight to the cap and eager to retool, rookie GM Mike Grier is listening on all his players, even core pieces Erik Karlsson, Nico Sturm and Meier.
"If you're starting a team from scratch, and you got a chance to grab someone like Timo, you're going to take him and put him on your wing and forget about him for the next 10 years," Grier told reporters.
"It'd be great if we didn't (have to worry about the salary cap), but we do. And there's only so much money to go around."
3. Jesper Bratt
Age: 24
Position: Right wing / Left wing
2022-23 salary cap hit: $2.75 million
Arbitration rights: Yes
Bargaining chips: One of the NHL's most underrated forwards. Silky mitts. Steadily increased his points per game over three seasons. Selected to Sweden's 2019 world championship squad. Devils' top scorer in 2021-22 with a career-best 26-goal, 73-point performance. Has his own fan club.
The latest: Bratt is about to make the franchise pay.
Delivering career season after career season since signing his two-year bridge contract, followed by a one-year mini bridge, Bratt is once again thriving for breakout contender New Jersey.
The sixth-rounder might be a late bloomer, but his confidence and underlying numbers are accelerating upward. In a somewhat surprising move, Devils GM Tom Fitzgerald committed early and aggressively to Bratt's younger teammate, Jack Hughes, in late 2021 with an eight-year, $64-million whopper.
Hughes is a centre and arrived more highly touted; Bratt is a winger.
Space to extend Bratt isn't an issue. But keeping his price tag well below Hughes' is the challenge, considering Bratt's camp knows the ceiling is on the rise.
Kevin Fiala's seven-year, $55-million deal with Los Angeles is one comparable, and Bratt has not been shy about filing for arbitration.
GM Tom Fitzgerald describes Bratt as "a big part of our future," and informed The Fourth Period in November that extensions talks are underway.
"I just don't want this to be a distraction to the player. You know, as we go along, we know how we feel about him. And we want to tie him up long-term. We hope the feeling's mutual," said Fitzgerald, trying to get individuals to take less for the greater good.
"Look at the Boston Bruins. They're a championship-calibre team because there's enough depth and there's enough money to go around to build a championship team.
"And that's how I want to build our team. So, there's gotta be a will and a want to stay here and play, and understand, and I said this to his agent, 'Jesper isn't the only person without a contract. He's not the only important person without one. We've got a lot of important people that don't have contracts next year.' It's figuring out who we want to move forward with. What are they going to re-price at? There's only so much money to go around for everybody. But Jesper is a huge part of where we are at where we want to go."
Age: 26
Position: Left wing / Right wing
2022-23 salary cap hit: $6.4 million
Arbitration rights: Yes
Bargaining chips: World junior and world championships medallist. 2022 All-Star Game participant. Two-time 40-goal, 75-point scorer. Ottawa already invested 2022's seventh- and 39th-overall picks to acquire him.
The latest: The Summer of Pierre is at risk of morphing into a Winter of Despair.
Ottawa Senators GM Pierre Dorion spent a haul at the draft to acquire game-breaking scorer DeBrincat only to see the sniper's shooting percentage dip and the Sens stumble out of the playoff conversation.
Unlike Jonathan Huberdeau and MacKenzie Weegar, DeBrincat didn't jump at the opportunity to chat extension after his blockbuster trade to Canada.
"I think we're just going to start by playing it out and see how it works," DeBrincat said on Sept. 7. "I'm obviously open to anything. I'm excited to play with these guys. I think both sides want to see how it works. And I know they've got a lot of goal scorers, so we'll see how that works."
As is the case with Meier, DeBrincat's steep qualifying offer ($9 million) complicates matters.
Dorion has enough cap room to extend and certainly doesn't want this marriage to end as a one-year rental to nowhere, so DeBrincat holds all the leverage.
In a January interview with The Athletic's Ian Mendes, DeBrincat expressed his comfort with the Ottawa lifestyle.
"Nothing has really changed. Still taking it day by day, just trying to focus on hockey rather than things outside of hockey," DeBrincat said.
"I keep that stuff to other people and let them deal with it. I think it's kind of out of my mind and trying to just focus on playing well. Getting back in the playoff race, I think that's the most important thing."
Age: 22
Position: Left wing
2022-23 salary cap hit: $880,833
Arbitration rights: No
Bargaining chips: First-round pick. 2021 world junior gold medallist. Two-time 20-goal man. Wicked shot. Legitimate 50-goal threat. Core piece of Montreal's future. Chemistry with captain Nick Suzuki.
The latest: Bummer that Caufield's offensive breakout and outside shot at becoming the Montreal Canadiens' long-awaited New 50-Goal Scorer was snuffed out in mid-January because of a season-ending shoulder surgery.
But as colleague Eric Engels reports, Caufield's injury won't bring an end to contract extension chatter between GM Kent Hughes and super-agent Pat Brisson.
"One thing's for sure is that we want Cole Caufield with us long-term," Hughes told reporters on Jan. 18. "I think that Cole wants to stay with us long-term. The way contracts go, it could depend. We always want to keep a certain flexibility.
"It's not to say that there are any negotiating problems, so many things can happen, but if it's open to everyone, I find that there's a lot of speculation that can become a distraction for the player and for the team. When the negotiations will be done and the contract will be finalized, I'll be happy to answer questions, but to comment while the negotiations are ongoing is something we'd want to avoid."
Caufield admitted on Jan. 20 that the unfinished paperwork had been creeping into his thoughts.
"I love being here, I love this team and this group of guys," Caufield said. "So, I just take it one step at a time. But for sure it's in the back of my mind.
"My agent and the guys behind the scenes take care of those things, but I'm not too worried."
6. Troy Terry
Age: 25
Position: Centre / Right wing
2022-23 salary cap hit: $1.45 million
Arbitration rights: Yes
Bargaining chips: 2017 world junior gold medallist. 2018 Olympian for Team USA. Erupted for 37 goals and 67 points in 2021-22. Anaheim's 2022 and 2023 All-Star Game representative.
The latest: Rebuilding Anaheim needs to seek out important pieces of the future while retaining the young talent currently in the stable.
That means finding a path to re-signing Terry, whose solid back-to-back seasons and arbitration rights give the top-line forward leverage heading into this summer.
Terry is wrapping up a three-year bridge deal at a bargain $1.45-million price tag, and GM Pat Verbeek prefers to wait until season's end to drill down on negotiations.
Terry's agent, Kurt Overhardt, is keeping mum on the file, letting his client's performance do all the talking.
This will be a fascinating situation to watch, considering Verbeek has a handful of emerging stars up for raises. Cap space is not a big obstacle.
How he chooses to allot his dollars will shape the future of this squad.
7. Vince Dunn
Age: 26
Position: Defence
2022-23 salary cap hit: $4 million
Arbitration rights: Yes
Bargaining chips: 2019 Stanley Cup champion. Superb puck-mover. Improving defensively. About to reach 35 points for the third season from the back end. Skates nearly 24 minutes per night. Power-play facilitator.
The latest: Seattle's premier offensive defenceman has played a significant role in the NHL's newest franchise rapid ascent up the standings.
A healthy Dunn has found his top-four niche and may finally get the long-term contract that eluded him in St. Louis.
Dunn and GM Ron Francis held brief discussions on an extension but, as Jeff Marek reported in a January edition of 32 Thoughts, opted to set serious negotiations off until summer. Dunn and the Kraken, instead, will focus on securing the club's first playoff berth.
Jamie Oleksiak is Seattle's highest-paid D-man at $4.6 million. Adam Larsson makes $4 million.
It's time for Dunn to become the highest-paid defenceman in franchise history.
8. K'Andre Miller
Age: 22
Position: Defence
2022-23 salary cap hit: $925,000
Arbitration rights: No
Bargaining chips: 2019 world junior silver medallist. First-round pick. 2021 NHL All-Rookie Team. Skates 22-plus minutes a night. Big, rangy (6-foot-4, 216 pounds) D-man with offensive upside. Thrived in Rangers' 2022 run to the conference final.
The latest: New York has already committed significant term and dollars to two defencemen (Adam Fox, Jacob Trouba), and Miller should undoubtedly be the third.
The catch here is that GM Chris Drury must also find money to bump the pay of Miller's fellow RFAs, Filip Chytil and Alexis Lafreniere.
Without the benefit of arbitration rights, Drury holds the hammer.
The GM can either bridge Miller and save money short-term or bet long-term in hopes that Miller will look like a bargain down the road.
"Everyone knows what this year means for me and my career and my family – everyone I've been through this journey with," Miller told Lohud.com on Jan. 12.
"It's something you've been working for your whole life, and for it to be so close, it's just that last push before (restricted free agency). That's been in the back of my mind – way back of my mind – but I don't think it's been anything that I've been caught up on or hung up on."
Rangers scribe Vincent Z. Mercoglioano places "the absolute floor" for Miller's next contract at three years and $3 million per (the same as Ryan Lindgren signed in 2021), "but the prevailing belief is Miller will land more money and years."
Rasmus Dahlin's $6 million AAV in Buffalo is a reach, so something in the $4 million to $5 million ballpark would make sense.
9. Dylan Cozens
Age: 22
Position: Centre / Left wing
2022-23 salary cap hit: $894,167
Arbitration rights: No
Bargaining chips: 2020 world junior gold medallist and all-star. Seventh-overall pick. Growing with other key pieces of Buffalo's young core. Yukon's great hope. Production has increased every season.
The latest: Sabres GM Kevyn Adams got the jump on Tage Thompson and Mattias Samuelsson, locking up these young core pieces through their prime for what should result in team-favourable rates.
Adams' next mission is key: Bank on Cozens.
He's big. He has character and leadership qualities. And, boy, is the kid talented.
Exploding for 16 goals and 42 points in his first 46 games of the season, Cozens is the type of candidate with whom an executive should try to negotiate a long-term pact.
Cozens is driving play and performs strong in transition. He is competitive should only improve with time.
"I'm pretty happy with how it's been the first half here," Cozens told reporters in January. "I just want to keep building and getting better and better every single day, every single game. Just keep working to reach my full potential."
Perhaps Adams can use Thompson's seven-year, $50-million commitment as a ceiling and convince Cozens to fall under that.
10. Trevor Zegras
Age: 22
Position: Centre / Left wing
2022-23 salary cap hit: $925,000
Arbitration rights: No
Bargaining chips: 2021 world junior gold mediallist. Top-10 draft pick. Skills for days. NHL23 video game cover player. One of the NHL's most markable young stars. 20-goal, 60-point man.
The latest: Just like teammate Terry, Zegras must play the waiting game as GM Verbeek plans to map out his salary plan in the off-season.
"Since (Verbeek) came out publicly that he wants to wait until the end of the year, we didn't talk contract, and I'm good with it," Brisson, Zegras's agent, told Pierre LeBrun. "I'm fine either way."
The growing trend leaguewide is to skip the bridge and go long-term with talented young forwards (Jack Hughes, Nick Suzuki, Matt Boldy et al.).
But in the case of Verbeek — who is new to the office and without much of a signing track record — we don't yet have a handle on his philosophy when it comes to building.
Thus far, he's only torn down.
"We're going to have to see how their years go this year and then obviously we're going to have to get some new contracts out," Verbeek said. "Having flexibility with the cap is vital moving ahead. At the end of the day, there's only so much money to go around. We have to make sure we can all fit it in."
11. Evan Bouchard
Age: 23
Position: Defence
2022-23 salary cap hit: $863,333
Arbitration rights: No
Bargaining chips: Top-10 draft pick. Puck-moving right shot. Scored 18 goals and 67 points through first 150 NHL games. Skates 18-plus minutes per night. Meaningful contributor in Oilers' 2022 playoff run. Can run a power play.
The latest: Bouchard's jolt up the Oilers' depth chart last season had many predicting (us included) he would assume a stranglehold running point on the No. 1 power-play unit in 2022-23 — and reap the rewards of all those 5-on-4 points that come with playing with Connor McDavid and Leon Draisaitl.
Well, Bouchard's ascendance hasn't been quite so smooth. His production has slipped and his defensive game still needs work. (A plus-10 in 2021-22, Bouchard is tracking to be a minus this season.)
That said, 23-year-old D-men with Bouchard's pedigree who can log top-four minutes aren't easy to come across.
GM Ken Holland holds the hammer in this one. Dangling the performance incentive that comes with a bridge contract might be the safest route.
12. Gabriel Vilardi
Age: 23
Position: Right wing / Centre
2022-23 salary cap hit: $825,000
Arbitration rights: Yes
Bargaining chips: First-round pick. 2021 world championships gold medallist. One of the NHL's best value forwards. Delivers impressive production despite moderate ice time. Versatile.
The latest: No doubt, Vilardi's breakout offensive season and a career-best shooting percentage have arrived at a fine time.
The middle-six forward has strong underlying metrics, though, and the playoff-hungry L.A. Kings need his secondary scoring.
The slowly groomed Vilardi accepted a dirt-cheap, one-year, bet-on-himself deal last summer and has smartly put himself in line for a significant raise.
Because of Vilardi's streaky output, however, GM Rob Blake would be wise to avoid going too deep on term here.
Blake played hardball with RFAs Sean Durzi and Michael Anderson last fall. Both inked short-term bridge contracts in September, right before camp.
Anderson is up for renewal again, and Blake's top priority will be deciding on his goaltending plan. Vilardi will get a nice raise, but we wouldn't be surprised if his file gets pushed to the back burner for a while.
More notable pending RFAs: Ilya Samsonov, Alexis Lafreniere, Michael Anderson, Bowen Byram, Tanner Jeannot, Jeremy Swayman, Daniel Sprong, Filip Gustavsson, Martin Fehervary, Cam York, Simon Benoit, Ethan Bear, Alexandre Carrier, Jamie Drysdale, Dante Fabbro, Conor Timmins, Morgan Frost, Alex Newhook, Erik Brannstrom, Mackenzie Blackwood, Matias Maccelli, Filip Chytil, Dylan Strome, Sam Steel, Morgan Geekie, Klim Kostin, Trent Frederic, Shane Pinto, Cody Glass, Pontus Holmberg, Tyson Jost, Christian Fischer
Contract info via the excellent CapFriendly.com.