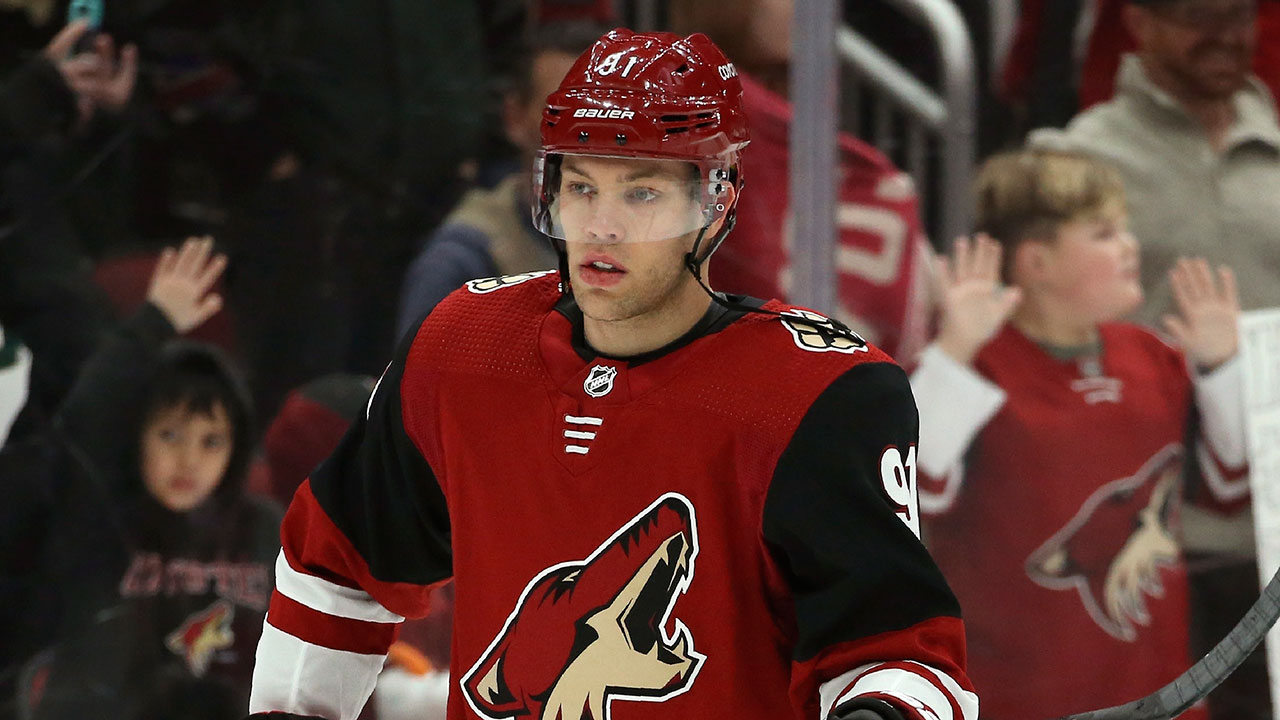 If there's one word to describe the status of this year's free agency class, it's "uncertain."
With the 2019-20 season on hold and a return to action still unconfirmed, no one knows when this year's class of pending free agents will hit the open market and what effect the current economic climate will have on this summer's contracts when they do.
Keeping all that uncertainty in mind, here's an updated look at the top 20 pending UFAs of 2020, which we'll continue to update as the season (hopefully) continues.
1. Taylor Hall, LW, Arizona Coyotes
Age: 28
2019-20 cap hit: $6 million
Hall scored 10 goals and added 17 assists for 27 points through 35 games with the Coyotes. Add that to his totals with the Devils this season, and he's got 52 points in 65 games. We know what Hall is capable of – his 39-goal, 93-point, Hart-winning 2017-18 season showed his ability to single-handedly pull a team into the playoffs — but injuries in 2018-19, rampant trade rumours throughout the first half of this season, and now an uncertain economy and a season hiatus has put a big question mark beside Hall's next deal.
"It is definitely a weird time to possibly be a free agent, but there's so much uncertainty throughout the league…throughout the world, really," Hall told Sportsnet's Elliotte Friedman in March. "So I'm not as worried about free agency as I am about getting back to hockey and hoping that we can somehow get into the playoffs. I think everyone just wants some normalcy back in their lives."
After Hall's agent, Darren Ferris, told SiriusXM's Hot Stove that the Coyotes had not yet tabled an offer, Arizona GM John Chayka shared some insight into the situation in an interview with ESPN's Greg Wyshynski:
"Obviously, [Hall] has a great understanding of what's going on in the world right now," Chayka told Wyshynski last week. "I think there's a right time to approach some of these things. Unfortunately, it's difficult given all of the uncertainty. But we'll have that discussion. It's not an evaluation-type discussion, because Taylor Hall is a great player. As much as players and teams will be impacted by this, great players will still get paid. And that's our expectation in dealing with Taylor. Darren's accurate in saying that we haven't had any meaningful back-and-forths, because we're still figuring out what we're working towards, in the greater picture."
As for other possible suitors, Sportsnet's Eric Francis believes Calgary will "kick tires" on Hall but said the Flames' focus "will likely be spent on plugging significant holes on the blue line, as opposed to overpaying for Hall." Over in Edmonton, Mark Spector predicts a "zero per cent chance" of Hall re-joining the Oilers, considering the club already has two mega contracts on its books.
2. Alex Pietrangelo, D, St. Louis Blues
Age: 30
2019-20 cap hit: $6.5 million
Every time Blues GM Doug Armstrong has signed someone this season – Justin Faulk, Brayden Schenn, Sammy Blais, Marco Scandella – he's had to answer the same question: How will this affect your ability to keep Pietrangelo?
And every time, he issues a similar response: It won't.
"Our goal is to try and get Petro signed," Armstrong stated earlier this month, via Jim Thomas of the St. Louis Post-Dispatch. "We were gonna need a player like Marco, with or without Petro. And now we have that done but we still want to sign Petro."
The Athletic's Jeremy Rutherford pointed out earlier this year that the two side would wait until season's end to talk contract, so despite the uncertainty in that regard, it shouldn't surprise anyone that talks haven't taken place.
Pietrangelo, too, has been consistent in his message that he's happy in St. Louis.
It might not be so easy to get it done, though. Early-season reports projected the AAV on Pietrangelo's next deal to come in at around $8 million per, and that would turn out to be a bargain at this point as his stock has risen throughout a strong season. One season after leading St. Louis to the Stanley Cup, the Blues captain has scored a career-high 16 goals and was just two points shy of his highest total ever before the season was put on hold. If that doesn't earn you a sizeable raise, I don't know what will.
3. Braden Holtby, G, Washington Capitals
Age: 30
2019-20 cap hit: $6.1 million
Holtby's contract year hasn't been kind to him. An up-and-down season through 48 starts has seen his stats dip lower than we're used to seeing from the starter: 3.11 goals against, with a .897 save percentage – both career lows by a pretty wide margin.
Factor in the emergence of rookie Ilya Samsonov and his impressive numbers through 26 appearances (2.55 GAA, .913 SV%), and it's easy to question Holtby's future in the U.S. capital.
Capitals GM Brian MacLellan gave Holtby big vote of confidence back in January:
"Holtby's our guy. I mean, he's got a Cup, he has a history, he's been a huge part of our organization," MacLellan said during a radio appearance. "I think what we've been trying to do is develop Samsonov and he's handled everything we've thrown at him very well. He's continually gotten better, he works at his game, he's calm under pressure."
Word back in December was that Holtby and the Capitals were going to wait until season's end to talk contract, and there haven't been many rumblings since that suggest otherwise. Regardless of the downward trend in his stats, Holtby is still likely to land the biggest contract of the off-season among this year's strong crop of pending UFA goaltenders.
4. Torey Krug, D, Boston Bruins
Age: 28
2019-20 cap hit: $5.25 million
He's one of the league's best offensive defencemen with plenty of sandpaper in his game. In other words, should Krug hit the open market, there would be a mile-long lineup of GMs vying for his services.
Krug has clearly expressed a desire to stay in Boston, and Bruins GM Don Sweeney told reporters earlier this month he's hopeful the two sides can find common ground on a new deal:
"We've had very, very good discussions with Torey's group, but we just haven't found a landing spot," Sweeney said during a virtual media appearance. "That's understandable given the circumstances of where the cap is and his value, both to us and also in a potential open-market type situation.
"We're hopeful that we will find a resolution with Torey, but at this point in time, we haven't been able to do so. But it's been very amicable and we've made our feeling perfectly clear that we respect and acknowledge what Torey has done and what he's capable of doing for us as a member of the Boston Bruins and we hope that continues."
5. Tyson Barrie, D, Toronto Maple Leafs
Age: 28
2019-20 cap hit: $5.5 million (this AAV is split between Colorado and Toronto)
Barrie's Toronto tenure hasn't gone how he or Maple Leafs brass expected. GM Kyle Dubas explored the possibility of trading Barrie at the deadline but ultimately didn't get a return offer to his liking – especially considering a slew of injuries on Toronto's blue line that made him pretty indispensable at the time.
It feels like a fresh start is in the books for Barrie, but where? Luke Fox suggested a few destinations in his latest Maple Leafs Mailbag, with one particularly intriguing option: Winnipeg.
6. Jacob Markstrom, G, Vancouver Canucks
Age: 30
2019-20 cap hit: $3.67 million
Markstrom has been putting up MVP-worthy numbers in Vancouver behind a surprising Canucks club.
The 30-year-old has been the perfect netminder to complement his club's young core, which looks capable of doing some pretty special things quite soon, and while his strong play has surely presented plenty of options should he hit the open market, he told reporters he's not eying the door.
"In my mind, I want to stay in Vancouver. That's my goal," he said earlier this month from Sweden, via Sportsnet's Iain MacIntyre. "The season isn't over this year, either. I'm still hoping we can come back and play and make a push in the playoffs here. It's going to be tough to get fans in the building, but give the people and city of Vancouver something to cheer for. That's pretty much 100 per cent of my mindset. I'm still a Vancouver Canuck and I'm super proud of being it. I have no plans of leaving."
Markstrom's next paycheque should be a pretty big increase from his current modest cap hit. A mid-term deal – say, three or four years – would make a lot of sense here, as would an AAV of perhaps up to $6 million.
7. Robin Lehner, G, Vegas Golden Knights
Age: 28
2019-20 cap hit: $5 million
Last year's Masterton Trophy winner thrived as part of an excellent tandem with the New York Islanders and then completely stole the show in Round 1 of the Stanley Cup Playoffs, yet the Vezina Trophy finalist still found himself in a new city — and on a new one-year deal – that off-season.
Paired with veteran (and fellow pending UFA) Corey Crawford through much of 2019-20 with the Blackhawks, he brought that same game-saving consistency to Chicago's crease, but still didn't stick long-term.
"I thought there was a future there, and I did everything to get a future there, and I still couldn't get a future there," Lehner said, via David Schoen of the Las Vegas Review-Journal, after being traded to Vegas at the deadline. "In the end, the last couple weeks were tough mentally to kind of find a motivation needed."
Now as part of the NHL's best goalie tandem alongside Marc-Andre Fleury, Lehner has a chance to prove to a team that's he's worthy of a long-term pact – though, it feels unlikely that will be in Vegas, considering Fleury's still under contract as the undisputed starter for two more seasons.
8. Evgenii Dadonov, RW, Florida Panthers
Age: 30
2019-20 cap hit: $4 million
Dadonov quietly put up back-to-back 28-goal campaigns down in Florida, tallying 65 and 70 points in his past two seasons, and a scoring spree in January has him just three markers shy of that total through 69 games. He's one of the league's most underrated sharp shooters and his production over the past three years all but guarantees he won't be underpaid come free agency – though age and the current cap uncertainty may deter clubs from offering long-term pacts.
9. Mike Hoffman, RW/LW, Florida Panthers
Age: 30
2019-20 cap hit: $5.1875 million
Florida has been one of the most intriguing teams to watch down the stretch, considering their position in the standings straddling the line between contention and, ultimately, not.
Hoffman is coming off the best season of his career (by a pretty wide margin) in 2018-19, leading the Panthers in goals (36) and tallying 70 points in his first year with the club. The Panthers' goals leader (he's third in overall points, with 59) looked like an intriguing rental candidate at the deadline but wasn't moved.
10. Tyler Toffoli, RW/LW, Vancouver Canucks
Age: 27
2019-20 cap hit: $4.6 million
Toffoli had a down year in 2018-19 with 13 goals and 34 points on a floundering Kings squad. Considering how early the trade rumours began, it's a bit surprising it took until one week before the trade deadline for the Kings to finally move him.
He's gotten off to a strong start in Vancouver, posting six goals and 10 points in 10 games with the Canucks prior to the season being put on hold.
11. Mikael Granlund, C/RW, Nashville Predators
Age: 27
2019-20 cap hit: $5.75 million
Granlund was a deadline acquisition for the Predators a year ago, and his status with the club felt very much up in the air as we looked at this year's deadline. Despite not striking great success in Nashville, it feels like it's only a matter of time before he heats up again, likely with a different team in free agency. He feels like a strong candidate for a short-term bridge deal to help him hit his stride again.
12. Travis Hamonic, D, Calgary Flames
Age: 29
2019-20 cap hit: $3.857 million
Hamonic reportedly wanted to leave negotiations until after the season was through, but the stay-at-home d-man looks like a safe bet to stay in Calgary long-term – as does teammate T.J. Brodie.
Flames GM Brad Treliving was open about his desire to re-sign both of his pending UFA blue-liners during a media availability earlier this month:
"I've talked with both their agents and said, 'Listen, we like both players, we want to see if there's a way to get something done,' but both of us agree there's so much uncertainty right now," Treliving said, via NHL.com correspondent Aaron Vickers. "In all of us, we can't get wound up in the uncertainty. Things will happen. Things will work out. The things you can't control, there's no sense in burning any jet fuel on it because it's not going to make a difference.
"With that, what we've told them is that we like them and we're going to plan to get them back here as soon as we can restart the season, that's the priority, and then we'll deal with contracts whenever the off-season is and when we have all the information that we're going to have in terms of [the NHL salary]cap and those things."
13. T.J. Brodie, D, Calgary Flames
Age: 29
2019-20 cap hit: $4.65 million
Brodie's name has been in trade rumours before, but injuries to fellow blue liners Hamonic and Mark Giordano made him in pretty indispensable as far as any possible deadline deals went. (See Treliving's comments, above.)
14. Jaroslav Halak, G, Boston Bruins
Age: 34
2019-20 cap hit: $2.75 million
Signing Halak to a two-year, $5.5-million deal in July 2018 proved to be GM Don Sweeney's best move of the off-season, as his presence brought load management to the Bruins' crease and has other teams attempting to build similar one-two punches in net. Re-signing him this year would be just as smart.
15. Erik Haula, LW, Florida Panthers
Age: 28
2019-20 cap hit: $2.75 million
Haula was part of a head-scratching deal made between the Hurricanes and Panthers at the deadline, which saw Florida deal away Vincent Trocheck for a package that included Haula. A string of injuries have hindered Haula's ability to match the success he had with the Vegas Golden Knights in 2017-18. There's no doubt he's been a much-loved and valuable member of each team he's played on, but durability will factor in his next deal.
16. Ilya Kovalchuk, LW, Washington Capitals
Age: 36
2019-20 cap hit: $700,000
Montreal's Kovalchuk experiment got off to a great start — the veteran proved he's still got a little magic left in him, and his success looks even better with a $700,000 price tag attached — and saw the club flip him to the contending Capitals for a profit at the deadline. It feels likely this wasn't the last we've seen of Kovalchuk in le bleu, blanc, et rouge, as he could be a strong candidate to return to Montreal as a free agent.
"This group of guys is special," he said in February (before being traded), via Sportsnet's Eric Engels. "They all care, they want to win, they want to be better. And all the young guys like (Nick) Suzuki … and (Jesperi Kotkaniemi) and (Cale) Fleury — they sent them down, but they're all ready to play. This team has a bright future, and if I can be part of it that would be really good."
17. Alex Galchenyuk, LW/C/RW, Minnesota Wild
Age: 25
2019-20 cap hit: $4.9 million
Things didn't exactly work out in Pittsburgh. A lot is now riding on his performance with the Wild. Three goals and seven points through 14 games prior to the season hiatus suggests he might be a candidate to sign a one-year, show-me deal in Minnesota to get back on his feet.
18. Wayne Simmonds, RW, Buffalo Sabres
Age: 31
2019-20 cap hit: $5 million
The past year hasn't been kind to Simmonds, who has struggled to find his stride since landing in Nashville at the 2018-19 deadline. Since then, he's scored just nine goals and 28 points in 85 games split between the Predators, Devils, and Sabres. He's just three seasons removed from back-to-back 30-plus goal campaigns and is a top candidate for a one-year deal on a team that can help revive his career.
19. Sami Vatanen, D, Carolina Hurricanes
Age: 28
2019-20 cap hit: $4.875 million
Vatanen has yet to suit up for a game with the Hurricanes, the team that acquired from the Devils at the deadline, due to the lower-body injury that's kept him sidelined since Feb. 1 and the current season hiatus. Injuries have prevented the rearguard from ever being able to play a full season.
20. Joe Thornton, C, San Jose Sharks
Age: 40
2019-20 cap hit: $2 million
The veteran forward expressed disappointment that he wasn't dealt at the deadline.
"It would have been nice to at least have a chance," he told The Athletic's Kevin Kurz. "I wanted a shot, you know? Believe it or not. I've been hunting this thing down for 22 years, so I wanted another shot at it. I wanted to get something (for the Sharks) in return. It just didn't work out. Back to the grind, and that's how it is."
He'll be back in an NHL sweater next year – and probably a few more after that – but might it be teal? Sportsnet's Elliotte Friedman suggested after the deadline that Toronto could be his next destination if he chooses to leave San Jose.
Other notable pending UFAs to keep an eye on: Corey Crawford (CHI), Kevin Shattenkirk (TB), Thomas Greiss (NYI) Cody Eakin (VGK), Chris Tanev (VAN), Cody Ceci (TOR), Justin Schultz (PIT), Michael Frolik (CGY), Vladislav Namestnikov (OTT), Marco Scandella (BUF), Erik Gustafsson (CHI), Pat Maroon (TB), Zach Bogosian (BUF), Kyle Clifford (LA), Radko Gudas (WSH), Anton Khudobin (DAL)