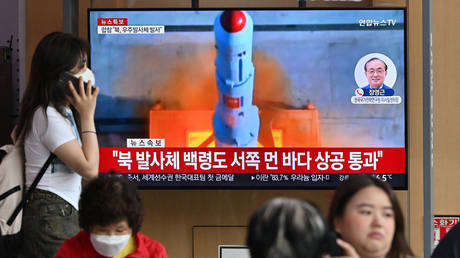 Pyongyang said earlier that it plans to deploy its first military spy satellite amid rising US threats
North Korea fired a "space launch vehicle" on Wednesday, the South Korean Joint Chiefs of Staff (JCS) said. The statement came hours after Pyongyang confirmed that it was planning to deploy its first-ever military spy satellite to surveil US and South Korean forces in real time amid rising tensions on the peninsula.
Reuters cited North Korea's state-run media later on Wednesday as saying that the carrier rocket had suffered a malfunction, causing the craft to crash into the sea.
According to the JCS, the projectile fell around 200 kilometers (124 miles) west of the island of Eocheong in the Yellow Sea.
Sirens were blasted across Seoul early on Wednesday, but government officials later said that the alert system was activated by mistake.
Warnings also were issued over the emergency alert system in Japan's southern prefecture of Okinawa. However, the Japanese government later said the rocket did not fly over the country's territory. According to NHK, Pyongyang warned the Japanese Coast Guard on Monday that the satellite would be launched between Wednesday and June 11.

READ MORE: North Korea plans its first spy satellite

Senior North Korean official Ri Pyong Chol announced on Tuesday that Pyongyang planned to launch its first spy satellite, saying it would be fired sometime in June. Ri said the satellite was needed to counter growing hostilities from Washington and "reckless" joint military drills by the US and South Korea.
The US has stated in the past that a satellite launch by North Korea would violate the international sanctions imposed on Pyongyang's ballistic missile program.