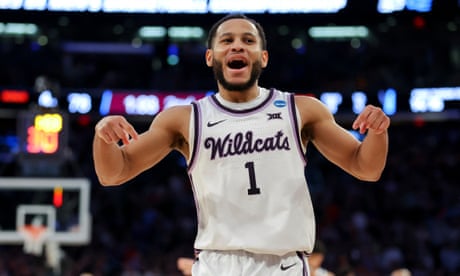 Wildcats beat Trojans in 98-93 overtime thriller
Kevin Durant praises performance of 5ft 8in guard
Markquis Nowell broke the NCAA Tournament record for assists in a game with 19, his last two on spectacular passes in the final minute of overtime, and Kansas State beat Michigan State 98-93 on Thursday night in a Sweet 16 thriller at Madison Square Garden.
Playing in his hometown of New York and fighting through a second-half ankle injury, Nowell found Keyontae Johnson for a reverse alley-oop with 58 seconds left in OT to give the Wildcats (26-9) the lead for good in this back-and-forth East Region semifinal. He then threw an inbound pass to Ismael Massoud, who knocked down a jumper with 15 seconds left for a 96-93 lead.