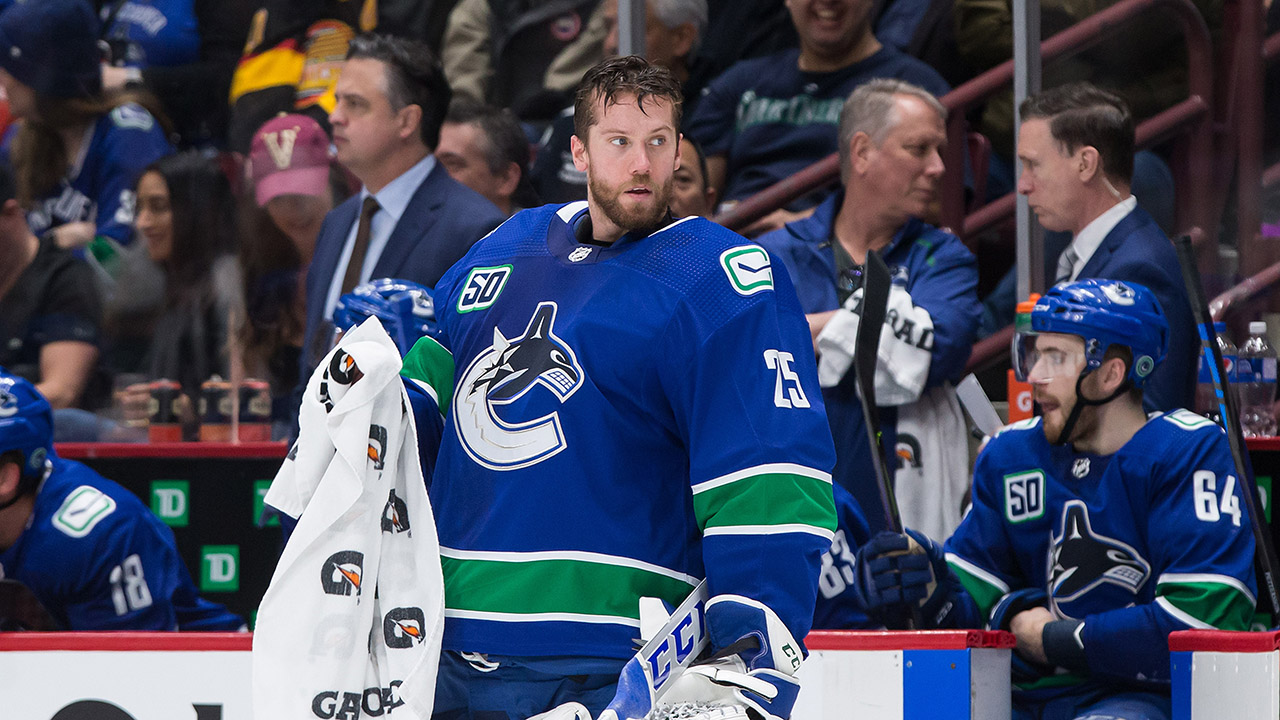 EDMONTON — A third-line centre and a goalie.
The one good thing about a flat cap is, it makes a team prioritize. In Edmonton, those priorities are as stated above.
It's not that general manager Ken Holland has only two positions to improve. And with the free-agent market suddenly a place rife with $1-million veterans, perhaps he can add a piece or two that can help an Edmonton Oilers team that is adept at winning high-scoring, wide-open games, succeed in the kind of environment that is inevitable come playoff time.
But for the Oilers, it starts in finding a trusty faceoff man who can take some defensive zone draws away from Leon Draisaitl (52.1 per cent in the circle last season) and Connor McDavid (47.8 per cent). They need a harder player who can kill penalties and lend some intensity to a team that simply didn't bring it in the playoffs against the Chicago Blackhawks.
There, Jonathan Toews' work without the puck was tangible evidence of exactly what Edmonton lacks at centre, despite the fact that the Oilers' top-two centres may just be the best tandem in the world — offensively.
In goal, Edmonton's .912 saves percentage at 5-on-5 ranked 25th in the NHL this past season. They are married to Mikko Koskinen for two more seasons (at $4.5 million per), so the place to improve will be to upgrade on Mike Smith, who shared the duties with the Finn in 2019-20.
With roughly 60 per cent of what most GMs would prefer to spend on the position committed to Koskinen, are the Oilers out of the Jacob Markstrom or Braden Holtby neighbourhood? Are they shopping in the Thomas Greiss, Cam Talbot, Aaron Dell range? Or does Holland land a Petr Mrazek by trade? He has been exploring the trade market in recent weeks.
After the goalie and centreman are solved, if Holland can find a depth forward on a bargain UFA contract — great. We loved Mattias Janmark's work for the Dallas Stars during the playoffs. He's a UFA and only 27 years old, originally drafted by Holland in 2013 with the Detroit Red Wings.
Holland's flexibility this season isn't great, but it will vastly improve next season when Kris Russell's $4-million salary and Benoit Pouliot's $1.3 million buyout fall off the books.
Salary cap space: $11,256,182
Roster size: 15/23
Salary committed to forwards: $41,469,166
Salary committed to defence: $18,783,666
Salary committed to goalies: $4,500,000
Potential UFA targets:
Player A: Jacob Markstrom — Why not start with the best goalie on the market? Sure, there a lot of "what ifs" around Markstrom — there are around every pending UFA. But Markstrom would give Edmonton a proven 60-start goalie and extra confidence in the defensive zone, and with some slick work, Koskinen could be moved to a team looking for goaltending that has a pricey depth forward to unload.
Player B: Erik Haula — He's a trusty faceoff man and veteran who is still 29, not 35. Haula has been around some, but still can skate. And have a look at his faceoff numbers over the past five years: three seasons of over 53 per cent.
Jeff Marek and Elliotte Friedman talk to a lot of people around the hockey world, and then they tell listeners all about what they've heard and what they think about it.
Player C: Craig Smith, Cody Eakin, Tomas Nosek — the former is the best of this bunch, but also the most expensive. We also like Eakin, a better faceoff man than Nosek. But Nosek is an effective depth centreman for the Vegas Golden Knights, who would surely be an upgrade in Edmonton as well. Would he be a different player when not flanked by protective wingers Ryan Reaves and William Carrier? Perhaps…
What Oilers hope to accomplish
Holland has two clear needs we've detailed. But there are subplots.
What if Oscar Klefbom indeed has that shoulder surgery that will keep him out long-term? Does Holland seek out a depth defenceman like Jan Rutta or Ben Hutton, and just bump his current D-men up a notch? Or does he pursue the right-handed Tyson Barrie on a shorter-term deal, as he tries to raise his stock after a so-so year with the Toronto Maple Leafs?
If he gets a goalie like Markstrom or Holtby, would a team like the Ottawa Senators take Koskinen and his $4.5-million deal as well as a sweetener for centre Artem Anisimov (one year left at $4.55 million)? Now you've got to find a cheap backup.
The Oilers are at this weird crossroads, where their star players are at the age where it's time to chase down a Stanley Cup. Yet, Holland has only been the Oilers GM for one year. How many guys take over a roster as spotty as this one and turn it into a Cup contender in Year 2?
Still, you can't preach patience in a town where the Oilers technically missed the playoffs again this past season, despite the fact they were just percentage points shy of a Qualifying Round bye and solidly in second place in the Pacific at the pause. Connor McDavid is 23, Leon Draisaitl 24 — and they've never had a true No. 1 defenceman or an elite goaltender.
So the needs are many, and the cap space is pretty slim in Edmonton, as it is in most NHL towns.
And the pressure is on Holland to move this project forward