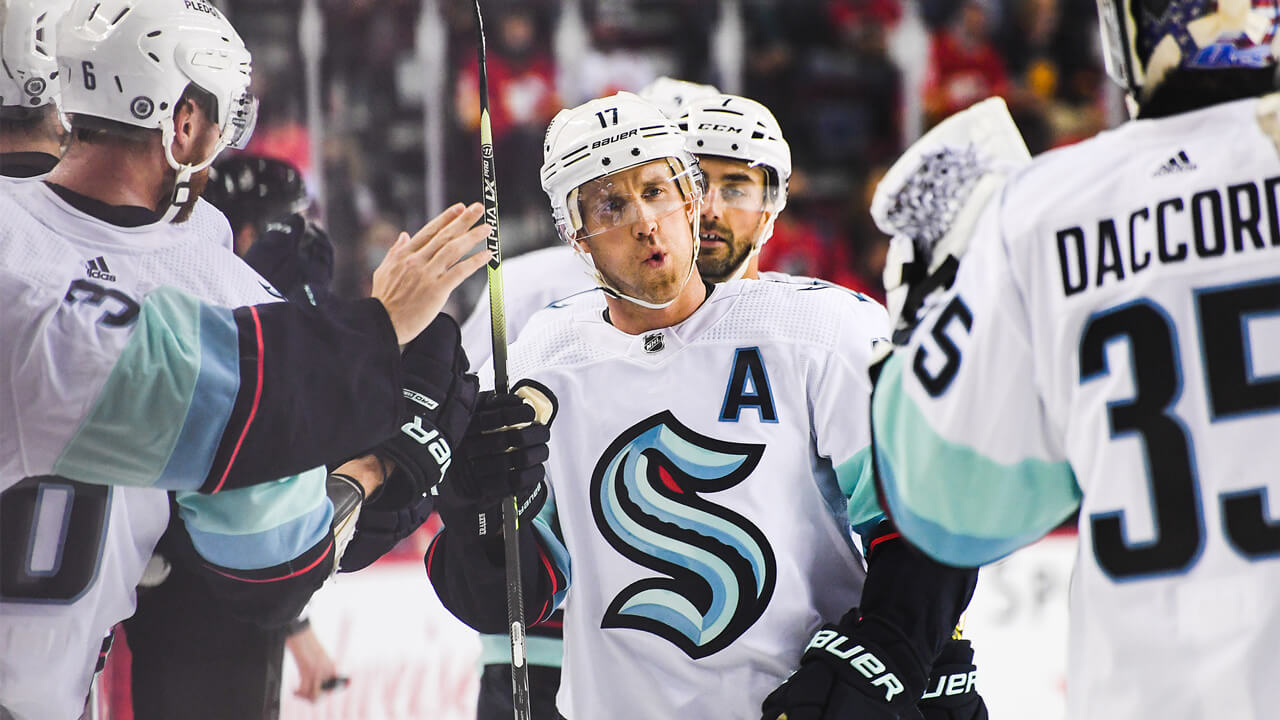 THE FIRST YEAR
What it's like to play an NHL expansion franchise's inaugural season
Y
ou only get one first step. For the NHL's Seattle Kraken, this is it — October 12, 2021 will forever mark the first game in the first season in franchise history. And for every single player granted the opportunity to don a Kraken jersey, the year ahead will be one to remember, no matter how it goes down.
Only a select group of players is fated to wind up in that oddly exclusive club, to go on the unique ride that comes with being a franchise's very first team. Only those who've worn the jersey and stepped on the ice in those games can understand the experience of playing an inaugural season, of planting NHL hockey where it had never been before, of turning strangers on the ice and in the crowd into a big-league family.
From Ottawa to Anaheim, Columbus to Tampa Bay, Minnesota to San Jose, this is what it feels like to be part of the First Year, from those who were there and lived to tell the stories.
Norm Maciver got the call to let him know he was a Senator with two days to go before the season opener (Mitchell Layton/Getty Images).
F
or some, the news comes out of nowhere. Others get the chance to make the decision themselves. But it all leads to the same message: Leave behind your team, your teammates, your city. You've been selected. You're headed into the unknown.
NORM MACIVER (First Ottawa Senators season, 1992–93): I got a phone call saying that I was left unprotected in the waiver draft, and Ottawa had selected me. That was like two days before the season opened. That's how I found out I was going to Ottawa. And I honestly didn't know anything about it — hadn't really paid much attention to it or who was on the team. I was pretty naive to the whole situation until I got there.
ROBIN BAWA (First Mighty Ducks of Anaheim season, 1993–94): We didn't know too much about the expansion draft. I just watched it on TV and I found out, 'Oh, I got picked up by Anaheim.' That's how I found out [laughs]. I didn't get a phone call. I had no idea. You didn't even think too much about it at the time.
STACY ROEST (First Minnesota Wild season, 2000–01): You know, you're sad that you're leaving your old team that you went through the minors with, played three years with. But then you're really excited, because you know it's going to be a young team.
KEVIN DINEEN (First Columbus Blue Jackets season, 2000–01): It was twofold because I actually was part of an additional franchise in Carolina as well, so I had a little experience of that. The Whalers had talked about moving and Columbus had come up on the radar. It was kind of like, "Columbus, Ohio?" You know, not much in the action. I think it was one of these places at the time that you wouldn't have known a heck of a lot about. You might have heard of Cincinnati or Cleveland, but Columbus really wasn't on anybody's radar. And then sure enough, a couple years later, Mr. McConnell was able to get an expansion franchise. And I tell you what, I was very excited about it.
ADAM CREIGHTON (First Tampa Bay Lightning season, 1992–93): I had a chance to either stay in New York or be put on waivers knowing that I was going to get picked by Tampa. It really came down to where I was going to be the most comfortable and most happy. I thought I'd have a better chance in Tampa and it would be a little bit better for my family, so I took the opportunity to play for the expansion team.
PERRY BEREZAN (First San Jose Sharks season, 1991–92): I was with the North Stars for training camp that year and was being pushed out of the lineup. It wasn't going well over there [laughs]. Jack Ferreira, who was the GM at the time in San Jose, was the former GM of Minnesota, and he wanted to bring me into San Jose, so he traded for me. I arrived for game two or three, right at the beginning of the season. The team had already gone through training camp and the exhibition season, and I arrived at the luxurious Cow Palace in San Francisco.
Part of the group that brought hockey back to Minnesota, Roest describes the atmosphere ahead of the Wild's debut as "just incredible" (Kellie Landis/Allsport).
E
ventually, the unknown becomes known and the question of what the everyday is going to look like is answered: These are your teammates, these are your fans, this is your building. This is your team. What do you think?
BEREZAN, Sharks: They created a beautiful jersey and logo and colours, and people were loving that. But you know, being there, we were the misfit toys, for sure. There were a lot of nice guys on that team, character guys, but we weren't exactly deep [laughs]. We were a bunch of players who were just kind of outsiders. We really had no star power, and we were just outmatched, absolutely every single game.
CREIGHTON, Lightning: Hockey was not real big down here, but the chance to play for a guy like Phil Esposito and his brother Tony, who was one of my favorite players as a kid growing up — I don't know why, but it just seemed like it was more of a family-type situation with the team.
BEREZAN, Sharks: I was just happy to have a job, quite frankly. I saw it for me as a second chance. I just wanted to prove I still belonged in the National Hockey League, and I wanted to prove I could play. And I was getting opportunities that I never got before, to play in different situations, to play every night, not to be the 13th or 14th forward. I wanted to be the guy I thought I could be earlier in my career [Berezan was going into his eighth NHL season], and looking around that locker room, there were a ton of guys like that.
CREIGHTON, Lightning: The fairgrounds where we played, it was sort of ragtag. I think they could only fit 8,500 people in there and, you know, it was sort of makeshift. I always remember pulling up to the rink and there was a pond out back and some guys would be fishing and other guys would be throwing a baseball around or a football. It was just things that you'd never experienced with hockey. And it was kind of a unique, fun situation.
"The fans had no idea what they were watching — they were cheering for icings. They were just excited we were there."
MACIVER, Senators: I had never been to the Civic Centre before, so I was unfamiliar with the rink. You know, it was a very unusual rink. [It was] connected to the football stadium, so it only held like 12,000.
DINEEN, Blue Jackets: I think we all knew that they were building a brand new rink. Not only a rink but they were planning on a lot of infrastructure, a whole arena district around the rink downtown. You walk into the rink, brand-new facility — boy, they did a fabulous job. You kind of went in there with eyes wide open, not really sure what to expect.
BAWA, Ducks: We had a brand new building, The Pond — it was beautiful. Dressing room was beautiful. Everything was top notch. We had a lot of movie stars hanging around the arena, too. So after the games it was neat to see people coming in the dressing room, talking to them.
CREIGHTON, Lightning: I mean, I kind of laughed. You think about the way it was and the fairgrounds. Now they have all these nice places — we had a tent that they put up for our fans. And it was kind of neat because you got to go in there and play bingo, interact with the people, and a lot of them have never seen hockey before. It was kind of unique.
There weren't too many complainers — they all worked hard and they were willing to sacrifice a few of the finer things in the building or with what went on with the team as far as, you know, taking a bus from Toronto to Montreal instead of flying. Those are the things the players sort of had to put up with. But I don't think guys complained that much.
ROEST, Wild: We had a brand new rink. It was just unbelievable. They flew us in there. We got to go tour the rink, it was still being built. And then the fans — you go around and do a couple of dinners and you see the excitement with all the people in the city. It was just incredible, just the whole atmosphere, and the whole hype to have hockey back in Minnesota was awesome.
BEREZAN, Sharks: We were playing in the Cow Palace, which was not meant for the NHL — not even close. But that's what made it amazingly fun, because that place had a ridiculous amount of character.
CREIGHTON, Lightning: That's kind of how the hockey was back then. I don't think that they were prepared for the NHL, as far as the building size and half the guys dressing in the parking lot. You know, it was a little different. But it was fun.
Creighton remembers the crowd of 8,500 for the opener feeling like 20,000 (Denis Brodeur/NHLI via Getty Images; Mitchell Layton/Getty Images).
A
fter the expansion draft, the off-season, the early practices, the pre-season, you wind up here: Opening night. Fans in the building. The beginning of a hockey season like any other, and like no other, all at once.
MACIVER, Senators: Things happened pretty quick. I got there the day before the season and it was the one and only practice I had. I didn't have training camp. I was back in Minnesota kind of on my own and hardly even skated much during training camp. And I kind of got thrown right into the fire.
ROEST, Wild: I was nervous because I didn't know too many guys on the team. And then you show up at the camp and you're kind of wondering, you're trying to make a good first impression. You want to get off to a good start. It was a really competitive camp. We had a bunch of young, hardworking guys — guys that were in the NHL, also some guys that were looking to get into the NHL.
DINEEN, Blue Jackets: A couple days in, we were there for training camp on a Saturday afternoon and it was like you could hear crickets chirping downtown because there wasn't a person around. So you're like, what the heck is going on? Of course, that's because there's 100,000 people in the Horseshoe watching the Buckeyes game. So you realized fairly quickly how passionate they were about sports. And in a very short time, we found out they were about hockey as well.
ROEST, Wild: Going in, you don't know how it's going to go because we've never really played together. When you're on a different team, you kind of know you have a good team and maybe you make a few changes or maybe some of your better players leave. But this is a team where we were all brought together and you're just getting to know each other and know the staff and the whole league as a team. So it was a little bit of unknown.
"As the year went along, you realized, yeah, this was going to be weird — because we sucked."
MACIVER, Senators: Everything happened really quick. All of a sudden, you know, you practice one day and the next day you're playing the home opener against the Montreal Canadiens. I remember the introduction for that game, the Senators did an amazing job in the pre-game introductions. There was a whole ceremony. It was really cool — I remember that — but just leading up to it was kind of a blur.
ROEST, Wild: It was a lot of fun. Just how much the team meant to the to the city and the people around there was just incredible. Once you got to play your first game, it was just wild. The fans and the ovation they gave to the team to be back in Minnesota — yeah, I'll never forget that.
You know it's going to be loud. You know, because of the pre-season and stuff, everybody's just excited. You know the horns are going to be going off. It was just a lot of anticipation. The atmosphere in that rink when you scored or when there was a hit or any kind of excitement was very impressive.
DINEEN, Blue Jackets: It was just the enthusiasm. You're in front of a sold out crowd and you're like, "Oh man, this is fabulous." I just think the whole newness of a franchise and exposure for the fans to the players, and the players to the fans, there was an immediate connection there.
CREIGHTON, Lightning: I can just remember how hyped up the players were and the crowd was. There were only 8,500 people there but it felt like 20,000, the rink was so small. We played Chicago, which was one of my old teams, and I just felt like it was such a good experience as far as dealing with the first game of a franchise. I guess you don't really think of it at the time — you do and you don't. I just remember the players were all ready to go and we ended up going out there and, you know, everything came together. It was kind of easy that night [the Lightning won 7–3]. But after that, it wasn't so easy.
BEREZAN, Sharks: The fans had no idea what they were watching — they were cheering for icings. I mean, they didn't really know what hockey was all about, they were just excited we were there. I remember a game ending, I think we lost 8–2. And I remember walking under the tunnel, it was early in the year, and hearing the fans go, "We love you Sharks! You're the best! You're the best!" I'm like, "Wow, this is going to be interesting."
MACIVER, Senators: After maybe a quarter of the way through the season, you know, I think teams around the league realized what we had. We saw pretty much everyone's back-up goalie for the last three quarters of the year.
BEREZAN, Sharks: As the year went along, we realized that, yeah, this was going to be weird — because we sucked [laughs]. I mean, we just weren't any good. So, you're trying to show your best but when you're getting your butts kicked, it's not easy.
ROEST, Wild: We were young. Most games we were outmatched a bit. But we were so, so disciplined the way we played and the work ethic and the goaltending we got that year, that it kept us in a lot of games. We knew every game we had to be on our best and play a tight game. And for sure, we had to outwork the other teams, you know, just to keep it close. And for most games, we did.
"I stayed at the Disney hotel for a month and a half. You know, seeing Mickey and Minnie every day, after a while it got to you."
BAWA, Ducks: We did have a pretty good team, actually. We had some success that year, so it was a fun year. It was just the overall picture of, you know, being a new team, in a new arena, the fans are all hyped up every day because hockey was just getting big in California. L.A. was a big rivalry. You know, we had a big, tough team. The fans liked that.
DINEEN, Blue Jackets: It was interesting because I don't think the home games two through five or six or seven were sold out, but boy, word was starting to spread. We had more and more fans coming, and the next thing you know, I think we sold out the last 30 games in a row and it was a heck of a place to be. It was always rocking in there and the enthusiasm level was through the roof.
MACIVER, Senators: The season went along, and obviously we were not having any success, then all of a sudden the comparisons came to the Washington Capitals in their expansion year. You know, "Are we going to be the worst team of all time?" The last part of the year, we felt the pressure, you know — we didn't want to go down in history as statistically the worst team of all time. I think we started to feel that.
I just remember the fans were so great. You know, we won the first game, and then honestly I don't remember how many in a row we lost after that. It was quite a few. But the fans were just so excited to have NHL hockey, and they just treated us amazingly. You've lost 10, 12 games in a row and then you go out for warm-ups and you just feel the energy and the excitement of the building — people in Ottawa were so excited to have a team.
"It was a great thing to be on the ground floor," Dineen says of that first season in Columbus (Tim DeFrisco /Sports Illustrated via Getty Images).
A
n NHL franchise isn't born quietly. It's all about making an entrance, making a splash, announcing your presence — and figuring it all out as you go along. There's a hefty dose of "fake it 'til you make it" in the early days, which also makes for some truly wild experiences along the way.
BAWA, Ducks: I think the first week we had to do a parade a day. Every day we were in that Disney parade. I stayed at the Disney hotel for, I think, a month and a half. You know, seeing Mickey and Minnie every day, after a while it got to you [laughs].
DINEEN, Blue Jackets: I know they were tossing different names around for the building — it was on the site of an old jail. They hadn't started with the cannon going off yet, but there was that little bit of a patriotic feel being the Blue Jackets.
BAWA, Ducks: Going on road trips, people always would want Mighty Ducks stuff — back then, the memorabilia was selling like hotcakes, oh my goodness. You know, you'd go for autographs and there's line-ups everywhere. Hockey was coming to California, so it was something new. It was exciting. Disney was promoting us every day. The movie star of The Mighty Ducks — Emilio Estevez — he was at our games, behind our bench. It was like a big show. It was like a Vegas show, basically.
BEREZAN, Sharks: We played in this building for those first two years that was terrible. Like, it was literally embarrassing for anyone else. I remember Montreal coming in there, and of course the Canadiens, just like any of the big-name teams, are treated like gold everywhere they go. Well, they show up to the Cow Palace — our dressing room is this two-by-four put-together dressing room that was suspended in the air, and you had to climb up these rinky-dink plywood stairs to get up there. It was just all temporary, everything in there was temporary. And after the warm-up skate just before the game, the Zamboni driver proceeded to somehow not see the peg from the net still in there, and dragged it about halfway across the ice. It delayed the game at least an hour, maybe an hour and a half.
I remember us laughing so hard in our dressing room going, "Patrick Roy and the Canadiens, those guys have got to be losing their minds." They're in this ridiculously bad dressing room, in this old piece-of-crap arena, and now the Zamboni driver's just destroyed the ice and the game is delayed. This is going to be fun.
We might've actually tied them that day because we were using that as motivation. We're like, "Yeah, we're used to this. This is our life." They just wanted to get on a plane and get the hell out of there.
CREIGHTON, Lightning: I mean, I'm not sure what the price tag was on the players' salaries, but I've heard stories that Phil ran the team, the whole organization, for $5 million a year. That was his budget and that was the payroll, for the whole organization. You do look back now and sort of laugh about it, how far sports have come, and I guess it's kind of unique to be a part of that type of atmosphere.
You know, there's probably a lot of guys who have played on that team that could sit down with some of the players today and tell them what they went through, and I think half of them wouldn't believe what they did, and how they did it.
Playing in San Francisco's "luxurious Cow Palace" Berezan and his Sharks teammates had to get used to going without (Graig Abel/Getty Images).
E
very juggernaut, every champion, every dynasty, they all had to start somewhere. Each one needed that first group of players who took the reins and kicked things off. But in the moment, amid that groundbreaking chaos, it's tough to see the trail you're blazing.
CREIGHTON, Lightning: I never thought about the history of what we were doing, you know? It was just another hockey team. I mean, it was different.
ROEST, Wild: When you're going through it, you don't really have time. Now looking back, you almost wish you would have taken it all in a little bit more. But at the time, you're so focused on doing your job and producing and performing as a player that you don't really have time to sit back and take it all in. You're busy trying to be a pro.
MACIVER, Senators: Certainly you're proud of it years later. We went back a few years ago for the 25th reunion of that original team. They brought back as many of the original players as possible, and that was really cool. You definitely felt a sense of pride just being back there, just feeling that you were part of that original team, part of that franchise bringing NHL hockey back to Ottawa. I definitely felt it years later — certainly, you weren't thinking that when you're in that first year. You're just trying to survive on a day-to-day basis.
"Looking back, you almost wish you would have taken it all in a little bit more."
DINEEN, Blue Jackets: You know, you look at a guy like Lyle Odelein who was the captain — to be the first captain in franchise history is a pretty cool thing. I think you feel like it's special. It's not the same as a team that wins the Cup and you celebrate that forever, but it's something that, as a group of players, we have a very strong memory to hold on to — that first year and the work ethic that we put in and the fun that we had. It was a great thing to be on the ground floor.
CREIGHTON, Lightning: It doesn't really sink in the first year. I guess as you get older, it's nice to reminisce about it and talk about it. It is kind of the unique thing that you get to play on a franchise that just started and now, 30 years later, it's a flourishing franchise.
DINEEN, Blue Jackets: We made friends that have been lifelong friends. And those people, they were sports fans, but really they were Buckeye fans, they were NFL fans. And now, here we are, 20 years later, they call me up and they're like, "What do you think of Jarmo doing this deal? What is going on here?" There's just a passion for the game that certainly wasn't there. People have really taken to it.
ROEST, Wild: You get to see your name on the first Minnesota Wild roster and be part of the expansion draft — you're proud of that. You look back and go over that with your kids and your family. You know, I still have the first team picture down in my basement, some of the pictures with all of us. That first season was a big deal for the league and for the franchise. And I'm proud to be a part of that.
All these years later, Bawa, right, remembers the larger-than-life energy the Mighty Ducks emerged with: "It was like a Vegas show" (Debora Robinson/NHLI via Getty Images; Getty Images).
O
nly the ones who've lived the experience understand what it means to be part of that first year. So, here's some advice for the group of Kraken players joining that unique club, from those who've been there, too.
MACIVER, Senators: Just enjoy the situation. You remember a lot of the firsts, right? Like who scored the first goal, and the first win — there's going to be firsts and there's going to be a lot of guys that are going to be remembered for, you know, who scored the first goal in Kraken history. Just soak it in and enjoy it, and just be proud of the fact that you're part of it.
ROEST, Wild: It looks like they have a great franchise, great building. The fan support's going to be awesome, like we had in Minnesota. Take it all in and enjoy it, because it's very special to be part of any team in the National Hockey League, but when you're bringing in a new franchise, to be in the first game and be the first person to wear that jersey and that number and that emblem on the front to represent that franchise, it's very special.
BEREZAN, Sharks: Immerse yourself in that community. That's one of the best things I did when I first got there. I still have great friends and people that I'm still connected with to this day, some amazing people, because the cities that have desperately tried to get an NHL team, and now they get it, they want to meet you too. They're looking for that opportunity, and you can just dive in head-first. That's the beauty of it.
DINEEN, Blue Jackets: To realize you're on the ground floor of a franchise, to see the pomp and circumstance around the expansion draft and the excitement that's in the Seattle area — you've just got to embrace that. And honestly, I think it's an incredible motivational tool.
CREIGHTON, Lightning: The thing for us was we just wanted to be competitive. You want to win. Obviously Las Vegas coming in, the picking of that team was a lot different than it was when the Lightning started. Because a lot of those players [in Tampa]were, you know, I'm not going to say that they were bad players, but you weren't getting the top or even the middle of the lineup. Some of these guys in Seattle are pretty good players, and I think they can compete.
MACIVER, Senators: You're going to be part of history. It'll be something that, when they get older, they'll be able to look back on with very fond memories.
CREIGHTON, Lightning: I would just say enjoy the year and try to set the stage for what could be in the future. And you know, some of them won't be there when the Kraken do have success, but they'll always be remembered as the first players to play in Seattle.
Photo Credits
Derek Leung/Getty Images; Mitchell Layton/Getty Images; Kellie Landis/Allsport; Denis Brodeur/NHLI via Getty Images; Mitchell Layton/Getty Images; Tim DeFrisco /Sports Illustrated via Getty Images; Graig Abel/Getty Images; Debora Robinson/NHLI via Getty Images; Getty Images.