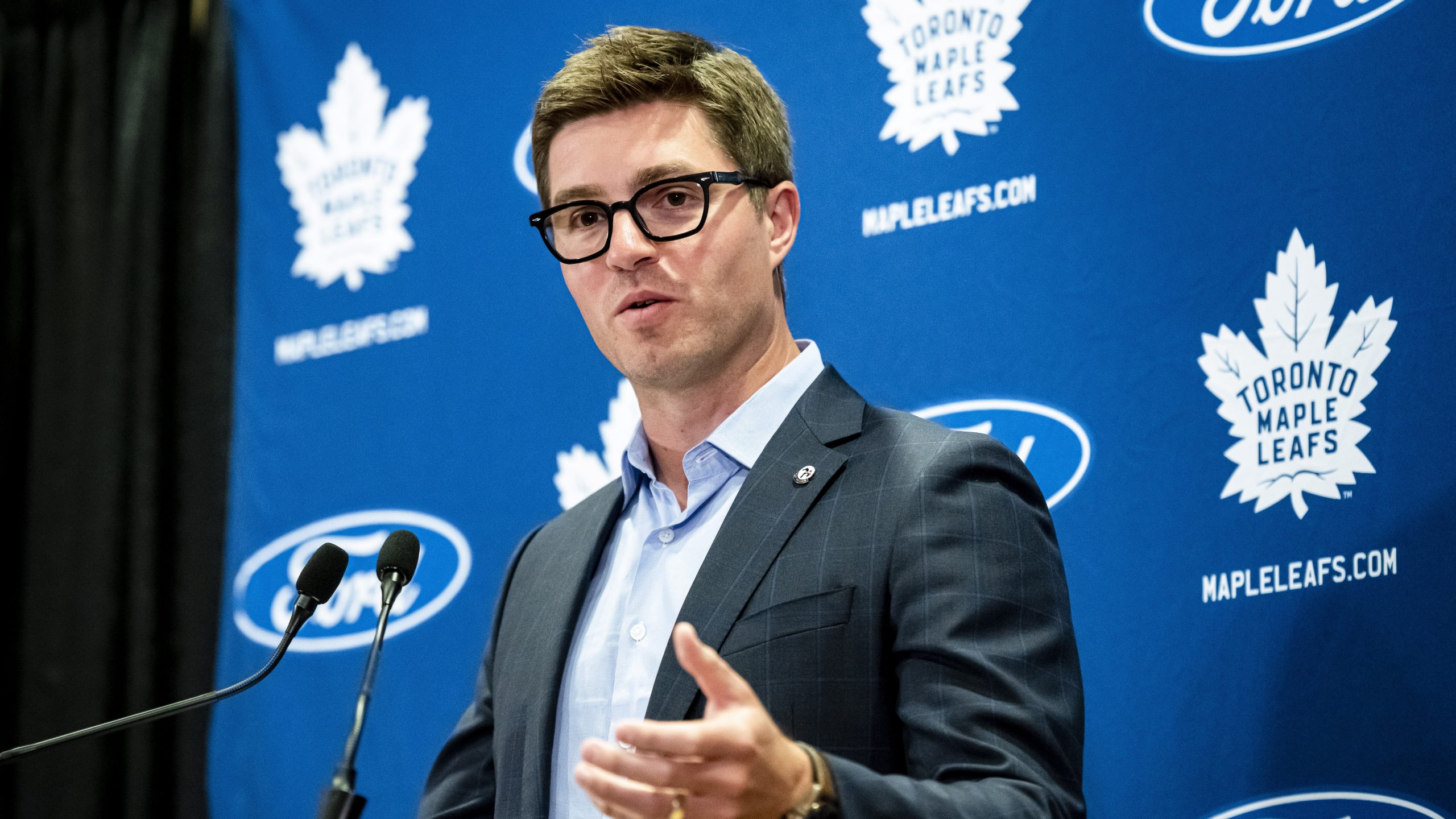 The Pittsburgh Penguins have hired former Toronto Maple Leafs general manager Kyle Dubas as their new president of hockey operations.
The Leafs cut ties with Dubas on May 19 after five years at the helm. The team was ousted in five games in the second round by the Florida Panthers – following losses in the first round of the post-season in Dubas' first four years in charge.
The Penguins fired president of hockey operations Brian Burke and GM Ron Hextall after the team missed the playoffs this year, ending a 16-year post-season streak.
Dubas joins the Penguins after a turbulent final stretch with the Leafs
Four days before Dubas was fired, he said he wasn't sure he wanted to return to the Leafs as GM because of family considerations in a press conference – he had a contract that expires next month. He also said he wouldn't pop up with another team right away if he did not return to the Leafs.
Three days later, Dubas' agent sent new financial requests to Leafs president Brendan Shanahan. The next day, Shanahan informed Dubas he was no longer GM.
The Leafs promoted Dubas, 37, to GM from assistant GM in the spring of 2018 after removing Lou Lamoriello from the role.
Toronto named Dubas assistant GM in 2014 after he spent three years as GM of the OHL's Soo Greyhounds. Dubas would later hire former Greyhounds coach Sheldon Keefe to coach the Leafs.
Fenway Sports Group, which completed its purchase of the Penguins in late 2021, inherited Burke and Hextall, who were hired earlier that year.
Pittsburgh went 40-31-11 this season and finished ninth in the Eastern Conference to end the longest active post-season streak in major North American professional sports.
Needing only victories over the Blackhawks and Columbus to extend the club's playoff streak to 17, Pittsburgh instead let Chicago pull away for a 5-2 victory and the Penguins were eliminated a night later when the New York Islanders topped Montreal.
Chants of "Fire Hextall" sprouted briefly late in the third period against the Blackhawks with Pittsburgh trailing by multiple goals.
Hextall and Burke were hired shortly after the abrupt midseason resignation of former general manager Jim Rutherford, who built a team that won back-to-back Stanley Cups in 2016 and 2017.
While Hextall managed to sign Evegeni Malkin and Kris Letang to team-friendly deals last summer rather than let them walk in free agency, most of the roster decisions to build around the club's Sidney Crosby-led core backfired.
Pittsburgh struggled to generate much offence outside its top two lines and the defence provided little stability outside of Letang and Marcus Pettersson. Goaltending also became an issue, as injuries and inconsistent play at the position cost the Penguins dearly in the 2021 and 2022 playoffs.
Whoever takes over will have some difficult decisions to make. Pittsburgh has several undesirable contracts for aging players like centre Jeff Carter, forward Mikael Granlund, and defenceman Jeff Petry, all of whom were brought in during Hextall's tenure.
Carter performed well immediately upon his arrival in the spring of 2021 and appeared a good fit at the time his extension was announced in January 2022. Yet the 38-year-old had just 29 points this season despite playing 79 games and his minus-16 rating was the third-worst of his lengthy career.
Petry, flipped for defenceman Mike Matheson last summer, had issues staying healthy and didn't become an offensive threat the way Pittsburgh imagined. The 35-year-old still has two years left on a deal that will pay him $6.25 million.
Granlund, acquired at this year's trade deadline from Nashville, made a minimal impact with the Penguins, collecting just one goal and four assists in 21 games. The 31-year-old still has two years to go on a contract that pays him $5 million a season.
The new general manager must also figure out what to do in goal. Two-time All-Star Tristan Jarry will become an unrestricted free agent this summer but had multiple health issues and posted a career-worst 2.90 goals against average.
– With files from AP