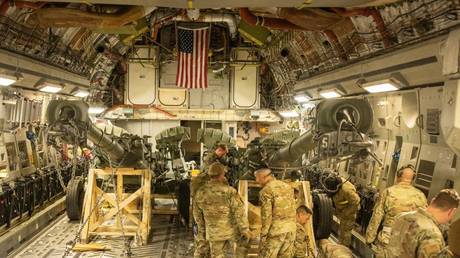 The monitors will be based in Kiev for the first time since the start of the conflict, the media outlet claims
The US Department of Defense will soon have a special team on the ground in Ukraine tasked with monitoring American aid provided to Kiev, CNN has reported. The media outlet linked the development to mounting calls by Republican lawmakers at home for greater oversight.
In its report on Wednesday, CNN quoted the Department of Defense inspector general as saying senior US officials had already begun working in Ukraine late last month. More personnel are expected to arrive by the end of September, the report claimed, adding that the watchdog would be based at the US embassy in Kiev.
The media outlet noted that this would be the first time that the inspector general would have its people working on the ground since the conflict broke out last February.
With the Biden administration having recently asked Congress to earmark another $24 billion for Ukraine, an increasing number of GOP lawmakers have begun calling for greater control over how the money is being spent by the recipient nation, CNN wrote.
In February 2023, the Republican-led House Oversight and Accountability committee warned about potential "waste, fraud, and abuse" of US aid, while House Speaker Kevin McCarthy had previously made it clear that he did not support a "blank check" for Ukraine.
CNN quoted a Department of Defense inspector general report dated October 2022, in which officials admitted that Washington had been "unable to conduct required [end-use monitoring]" of military equipment provided to Ukraine during at least the first six months of the conflict due to a limited US presence on the ground.
The document detailed how criminals, volunteer fighters and arms traffickers had attempted to steal some of the Western-provided weapons and equipment, as reported by the media outlet. Similar allegations have also appeared in Western media in recent months.
Last week, Lithuanian President Gitanas Nauseda – one of Ukraine's staunchest backers – warned that corruption scandals in Ukraine were severely damaging its international reputation and defense capabilities.
In August, Ukrainian Finance Minister Sergey Marchenko acknowledged that problems do exist, adding, however, that Kiev's Western backers are "ready to accept that we may have corruption."
Around the same time, the Washington Post estimated that the US aid to the Eastern European country had been the largest of its kind since World War II.