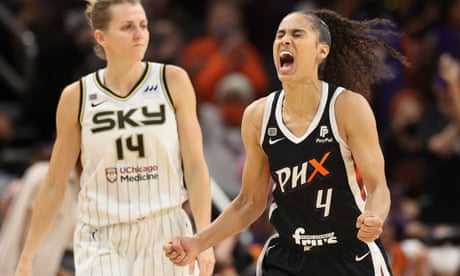 Taurasi's 18 after halftime lift Mercury to 91-86 win in Game 2
Griner pours in game-high 29 points and grabs nine rebounds
Chicago's Vandersloot leads Sky with 20 points and 14 assists
Brittney Griner dunked while scoring 29 points, Diana Taurasi had eight of her 20 points in overtime and the Phoenix Mercury evened the WNBA finals with a 91-86 win over the Chicago Sky on Wednesday night in Game 2.
Griner kept the Mercury within reach of Chicago during a sluggish start and brought the Phoenix Suns players sitting courtside to their feet with her second career playoff dunk in the first quarter. She scored on a turnaround jump to help give Phoenix a late four-point lead in regulation, but just missed blocking Courtney Vandersloot's tying layup with 4.4 seconds left.