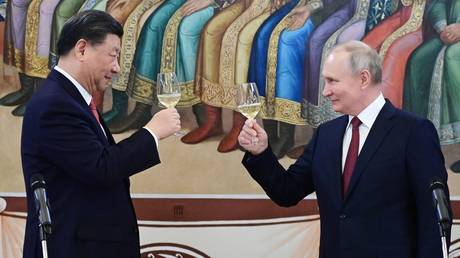 The White House has failed to prevent a "wedding" between Russia and China, the former secretary of state says
The Biden administration is making "an enormous strategic mistake" by downplaying the importance of rapidly expanding Russia-China ties, Mike Pompeo, who served as US secretary of state under Donald Trump, has said.
The alliance between Moscow and Beijing "may be a shotgun wedding, but they're still married," Pompeo told Fox News on Wednesday.
"To hear the White House play this down as if it's insignificant or unimportant is an enormous strategic mistake," he said.
Pompeo, who was speaking hours after Chinese Xi Jinping concluded his landmark visit to Moscow, where multiple deals were signed, stressed that China has been "getting energy at a discounted price" from Russia.
"Think about that. American manufacturing companies are paying full freight for energy today and the Chinese are getting a 15, 20% discount on each barrel of oil, allowing them to continue to dump their products here in America," he explained.
The former secretary of state also claimed that "at least for today, the Chinese Communist Party is providing lethal assistance to Ukraine, almost certainly." He was apparently referring to Russian forces fighting Ukraine, not Kiev itself. Weapons for Ukraine are being provided by the US and its NATO allies, together with funds, intelligence and training for troops.
Beijing has previously denied claims that it's supplying or planning to supply arms to Moscow amid its conflict with Kiev, calling such allegations by Washington "false." Russia has also insisted that it relies on locally made weaponry in its military operation.
"Now, the Biden administration has failed. They have allowed the Russians and the Chinese to come together in this way and it presents enormous risk to the US and every citizen," Pompeo continued.
Commenting on Xi Jinping's visit to Moscow, US National Security Council spokesman John Kirby said he didn't believe that there was an alliance between Moscow and Beijing, reiterating his earlier suggestion that it was just "marriage of convenience."

READ MORE: Kremlin slams Western media's take on Russia-China gas deal

Russia's President Vladimir Putin sees "a potential backer" in Xi, but "whether it results in anything, we'll see," Kirby remarked during a briefing on Tuesday.