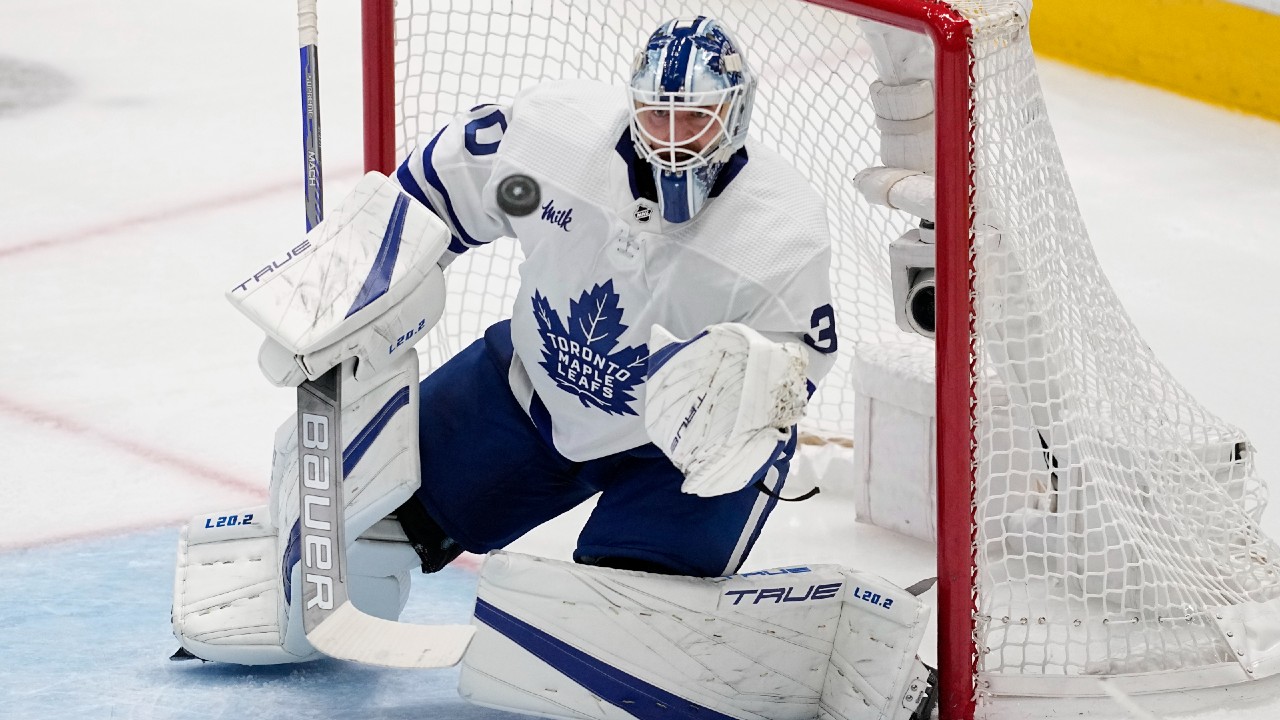 A quick mix of the things we gleaned from the week of hockey, serious and less so, and rolling four lines deep. Can't wait to read fans debate the slow-motion video review ruling of a puck that may or may not have been deflected over the glass!
1. There is the mathematical assessment, and then there is the verbal assessment.
Let's present both.
Here are the save percentages Matt Murray has recorded in his past five starts: .862, .846, .833, .500, .882.
Here is Maple Leafs coach Sheldon Keefe's assessment of Murray since his return from an ankle injury that kept him out of action for a month and a half: "I think he's been great. The numbers look terrible. But again, here (Wednesday) night, I thought he was really good. I mean, there's four tap-ins."
We get it.
GM Kyle Dubas doubled down on his tandem at the deadline: "I am very confident in our goaltenders."
It's imperative the Toronto Maple Leafs — who don't dress an Andrei Vasilevskiy- or Connor Hellebuyck-type workhorse — need a healthy and confident tandem heading into the post-season, and it serves the organization no good to publicly criticize any key player who needs to find his groove.
But a goalie cannot allow four goals in five straight starts – as Murray has for the first time in his eight-year career – and expect to be The Man when it matters. (Murray is free to mute all criticism with the two Stanley Cup rings plugging his ears.)
Ilya Samsonov has been significantly superior to his partner, whether we're judging by the naked eye, the stats or his availability.
"If he's had any games where he has struggled, he has right away been able to stop that and get it rolling the other way," Dubas pointed out.
Keefe, however, isn't playing favourites at this juncture.
"As much as we want to work through both goalies and keep both goalies involved, I really think it's important at times to look to give guys multiple games," the coach said Friday.
Leafs starts since Murray found his health: One for Murray, one for Samsonov, two for Murray, two for Samsonov, one for Murray …
Absolutely, Murray has the edge in experience. Samsonov has one win in eight playoff appearances; Murray has 50 post-season games on his resume and has gone the distance.
We'd rather live in the present.
And Saturday, Murray will attempt to face his former club, the Ottawa Senators, once again for the first time. You can't argue he hasn't been given his chances to gain traction.
On his original scheduled start against the Sens, Murray was injured at morning skate. The second time, he aggravated his foot in warmup.
As for Saturday night at Canadian Tire Centre?
Murray needs to bust out of this porous run if he wants to start building a case to be Toronto's Game 83 starter.
2. Since Jan. 1, the Western Conference's top seed has changed 12 times.
Home ice on the left side of the bracket is up for grabs. And suddenly, here come the champs.
The piping-hot Colorado Avalanche swept their Eastern Canada road trip for just the second time in team history, creeping within three points of Dallas for first in the Central Division with two games in hand.
Despite injuries to Josh Manson, Artturi Lehkonen, Erik Johnson, Darren Helm and captain Gabriel Landeskog, the Avs have ripped off four straight wins and have snatched points in six of their past seven games.
"We feel comfortable playing anybody. I'm sure nobody wants to see us in the first round if we are in a wild-card spot," said Nathan MacKinnon, owner of a seven-game, 12-point streak.
The Avalanche trailed first place in the Central by as many as 14 points earlier this season.
"Getting our complete game in order with quite a bit of turmoil in our lineup was a challenge," head coach Jared Bednar admitted.
Now the players are buying into all-hands-on-deck defence and getting their house in order to run this back.
Bednar credits the room's sturdy internal leadership, which has set a tone despite Landeskog still not having a timeline for a healthy return.
"Guys that want to win and want to try and repeat, and they're going out on a nightly basis and they're competitive. So, that buy-in and that dedication to the way we have to play to have success, I think, is the key to it," Bednar said.
While MacKinnon & Co. don't lack confidence on the road – many players relished the chance to lift the Stanley Cup on Tampa's ice – they are setting short-term goals of catching the next team in the standings as a means to narrow their focus and stay sharp.
"Get home ice in as many series as we can get," goalie Alexandar Georgiev said, smiling.
No matter how many injuries pile up.
"We're used to it now. All year, we've been missing guys," said Mikko Rantanen, who is coming to a Hart ballot near you. "It's not easy, but I think we got that mentality – next man up. And guys are playing well when they get promoted."
3. Not every management group would be willing to let a Cup-winning goaltender walk out the door without much negotiation and swiftly look for a more affordable replacement.
Yet Joe Sakic's group was decisive in wishing UFA Darcy Kuemper well last summer, instead bringing in New York's Georgiev for a more reasonable three-year, $10.2-million contract.
Igor Shesterkin's backup was never going to see the opportunity he's relishing in Denver.
Not unlike Cam Talbot, who was roadblocked for years by Rangers legend Henrik Lundqvist, Georgiev has stepped out from the shadows and is the man in his new market.
He is fourth in NHL wins (30-14-5), has posted a .917 save percentage and his four shutouts tie him for third overall.
The undrafted Georgiev, 27, makes his 50th appearance this weekend. (His previous bests were 34 appearances and 17 wins, back in 2019-20.)
A No. 1 job has required patience.
"Definitely. I've been waiting for a chance for a long time," Georgiev told me after his brilliant 2-1 shootout win over the Maple Leafs.
"I'm so grateful I got this opportunity here. It's been amazing just getting to play so much. Not thinking about: What's going to happen? When is the next time I take the ice? It's awesome."
Bednar trusts him.
"He's been great. It's a learning process for him, being the guy to carry the load for multiple times for us this season with the injuries to (Pavel Francouz). This is the second time Frankie's gone down, and (Georgiev has) really done a nice job staying focused and doing what he needs to do to prepare for the hockey games, getting away from the game a little bit on his off-days. So, he's not grinding, just thinking about hockey all the time," Bednar said.
"He seems refreshed, and he seems energized, and he's been sharp. His demeanour has been great, and his work ethic has been exceptional. It doesn't surprise me he's having success. He's kind of put his time in to get his game to a spot where we feel he's a top goalie in the league."
4. Georgiev went out for dinner with his ol' pal Samsonov Tuesday night in Toronto, 24 hours before their epic goalie duel.
The two were tandem mates at the 2016 world junior tournament, winning a silver medal for Mother Russia.
Georgiev, who is one year older, went 4-0-1 in that tournament, while the emerging Samsonov went 3-3, with a pair of shutouts and a tournament All-Star nod.
"So talented from a young age. So big. He makes it look kinda easy, how he moves around," Georgiev said. "Awesome guy, too. He's been good."
5. While a couple of coaches have recently toyed with a five-forward power-play formation, Bednar has gone the other way with his injury-hampered plan for 5-on-4 situations.
Cale Makar quarterbacks the first group, but the second unit breaks the mold by featuring three defencemen: Bowen Byram, Samuel Girard and Devon Toews.
"It tells a lot," Rantanen said. "We could almost have four guys on the power-play unit, all D. It tells us about our D and how skilled they are, how well they move, and how good players we have. So, we're glad."
6. Sam Lafferty was born and raised in Hollidaysburg, Pa., which sounds like the name of a town I just made up.
It's a rural town 90 minutes outside Pittsburgh. Population: 5,641 Penguins fans.
In 2014, Lafferty's home team drafted him with the 113th pick. All of a sudden, he was sharing a bench with boyhood hero Sidney Crosby during an intrasquad scrimmage.
"It was a dream come true, to be able to play there and get my start in the NHL," Lafferty said.
"Pretty surreal, my first training camp with him. I still remember everything pretty vividly: sitting next to him on the bench, trying to think of something to say, and drawing a blank. I couldn't think of anything good to say. He's an amazing teammate and awesome guy, so really fun playing with him," recalled Lafferty, now a Maple Leaf.
"He reminds me of John Tavares. They have a similar demeanour, and just the way they go about their business. So humble and down to earth – but they bring it every night."
7. Much ado about the 11-forward, seven-defenceman deployment in Toronto.
Interesting that the Edmonton Oilers used the same look to beat the Maple Leafs at home and vice versa.
On this weekend's back-to-back, Keefe used 11/7 at home against the Hurricanes and is flipping to the more conventional 12/6 on the road in Ottawa.
It certainly seems like 11/7 is preferable when the coach has last change. Otherwise, it can expose some shaky matchups.
Edmonton's Jay Woodcroft doesn't wish to broadcast all his secrets, but he has "very specific reasons for going that way," the most obvious being two super-duper superstars he's going to double shift most nights anyway.
The coach brought the idea to the Oilers after he and assistant Dave Manson gave 11/7 some run in AHL Bakersfield, so it's not entirely Connor McDavid–based.
Whether he goes for the extra D depends on the opponent. When visiting Boston, the deepest team in hockey, for instance, Woodcroft opted for 12/6 and got the result.
"Us having the option to do that makes us a versatile, light-on-our-feet team where we can find different ways against different types of opponents," Woodcroft said.
8. Watching his Buffalo Sabres slide down the wrong side of the East's wild-card race, Alex Tuch was champing at the bit for 17 days.
His friend, linemate and countryman, Tage Thompson, predicted Tuch would deliver a meaningful boost when he finally returned Monday in Toronto.
Tuch sniped two goals, including the game-winner, in a critical comeback victory for an organization battling for its postseason life.
The 26-year-old has hit the 30-goal mark for the first time in his career and has a personal-best 64 points with a month to go.
This despite dealing with a "heartbreaking" injury too serious to skate through.
If/when Kyle Okposo (a pending UFA) leaves, the Sabres could do worse than slapping the C on the Syracuse, N.Y., native's chest.
Tuch wants nothing more than to snuff out the 11-year playoff drought once and for all.
"I don't think the belief has ever wavered. I know going through, you have momentum (shifts) and confidence wavers at times because of how games are going," Tuch said. "But we can't look too far ahead.
"You can't really put too much thought into (the standings). You just have to go out and play it shift by shift. Honestly, it's super-cliché, but it helps. It really does. The best teams are able to do that."
Tuch is a hockey fanatic who will click on games during his nights off and soak up highlights after his nights on. Sunday night, he and Thompson geeked out on New Jersey-Carolina and gushed over the playoff-like speed of both squads and the playmaking of Jesper Bratt and Jack Hughes.
"Oh, my God, that game was fast. I loved watching that," Tuch said.
"Look at highlights. Look at the clips. It's learning. I mean, I like learning about the game and stuff. It's not just the scores.
"There are some teams that I really enjoy watching, especially in the East. You have Boston – every single thing is so assertive and almost, you could say, perfect. They obviously make mistakes, too. But just the way they play and are able to back it up. And they're able to back each other up and keep pushing."
9. When Jonathan Drouin missed a meeting Friday, Martin St. Louis prohibited the player from practising and will consider healthy-scratching him Saturday in Tampa.
"Non-negotiable," the coach told Canadiens reporters.
Good on St. Louis.
There isn't much to play for these days in Montreal, but that's no reason to let accountability slide.
10. Kyle Dubas drafted Darnell Nurse third overall to the Soo Greyhounds in 2011 and later named him captain.
The young executive has been "a huge influence" in Nurse's journey to the pros, and the Oilers D-man is certainly aware of the pressure his onetime mentor faces with the post-season on deck.
"You have connections with people that you've played for in your hockey career, and you hope the best for them. He was great to me in the time we spent together. You hope nothing but the best for him. And he's put together a great team here that's been successful for many years," Nurse said last Saturday, when the Oil rolled through Toronto.
"With that said, tonight I hope he doesn't have any success."
11. "The Toronto Maple Leafs will, in our lifetime, win the Stanley Cup. You're in a desert right now, but I'm feeling the oasis. … Maybe this year." —Al Michaels, a 78-year-old who knows something about hockey miracles, on Monday's edition of SmartLess
12. God bless Marc-André Fleury for trying to give the hockey world – Jordan Binnington included – the fight it needs.
"It'll be good. He's always trying to fight somebody," Fleury pleaded with the goalie-fight-blocking linesmen. "It'll be fun."
Pouring one out this weekend for the greatest scrap that never happened …