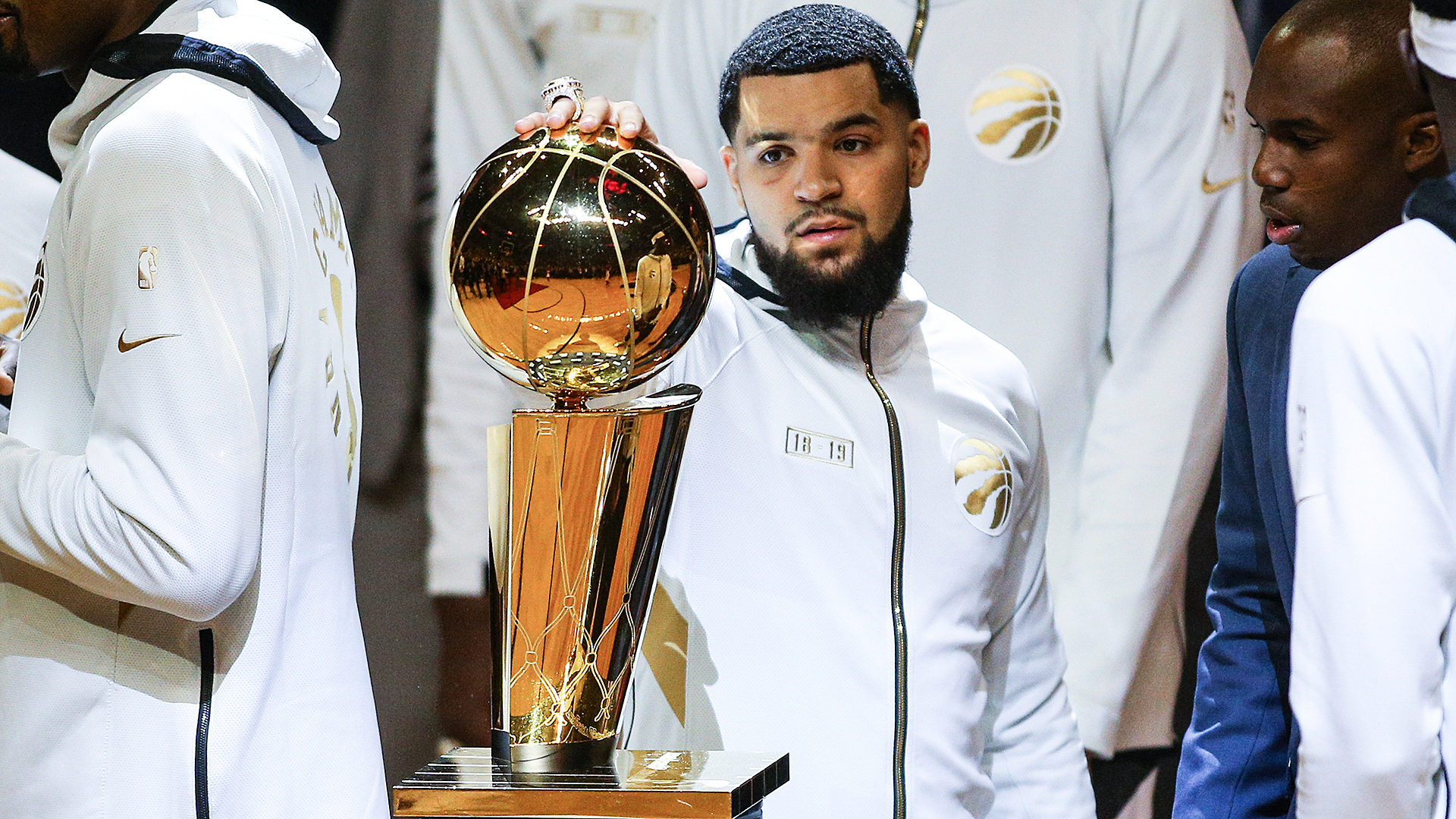 The man was prepared.
He's been preparing for this moment nearly his entire life. So becoming an elite NBA point guard, setting himself up to earn more than $100 million before he turns 30 and becoming a role model for those who dare to dream big – none of that has come as a surprise to Fred VanVleet.
He's not Nostradamus. He didn't predict the precise details, or the to-the-minute timing, or likely that an undersized guy from Rockford, Illinois – an overlooked and underfunded city about 80 miles west of Chicago – would become a borderline folk hero in Toronto, playing for Canada's only NBA team.
But the Raptors point guard always figured his journey would take him somewhere great, and he'd be the one to navigate that path. Not a straight shot – nothing is that easy – but one made easier or maybe even possible because he doesn't waste energy on the things that hold so many back: being side-tracked by self-doubt or even self-loathing or being overly reliant on others to measure your self-worth.
The Wichita State grad who got up on stage at his draft party and – even being passed over in both rounds – predicted great things for himself on Saturday morning signed the richest deal ever earned by an undrafted NBA player: four years and $85 million. A nice bump from the two-year, $18-million deal he signed in 2018, itself a significant raise for someone who had played the first two seasons of his career on the rookie minimum.
VanVleet is now one of the highest earners in his draft class, and no one is less surprised than him.
"Anybody who knows me knows how I am … I always feel like I'm right, so it's not like a big deal to me," he said when reminded of his draft-night confidence, preserved on YouTube, as required viewing for those who know in their bones the world is wrong about them. "I really meant those words. That was coming from the heart, but I really felt like I was right, and I knew that it would work out for me. At that time I might have been one of a handful of people who believed that, but here we are today."
VanVleet was speaking on a Zoom call while wearing a golf shirt from his branded apparel collection for sale on his branded website – 'thanks for the plug," he said, when asked about it – and seated in front of a backdrop featuring his company's logo and stylized poker chips with BOY – for Bet on Yourself, the catchphrase that he's made his own.
Super-imposed over the 'O'? A bag of cash. So, yeah, fair to say VanVleet has been preparing for this day for a while.
It's that unerring confidence – both front-and-centre and understated at the same time, blending into a pleasing, kind of Zen-like self-belief – along with his play that has made VanVleet both remarkably valuable and popular as a Raptor. It showed itself as early as his second year when he helped turn the 'bench mob' into one of the best second units in the NBA and in the Raptors championship when he shook off a horrendous shooting slump through the first two rounds of the playoffs to torch the Milwaukee Bucks and Golden State Warriors en route to the title and again this past season when he started alongside Kyle Lowry, and put up career-bests of 17 points and six assists as part of one of the leagues' toughest, smartest and most efficient backcourts.
VanVleet's story has resonated around basketball – would an under-sized, relatively unathletic, high IQ point guard like Malachi Flynn (taken by the Raptors 29th overall last week) have been a first-round pick if VanVleet hadn't shown how well skill, smarts and mental toughness translate absent a 36-inch vertical or a six-foot-six wingspan? It's hard to pin down cause and effect, but VanVleet is a pretty handy example of what's possible.
"There are guys getting drafted now that I know for a fact wouldn't have gotten drafted in my class or before my class, just because teams are looking at it like they don't want to miss out on the next Fred VanVleet, or this kid can be Fred or better than Fred or whatever the case may be," he said. "Just being that guy who is kind of opening the lane and opening the door for other guys to come after me … that's cool for me to see, for sure."
But VanVleet's example extends beyond basketball or even sports. The 'Bet on Yourself' idea is really about not letting others determine your value. VanVleet knew what he could do, said it out loud and then got on with doing the work to make it happen, confident the results would follow.
It's not an easy thing to do, but it's something anyone should aspire to, and a message VanVleet is happy to preach.
"It's a way of life. We put words to it that made it make sense to people …. [and]I'm just proud and excited and extremely humbled that I can start to see it transition from sports to regular life," he said. "We have people working regular jobs that come up to us and tell us that they hate their jobs, and they have this passion and they want to pursue this passion. Those types of things mean the most to me — that way of living and that lifestyle of knowing your value and loving yourself and having confidence in yourself and not waiting on somebody else telling you that you're great, just going out there and making it happen."
But part of VanVleet's charm is that his visionary side is always tempered by a sense of groundedness. He made headlines heading into free agency when he talked about his desire to 'get paid' in free agency on JJ Reddick's podcast. It sounded bold and maybe a bit grandiose if you didn't know the person or the context. What was mostly overlooked was a few breaths later, VanVleet was quick to point out that he doesn't control the process and that wishing something doesn't make it so, and he would accept with whatever he ended up getting.
"I wasn't a lottery pick, I wasn't the guy a guy who people thought would be the player I am; I'm not a quote unquote max guy," he said. "… [so]I don't have a number in mind, like, 'I can't take anything less than this'. No … I'll take the best deal that's on the table."
After all, the most important part of 'Bet on yourself' might be the fine print that follows the catchy part.
If there is a podcasting odd couple, this might be it. Donnovan Bennett and JD Bunkis don't agree on much, but you'll agree this is the best Toronto Raptors podcast going.
"I will add that it's not always this story. It doesn't always work out," VanVleet said. "There have been plenty of lows throughout this journey in the way that I had to make it to this point. But I made it to this point. That's the important part. Once you detach yourself from the social media world of having the greatest day in the world every day, you can manage through the ups and the downs and just focus on the end goal and understand that it's a marathon."
Even in his big moment, VanVleet lived it. For a while it seemed there might be a bidding war for his services as the best available point guard that could have pushed his deal into 'max' or near max territory – something in the range of $124 million over four years, conceivably. But it didn't work out, and in the moment came VanVleet's only offer came from the team he wanted to stay with anyway.
There was no disappointment, only relief, and appreciation.
"I think the biggest thing for me is just being able to relax and just kinda exhale for once," he said. "I've been on this journey … from when I really started playing basketball. It's a lot of pent-up anxiety and feelings about trying to get to this moment. So just being able to exhale and just release and feel good about how far we've made it before getting ready for camp and getting ready for the next year."
But VanVleet is already looking ahead, envisioning bigger things. It's how he's wired. He's not going to stop betting on himself now.
The most telling detail on his big contract wasn't the number or the term, it was that it includes a player option for the fourth season, allowing him to control his destiny and proof that he believes there's bigger things yet to come.
Could he picture a day like today?
"I mean a day a lot better today is what I had in my mind, so I'll leave you with that, he said. "But this is just another step in the journey for me. It's really just the beginning of the next chapter [or]at least closing a chapter on what has transpired up to this point. And now I feel like I'm on a level playing field and I've made it, and I got both feet inside the door, and I'm in the room and now it's time to really take off and go to another level.
"So, I'm excited about what's in store for the future and that's all I've been thinking about the past couple of days. Obviously when we made the agreement, and we got the deal done that was like my time to celebrate and reflect and relax.
"But I'm already looking at what's next."
Preparations have begun.