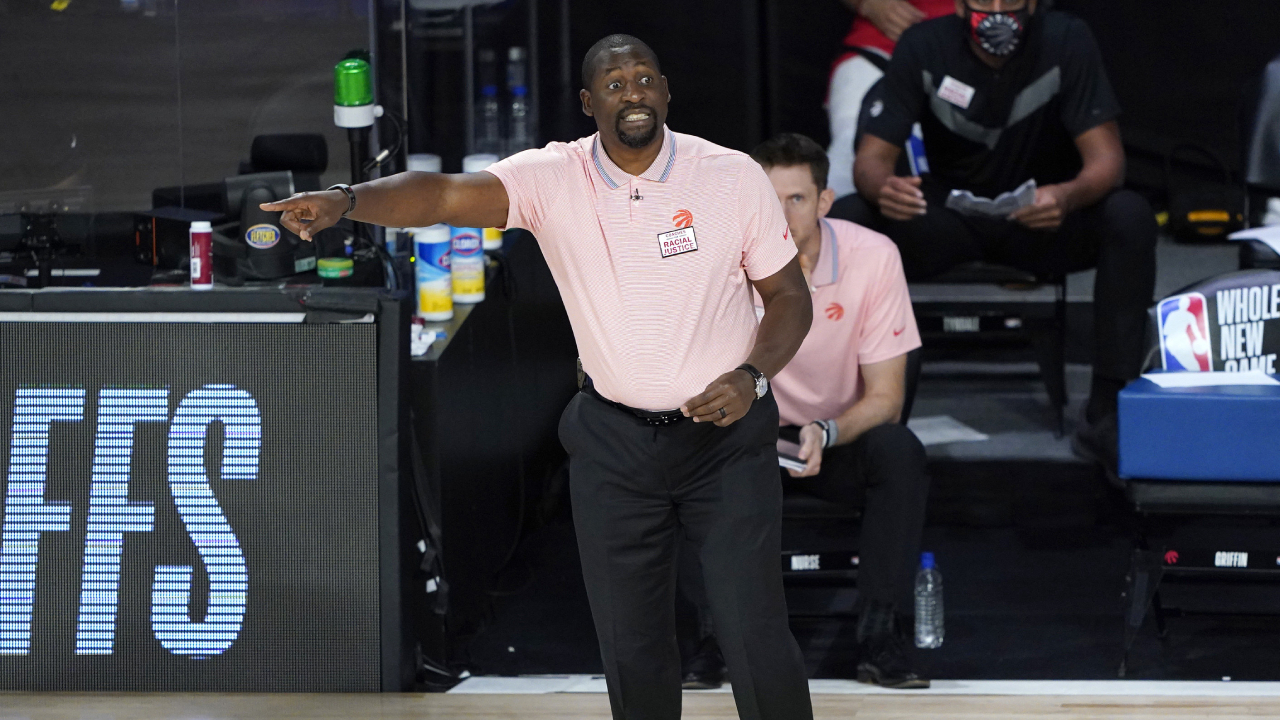 The Toronto Raptors have earned deservedly high marks for using the NBA's restart to communicate important social justice messages while winning basketball games.
They got it rolling – literally – when they showed up at Walt Disney World Resort last month in team buses with "Black Lives Matter" written in "We the North"-style script, capturing eyes across the league and beyond.
They have kept it going with various conversations and messages and showed more of their innovative side last week when they launched their "Because of You" campaign which they hope will become a way for current NBA players and staff to recognize and pay tribute to the Black pioneers that helped build the league. Former Raptors general manager and current executive Wayne Embry – the first Black general manager (with the Milwaukee Bucks) and first team president in NBA history (with the Cleveland Cavaliers) – was the first person honoured and the Raptors are hopeful other teams pick up on it and make it a trend.
But sometimes a simple gesture can speak louder than words, or slogans.
When the Raptors tipped off against the Philadelphia 76ers in the penultimate of their eight seeding games before Toronto's first-round playoff series against the Brooklyn Nets starts, head coach Nick Nurse wasn't on the Raptors bench.
Instead it was his lead assistant, Adrian Griffin, who was in the first chair, orchestrating the timeouts, pacing the sidelines and managing substitutions in what ended up being a dramatic (these things being relative) 125-121 comeback win decided when little-used Stanley Johnson scored on a putback in the lane with 4.9 seconds left to cap a 24-10 run to close the fourth quarter. The win from 16 points down improved their seeding-game record to 6-1 and 52-19 overall before they finish up the regular season Friday afternoon against the Denver Nuggets.
It was a fun night for all involved as the Raptors starters wore themselves out cheering on the bottom-five players on the roster as along with Johnson the likes of Dewan Hernandez and Paul Watson made huge plays down the stretch pull out the win.
And Griffin got his due also as several of the Raptors made a point to congratulate the well-liked assistant on moving to 1-0 as a head coach.
"We literally have our coach Nick Nurse to thank for having the humility and understanding to let [Griffin] coach us on national TV," said Raptors leader Kyle Lowry, who chipped in 17 points on 10 shots. "From the first tip of the game, he did an unbelievable job. Hopefully coach Griffin will get a chance to be a head coach soon. We'll miss him, but hopefully he gets his opportunity to be a head coach. We gave him a bit of a water shower. We forgot to get him the basketball, but he'll have plenty more wins to come and he'll get that basketball."
The NBA has roughly 75 per cent Black players but only eight of the 30 head coaches are Black (and only four black men lead the basketball operations), an obvious and visible area where a generally progressive league can still improve in its representativeness. In 2012-13, there were 14 Black head coaches to start the season — the high-water mark — and the number has drifted down since.
It's that lack of representation that made Nurse's gesture that much more meaningful and it wasn't lost on Griffin.
"After the game in the locker room, I really let coach know how grateful I was for the opportunity," said Griffin. "And I told him, I said sometimes it just looks like I'm just sitting there but I'm really paying attention. I have a really great blueprint in front of me in coach Nurse. I've been fortunate to be under some tremendous coaches, but I put him up there at the top. You sit there and you learn. There are different routes.
"I have always kind of taken that apprenticeship kind of route where I study under someone. It's up to you as an assistant coach how mindful and how present you want to be, or are you just trying to get through the season or get through the practice or the game. I just made a conscious effort to make each day count and, like I said, when you got a role model to follow like coach Nurse, you can't help but succeed."
Griffin fits the profile of an up-and-coming coaching candidate. He was a journeyman NBA player for six seasons, his peak coming as a starter for the Dallas Mavericks in the 2006 NBA Finals. He went into coaching immediately after he finished playing in 2008 and made stops in Milwaukee, where he worked for Scott Skiles, Chicago under Tom Thibodeau and then Orlando and Oklahoma City in the lead assistant role before Nurse hired him to join his staff in Toronto in the summer of 2018.
But getting the rest of the NBA to see you as potential head coach rather than as an able assistant is a hurdle that some coaches never cross and can be even more difficult for Black coaches, who may not have to same network of contacts or relationships among predominantly white league executives, or even owners.
Sometimes a change in perception can be prompted by the smallest thing, like being seen as a head coach for even one NBA game.
Griffin appreciated the chance, even if it came in a game where both the Raptors and the Sixers already had their places finalized and are trying to get through the final two seeding games sharp and healthy – a difficult compromise to reach. The Raptors were without Serge Ibaka and OG Anunoby, each out with minor ailments.
Moving Griffin into the head coach spot for the game was signed off on beforehand by Raptors president Masai Ujiri and general manager Bobby Webster. "Great stuff" – Ujiri said via text message.
For Nurse's part it was an easy thing to do for someone he has come to rely on. "Just giving AG a shot," he said via text.
It's not the first time Nurse has gone out of his way to recognize his staff. He routinely touts all his assistants as having the qualities required to be NBA head coaches in their own right.
But it's the first time he's given up his chair for an assistant coach. It's fitting it was Griffin who wants to be a head coach but – even with his qualifications – can use any opportunity to separate himself from what is always a deep pool of candidates for the oh-so-rare head coaching positions when they come up.
"It's just like when athletes and basketball players are training in the summer, there's nothing comparing to game condition," said Griffin. "You know, you can work out all you want, but until you get in those games and you get up and down the court, there's a difference. And I think it's the same way. It's really equivalent to an assistant coach moving over to that chair. You do all the training that you can and practice but it's good to get those game reps."
One area where Griffin's Raptors picked up from where Nurse's Raptors left off was in keeping Sixers behemoth centre Joel Embiid under wraps. The 76ers big man was held to five points on 1-of-4 shooting in 14 first-half minutes and was hassled into five turnovers, mainly while being guarded by Raptors centre Marc Gasol, who has had Embiid's number ever since he arrived in the league.
Embiid's night was done after the first half in part because he took a pretty hard whack on his hand from Gasol, who had 11 points, rebounds and two steals.
The Raptors otherwise started out slowly under Griffin and trailed 32-25 after the first quarter and 62-55 to the Sixers, who are without Ben Simmons for the rest of the season after he had arthroscopic surgery on his knee.
The Raptors got back into it in part when Griffin went to his bench and was rewarded when Chris Boucher had his second strong game in a row as he put up eight of his game-high 19 points and two of his career-high four blocks in the period as Toronto led 90-88 before the topsy-turvy final quarter.
One game won't change the trajectory of Griffin's coaching career. He's put in too much time and would be a strong candidate for a head coaching job whether Nurse stepped aside for a night or not.
But when someone in a position of power actively makes a gesture to help promote someone reach their dreams and their potential, it sends a powerful message about both people involved, and the support of the Raptors players and the rest of the organization left Griffin almost overwhelmed.
"You really can't put it into words. It really touches me," he said. "You know, these guys, we go to war with them, we won a championship together, the highs and lows and they're your family, they are your brothers out there. I'm not too far removed from these guys. They think I am. They think I'm an old head, but I remember being out there on the floor, so I have always tried to show them the type of respect I wanted as a player and that's really helped me as a coach. To have all those guys – first I have to thank coach Nurse. He didn't have to do this. Honestly, for one night, I felt like Cinderella. I had the glass slippers on, and it was great. Tomorrow, it's back to reality, but it was an awesome feeling."
The Raptors have played well in the bubble, but their game off the court has been strong, too, and Adrian Griffin's magical night is only more proof of that.