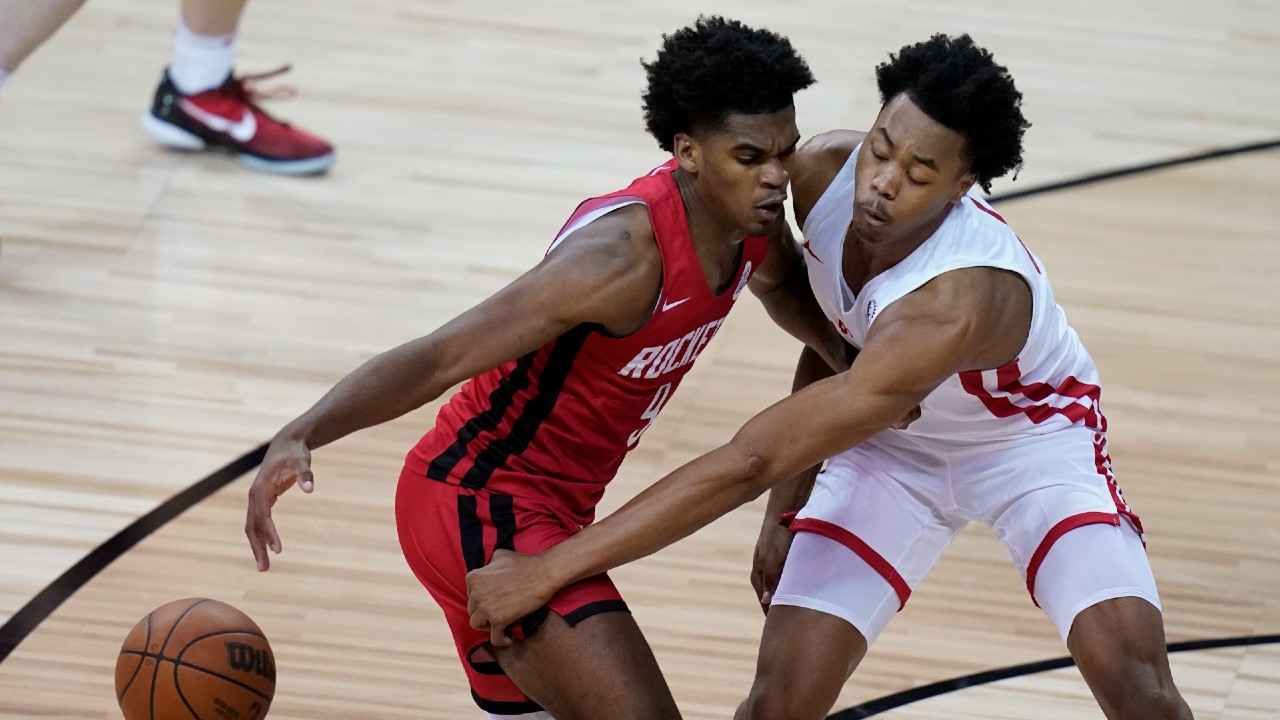 As the old mantra goes, Summer League won't necessarily show you who can play, but it can certainly show you who can't, and after an 86-72 victory over the Brooklyn Nets and finishing with a 4-1 record across their five games, it's pretty clear that the Toronto Raptors fortunately don't have many guys who can't play NBA basketball.
After an off-season period of much change for the club, headlined by the departure of franchise icon Kyle Lowry, there's no doubt that this Raptors club will be a little different than the one many have grown accustomed to during the Lowry years.
The core pieces of Fred VanVleet, Pascal Siakam and OG Anunoby remain, and they look to be the foundation upon which the Raptors will be built now. And judging by the way things shook out for Toronto during Summer League, the team's guiding principles still appear to be intact, they may just be applied in slightly different ways.
For example, this is a team that's still built on a defensive backbone and the acquisition of all the multi-positional, long, athletic combo forwards on the roster is an indication that this is a team that's doubling down on this ideology.
With players like No. 4-overall pick Scottie Barnes, to second-round draft pick Dalano Banton and newcomer Precious Achiuwa, this was a Raptors Summer League team that showed it could switch with impunity and absolutely swarm opponents, leading to turnovers and fast-break opportunities.
"I think our length allows us to do a lot of things defensively, so the first thing is get stops and run," said Patrick Mutombo, who acted as the Raptors' Summer League head coach for every game but Tuesday's finale. "We really don't want to run a lot of set plays. … So get stops and run."
Added Eric Khoury, who acted as Toronto's head coach in their final game Tuesday and was on the bench as an assistant beforehand: "For all of Summer League, especially once we got Precious, that's a fearsome front line. A lot of size, a lot of length.
"We were showing some defensive clips where teams weren't even able to touch the paint once in the possession and they would get a shot-clock violation or would be throwing out some really tough shots. So when you talk about that big of a front court, you're talking about almost 21 feet in wingspan along that front line. And they did a great job of getting into their gaps and really disrupting the opponent so they couldn't run what they wanted.
"So, defensively, hopefully it's a preview of what we see this year and it looked really intimidating and really good."
Particularly with players like Barnes and Achiuwa, these are guys who are very similar, from a length and size standpoint, as Siakam and Anunoby and, when all four get on the floor together next season – as they're expected to – it could make for a devastating defensive unit, capable of creating chaos on that end of the floor in order to fuel the team's quick-strike transition attack.
This was probably the key takeaway to be had from the Raptors' Summer League.
Raptors coach Nick Nurse has always maintained that you can't win unless you D up, and the Raptors team that played in Las Vegas certainly seemed to emulate that fact.
Of course, relying on your defence to solely feed your offence is a bit of a dicey philosophy, particularly in an NBA where offence just feels so far ahead of where defence is at. And, specifically in the case of the Raptors, this is a team that already finished as just the No. 16-ranked offence in the NBA last season, lost a major offensive weapon in Lowry and didn't much replace him.
As things stand, it would seem like the Raptors will be relying heavily on Siakam, when he returns from injury, VanVleet and Gary Trent Jr. to carry the offensive load, with the hope that Anunoby takes a step offensively to become a more reliable go-to option, too.
It could work, but realistically that's a lot of load to put onto guys who, outside of Siakam, had never been asked to be top scoring options before and as such the Raptors may labour to score at times next season.
With that said, however, as their Summer League experience showed a glimpse of, getting buckets at will isn't really what the Raptors' identity is. Instead, the Raptors look to be a team built on stopping other teams from getting buckets and, based off how well it worked in Vegas recently, it's not like it's the worst thing they could be doing.
Here are a few more takeaways from Toronto's 2021 Summer League experience.
Scottie has impressed
Barnes was sat out of Tuesday's finale, but he only needed four games to give a good tease as to why the Raptors took him fourth overall.
The Florida State product only really had one off game but, more importantly, shone brightly in two of them – the Raptors' Summer League opener and in the game against the Charlotte Hornets last Saturday.
Statistically, Barnes' debut game was his best as he went off for 18 points, 10 rebounds and five assists in that contest, but his more impactful performance came in that game against the Hornets when he scored 10 of his 23 points in the game in the fourth quarter while playing smothering defence to help spark a big Raptors comeback and allow them to steal the game from Charlotte's clutches with about 20 seconds to play in the game.
"You can see his talent. He's talented with a lot of potential," said Mutombo of Barnes last week. "I love his desire to win, I love his willingness to listen and to say, 'My bad' or encourage his teammates. There's a lot of work to do with him, but it's exciting the potential that he has."
Barnes' strengths are apparent from just taking a quick glance at him. He has a solidly built body, stands six-foot-eight, features a wingspan longer than seven feet, has huge hands and is freakishly athletic.
These all equate to a player with the look to be able to defend multiple positions already and there's no reason to think he can't instantly step into a real NBA game and immediately make an impact as a defender.
What isn't quite as apparent, however, is the natural feel for the game Barnes appears to have. He's an instinctual playmaker and makes smart cuts to the basket where, because of his vision, he looks like he can create for others as well as for himself after receiving the ball.
That's an advanced technique to already have in his back pocket and bodes well for his future potential.
Unfortunately for Barnes, though, his three-point stroke has appeared to have come exactly as advertised.
In the four games he played, he was just 3-for-11 from three-point range and while, mechanically, he doesn't look nearly as bad as you might be led to believe it's apparent that the young man has a lot of work to do in that regard.
Overall, however, Barnes was very impressive for the Raptors and looks to have all the tools, sans the shot, to become a very good NBA player in the future.
Toronto Raptors guard Malachi Flynn. (David Zalubowski/AP)
Flynn's looked great, but is he ready to be handed the keys yet?
Malachi Flynn, unfortunately, wasn't afforded a Summer League last year heading into his rookie season, so, in getting his first crack at Vegas hoops it looks like the second-year man was trying to take full advantage of it.
Like Barnes, he sat out the Raptors' Summer League finale, but he didn't need that fifth game to prove himself.
Flynn averaged 16.7 points per game while shooting 41.4 per cent from three-point range in the four Summer League Games he played and looked like he picked up right where he left off near the end of last season.
From April onwards last season, Flynn was rock solid, winning Eastern Conference Rookie of the Month for April and showing the kind of poise and fearlessness reminiscent of his Raptors teammate VanVleet as a rookie.
That swagger carried onward for Flynn in Summer League, particularly from three-point range as he appeared to know he was facing inferior competition and was actively hunting shots from distance, even if a defender was right in his grill.
As well, he seemed to be establishing some pick-and-roll chemistry with Achiuwa quickly, which speaks to his natural playmaking skills.
"What most impressed me about him during our time in Summer League is he took on such a leadership role," said Khoury. "We had a lot of new faces and Malachi did a great job of getting guys in the right spots, communicating and, on top of that, putting people where they can score. It wasn't always about Malachi. He would run different actions and get guys where they needed the ball.
"So just to take a step up in that leadership position going into his second season was a really good sign for our team and his career."
The Raptors have a bit of a quandary heading into this next season as they appear to have a dearth of point guards. VanVleet, of course, can run the point, but he's appeared to be better playing off the ball over these past two seasons, and it's unclear how much burn Goran Dragic might get.
Therefore, there could be opportunity for Flynn to take command of the starting point guard spot, something that seems a little iffy when you first think about it as he's entering just his second season, but the composure and maturity he's shown so early in his NBA career just might warrant giving him a chance.
Toronto Raptors' Precious Achiuwa, left, drives against Houston Rockets' Josh Christopher. (John Locher/AP)
Achiuwa's come as advertised, and maybe more
Though he only played three Summer League games for the Raptors, Achiuwa was, perhaps, overall, the most impactful and effective Raptor in Vegas.
He averaged 16.7 points, 7.3 rebounds while relentlessly attacking the basket to the tune of a 60-per-cent field-goal percentage.
Like Barnes, he demonstrated his defensive versatility, by defending centres one possession and then seeing him checking guards another. And offensively, as alluded to before, Achiuwa is like a bulldozer during his dives to the basket. Defenders can only get out of his way lest they end up getting crowned by the ultra-athletic forward.
Most impressively with Achiuwa, however, is the three-point stroke he flashed during Summer League. He only took four shots from deep but he hit two of them and looked quite comfortable on the attempts he did take.
"We encourage him to shoot that shot if it's in the rhythm of the offence," said Mutombo. "It doesn't come as a surprise to anybody, it's something that we work on – you know that we love the three. But we also really like the layup, so there's gotta be a balance there. He's a guy that can get in the paint … but also just slowly adding [the three-point shot]to his game."
Yes, as Mutombo said, the bread-and-butter of Achiuwa's game on offence will be his nigh unstoppable rolls to the hoop, but if he can slowly add a three-point shot to begin to pop out in screen actions that will make him that much tougher to guard and it would be to the benefit of the Raptors.
Ishmail Wainright during his time with Baylor. (Frank Franklin II/AP)
Wainright is among the best stories on the roster
Ishmail Wainright has had an inspired path to getting this opportunity with the Raptors.
He played a full four years of college ball at Baylor between 2013 and 2017 where he actually also played a year of football before deciding to re-focus on basketball full-time. In 2017, he went undrafted, but that didn't deter him from keeping his pro hoops dream alive as he proceeded to then spend the next three seasons (from 2018 up to this year) playing in Europe.
His European career saw him play for two different teams in Germany, before he took off for France this past season to play for SIG Strasbourg.
Wainright signed a two-year, non-guaranteed contract with Toronto so his NBA journey is really just beginning, but to even just make it to the starting line, the 26-year-old is very grateful.
"I've been through every emotion. Every single emotion that you can think about, I've been through [it]. I'm getting emotional now just thinking about it." said Wainright, reflecting back on his journey when speaking to reporters last week. "It's been a journey. I don't think guys understand that playing overseas is demanding. Especially this last year, it was very demanding.
"Just being away from my family, being there and they're in the States, it's tough. I don't think people understand this. It's tough. As you can see I'm a happy guy, but sometimes it's tough. And if you can make it over there, you can make it anywhere. I do it for my kids, to be honest. I'm trying to smile, trying to have fun and I'm here, but I don't want to go back over there. I'm here to stay.
"So that's the emotions and I'm not the only one feeling like this. There are other guys who have been through this and it just hits harder on some guys and I'm one of those guys."
After seeing and hearing Wainright spill his guts like that, it would be a little heartless of the Raptors to cut him, but thankfully he had a pretty good Summer League.
Though Wainright is a little undersized in terms of height, he's still a large, imposing figure who showed he can defend multiple positions and flashed a decent enough three-point stroke to possibly see him as a depth wing on this Raptors roster.
At the very least, you can be assured that he'll be very motivated to do everything in his power to ensure he can stick with the Raptors for at least this season.
Toronto Raptors centre Freddie Gillespie. (Mike Carlson/AP)
Rough time in Vegas for Gillespie
For the most part, every Raptor player that got an opportunity during Summer League performed well enough, but if there is one player you might want to have some concerns about it's Freddie Gillespie.
"Other Freddie" was among the most heart-warming stories from the Raptors last season as he played through multiple 10-day contracts and was eventually signed through the rest of the season. His famous – or infamous – Miley Cyrus video earned him the respect and admiration of his teammates and the fan base, alike, and, hey, it also didn't hurt that his energy and demonstrated skill level helped shore up a disastrous centre situation for the Raptors, either.
Gillespie has never been expected to be a big-time star, but as a role player and backup big man he looked great coming into Summer League with some expectation he'd play at least similar to the way he did with the Raptors last season.
Unfortunately, Gillespie had a poor Summer League, though, as he averaged just four points per game on 22.7 per cent shooting in a little over 17 minutes per contest.
For some reason he looked rather uncomfortable whenever he touched the ball and it appeared to tank his confidence as he was seen just straight up bricking bunnies.
As an encouraging sign, he did average 6.2 rebounds per game, so his ability to grab boards wasn't impacted, plus it seems like the Raptors aren't all that worried about Gillespie's poor showing either.
"Freddie is such a great defender and rebounder and you see whenever he's in the game the paint looks extra crowded, teams try to attack him and he just, with his size and his wingspan and shot-blocking instincts, he really protects the paint really well for us," said Khoury.
"He struggled at times offensively, but we know what he can do. We spent a good chunk of a year with him and when he screens and rolls he's a problem as well. So Freddie might not have had the greatest Summer League as he was hoping for but he still played really well."
As things stand with the Raptors, they look to have about four players who can play centre in Khem Birch, Achiuwa, Chris Boucher and Gillespie. Odds are, though, you wouldn't want to play Boucher at the five, meaning Toronto will likely need Gillespie to at least be passable as a backup centre to either Birch or Achiuwa.
For the Raptors' sake next season, here's hoping his Summer League swoon was only just that.