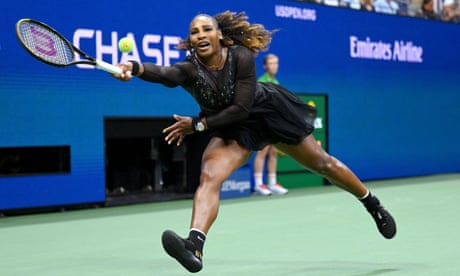 Beau will be here shortly. In the meantime, here's Merlisa Lawrence Corbett on Venus and Serena's joint farewell last night.
Serena Williams often says there would be no her without Venus. So if this was indeed their last tournament together, it is fitting that they went out in the doubles on Thursday night in the same manner as they arrived more than two decades ago: as a team – The Williams sisters.
After they retire officially, you'll find them on the pages of sports, business, health, fitness and fashion magazines. The Williams sisters transcend sports. They've obliterated records, broken barriers and precedents to the point that little is left for proteges like Coco Gauff and Naomi Osaka. The chance to become the first black woman to win a career grand slam? Gone. The first black woman to win Olympic golds in singles and doubles? Gone. The first black women to win grand slam titles in singles, doubles and mixed doubles? Gone. The first black women ranked No 1? Gone.