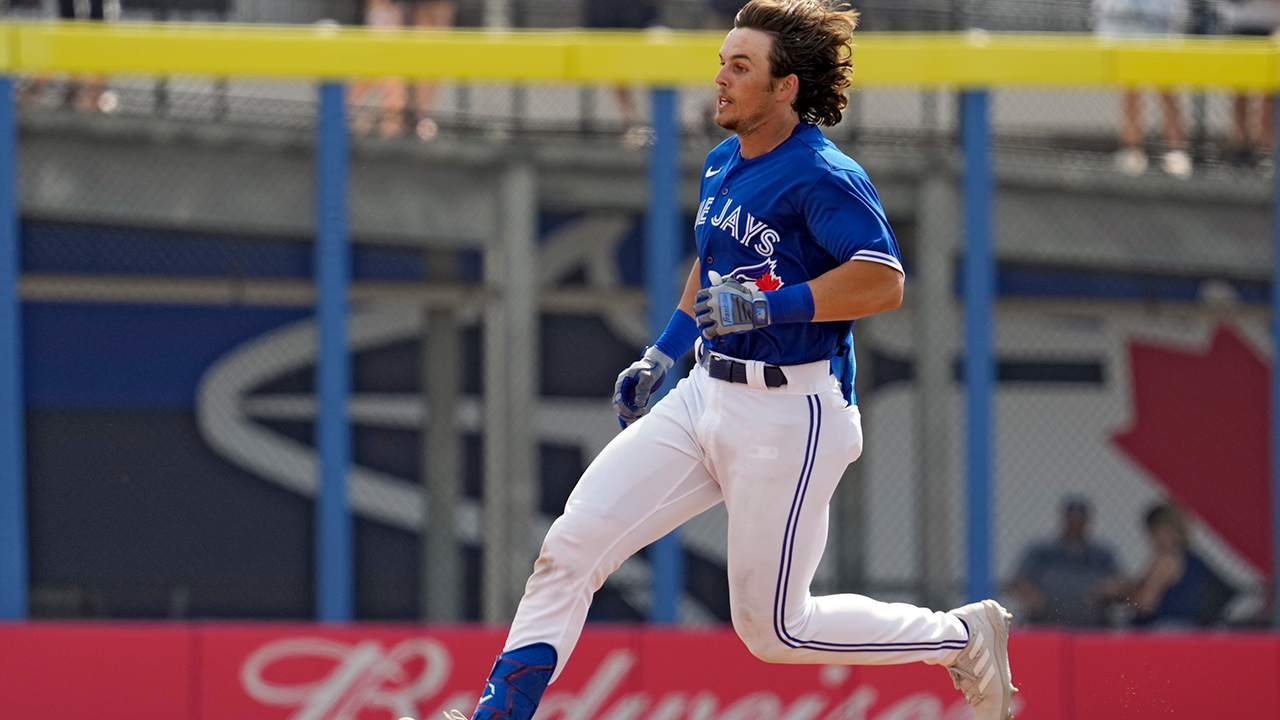 DUNEDIN, Fla. — Everyone knows better than to draw any conclusions from spring training results. But spring training measurables? Those are interesting.
So, let's use some of the data collected by Hawk-Eye technology at minor-league ballparks around Florida this spring to see who flashed the loudest tools at Blue Jays camp.
Some quick caveats. These samples are small. A couple of Toronto's Grapefruit League games weren't tracked. And high StatCast readings don't always translate to high on-base or slugging percentages.
But the information is informative. If you put a ball in play at a very high exit velocity, you've demonstrated your ability to hit baseballs very hard. If you register a very fast sprint speed, you can undeniably move that quickly. These measurables will tell you which players can do things that others can't.
So, with that in mind, here are some Blue Jays' spring StatCast standouts.
Fastball Velocity
The Blue Jays had no shortage of hard throwers in camp this spring, from established big-leaguers (Jordan Romano, Yimi Garcia), to ascendent prospects (Yosver Zulueta, Hagen Danner) to reclamation projects (Junior Fernandez, Julian Fernandez). But Nate Pearson threw harder than them all:
And Pearson didn't only stand out at Blue Jays camp — his average fastball velocity ranked top-10 MLB wide this spring.
Throwing with high effort in short stints, Pearson reached 100 mph or faster 11 times. Here's his hardest pitch of spring, which registered 101 at the top of the zone:
Of course, Pearson's long had the ability to light up radar guns. What Blue Jays coaches challenged him to do this spring was attack the zone with intent and put hitters away quickly. Pearson threw 67 per cent of his pitches for strikes, walking five across 8.1 innings and striking out 13.
The 26-year-old will begin the year at triple-A continuing to focus on his new relief role. But the velocity plays. And as soon as there's an opening in the Blue Jays bullpen, you can bet Pearson will get his opportunity. If he's healthy and performing, that could come as soon as early to mid-April.
"'Don't lose your momentum that you've gained in camp,'" Blue Jays manager John Schneider said, when asked what he told Pearson while on his way to Buffalo. "I thought he had an outstanding camp. It was a tough decision. I think anyone would want his stuff in the bullpen. It's an extremely valuable piece to have as depth at triple-A."
Exit Velocity
It's important to hit the ball hard. It goes farther, it gives defenders less time to react, it leads to better outcomes over time. That's why clubs such as the Blue Jays use average air exit velocity, which filters out ground balls, in their evaluations of a player's power potential.
And with that, here are your 2023 Blue Jays spring training leaders:
Same caveats apply. These are extremely small samples of as few as five and as many as 16 balls in play. Evaluators will want at least 50 before they begin to draw any preliminary conclusions. And hundreds before they feel like they have a truly representative sample.
What this does illustrate is how some of Toronto's position player prospects made the most of their opportunities in big-league camp. Chief among them was Rainer Nunez, who we'll touch on in a minute. And it's no surprise to see Orelvis Martinez high on the leaderboard after setting a New Hampshire Fisher Cats record with 30 homers in 2022 as a 20-year-old at double-A.
But don't sleep on Zach Britton. The 24-year-old left-handed hitter slugged .444 and reached base at a .381 clip over 312 plate appearances across high- and double-A in 2022. He tore up the Arizona Fall League in October, where he posted a 1.057 OPS and walked as often as he struck out. And he's regarded among Blue Jays developers as one of the organization's most hypercompetitive athletes in the batter's box. If Britton can carry over that success into 2023, he could be knocking on the big-league door late in the season.
Back to Nunez. He has as much raw power as anyone in Toronto's system and displayed it frequently in camp, demonstrating the huge exit velocities that fuelled his A-ball breakout in 2022 and helped him lead the Dominican winter league in homers while winning its rookie of the year award.
Nunez received only 32 plate appearances this spring and still produced five of the 20 hardest-hit tracked balls at Blue Jays camp — including the hardest one of all, this 114-mph walk-off:
Nunez will begin the season at high-A Vancouver, but he could be up to double-A New Hampshire mid-season if he keeps raking the way he has. The 22-year-old is very aggressive, and the Blue Jays will want to see some refinement in his plate approach and swing decisions as he continues developing. But power like Nunez's is rare — only 42 big-leaguers hit a ball 114-mph or harder in 2022 — and should allow him to continue making noise in the minor this year.
Arm Strength
There are Blue Jays developers who will tell you Addison Barger has the biggest infield arm in the organization. Yes, including major-leaguers. Yes, an arm as big as Matt Chapman's.
Here's why:
That dart from shortstop was measured at 89.9 mph by StatCast — the hardest throw by a Blue Jays infielder this spring. And it wasn't the only time Barger showed it off. He finished camp with three of five hardest throws by a Blue Jay this spring:
Barger ultimately averaged 88.2 mph on his competitive infield throws this spring. To put that in perspective, here's a list of the top MLB shortstops by average arm strength last season:
Barger's spring sample is a small one, of course. But the fact he can reach back for 90 as he did in the clip above is telling. That was a top-20 infield throw across tracked MLB games this spring and would have been the fourth-hardest by a Blue Jays infielder during the 2022 regular season.
So, what's the actual answer as to who has the biggest infield arm in the Blue Jays organization? Well, that's actually Vladimir Guerrero Jr. He let loose a pair of 91-mph seeds on relays last season.
But as Barger has shown this spring, he more than belongs in the discussion. It's the 23-year-old's loud bat that's gotten him to the cusp of a likely MLB debut this season. But turns out he has an absolute hose, as well.
Sprint Speed
You won't see Cam Eden's name high up on too many Blue Jays top prospect lists. A 2019 sixth-round out of Marcus Semien's old stomping grounds at the University of California, Berkeley, Eden's primarily known for his outfield defence and speed. And he put plenty of the latter on film at Blue Jays camp this spring, finishing tied with Wynton Bernard for the lead among all players in average sprint speed on the basepaths:
Blue Jays average sprint speed (feet per second)
Eden's name also popped up on the average air exit velocity leaderboard, demonstrating the juice the Blue Jays are trying to unlock in his bat. But he'll return to double-A in 2023 and try to improve on the .215/.292/.376 line — and glaring 35.3 per cent strikeout rate — he posted at the level over 80 games at the end of 2022. It's unlikely Eden makes a major-league impact in 2023.
Bernard, on the other hand, is someone you might see in a Blue Jays uniform this season. The 32-year-old made his MLB debut with the Colorado Rockies last year before signing a minor-league deal with the Blue Jays over the winter. He'll begin the season with triple-A Buffalo and, along with Nathan Lukes, is among Toronto's first layer of outfield depth, should an MLB need arise.
Bernard put up eye-opening numbers — .333/.387/.590 with 21 homers — over 108 games in the hitter-friendly Pacific Coast League last season. And while it'll be interesting to see how that production translates to the International League's colder climates and less favourable atmospheric environments in April, the elite speed that allowed him to swipe 30 bags last season won't be affected.
Playing for a team with a stated desire to be more aggressive on the basepaths, Bernard demonstrated this spring he has plenty to offer. And considering how important speed is to outfield defence, it's stands to reason he could make a big impact on that side of the ball, as well. The Blue Jays carried Bradley Zimmer for much of the 2022 season as a baserunning and defensive specialist. Don't be surprised if there's a period in 2023 when Bernard's up with the big-league club in a similar capacity.
Of course, Toronto already has plenty of those tools in Kevin Kiermaier. The soon-to-be 33-year-old's defensive track record is unimpeachable. And his arm's still huge, as evidenced by the pair of outfield throws he made this spring that StatCast tracked at over 95 mph. But what has to be most encouraging to the Blue Jays is the way he moved on the basepaths and in centre field coming off hip surgery that cut short his 2022 season.
Kiermaier's 29.5 ft/sec sprint speed this spring is right in line with what he averaged in 2019 — the last full season when he wasn't playing through injury. That would have ranked among MLB's 96th percentile last season. And Kiermaier got up over 30 ft/sec on occasion, proving he still possesses the kind of top-end speed that can change games.
"He's been like that from basically the start of camp," Schneider said. "We love what we're seeing."