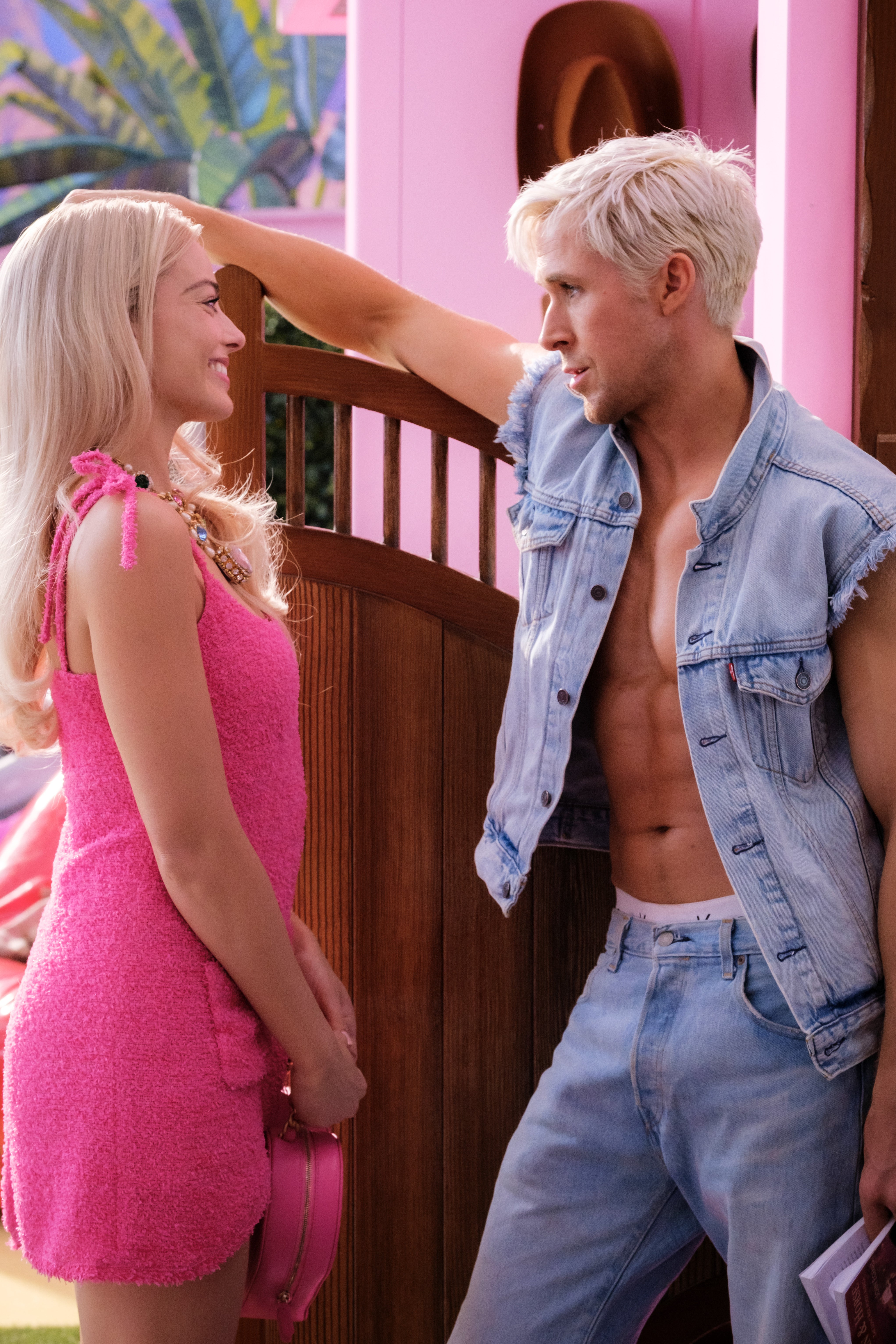 You don't need to watch more than the first few minutes of Greta Gerwig's Barbie movie to realize the impact of fashion in the film. As soon as Barbie (played by Margot Robbie) steps onscreen — dressed as Mattel's first-ever adult doll in a black-and-white swimsuit, cat-eye sunglasses, and heeled mules — the children instantly smash the baby dolls they used to play with to worship at the altar of the style icon. "My main inspiration was to stick closely to the history of Barbie. To look into the Mattel back catalog and find looks for different moments in the movie," Barbie costume designer Jacqueline Durran tells Refinery29 of the film's wardrobing.
After consulting the archives, Durran — who won an Oscar in 2020 for her costume work on Gerwig's Little Women — put her own spin on the beloved styles. Aside from some looks, including pieces from Chanel (for whom Robbie serves as an ambassador) like a heart-shaped vintage bag and a pink mini dress, the costumes were created by Durran's team from scratch: "We not only made the clothes but we also made the fabric. We chose the colors and we made the prints and then we made the clothes."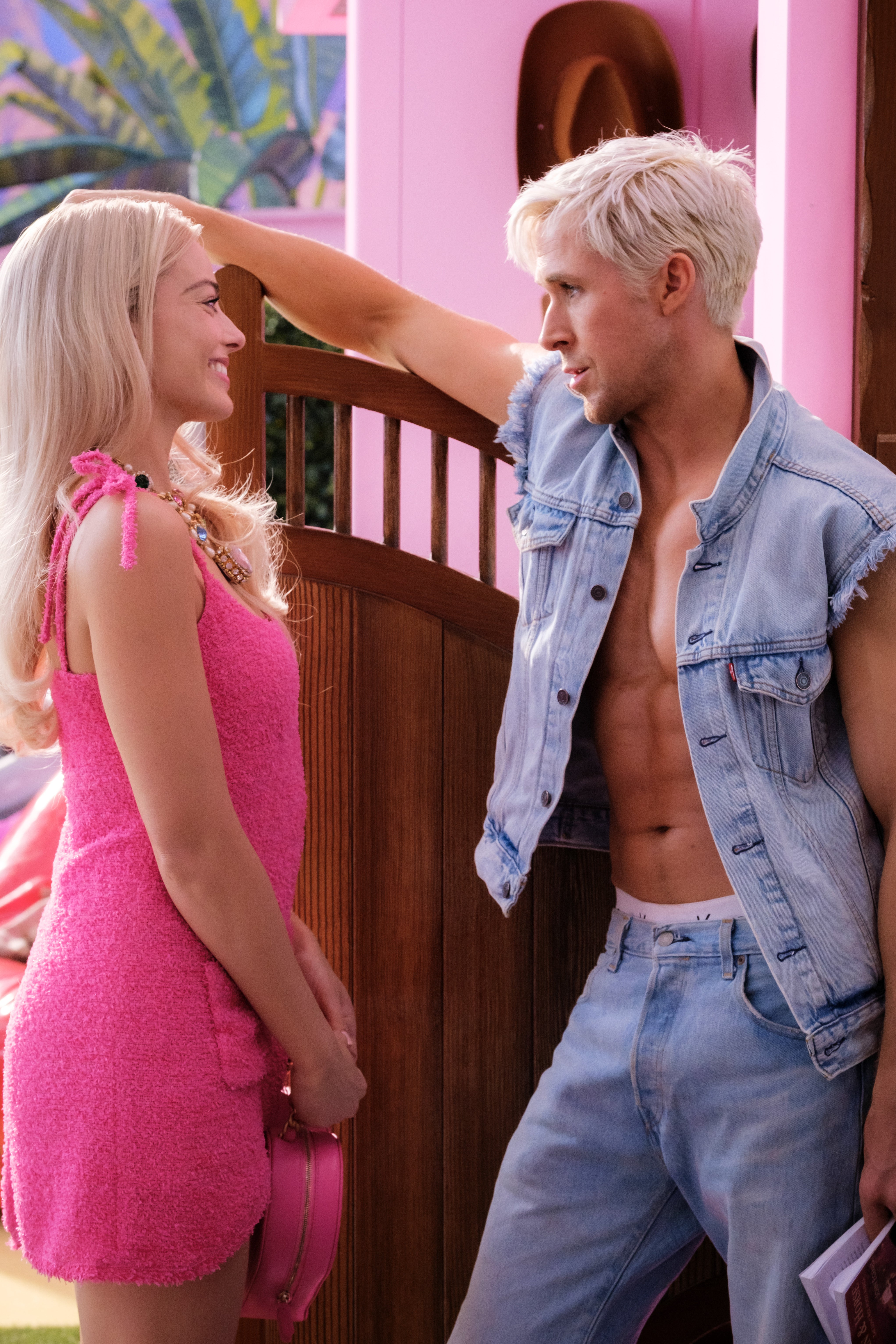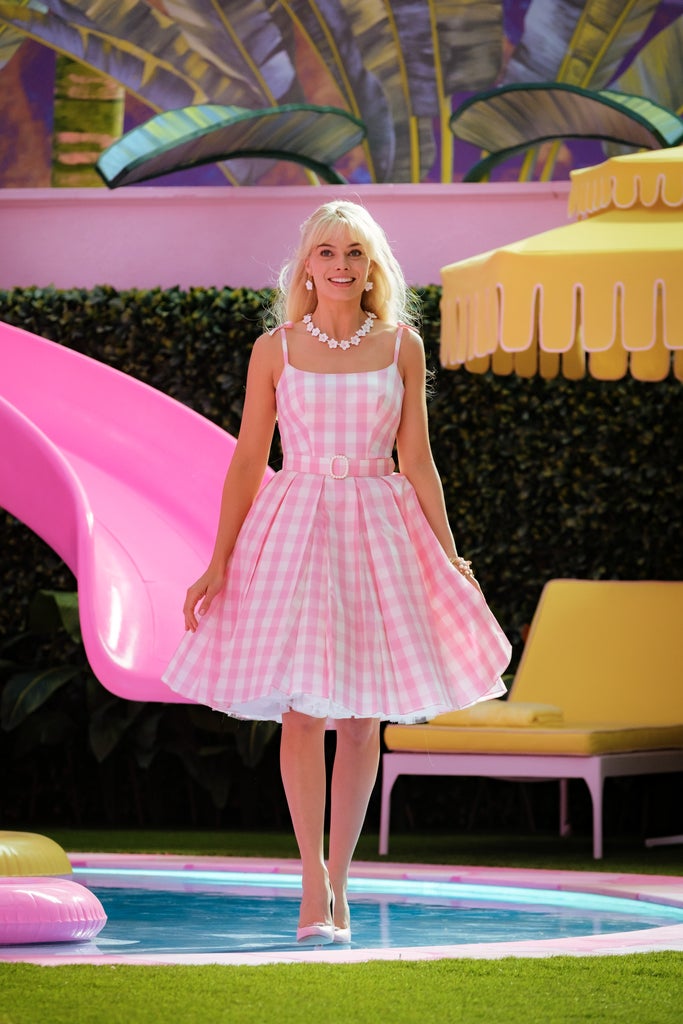 When designing the costumes, she envisioned full looks not unlike ones found in a Barbie box. "I wanted to reference how you play with Barbie and how you dress Barbie, and I wanted sometimes to be conscious of the clothes coming in a pack so that you have the dress, the shoes, the bag," says Durran, referencing Robbie's first Barbie Land look — a gingham midi dress and daisy jewelry that she switches for a gingham mini, shell jewelry, and floppy hat once she leaves the house for the beach — which she considers one of her favorite fashion moments from the film. "It was all thought of as one look… If someone were playing with her, then she would have the dress at home and, by the time she was at the beach, she would be in the other thing because you would have changed her."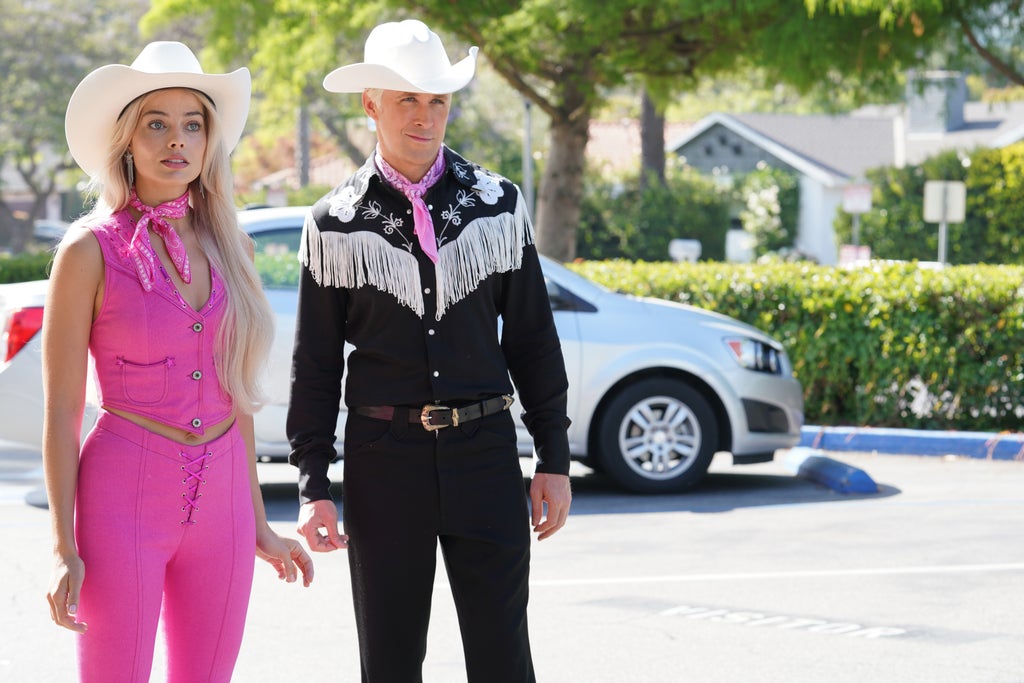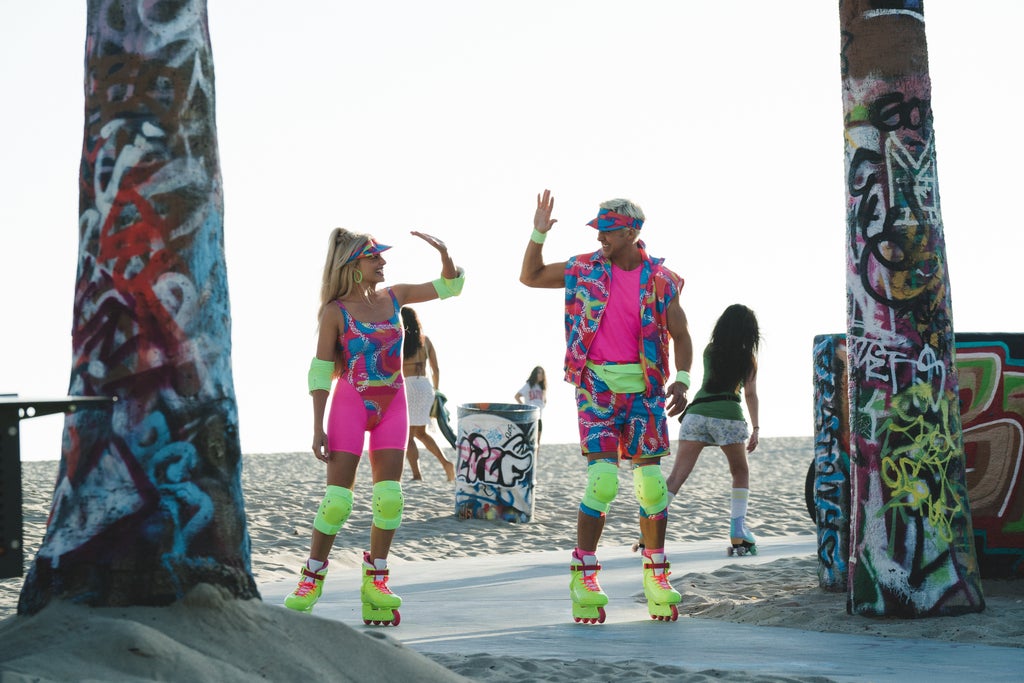 When Durran wasn't referencing vintage dolls like 1994's Hot Skatin' Barbie that inspired the roller-skating look that will make for plenty of 2023 Halloween costumes, she tried to think from Barbie's point of view. "The pink cowboy suit, it took us a while to work out. [I had to think,] What would Barbie choose to wear when she arrives in the real world? What would the Barbie logic be for the thing that would make her fit in in America?… Western was perfect," she says. This type of in-her-shoes thinking is how the pink jumpsuit became the uniform of resistance for the Barbies during the film's turning point. "The thing about a Barbie is that she's always perfectly dressed for whatever she's doing. [So I asked myself,] If Barbie's doing this kind of heist, what would she wear? She'd have to wear a boilersuit," says Durran.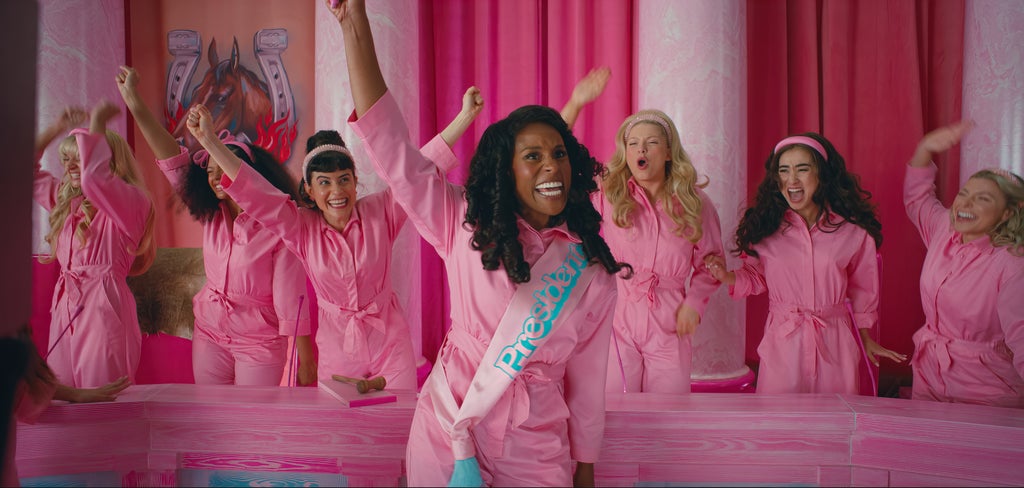 While every Barbie — ranging from President (Issa Rae) to Doctor (Hari Nef) and Mermaid (Dua Lipa) — has her signature aesthetic, it's Kate McKinnon's Weird Barbie — a doll that owes her roughly chopped hair and pen face marks to rough play — steals the fashion spotlight with looks ranging from a voluminous dress with puff sleeves and tulle hemline (paired with yellow snakeskin boots, no less) to a cropped jacket with silver shoulder detailing that wouldn't look out of place front-row at an avant-garde runway show. Durran says that McKinnon's character's look "turned into being a really high-fashion" aesthetic after she considered two different options. "Weird Barbie could have been scrappy and not particularly fashionable and just messy but it felt like it would be more interesting in the movie if there was a distinction between the stereotypical Barbie — who's quite mainstream fashion, accessible, and very easy to understand — and then someone who's very high-fashion and conceptual."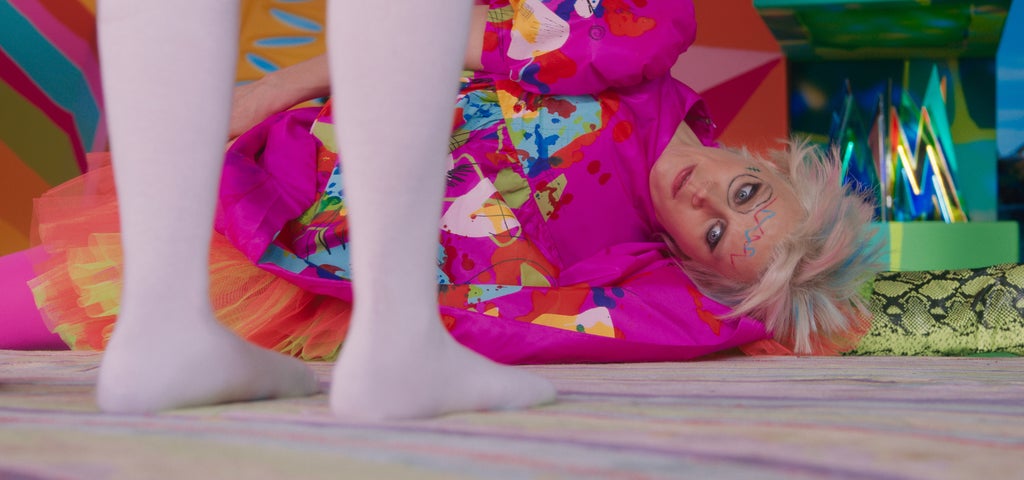 Despite the individual costume choices, all the looks seamlessly came together for group scenes that went from a sequin-filled disco house party to a beach get-together, that saw everyone in different outfits in various pastel shades of pink, blue, and green. "I made a quite controlled kind of group of color combinations that we had to stick to while we were designing the prints and printing for the clothes, so there was lots of variation but it didn't clash," says Durran.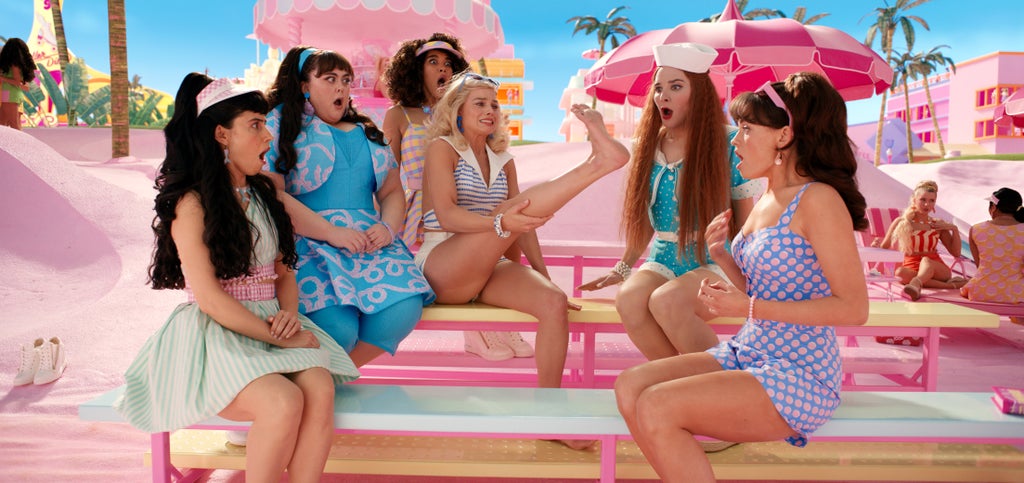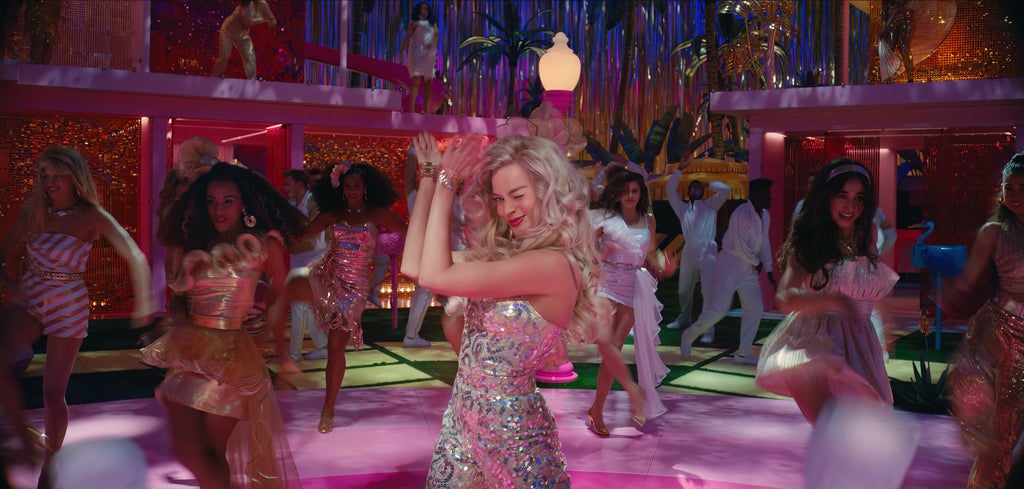 As Robbie's character undergoes a personal transformation midway through the film, the clothes reflect the inner journey. In a scene that marks Barbie hitting her lowest point literally (that has since been turned into a meme), Robbie is laying on the ground in a paler version of the pastel gingham babydoll dress that she was previously wearing. "We made two versions of the look — one with a brighter color and one with a faded color," says Durran. "We wanted to have the feeling that it that she's beginning to change at that point." This shift becomes more obvious as Robbie trades her A-line hemlines, Peter Pan collars, and maximalist accessories that span from cutesy bows and berets to colorful chunky jewelry for a simple bias-cut yellow dress and a single heart necklace by Missoma in one of the final scenes of the film: "We wanted to be to be more conscious of her as a human being [rather than a doll]."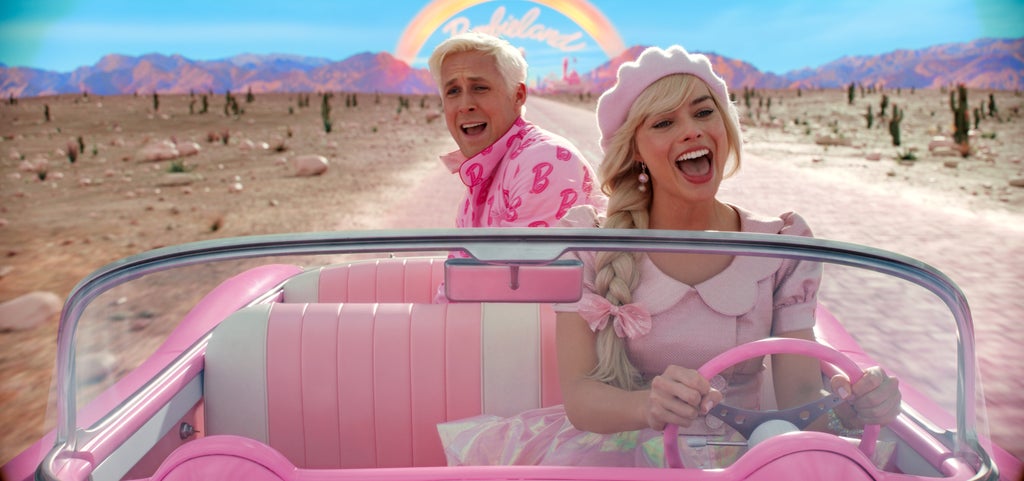 Ken also undergoes a makeover (albeit a more controversial one) after returning to Barbie Land and ditching soft pastel looks for a furry coat, paired with boxing gloves and Adidas high-tops, a look that was inspired by a photo of Sylvester Stallone, as well as Ken's newfound interest in sports, which Durran amplified by sourcing vintage sportswear. To add to the over-the-top display of his new aesthetic that also leans into Western and Americana, in one scene, Gosling comically sports several wristwatches at the same time. "[In the real world in the film,] a woman has asked him the time. He thought that was so great so then he wore four watches," explains Durran. As for the Ken-branded underwear that sent the internet spinning? "That was Ryan's idea," says Durran. "About a day before we shot, he said, 'Don't you think it would be funny if I had Ken underwear? And I said, 'It would be really funny!' And so we just ran and got it made."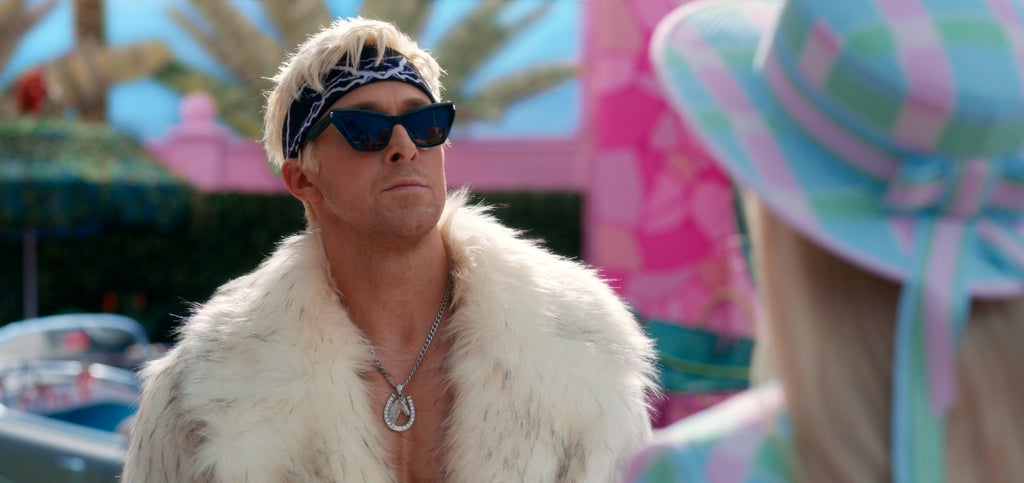 With so many layers and Easter eggs in Barbie's costumes, it's no wonder that, over the past week, people have made going to the movies an experience akin to a red-carpet event. Will you be wearing the heeled feather shoes (custom-made for Robbie by Gina Shoes) or Birkenstocks? In the words of Weird Barbie, "The choice is now yours."
Like what you see? How about some more R29 goodness, right here?
14 Pinkest, Most Stylish Barbie Fashion Brand Col
Come On, Barbie, Let's Get Dressed Up