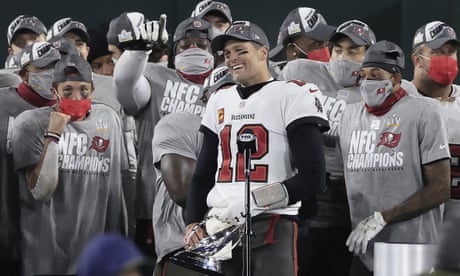 Less than 12 months ago the quarterback pitched up on a new team at the age of 42. Now he is within reach of a seventh Super Bowl ring
Moments after triumphing in his 14th conference championship game last Sunday, Tom Brady jogged over to the Lambeau Field stands and waved down a security guard. "Can I say hi to my son?" he asked.
And though the kid's body was covered from head to toe against the cold and his face shrouded against Covid, there was no doubt that this was Brady's oldest, Jack. The scene, captured by NFL Films, stood out as much for the boy's size as its sentimentality. It is hard to believe that kid, not even a glint in his old man's eye when Brady made his first Super Bowl start in 2002, is 13-years-old now.
Related: Aaron Rodgers' brilliance is clear but history may judge him unfairly