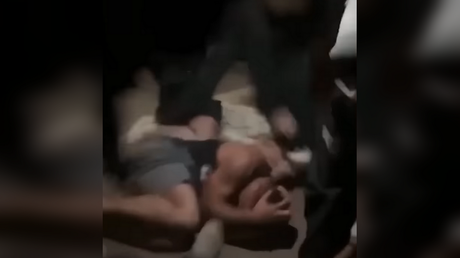 Nine people have been arrested in connection with the assault over Memorial Day weekend near a California beach
Police have arrested at least nine teenagers for their alleged roles in an attack by dozens of people on three US Marines over the Memorial Day weekend near a Southern California beach.
The incident occurred on Friday night at San Clemente Pier and left three unidentified Marines injured. The Orange County Sheriff's Department announced on Tuesday that four male juveniles and one female juvenile had been arrested for their alleged involvement in the assault. San Clemente Mayor Chris Duncan told CBS News that an additional four teenagers had been charged in connection with the beating.
"They think they have the people they are looking for — not to say that there might not be a few others out there," Duncan said. "They feel pretty confident that they have the main perpetrators."
The incident was caught on video and reportedly involved a group of 30 or 40 teens and young adults. The three Marines were not in uniform, and the Sheriff's Department said two of them declined to be taken to the hospital for treatment of their injuries.
The video shows them being surrounded by a large group of people and punched and kicked repeatedly. Two of the troops are shown laying in fetal positions on the ground as they are kicked by multiple assailants.
CBS said the assault began after the Marines asked a group of teens to stop shooting off fireworks because one of the soldiers had been hit in the face by debris. Hunter Antonino, one of the troops, told the outlet that the trio was then followed by the group and "stomped on."
"I didn't know what was going on," Antonino said. "I was just trying to go back to the car, and then I had turned around . . . to help them out. And then we're just all in this circle being stomped on, beat up."
Duncan said it was "particularly tragic" that the incident occurred during Memorial Day weekend, when Americans honor the US troops who died while serving in the military. "The barbaric assault on off-duty Marines at the San Clemente Pier goes against everything we stand for in San Clemente, and it's no excuse that teenagers were involved."
San Clemente Pier is located about 20 miles from Marine Corps Base Camp Pendleton, where more than 42,000 active-duty Marines are stationed.