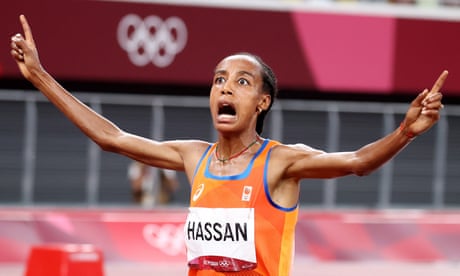 "When will we see Sky Brown?" asks Karl Perleberg. Wednesday, with the final at 4:30am BST. Who is Sky Brown? The superstar who will be 13 and 23 days (!) when she competes in the park skateboarding. And you can dare to dream, explains Jonny Weeks.
She will be just 13 years and 23 days old when she tackles the bowls at the Ariake Urban Sports Park. And there's every chance she'll win a medal, having won bronze at the world championships in São Paulo in 2019 and silver at the Dew Tour in Des Moines in May this year.
Related: Sky Brown ready to wow the world as 13-year-old skateboarder makes Olympic bow
The daily briefing is here. I'll keep saying it: this is the email you need to subscribe to with Martin Belam doing a fine job of capturing the highlights of each day then peeking at the best to come. Sign up!
Related: Tokyo 2020 Olympics briefing: rain, pain, and equestrian glory for Britain
Andrew Hoy! When I was a kid in Australia, you knew Andrew Hoy was a champion. He looked old then, even though he probably wasn't. His first Olympics were LA in 1984. He struck gold in 1992 at Barcelona in the team eventing. He wasn't on Kibah Tic Toc, but there is every chance the horse would have been given a tickertape parade, such was the national joy at winning anything in those days.
In Atlanta 1996 they defended the title. By Sydney 2000, triple champion Andrew Hoy had a brilliant ring to it. At age 41, a five-time Olympian, you retire, right? Not Andrew Hoy. To Athens and Beijing and London and Rio. No medals, but there he was, a staple.
Related: Andrew Hoy is Australia's oldest Olympic medalist at 62 after equestrian silver
Tamyra Mensah-Stock was running at a happiness rating of 10 long before she made it into the women's 68kg freestyle wrestling final.
The day landing into Japan, I knew I was going to have fun in Nakatsugawa. They're freaking awesome! They let me karaoke literally every single day. It was awesome!
Imagine how happy she is now then?
Related: Is US wrestler Tamyra Mensah-Stock the most upbeat athlete at Tokyo 2020?
The future is bright (x2) for British gymnastics:
Related: Gadirova twins show Team GB's future in gymnastics is bright
What a compelling first day in the velodrome. Worth the wait. For Team GB, it wasn't quite the continuation of the dominance we saw in Rio, but there's time for that to change when they start dishing out medals tomorrow. As for Australia, Alex Porter's nasty crash – eeek. Kieran Pender was there to write about the session.
Related: Team GB eclipsed by Denmark's Olympic record in men's team pursuit
In case you missed it earlier: Simone Biles is going to compete in the balance beam individual competition tomorrow. This was one event she didn't actually win in Rio, taking the bronze. The eyes of the world will be on her routine – what a story if she can win it.
"Hi Adam." James Twigg, hello. "Slightly veering off the Olympics here but if there's one thing the shared gold emphasised above all else it was that the Cricket World Cup should have been shared between NZ and England! Just so much better than a contrived tie-breaker that makes the winner feel lucky and the loser cheated. Loving the coverage – keep up the great work."
Related: Simone Biles to compete in balance beam final, USA Gymnastics says
We have an answer on the pole vault query. George Davidson, step up. "The depth of the PV is how far forward or back from the vertical, upright poles the horizontal pole is set. Each vaulter can ask for it to be set where suits them and the conditions. It's never normally shared but is fascinating. Usually governed by valuters confidence, any wind and which pole they are using. e.g. a springy one or a stiff one." Fascinating it is – thanks for sharing. George's athletics bits and pieces are on twitter at @MrHenryGee. *Follow*
"Good afternoon Adam." Hello to you, Des Brown. "At the end of Day 10 at the Tokyo Olympics, Team GB now have 11 Golds, 12 silver and 12 Bronze – a total of 35 medals. That's more than the final medal total of Sydney 2000 (28 including 11 Golds) and Athens (30, including 9 Golds). In terms of where Team GB are in comparison with the last 3 Games at the end of Day 10:
Beijing 2008 – 12 Golds, 7 Silver and 9 Bronze. A total of 28 medals.
London 2012 – 18 Gold, 11 Silver and 11 Bronze. A total of 40 medals.
Rio 2016 – 16 Gold, 17 Silver and 8 Bronze. A total of 41 medals.
The best bit about the shared gold medal yesterday? How angry it has made the usual suspects. And if it is good enough for the godfather of high jump, that should be the end of the matter.
I'm not bothered by it. It was a perfect competition, with no misses until out. They are great champions! https://t.co/SAfvjqeWPs
"Hi Adam!" Allo, Daniel Cavanillas. "First of all I want to give you a big thanks for the great coverage you people at the Guardian are doing of the Olympics." Thank you, it's a true pleasure.
"As someone who absolutely loves watching the pole vault competition but knows very little about it, today during the women's qualification I noticed that the screens on the stadium show the current height that the athletes are jumping over (say, 4.25 metres) and also the depth, which also seemed to be varying somewhat randomly. Do you know what the 'depth' refers to? Is it something the athletes chose? Is it part of the competition? I am utterly confused but still amazed by this beautiful sport!"
A daily treat. The picture gallery from Tokyo, for your enjoyment.
Related: Tokyo Olympics 2020: day 10 – in pictures
Basketball: Australia's winless women's team had to thrash Puerto Rico to sneak into the quarter finals, despite finishing third in their group, and thrash them they did, 96-69 winners. Granted, they have entered this tournament short of full strength, but for a team that won three consecutive silver medals in 2000, 2004 and 2008, it's quite a drop to scrape into the top eight. The quarter final draw is tomorrow ahead of the elimination stage starting on Wednesday.
Volleyball: As is almost always the case, the final event on show to complete the tenth evening of competition is the volleyball, with Brazil's exceptional and undefeated women's team up against the winless Kenya. And they are finishing the Pool A round robin stage in style, claiming the first set 25-10 and the second 25-16.
Badminton: I knew I missed one gold medal match in that final flurry at the stadium – the men's singles. But reader Lars Bøgegaard had it on in Copenhagen. "One of the most beautiful Olympic moments!" he says of his countrymen Viktor Axelsen's win, taking the gold after a clinical 21-15, 21-12 triumph over China's Chen Long – the defending champion. "Immediately Axelsen started to cry and couldn't stop. 'I'm crying. That's okay, isn't it?' He asked the Danish Broadcasting Services interviewer before cutting of their talk."
If you can't cry tears of joy after winning Olympic gold, when can you in the cold world of professional sport? Here it is – lovely stuff.
.@ViktorAxelsen was absolutely superb!! He didn't lose any game since the beginning of the tournament. He got five years ago, now he converted it into a !! YEAHHHH!!!!! #BadmintonEropa #ViktorAxelsen #DEN @baddk pic.twitter.com/UpGidkF0cM
All the medals have been won for day ten. China and the US have pulled away from Japan and Australia, Not Russia in fifth place.
Related: Tokyo 2020 Olympics: full medal table
Shooting: Ahh, wrong target? Some story this, thanks to Reuters.
World number two Serhiy Kulish left the Asaka Shooting Range cursing himself after committing one of the most extraordinary howlers at the Tokyo Olympics – hitting an opponent's target.
The Ukrainian shooter had sailed into Monday's final of the men's 50-metre rifle 3 positions event chasing a second Olympic medal to go with his 10m air rifle silver in Rio five years ago.
Related: 'I shot someone else's target': Ukraine's Serhiy Kulish suffers Olympic blunder
Hockey: Pérez v Hinch, take two. One save on the backstick, a rebound, a second attempt and it's over the top! Maddie Hinch has kept a clean sheet in the penalty shootout putting Team GB through to the semi-final against the Dutch on Wednesday.
Hockey: Sarah Jones scores after nailing her dummy to perfection! Spain must score here, with their fourth penalty, or it is all over. And they don't! Team GB are into the semi-finals! Hinch saves the secondary effort after the first shot hits the bar – drama! Hold on, Spain are referring the decision. Has there been a push on Beatriz Pérez? Nervous moments as the video ref makes her call: "There was contact, there will need to be a re-take." Blimey!
Hockey: Two misses to begin. In hockey, the shootout is a running start from the forward third line rather than going to the spot. And Hinch saves Spain's second, accutately antipating Garcia's backstick effort! Now Martin replies by scoring on the rebound! It prompts the Olympics DJ to play the best Eurovision winner of all time.
Hockey: We're off a shoot out! Team GB and Spain finish their quarter final 2-2. BBC voiceover: "I promise you this is on BBC 1" before the coverage I am watching moves to… something else. Odd.
Hockey: Spain equalise with Team GB! It's 2-2 with seven minutes to go in the quarter final. Tense times for the defending champions.
Athletics: That's the end of another brilliant night of track and field. I'm already excited about tomorrow night, where Elaine Thompson-Herah looks wonderfully placed to break Florence Griffith Joyner's 1988 world record of 21.34 in the women's 200m final.
"Hi Adam." Hello, Jim Wicks. "I believe that Weightlifting silver means that GB are top of a medal table! Medallists in 18 different sports, ahead of China and the USA in 17. And that also doesn't include athletics for GB… yet." Creative! I like it. Well played.
In the end, her throw of 68.98m in the opening round of the rain-affected competition was enough to rule the roost. Kristin Pudenz (GER) wins silver and Yaime Pérez (CUB) takes the bronze. Allman gets to celebrate with one final throw as the Olympic champion but it matters little – she has a precious gold medal. Sandra Perkovic, the two-time world champion from Croatia, finishes in fourth.
That's two gold medals in an hour for the Germans, Rotten-Focken overcoming American Adeline Gray in the decider.
Athletics: Sandi Morris (USA) is out of the women's pole vault in qualifying! One of the big stars of track and field, and the silver medal winner in Rio, she's failed to clear 4.55m on three occasions in the wet at the stadium, breaking into tears on the mat.
Hockey: Team GB's women are back in the lead against Spain their quarter final, taking a 2-1 advantage into the final stanza.
37′ 1-2
Oh what a beauty! It's a classic @Balsdon_Grace rocket to restore our lead
@discoveryplusUK, @Eurosport_UK E5 & BBC iPlayer/Red Button
https://t.co/zlHsSiRu8J#ESPvGBR #Tokyo2020 pic.twitter.com/fXTkcwxRvc
Sean Ingle has an update from the weightlifting mixed zone.

Laurel Hubbard, who became the first openly trangender Olympian earlier tonight, has been speaking in the mixed zone after bombing out of the women's over-87 super heavyweight category.
She spoke for just under three minutes, often breathing heavily as she thanked the IOC, NZ Olympic Committee and Japanese organisers. "I know that my participation in these Games has not been entirely without controversy," she said. "But I think they've been just so wonderful. They've been such a help, and I'm so grateful to them all. Thank you."
Football: Sweden 1-0 FT. They go on to face Canada in the gold medal match with the Matildas playing for bronze against the USA.
Related: Australia 0-1 Sweden: Tokyo Olympics 2020 women's football semi-final – live!
Forget what I said about it being a race in four, the Dutch superstar kicked with 300m to go and won by 30 metres! What a stunning final lap, timing her run magnificently. She wins it in 14:36.79.
Athletics: A race in four as the bell rings in the women's 5000: Obiri (KEN) leading Taye (ETH), Tsegay (ETH) and Tirop (KEN).
Football: There are five minutes of added time to come for Australia to find a goal to take it to extra time, but Sweden still lead them 1-0.
Some history too, as the first woman to win it. Remarkably Andrew Hoy, at age 62, has secured the bronze after claiming silver earlier in the day in Australia's team eventing trio. Hoy's first Olympics was LA in 1984, his first equestrian gold at Barcelona in 1992.
Athletics: Back to the stadium, where the women's 5000m is 1400m in as we pick it up. After leading them around for a couple of laps, Japan's Ririka Hironaka has been overtaken by Kenyan pair Hellen Obiri and Agnes Jebet Tirop. And now another change, with the Ethopian Ejgayehu Taye hitting the lead. Seven laps to go!
Football: Sweden's women are holding Australia off, leading 1-0 at the 84 minute mark in their semi final. Follow it all live with JP.
Related: Australia v Sweden: Tokyo Olympics 2020 women's football semi-final – live!
Weightlifting: Phwoar! Emily Campbell! 157kg, it went up, she took a moment to settle, but it's there! She's into gold medal position. Back to China's Li Wenwen and she does it too! It's gold! And 173kg now to smash the Olympic Record for fun, and she does it too. Emphatic.
Weightlifting: Sarah Robles (USA) is into gold medal position in the women's 87kg weightlifting, posting a combined weight of 282kg after lifting 150kg with her first clean and jerk attempt. Korea's Lee Seon Mi is 5kg behind. Wow, here's Emily Campbell! Team GB's main contender is now into second after lifting 156kg! Back to Robles with 157kg on the bar… and up it goes! Oh hang on, no it doesn't! There was movement in her arms, the judges have given her the red light. She is sending it off to be challenged by the jury! This is a big moment. Emily Campbell is still in it to win gold if she can finish with a 5kg increase. And here she comes, all fired up. Stand by!
Hockey: It's 1-1 between Team GB and Spain in their women's hockey quarter final with six minutes left in the second quarter. I'll keep a closer eye on that when they return from the half-time break.
Athletics: Some race, that. 8:08.90 the winning time for Soufiane El Bakkali with Lamcha Girma (ETH) holding on for the silver medal and Benjamin Kigen (KEN) taking the bronze.
Here comes the Moroccan! Soufiane El Bakkali hits in the lead with 200m to go. One barrier to go and he's over! He storms home to gold! What an expertly timed run and what a win for the 25-year-old. "The Kenyan stranglehold on this race is over!" says the commentator.
Athletics: "The Kenyans are responding!" is the call at the 2km mark, Benjamin Kigen and Abraham Kibiwott led only by the aforementioned Ethiopian pair. The second kilometre was run five seconds quicker than the first. It's all set up for a rapid finish.
Athletics: The TV caller notes that they are on track to run the 3000m journey in about eight and a half minutes, which is 30 seconds off world record pace. The two Ethiopians – Lamecha Girma and Getnet Wale – are leading the field at the halfway mark.
Athletics: The steeplechase final! 3000m, plenty of jumps, a lot of water on the track, 15 runners… this should be chaotic. Lamecha Girma (ETH), the world No1, qualified fastest but he was only a late addition to the field, injured for much of this year. They're away!
Athletics: The rain has stopped so the women's discus finalists are on their way back out after an hour. There is now a 15-minute walk-up period before they crack on. "You simply won't be able to dry the circle so the earlier throws will have been conducted in so much more favourable conditions," says the TV commentator. American Valarie Allman is in gold-medal position with her 68.98m throw.
Football: Sweden score! Per JP in the dedicated blog:
What on earth happened there? A deflected shot from outside the box spun wickedly off the wet turf forcing Micah to backpedal and tip onto the bar. Australia's defence couldn't clear and Rolfö was the fox in the box to hook home very adroitly.
Related: Australia v Sweden: Tokyo Olympics 2020 women's football semi-final – live!
Thanks, Geoff. Great shift. Once again, it's a privilege to be taking over for the final couple of hours of action in the stadium – a wet night, adding to the chaos we can expect in the men's steeplechase final, coming up shortly, then the women's 5000m. Between times, it won't be long before the women's discus has been decided. Fun!
Elsewhere, as the women's 76kg weightlifting reaches the business end the men's badminton gold medal singles starts between Viktor Alexsen of Denmark and Chen Long of China. In quarter of hour it's also the 76kg women's freestyle wrestling gold medal stoush: The USA's Adeline Gray against Germany's Aline Focken.
A big one. They all are, at the Olympics.
Pole vault and discus: The women's qualification for the pole is delayed due to rain at the moment, as is the gold-medal discus. Valarie Allman is leading all comers for the USA at the moment with 68.98.
Water polo: Any Australians stressed about the football, does it make you feel better that your team just beat Kazakhstan 15-7 in the men's Group B match? Not really? Ok, worth a shot.
Baseball: The Americans have come back, sorry for lovers of fairytales. Three home runs in the fourth, three in the fifth, and they now lead 6-3.
Football: Australia and Sweden are 0-0 at half time in the women's semifinal. They've had by far the better of the first half, the Australians. Had the ball in the net from a corner after a good volley, but the referee ruled it out for a block that looked very insubstantial on replay. No VAR applicable, unlike if the goal had first been awarded and then checked. A few other searing corners in the first half for Australia. At the other end, Rolfo for Sweden has had one stunning shot rattle off the crossbar, and a couple of other dangerous turns or passes into space.
Weightlifting: China's Li Wenwen holds the world record in the women's 87kg+ category, and she sets an Olympic record here. Lifts 140kg with her third attempt in the snatch, meaning she's ahead of Robles on 128 and Lee on 125. Now the lifters will go to the clean-and-jerk, and add those weights to their first round tally.
There was so much attention on her qualification, but Laurel Hubbard will not advance. Her first lift at 120 in the snatch contest she lost over the back and couldn't hold. Her second lift at 125 she did elevate and hold, but the judges disqualify it for a twitch of the elbows. Her third lift at the same weight goes the same way as the first, over the back.
And so, even though there is still the clean-and-jerk part of the event to come, Hubbard has no successful lifts from three attempts and won't proceed.
Athletics: So the women's 200m final tomorrow will line up like this.
Switzerland – Mujinga KAMBUNDJI
USA – Gabrielle THOMAS
Jamaica – Shelly-Ann FRASER-PRYCE
Namibia – Christine MBOMA
Cote d'Ivoire – Marie-Josee TA LOU
Jamaica – Elaine THOMPSON-HERAH
Namibia – Beatrice MASILINGI
Bahamas – Shaunae MILLER-UIBO
Weightlifting: In the women's 87+ kilogram division, Sarah Robles (USA) is leading with a lift of 120 in the snatch component of the program. Laurel Hubbard (NZ) missed her first attempt at 122 and has lodged her next attempt as being 122. Emily Campbell (GB) lifts 118 but fails at 122. Seon Mi Lee then goes top for Korea with 122. She has one lift left.
Athletics: Men's 400m third semi-final.
Bahamas – Steven GARDINER 44.14
USA – Michael NORMAN 44.52
Botswana – Isaac MAKWALA 44.59
Jamaica – Demish GAYE 45.09
South Africa – Wayde van NIEKERK 45.14
Netherlands – Jochem DOBBER 45.48
Trinidad & Tobago – Dwight ST. HILLAIRE 45.58
Barbados – Jonathan JONES 45.61
Athletics: Men's 400m second semi-final.
USA – Michael CHERRY 44.44
Jamaica – Christopher TAYLOR 44.92
Australia – Steven SOLOMON 45.15
Saudi Arabia – Mazen Moutan AL YASSIN 45.37
Botswana – Leungo SCOTCH 45.56
Trinidad & Tobago – Machel CEDENIO 45.86
Bahamas – Alonzo RUSSELL 46.04
Athletics: Men's 400m first semi-final. The first two runners qualify.
Grenada – Kirani JAMES 43.88
Colombia – Anthony Jose ZAMBRANO 43.93
Netherlands – Liemarvin BONEVACIA 44.62
Trinidad & Tobago – Deon LENDORE 44.93
Italy – Davide RE 44.94
Switzerland – Ricky PETRUCCIANI 45.26
Slovenia – Luka JANEZIC 45.36
Belgium – Jonathan SACOOR 45.88
Martin Belam has more info for you about Great Britain in the eventing.
Related: Team GB strike gold in Olympic team eventing
Weightlifting: It's Fischer and Amoe-Tarrant trading lifts initially. Most of the field have set their first weights at 115 or more. Kuinini Juanita Mechteld Manuma of Tonga lifts 103.
Baseball: 2-0 Japan now. USA batting at the top of the fourth.
Weightlifting: Austria's Sarah Fischer gets the first lift away with 93 kg in the snatch component. Australia's Charisma Amoe-Tarrant comes in and lifts 95 with apparent ease.
Weightlifting: At the Tokyo International Forum, the women's 87+kg final is about to start. Plenty of attention on Laurel Hubbard of New Zealand in this event. The world record is 335 kilograms across the two lifts. Ten athletes facing off.
Football: The anthems ring out for Australia and Sweden in the women's semi. If you want our dedicated live blog for that match, join Jonathan Howcroft. I won't hold it against you.
Related: Australia v Sweden: Tokyo Olympics 2020 women's football semi-final – live!
Hockey: Netherlands are 3-0 up against New Zealand in the women's quarters, not long to go in the fourth quarter.
Baseball: Japan score! They're 1-0 up against the US of A after the third inning.
Rishabh Pant might have a big cricket series starting in a couple of days, but he's glued to the hockey.
Phenomenal two days for Indian hockey. First the men qualify for a semifinal after 49 years, and this morning the women do the same for the first time in Olympic history. Chak de, all over!
The whole nation is behind you to win this. #TeamIndia #Hockey #Tokyo2020
Jeahwan Shin does it for Korea tumbling over the wooden horse. Difficulty 5.600, execution an eye-watering 9.233. That'll do it.
Denis Abliazin of Russia nearly matched him, with Artur Davtyan of Armenia in the bronze position. That's Armenia's first medal of these games and only its 14th overall.
Thompson-Herah 21.66 from lane nine after switching off with 25m to go… Flo-Jo's 21.34 could go in the final. #Tokyo2020
Athletics: Women's 200m third semifinal. A big performance in the 100 metres, and Marie-Josee Ta Lou puts in another in her heat. The best start and held the front strongly despite Miller-Uibo hammering through late.
Cote d'Ivoire – Marie-Josee TA LOU 22.11
Bahamas – Shaunae MILLER-UIBO 22.14
Switzerland – Mujinga KAMBUNDJI 22.26
Nigeria – Nzubechi Grace NWOKOCHA 22.47
Niger – Aminatou SEYNI 22.54
USA – Anavia BATTLE 23.02
Belgium – Imke VERVAET 23.31
Italy – Dalia KADDARI 23.41
Athletics: Women's 200m second semifinal. Another easy win for Jamaica, another tight tussle for second and third. Riley Day's time was fast for Australia in the first heat, she's still some chance to qualify.
Jamaica – Elaine THOMPSON-HERAH 21.66
Namibia – Christine MBOMA 21.97
USA – Gabrielle THOMAS 22.01
Gambia – Gina BASS 22.67
Great Britain – Beth DOBBIN 22.85
Canada – Crystal EMMANUEL 23.05
France – Gemima JOSEPH 23.19
Italy – Gloria HOOPER 23.28
Greece – Rafalia SPANOUDAKI 23.38
Athletics: Women's 200m first semifinal.
Jamaice – Shelly-Ann FRASER-PRYCE 22.13
Namibia – Beatrice MASILINGI 22.40
Bahamas – Anthonique STRACHAN 22.56 (.551)
Australia – Riley DAY 22.56 (.557)
USA – Jenna PRANDINI 22.57
Netherlands – Dafne SCHIPPERS 23.03
Portugal – Lorene Dorcas BAZOLO 23.20
Germany – Lisa Marie KWAYIE 23.42
Athletics: The women's 200m semi-finals, first race. Shelly-Ann Fraser-Pryce blitzes the field. "Slings around the bend," says Bruce McAvaney. Just quietly, is there much better than Bruce on the track for an evening session? You can feel how much he loves it.
Fraser-Pryce is such a vision in these games, the flaming red and yellow hair burning behind her like a rocket tail, opening up several metres on her next competitor before cruising to the line.
Bec May has sent me this deep look at the crazy Team GB bikes, if that's your kind of bag.
Oh God, the women's 200 metre semi-finals at the track start in… four minutes. The Games really never stop, do they? Netherlands leading New Zealand 2-0 in the women's hockey quarter final, by the way. USA and Japan 0-0 in the second inning of the baseball round two match.
Speaking of horses! They've defied the neighsayers. The Great Brits have done it with the fewest penalties, which I assume is a good thing, ahead of the Australians. I didn't get to watch it because it takes a long time and there were 43 other things on, including the men's vault final which is just starting. That's humans jumping over things on their own instead of on horses. Although if someone could get a horse off the springboard and land that, they'd probably get mad difficulty points.
Anyway, here's what our friends at the Press Association had to say.
"Great Britain's eventing team won gold after producing a dominant display in the showjumping finale at Tokyo Equestrian Park. The trio of Oliver Townend, Laura Collett and Tom McEwen led by 17.9 penalties following their outstanding cross-country rounds on Sunday. And they comfortably retained top spot, with McEwen going clear on Toledo De Kerser, Collett having four faults aboard London 52 and Townend also collecting four with Ballaghmor Class. It is Great Britain's first Olympic team gold in eventing since Munich 1972, while Australia took silver and France bronze."
Matthew Brown with another correction. "About the tie – there is a precedent. Wikipedia has a list of all ties in Olympic history. There has even been a tie for high jump gold before, in 1900. Although that was between two horses."
"If you don't win a medal at the Olympics what do you get?" asks Kurt Perleberg.
I'm guessing you're an Olympic medal-less?
Bless my reader Lasse Roren, who corrects one point below: the Australians in the men's team pursuit cycling do still have a shot at bronze.
"Unlike you I've got the luxury of having enough time to check Wikipedia," writes Lasse. "So it seems that the format is: 1 vs 4 – winner advances to the gold medal final. 2 vs 3 – winner advances to the gold medal final. The 6 teams not in the gold medal final get ranked by time, and the two best times race for bronze, the next two for 5th etc. So the Aussies will advance to the bronze medal final if they can get one of the two best times of the non-gold medal final teams."
What a boilover. The Americans didn't really look like it tonight, and aside from beating up New Zealand they've been pretty lacklustre all tournament. Tierna Davidson gave up the penalty after a VAR check. Jessie Fleming put flames through it. Adrianna Franch guessed the right way to dive but couldn't reach it.
Sweden or Australia will face Canada for gold.
"But a penalty shoot out in football is a contrivance, as are extra holes in the golf. The objective of the Olympics is that someone wins," writes Richard Hirst.
It is the objective, yes. And sometimes, in direct contests, there are dead heats. These two were better than everyone else, and couldn't be separated from one another, for the first time in the history of the event. That feels like a pretty great result to me.
Lars Bøgegaard writes in from Copenhagen. "It was really a flabbergasting rule that allowed the two high jumpers to share the gold. They could have lowered the bar one centimetre and had three jumps. If both jumpers managed that, they could have continued until one failed and the other one made it. If neither could pass it in three attempts one centimetre down again and so on. Just like at penalty shootout in football. But hey, it's the charm of witnessing sports you are not that familiar with. Citius, altitus, fortius!"
They could have done basically that under the 'jump off' rules: they move the bar down until someone fails a jump. But I think Lars, that your closing quotation is the reason that wouldn't have been a better solution. As per another reader, Steve Tayler:
Speaking of (or alluding to) Simone Biles, here's the latest on her.
Related: Simone Biles to compete in balance beam final, USA Gymnastics says
Gymnastics: Carey's strong early showing held her ahead of the field until the end. The USA team gets gold on the floor and in the all-around, neither from the expected source. Vanessa Ferrari takes silver for Italy in her farewell Games, and there will not be a tiebreak situation for the bronze – Murakami Mai and Angelina Melnikova will take one apiece for Japan and Russia.
Gymnastics: Jennifer Gadirova, the other half of the British duo, goes through her routine without errors but is starting with a low difficulty score, so comes through in seventh place with 13.233. The Gadirovas are 16 years old and will hope to be back for Paris. And that's that!
Football: 74 minutes gone and Canada lead! A penalty called after a shoulder-barge in the area, and Fleming sizzles it into the side netting – but on the right side of the post.
Gymnastics: Rebecca Andrade produces another charismatic performance on the floor. Silver in the all-around final, gold on the vault, she can take home a lot of happiness from her campaign whatever happens here. She gets a penalty for out of bounds on her first pass, stepping back to keep balance, but even without that she would have been just short of the pair locked in equal third. She scores 14.033.
Cycling: The Australians get up and race after their crash in the men's team pursuit, but only qualify fifth. No chance at a medal, then.
Denmark
Italy
New Zealand
Great Britain
Australia
Canada
Germany
Switzerland
Gymnastics: Murakami Mai is sixth on the floor and third on the board. Another outstanding routine, nothing evident to fault with it, including a front out on one pass that is a point of difference with the other routines. Very high execution score. In fact she's equal third, with Melnikova. That could require a tiebreak.
Gymnastics: Vanessa Ferrari surges into second place for Italy! She looked in great contention for top spot, actually. The most invested performance we've seen in terms of the choreography, costume, expressions, but she also had a complicated tumbling section and stuck each landing.
She gets 14.200, a better execution score than Carey with 8.300 to 8.066, but Carey's difficulty multiplier retains the edge.
Gymnastics: Viktoriia Listunova is up first on the floor, and the Russian produces a nightclub vibe routine with a couple of mistakes that gets her 12.400 with a o.1 penalty. USA's Jade Carey nails her effort next though: three big passes, a slight stutter on one landing while the other two are absolutely nailed to the mat. Difficulty of 6.3 compared to Listunova's 5.2 gives some sense, and Carey posts a strong leading score of 14.366.
Young Jessica Gadirova clocks the best execution score of the night, an 8.400, in a very good routine that gives her 14.000, but Russia's Angelina Melinkova goes past into second place with 14.166 based off a higher difficulty score. We're halfway.
Cycling: Germany may be world champ winners, but China take Olympic gold. The gap is 0.015 seconds. Tianshi Zhong and Shanju Bao set a world record earlier today. They were just under a tenth of a second slower in their final, but still blazing fast. Wrestled the bikes out of the blocks with literal screams of effort, stomping the pedals to get them going. And it's enough to stay just in front and carry them home. The winning time is 31.895.
Cycling: The Russians take bronze over Netherlands in the women's team sprint, clocking 32.252.
Kieran Pender, trackside:
Disaster for Australia at the Izu Velodrome with a rider in the men's team pursuit coming unstuck early in the team's qualifying effort. It was a bad crash – he seems to have walked away okay, but has lost a lot of skin. The team stopped. Confirming Aussies will get to ride again later tonight.
The women's floor final in the gymnastics is about to start, and shortly the women's team sprint gold at the velodrome.
Shooting: Changhong Zhang is the master of the three positions: he can shoot lying down, kneeling down, or standing up. Don't cross him. And he's done it with a new world record of 466. Sergey Kamenskiy from Russia is second, Serbia's Milenko Sebic is third.
Email from John Gray, and good question about the high jump.
"Great to see Tamberi and Barshim celebrating together; but I'm curious what made it possible for two gold medals in that event. Why couldn't Zverev and Khachanov simply agreed to have gold each rather than play each other in the tennis final?"
Here's news. Simone Biles will compete in the women's beam final on Tuesday, USA Gymnastics has just announced.
We are so excited to confirm that you will see two U.S. athletes in the balance beam final tomorrow – Suni Lee AND Simone Biles!! Can't wait to watch you both!
Football: Still 0-0 into injury time for Canada and USA in the women's semis. Six minutes added.
Gymnastics: It's a double for Yang Liu and Hao You, with Greece's Eleftherious Petrounias taking bronze. Yang's winning score was 15.500 with an astonishing 9.000 on execution. His teammate next to him on the podium hangs the gold medal around Yang's neck.
Diving: The men's 3 metre springboard qualifiers are done, and the Great British Jump Off fans will be glad to know that James Heatly is through in fourth, and Jack Laugher in sixth. China's pair go through one and two: Zongyuan Wang and Siyi Xie with 531.3 and 520.9 respectively across their six dives. Li Shixin of Australia misses out.
Cycling: An email from Wilson Beuys, of which I understood about four words. This is for those in the know.
"If you're interested and can get a closeup from agency photos, those GB track bikes are a new design by Lotus in conjunction with Hope (purveyors of expensive bike bits to the deep of pocket) and the weird front forks and seat stays look like something from a fatbike that's been shaved down by a weight weenie. As with all bikes in UCI track events, they have to be available to the general public, and they are – if you fancy lashing out 30 grand. The chain alone costs 450 smackers…"
Football: Still 0-0 for Canada and the US after half an hour. But a yellow card for the States and a corner for Canada, after O'Hara's sliding tackle collected the attacker and knocked the ball over the goal line. Canada's corner attack is headed wide.
Weightlifting: Ankhsetseg Munkhjantsan for Mongolia tries a 147 with her final attempt, but is stuck under the bar. Just can't get that final push of power, and after several efforts she abandons it at last, dropping her head into her hands in tears.
That means silver for Salazar, bronze for Crismery Dominga Santana Peguero of Ecuador.
Weightlifting: The business end in the women's 87kg gold medal contest, not to be confused with the 87+kg edition later tonight Japan time. Gaelle Nayo Ketchanke bows out for France attempting a 145 in the clean and jerk. But Tamara Salazar of Ecuador, a joyful and colourful competitor through her whole campaign, lifts 148 to guarantee herself a medal.
Gymnastics: We're up and away in one of the men's gymnastics finals as well, on everyone's favourite apparatus: it's time to find out who is truly the Lord of the Rings.
Cycling: Here's Kieran Pender, our correspondent at Izu Velodrome.
The Australian women will be bitterly disappointed with that time, which ends their gold medal hopes in the team pursuit. The 2019 world champions went out strong, staying close to Germany's new world record time, but faded in the four laps. The best the Aussies can now hope for is bronze – and they will have a lot of ground to make up on Tuesday. The men's team pursuit qualifying is later this afternoon – hopefully the Australian men, 2016 silver medallists and 2019 world champions, can keep Australia's track gold medal hopes alive.
Cycling: The seeding for the men's team pursuit is on now. Mixing and matching.
In the women's team sprint, China and Germany will ride off later for gold. Netherlands and ROC race for bronze, Mexico and Lithuania have the next race down, and Poland-Ukraine will be the 7th place contest.
Football: The big North American grudge match, the battle of the continent, the contest to decide who gets to be called the hat of whom: this is the women's semi-final between USA and Canada. Underway, fast pace through the first 10 minutes, and no score.
Cycling: Another WR goes down at the cycling track today! As we switch formats to the team sprint, which is where two pairs of riders from competing countries start on opposite sides of the track at the same time, the Chinese pair burns around in 31.804.
Diving: Great Britain's Jack Laugher is currently in third spot after five of the six rounds in the men's 3-metre springboard qualification. The top 18 go through to the semis, so don't get too excited at this stage. But it's a great start.
Handball: Hungary and Sweden are 15-all after the first half in Group B. In the water polo, Spain just beat Croatia 8-4.
Cycling: They don't quite get there. That would have beaten Great Britain's previous world record in the women's team pursuit that stood until 29 minutes ago. The new GB mark is 4:09:022. They were nearly a full second ahead of Germany's time today with about four laps to go, but ended up 1.7 seconds behind as they flagged in the last lap and a half.
The team pursuit qualification isn't an elimination, it's a seeding event, so the final order is:
Still flying, the Brits, at 2750 metres!
Cycling: Great Britain to take their qualifying team pursuit ride… they're ahead of Germany on the first couple of laps.
Athletics: I was thinking about the Sifan Hassan recovery again – that may be the best thing I've ever seen at an Olympics. The fall, right at the back, in the final lap after all the exertion of the 1500 and… she just gobbled them up. One at a time, all the way to the end.
@GeoffLemonSport
The scale of the upset by India's women in the hockey QF was off the scale. They were 12th and last at Rio. Many of these girls have come from extreme poverty & reaching the Olympics is itself an achievement leave alone actually being in medal contention
Shooting: That is the the rapid-fire 25m pistol, to be precise. Jean Quiquampoix shoots a score of 34 to equal the Olympic record set by Cuba's Leuris Pupo in 2012. Pupo is the man with silver today, and China's Yuehong Li gets bronze.
Cycling: The Australians bomb to 4:13:571. They were just over a second behind Germany's time at the halfway mark, then fell all the way back to five seconds and change by the time they were done.
Cycling: New Zealand get through in 4:12:536, the slowest of the four times yet today. Teams from Australia, Canada, US and Great Britain to come.
Cycling: How's that for a run in qualifying? No easing up at the finish there. Four riders in the team event at the velodrome, if you're trying to picture it. Great Britain held the record until a few minutes ago with 4:10.236 from the Rio Olympics.
In Tokyo, Italy and France ride times a second or two outside that, before Germany's team comes home in 4:07:307. Smashed it!
Hello, hello, hello, hello, hello. One for each of the five Olympic rings. Thanks Scott. Let's get ready to get into the madness of a Japanese evening session once again, hey? Right now we've got the track cyclists, those adorable little miniature Darth Vaders who go bobble-heading around the track in big circles. There were two a moment ago, then three, now we've got four coming out. They're multiplying. And when one leaves the front they go to the back and start again. Life metaphors abound.
On that note, and I admit it is a low one, I hand you over to Geoff Lemon. Thanks for your company. Let's do it all again tomorrow.
Two things: surely the Aussies have an unfair advantage in the mullet competition? Bit like the way the US call Super Bowl winners the "world champions" even though no other countries compete.
Secondly, you posted the "word up" video and focussed on the red underpants??? WHAT ABOUT THE CODPIECE??? It's the only think I can think of when I hear that song after all these years, and I don't mean in a good way..,.
True on point No 1, PeBo13, and I did actually mean the codpiece when referencing Cameo. I must have been thinking of my attempts in adolescence to imitate. Hence undies.
Fifty-two straight victories at the Olympics for the USA women's basketball team. You could say their opponents are falling like a house of cards.
Related: Women's basketball: USA tame France to go 52 games unbeaten at Olympics
Graeme Arthur is doing what you should all be doing. Thinking about great sporting mullets.
Any advance on Chris Waddle? Especially with perm curls at the back. Psyched for the climbing tomorrow – there was some serious mullet action there back in the 80s mind. Spandex pants too.
Track cycling: Ah cycling, welcome to Tokyo 2020. What took you so long? Action is under way at the Izu Velodrome and Germany are setting the early pace in women's team sprint qualifying. Sure to be some amazing performances to arise from this meet over the coming days.
Huge, huge semi-final for the Matildas tonight against Sweden in women's football. There are question marks over Sam Kerr's fitness and several more hanging over Australia's ability to turn around the 4-2 thumping handed to them by the Swedes in the group stage. The winner will take on either world champions USA or Canada, who will slug it out in the earlier semi-final at Ibaraki Kashima Stadium.
Who knows, maybe the Matildas' "it factor" can take them all the way.
Related: 'It factor' powering Australia before Olympic football semi against Sweden
Badminton: a couple of gold medal matches today and I'm delighted to report that Greysia Polii and Apriyani Rahayu have broken new ground for Indonesia in the women's doubles. They beat the Chinese second seeds in straight sets to hand their country their first gold of Tokyo 2020. Well done. That is outstanding.
A historical win!
Greysia Polii and Apriyani Rahayu secure #INA's first ever #Badminton women's doubles Olympic gold – and the nation's first of #Tokyo2020.@bwfmedia @nocindonesia1 pic.twitter.com/F0HDisviLI
On Channel Seven's Olympics coverage, Rohan Browning is talking about his mullet: how it came about, what his family and friends think about it, and what he hopes the future holds for it. He also says there isn't an Asahi in Tokyo that isn't safe tonight. I bet he races through one of those bad boys in OR time.
Look, his mullet's not bad but it could be so much better. Favourite sporting mullets people, Olympic or otherwise?
Women's basketball: France put up a good fight but class prevailed in the end as USA cleared away to a 93-82 victory to ensure qualification for the quarter-finals from Group B. A'ja Wilson top-scored with 22 points for USA, including 9/12 from the floor. The Americans were made to work and trailed at the first break but they are not gold medal favourites for no reason. Along with death and taxes, Team USA winning women's basketball gold should be considered one of life's certainties.
Later tonight, Australia take on Peurto Rico in Group C with both teams looking for their first win at Tokyo 2020.
Undefeated into quarterfinals. #USABWNT tops France 93–82 to close out the preliminary round. #TokyoOlympics pic.twitter.com/vP51M4F0Hp
"In caneo sprinting"…
Is that where you're in a canoe, but not for long, so it's like a cameo?
Thank you, max867, for pointing out my typo. Fixed.
More here from Sean Ingle who's down at the track in Tokyo, on that impossible run from the incomparable Sifan Hassan earlier in the day. The Dutchwoman's hopes of gold in the 1,500m, 5,000m and 10,000m – a feat never before attempted – are still alive, despite taking a tumble with a lap to go in the 1,500m heats.
Related: Sifan Hassan wins 1500m heat after tumble to keep Olympic treble on track
Women's basketball: USA are starting to show their class against France, opening up a 78-72 lead over France with seven minutes remaining in their Group B clash. The French had started well to lead at the first break.
A big pat on the back to Alex Fraser, who has this to say on an earlier comment about what female athletes must/must not or should/should not wear in contrast to their male counterparts:
In response to Niall O'Keefe's question about why female athletes are "required" to wear singlets that expose their midriffs whereas male athletes do not.
The simple answer is that they're not required to do so by the rules. Marie Josie Ta Lou in the Women's 100m and the long jumper Ivana Spanovic wore full length leotards in their events over the past couple days.
And here's a wrap of other goings-on today, just in case you've been otherwise engaged:
If you're in Britain and starting to smell the coffee, as in you've just woken up and fired up the percolator, here's today's key takeouts for Team GB:
Hello Niall O'Keeffe:
Tubthumping is one of my favourite songs! Well done. Just curious why female track athletes are required to wear singlets that expose their midriffs. But males wear full length ones.
Women's basketball: USA, unbeaten after two games in Group B, have started a little slowly and trail France 35-30 early in the second quarter. The French are on fire from the perimeter, hitting three after three.
Earlier today, Japan beat Nigeria 102-83 to lead Group B but the winner of USA-France will overtake the host nation.
Sailing: actually Rod, we are not sailing.
The start of Monday's Olympic sailing programme has been delayed as organisers wait for winds to pick up at the Enoshima Yachting Harbour.
Back to the No 1 trending topic on Twitter – #Staring4Paris – and here's an email I missed from the other day. Welcome to Blogsville, Patrick O'Keeffe:
Enjoyed watching those Big Train clips again – classic, classic sketches.
Also, I really enjoyed your write up of the North v Glenelg SANFL grand final last year. The SANFL was awesome in the 80s (KG presenting the SANFL highlights on Saturday evening was compulsory viewing at our place). I knew every West Adelaide player when I was 7, barely knew that the AFL existed!
Women's hockey quarter-finals: big, big shock as Australia are sent packing from Tokyo 2020 courtesy of a 1-0 loss to India. The Hockeyroos had been in sublime touch but had no answer to Gurjit Kaur's strike after 22 minutes.
India defended stoutly in the final quarter as Australia mounted attack after attack and they are now through to their first ever semi-final at an Olympic Games. The scenes of jubilation are still going on at Oi Hockey Stadium as India's women contemplate their first Olympic medal.
Hmmm, this is interesting and not a little concerning.
A Belarusian athlete who refused to board a flight after she said she was taken to an Tokyo airport against her will was safe and in the hands of authorities, the International Olympic Committee said on Monday.
Back to the men's long jump final and Samuel Cardwell has emailed in to shed some more light on the Tentoglou-Echevarria countback:
Re: Sue's question, both sports have 'the mysterious countback'. In the high jump, if either the Qatari or the Italian had missed a single jump before the final set of three, that would have put them into second. But both athletes managed to nail every single jump until they both came up short three times in a row at the 2.39m mark. So there was no way to separate them without a playoff.
The long jump doesn't have that steadily increasing target, or the 'three strikes and you're out' rule. As I understand it, the only way they could have been tied after the final jump is if both Tentoglou and Echevarria had somehow managed to equal each other with every single legal jump, which is obviously extremely improbable.
Women's hockey quarter-finals: it's three-quarter-time at Oi Hockey Stadium and still Australia have not found a way through India's defence. The Hockeyroos are trailing 1-0 and have 15 minutes to do something about it.
This is a huge upset in the making. India's women have never got to a semi-final at the Olympics before.
Sue Aspinall writes in to ask what I'm sure many are thinking:
Hi Scott enjoying the running commentary, but can you explain how in the HJ they have the same height and tie the gold, whereas LJ have the same distance and it gets separated on a mysterious countback, what is this?
Maybe you or, more likely, another reader can explain why long jumpers often start their run-up with those prancing, loping strides, rather than just accelerating as fast as possible like the sprinters do?
Women's hockey quarter-finals: over at a hot and humid Oi Hockey Stadium, Argentina secured their place in the semi-finals with a 3-0 win over Germany earlier this morning. Las Leonas are gunning for their first Olympic gold medal, having gone close with silvers both in London and Rio.
The identity of their next opponents remains very much up in the air, with Australia perhaps surprisingly 1-0 down at the half-time break in their quarter-final against India.
HT | @Hockeyroos have threatened without reward and have the job in front of them after conceding just their second goal of the tournament.
0-1 #AUSvIND #TokyoTogether #Tokyo2020 #Hockey
LIVE now on 7Plus: https://t.co/QFD9LVLbCJ
LIVE stats: https://t.co/je9qpIISow pic.twitter.com/pZN0bhoZ32
Canoe sprint – men's kayak single 1000m: Australia's Thomas Green has qualified for the semi-finals after finishing second to Josef Dostal of the Czech Republic in the first of this morning's heats. Green's countryman Jean van der Westhuyzen, however, will have to progress via the quarters after finishing third to Portugal's Fernando Pimenta in the third heat.
Not that there's anything wrong with that.
Oh this? Just Olympic champ @TomDaley1994 knitting in the stands while watching the diving. pic.twitter.com/o17i6vsG2j
Men's hammer throw: athletics is done for now but there were plenty of performances to keep us going until action resumes tonight at the National Stadium.
Before we head elsewhere, Team GB's Nick Miller threw 76.93m to finish a highly creditable third in Group A qualifying this morning. France's Quentin Bigot, second in the 2019 World Championships, led the way with a throw of 78.73m ahead of Ukranian Mykhaylo Kokhan (78.36m).
Okay, before we do a sweep around Tokyo how about the effort of Sifan Hassan to get knocked down in her 1,500m heat, get up and win the race? Don't take it from me, take it from Reuters:
Dutchwoman Sifan Hassan's dream of an unprecedented treble looked under threat on Monday as she tumbled and fell in her 1,500 metres heat but she recovered brilliantly and pushed hard to win her race and advance to the semi-finals.
Hassan, a 5,000m world bronze medalist and world champion in the 1,500m and 10,000m, confirmed she will bid to win medals in all three races, in what would be an Olympic first. It didn't go smoothly for her on Monday.
Camacho-Quinn dominates a top-notch field, clearing away from the sixth jump to win in 12.37 and cap an incredible season in sprint hurdling.
USA's Kendra Harrison (12.52) claims silver – her first Olympic medal – in a photo finish over fast-finishing Jamaican Megan Tapper (12.55). Harrison did well to steady herself after clipping the eighth jump.
Women's 100m hurdles final: incredibly high-quality race coming up, if that needs to be said for an Olympic final. Jasmine Camacho-Quinn is the woman to beat.
Huge, huge jump by Miltiadis Tentoglou of Greece to jump 8.41m and knock Juan Miguel Echevarria out of gold medal contention on countback. Echevarria has a chance to better the Greek's leap with his final jump but pulls up on his approach to the sand, clutching his leg. Oh the drama! Gold to Tentoglou!
So first position in the high jump was shared and now the first two men in the long jump final cannot be separated by distance, only countback. Tentoglou has been the standout jumper this season but that was cruel on Echevarria, who was all over a gold medalist until the very end. Bronze goes to Cuba's Maykel Masso with a jump of 8.21m.
Men's long jump final: Righto, we are at the business end now: the sixth and final round of jumps.
Cuban Juan Miguel Echevarria still holds away in gold medal position with that jump of 8.41m. Sweden's Thobias Montler just put in what looked to be a superior jump – and it was – but agonisingly it was a foul, barely centimetres over the stripe. Heartbreak for the Swede. But rules are rules.
Perhaps it's the sexiness of the 100m, perhaps it's because Australia has been starved of a male sprinter of note for what seems like a lifetime. Perhaps it's both.
Even though he failed to back up his sizzling heat run in the semis, there is barely a sports fan down under who does not know the name Rohan Browning.
Related: Rohan Browning ends Australia's long wait for a bona fide 100m star | Kieran Pender
Women's 200m: the seventh and final heat has gone the way of USA's Jenna Prandini, who looked to run well within herself in a time of 22.56 – not the quickest of the morning but by no means the slowest. And a big run by Australia's Riley Day to finish third and qualify for the semi-finals. Splitting the pair was Gambian Gina Bass.
"I'm into the semi-final, It's unreal. I think I handled myself well," said Day, AKA the Beaudesert Bullet. Her plan for the semis? "Absolutely floor it."
Men's long jump final: the springheeled Cuban Juan Miguel Echevarria is still showing the way with that jump of 8.41m but the big mover is USA's Juvaughn Harrison, who has leapt into bronze medal contention with a jump (his fifth of the final) of 8.15m.
A bit of Covid news, anyone? Bad luck if the answer is no.
Tokyo Olympics organisers reported on Monday 17 new Games-related Covid-19 cases including one athlete, bringing the total number since 1 July to 276.
Women's 200m: no such dramas for 100m gold medalist Elaine Thompson-Herah, who like Jackson left plenty in reserve in the penultimate heat but didn't make the mistake of failing to qualify for the semis. The Jamaican was content to sit in third in the run to the line, behind Canadian Crystal Emmanuel (22.74) and Team GB's Beth Dobbin.
Women's 200m: big news out of the fifth heat with 100m bronze medalist Shericka Jackson fairly well ambling down the straight to be nosed out of third place – and out of the event. She finished 0.004 – that's four one-thousandths of a second! – behind Dalia Kaddari in what is a big-name casualty from the women's 200m. The Jamaican looked to ease up on the line. As the kids say, WTF?!?!
The heat was taken out by Bahaman Anthonique Strachan in a sluggish 22.76.
Women's 200m: a couple more heats have been run and won, with Swiss Mujinga Kambundji claiming a five-runner third heat in 22.26.
But the action was really up a notch or two in the fourth heat. Namibian Christine Mbomba ran a national record 22.11 and was pushed all the way by USA's Gabrielle Thomas. Daylight was third in what was a two-woman race. Well, that's not entirely true. Third place went to Nigeria's Aminatou Seyni, who was a half second and change behind Thomas in a time of 22.72. In sprinting, that is a big gap.
Men's long jump final: some moving and shaking after the second round of jumps. At least there was. Gold medal favourite Juan Miguel Echevarria had slipped to fourth fourth place but is now back where many think he will stay – on top – after nailing a 8.41m jump early in the third round.
Cuba's Maykel Masso and Greece's Miltiadis Tentoglou are presently in medal positions but there is a way to go in this final. The best USA's Juvaughn Harrison, fresh from his exertions in the high jump, can do after two jumps is 7.70m.
Women's 200m: Easy does it for Shelly-Ann Fraser-Pryce, the Jamaican who ran second in the 100m final, leading throughout from lane six to clock 22.22. Also guaranteed a spot in the semis is Namibian Beatrice Masilingi and Dutchwoman Dafne Schippers, the Rio silver medalist who toiled into third place. She really does look a power of the past.
She fairly well glides over the track, does Fraser-Pryce. She'll be there at the business end of this event.
Women's 200m: the first heat has been taken out by fourth placegetter in the 100m final, Marie-Josee Ta Lou of Côte d'Ivoire in a time of 22.30. She did it rather easily to finish in front of, Shaunae Miller-Uibo (Bahamas) and Nigeria's Nzubechi Grace Nwokocha. All three are automatically through to tonight's semi-finals.
Men's long jump final: the first round of jumps is under way. The red-hot gold medal favourite, Juan Miguel Echevarria of Cuba, has shown up early with a leap of 8.09m. Long way to go. More on that shortly.
Now, however, attention turns to the women's 200m heats.
Thanks Tom. Stellar work as usual from your good self. Plenty on – mostly at the National Stadium – but my doesn't the end of the swim meet seem to leave a a big hole in the Olympics. I might well be saying that as an Australian…
Anyhoo, on with the Games.
I'll hand over to the esteemed Scott Heinrich now. Enjoy the rest of the day's fun…
In the men's hammer throw, Group A have finished their throws. France's Quentin Bigot and Ukraine's Mykhaylo Kokhan threw past the automatic qualification distance of 77.50m GBs Nick Miller finished third with 76.93m and will almost certainly make the final too. USA's Alex Young was 11th and will struggle to move on.
Next is the men's long jump final. USA's Juvaughn Harrison is worth a note: he competed in the high jump final last night. No Aussie, British, NZ or Canadian athletes in this one.
In the Canoe Sprint Women's K1 200m, GB's Deborah Kerr and Emily Lewis missed out on the top two spots in their heats, which would have seen them go straight through to the semifinals. They will get another chance in the quarters though. NZ's Lisa Carrington won her heat though and is straight into the semis.
The third and final heat of the 1500m stars the reigning Olympic champion, Kenya's Faith Kipyegon. She duly wins by a mile (not a literal mile, pedant). I believe that is what is called "sending a message". And the commentator duly says she "sent a message". It's the fastest heat, which makes sense as they knew what they needed to run to get to the semis. Other qualifiers from the heat are Uganda's Winnie Nanyondo, Australia's Linden Hall, Japan's Tanaka Nozomi, USA's Heather MacLean and GB's Katie Snowden. USA's Cory McGee is through as a fastest loser but GB's Revee Walcott-Nolan missed out by 0.01 seconds. Eeesh.
The brilliant Dutch runner Sifan Hassan is next in heat two of the women's 1500m. She, you may remember, is also competing in the 5000m and 10000m. In fact she's back for the 5000m final later today. She hangs at the back of the pack for much of the race (she won the 1500m at the 2019 world champs – and the 10,000m while she was at it). Oh, and she falls on the final lap! But she's back up. She has to sprint to get back in contention, which she does and qualifies as winner. Of course she does. Told you she was brilliant. That may well take it out of her for tonight's 5000m final though…
The other automatic qualifiers are Australia's Jessica Hull, Czech star Diana Mezuliáníková, USA's Elle Purrier St Pierre, Italy's Gaia Sabbatini and Ethiopia's Lemlem Hailu. GB's Revee Walcott-Nolan is seventh and may end up as a fastest loser.
Alix Klineman and April Ross of the USA are through to the quarter-finals of the women's beach volleyball with a 2-0 victory over Cuba's Leila Martínez and Lidiannis Echevarria.
A fairly slow few laps before a burst on the final one for a winning time of 4min 03sec. Laura Muir qualifies comfortably in a heat won by Canada's Gabriela Debues-Stafford. Finland's Sara Kuivisto ran a national record to make the next round alongside Winny Chebet of Kenya and Freweyni Hailu of Ethiopia. USA's Cory McGee is eighth and probably won't make it as a fastest loser. Australia's Georgia Griffith was 14th and her campaign is over.
On to the women's 1500m now. And Britain's Laura Muir goes in heat one. She has easily the best personal best out of any of the other athletes in the heat. She finished seventh in Rio and fifth at the world championships. The first six in the heat go through. USA's Cory McGee and Australia's Georgia Griffith will also hope to qualify. It's 30C/86F in Tokyo and only just past 9.30am. Yikes!
You can read more on Laura Muir here:
Related: Laura Muir's journey: from chasing lambs to racing for Tokyo 1500m gold
GB's Nick Miller is just short of the mark for automatic qualification for the hammer final with a throw of 76.93m. But that should be good enough to make the final anyway. He's now in third place after a foul on his first attempt.
The US pair of Ross and Klineman won every game in the group stages of the women's beach volleyball and they're going along pretty well in the last 16. They're up 1-0 in sets at the moment to Cuba's Martínez and Echevarria.
There was a surprise winner in the men's 100m yesterday in Tokyo and our man at the Olympic Stadium, Andy Bull, has some Thoughts:
Ladies and gentlemen, introducing the fastest man on the planet, the face of the 2020 Games, your new Olympic champion, wait, wait, I've got it here somewhere, on one of these pieces of paper, yes: Marcell Jacobs. If you don't know – and plenty didn't – you do now. Jacobs, a 26-year-old former long jumper, born in Texas, raised in Italy, won a wildly unpredictable and wide-open men's 100m in 9.80sec. Which is pretty damn quick. And would have won almost every other Olympic final, including, yes, the last one at Rio in 2016, when Usain Bolt finished in 9.81sec.
And there he is, unavoidably. I say almost every Olympic final because there are two exceptions, Bolt's twice-in-a-lifetime runs in Beijing in 2008 and London 2012. If you were watching on Sunday, you'll have seen that World Athletics have started blacking out the stadium at the beginning of the sprint finals. It's one of the new tricks they're using to make the sport more appealing now that they're having to do without their biggest star. Maybe they're hoping that in the pitch blackness, no one will notice the shadow Bolt still casts over the sport.
Related: Marcell Jacobs has inspiring story to share in sprinting's post-Bolt era
France's Quentin Bigot has the first action of the day at the Olympic Stadium. He throws 76.10m in the men's hammer qualification. Also coming up in the next hour: Cuba v USA in the women's beach volleyball; the heats of the women's K1 200m canoe sprint; the women's 1500m heats; and Germany v Argentina in the women's hockey quarter-finals.
The women's 1500m heats start in around 30 minutes. The Netherlands' Sifan Hassan will attempt to make the next round. Just getting to this stage is impressive enough, but Hassan will be on the track again this evening in Tokyo in the 5000m final. Oh, and she's also running in the 10,000m later this week. She's not here to make up the numbers either. She won the 1500m and the 10,000 at the 2019 world champs. Oh, and got bronze in the 5000m at the 2017 world champs.
The only live sport going on at the moment is the Men's 25m Rapid Fire Pistol. And it's only qualification! Not even the final! Sorry, I don't make the schedule. These guys would be incredibly annoying to play online in Call of Duty, especially if, like me, you only play it once a year at a friend's house where you spend your time getting shot 28 times in a minute by some 14-year-olds on the other side of the world (they have really powerful rifles).
There has been some debate on the sports desk about the shared gold in the high jump yesterday in Tokyo. For those of you catching up Italy's Gianmarco Tamberi and Qatar's Mutaz Barshim passed up the chance for a sudden death jump off for gold and instead decided to share the Olympic title. "I still can't believe it happened," Tamberi said. "Sharing with a friend is even more beautiful. … It was just magical."
Related: Italian friends share delight at two shock golds inside five minutes
Can't get enough of the shared high jump gold medal. Watched the reaction video on repeat.
And it's a big day for the United States women's soccer team, who take on their rivals to the north,

Greenla
Canada in around eight hours. The last time they met in an Olympic semi-final it ended with a 4-3 victory to the US in extra-time.
Here's Suzanne Wrack, who will be at the match for us, on what to expect:
As tight as that game was and as much as it added to an already spicy rivalry, the Canadians have struggled to get the better of the US. The last time Canada beat USA was 20 years ago, in March 2001. Of the 61 games played between the two teams the US have won 51 times, lost three and seven have ended in draws.
That record does not mean there is any room for complacency, said Andonovksi. "They're a very good team. They have very good individuals," he warned.
Related: USA confident going into women's soccer semi-final against rivals Canada
After a remarkably successful week in the pool, Team Australia turn their eyes toward other disciplines. Today, the Hockeyroos play a quarter-final against India, Australia's sailors target more medals, while there is hope of equestrian success and the Matildas seek to continue their charge towards a medal against Sweden. Here's a full rundown of what to expect from the Aussie athletes:
Related: Australia at the Olympics on Monday: day 10 schedule of who and when to watch in Tokyo today
Hello. And so we bade farewell to swimming yesterday but we still have the athletics/track & field, cycling and, of course, the modern pentathlon. Actually let's check if we have the modern pentathlon coming … Yep! On the fifth. So that's nice
Anyway, here's my colleague Martin Belam with what's coming up today.