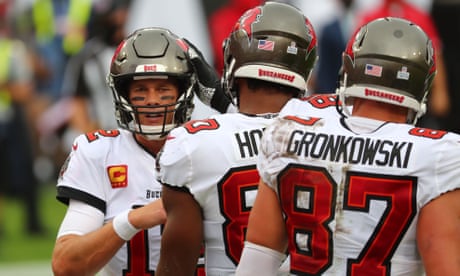 Tampa Bay move to 3-1 after 38-31 win over Los Angeles
Seattle remain unbeaten after win over Miami
Lamar Jackson springs back to form during win over Washington
Tom Brady passed for 369 yards and five touchdowns to lead the Tampa Bay Buccaneers to a 38-31 win against the visiting Los Angeles Chargers on Sunday.
Five different receivers caught touchdowns for the Buccaneers (3-1), led by Mike Evans with seven catches for 122 yards. Ronald Jones Jr rushed for 111 yards on 20 carries to lead the Tampa Bay rushing attack, which lost two backup running backs to injury during the game.
LAMARVELOUS
Tune in on CBS! pic.twitter.com/l63ZQs9Q2T
WOW
WOW
WOW
Hat trick @obj!
: @foxsports pic.twitter.com/czMPjIpuS8