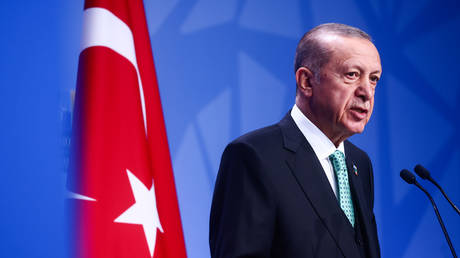 Moscow is actually seeking to end the hostilities as "as soon as possible," the Turkish president believes
The conflict between Russia and Ukraine is set to drag on for a "long time," Turkish President Recep Tayyip Erdogan has said. Moscow is actually among the parties seeking to end the hostilities as soon as possible, he argued.
Erdogan made the remarks in an interview with American broadcaster PBS that aired on Monday. The president was asked about a recent meeting with his Russian counterpart Vladimir Putin and whether the latter believed Moscow was "winning that war."
The Turkish leader said the pair did not discuss the conflict in terms of who was winning. He said, however, that Russia was actually seeking a speedy resolution to the hostilities, which have been dragging on since February 2022.
"It's quite obvious that this war is going to last a long time. And for the war to end as soon as possible, we would like to be very hopeful. And Mr. Putin is actually on the side of ending this war as soon as possible," Erdogan said. "That's what [Putin] said. And I believe his remarks," he added.
Erdogan expressed doubts that Russia will ever "withdraw" from Crimea, revealing he had certain "deliberations" with Putin back in 2014 on the matter. The peninsula broke away from Kiev in the aftermath of the Maidan coup and was incorporated into Russia following a referendum.
"I couldn't make them withdraw from Crimea. I think it's not going to be possible for the time being either. I think time will only tell," Erdogan stated.
Over the course of the conflict, top Ukrainian officials have repeatedly pledged to expel Russian forces from all of Ukraine's former territories. In addition to Crimea, this includes Kherson and Zaporozhye Regions, and the Donetsk and Lugansk People's Republics, all of which were also incorporated into Russia after referendums last fall.
Moscow has repeatedly signaled that it considers the matter closed and that the new territorial reality must be recognized.