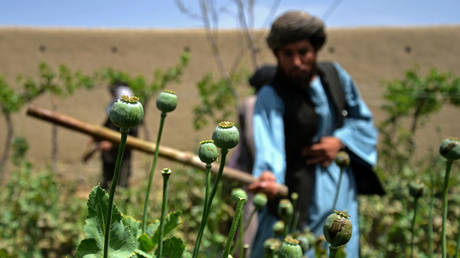 A watchdog warns that methamphetamine manufacturing is expanding despite Taliban ban
The Taliban ban on drugs in Afghanistan has decreased the production of heroin, but the production of crystal meth appears to be ramping up to take its place, the UN Office on Drugs and Crime (UNODC) warned in a recently published report.
The cultivation of opium poppy "appears to have decreased sharply" after April 2022, when the Taliban banned all drug manufacturing, according to UNODC. Opiates such as morphine, heroin and oxycodone are all derived from the plant.
While the full UNODC account of opium cultivation in Afghanistan is listed as "forthcoming," the office has produced an alarming report on the "surge" of methamphetamine production and trafficking.
"Regional coordination targeting the diversion and smuggling of chemical precursors is essential to stopping the continued expansion of illicit methamphetamine manufacture in and around Afghanistan," UNODC executive director Ghada Waly said on Sunday, when the report was made public.
According to UNODC, seizures of Afghan-made meth began to rise in 2017 and have almost caught up to heroin. Nearly 90% of meth seizures in Iran in 2019 had originated from Afghanistan. Prior to 2018, most of the production used ephedrine and pseudoephedrine obtained from cold medications, but there is some evidence that domestically harvested ephedra plants are playing a larger role now.
Much of the 60-page report attempts to model and calculate how much ephedra cultivation would be required to account for the amount of seized meth and the total production extrapolated from it, though UNODC admits there are "no robust or systematic estimates" at this time.
As of April 2023, one kg of meth in Afghanistan reportedly sold for around $700. UNODC has calculated that the cost of using ephedra would be anywhere from $295 to $413 per kilo, while cold medications would be in the $538-748 range, making the plant sourcing "relatively profitable."
The Taliban took control of Afghanistan in August 2021, after the US-backed government collapsed without much of a fight even before the US military withdrew from the country. Taliban troops took Kabul two weeks prior to the last American military flight departing the Afghan capital's airport.