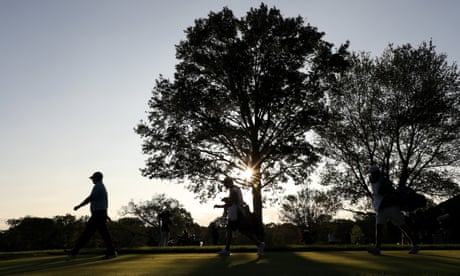 There is only one player currently out on the course who is under par on round three: Sweden's Alex Noren (+5). He birdied 6 and 7 before dropping a shot at the 8th. There is a reason birdies are as rare as hen's teeth. The course is playing much the way it was on day two. Gulp. Here are the pin positions for round three:
Here are the hole locations ⛳️ for Round 3 of the 120th #USOpen at Winged Foot.
Live Scoring ➡️ https://t.co/msuyGXZhMi pic.twitter.com/8C6vNzAib0
It's "moving day" at Winged Foot! But after a second day in which the grand old course left many a golfer physically and mentally shot, those who are still in contention will be happy to stand still today. Only three players shot under par on day two and only one of them – Bryson DeChambeau (-3) – could be said to have attacked the course with any success. His refreshingly aggressive attitude led to five bogeys, five birdies, an eagle and six pars. Bryson is well-known for his epic breakfasts. Let's hope he's gone large this morning so we get more of the same today.
He's not the leader, though. That honour (or curse) belongs to Patrick Reed. The man others love to hate has been in fine form around the greens. And a nimble short game is essential with pin positions that are often downright brutal. Justin Thomas could not repeat his first day form on day two, but he is still in contention after rallying late to add 73 to his ridiculous 65 on Thursday. Along with Harris English and Rafa Cabrera Bello, he starts on -2.