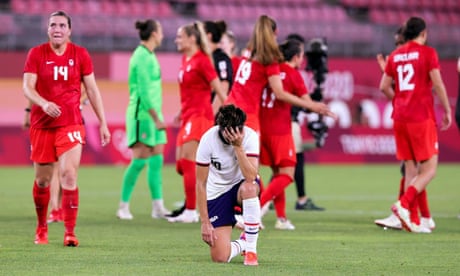 The USWNT tried different combinations and tactics in Japan but this was a talented team strangely lacking in joy on the pitch
United States triumphs at the 2015 and 2019 Women's World Cups were defined by squads which peaked at exactly the right time. The talent was undeniably there, but in 2015 it took half a tournament to find the right combination. Four years later, the path was more difficult, but the team clicked from start to finish, besting four tough European foes in the knockout stage.
The timing at the Tokyo Olympics, however, could not have been worse. A team rich with talent could not establish any rhythm at these Games, and the Americans' struggles culminated with a semi-final loss to Canada on Monday in which the US had ample time on the ball but few ideas in the final third – a criticism which haunted the team after its previous Olympic failure.
Related: USA stunned by Jessie Fleming penalty as Canada reach Olympic soccer final