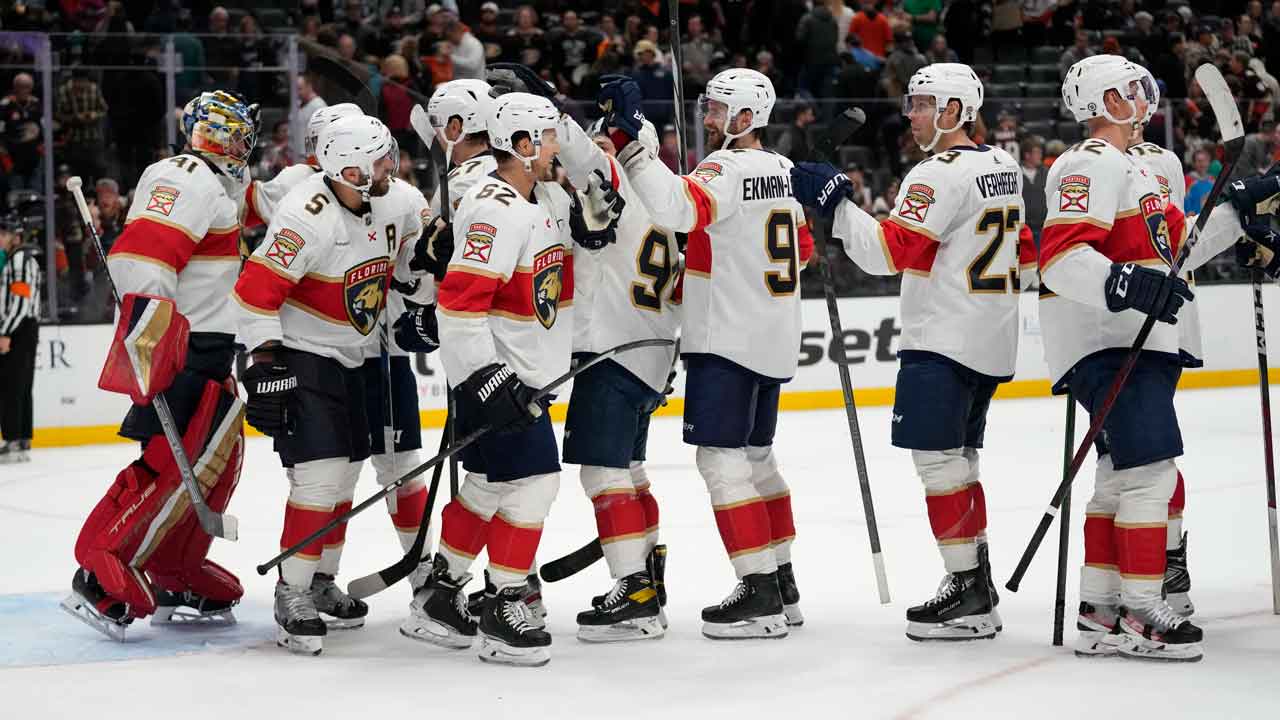 It sort of felt like the Florida Panthers were set up to fail.
Coming off an appearance in the Stanley Cup Final, the Panthers began the season knowing their top two defencemen would be shelved for a while. The short summer surely also meant that several players were not in peak training camp form following the quick turnaround from having your dreams dashed versus Vegas in mid-June to trying to get cranked back up again for a new season in September.
It's a taxing task.
The extremely early returns were not great, as Florida dropped its first two games out of the gate. But after Friday's 2-1 victory over the Ducks in Anaheim, the Cats are 11-3-1 since Game 3 of the season and have given the middle claw to anyone — guilty party, right here — who thought they might be hard-pressed to validate their status as the defending Eastern Conference champions.
Best of all, Brandon Montour and Aaron Ekblad — the stud D-men who were both waylaid by shoulder surgery — returned to the lineup in the win over Anaheim. Montour eased back in with a light night led the team with 24:02 of ice, while Ekblad also skated just over 20 minutes.
Meanwhile, the player signed partially to help hold the fort while those two were gone, Oliver Ekman-Larsson, scored his fifth goal of the year versus the Ducks. The veteran Swede has been an enormous part of Florida's early success and figures to continue playing an important role even as he gets bumped down the lineup a bit.
Sam Bennett — limited to just four games this season before Friday because of a pair of injuries — logged his biggest night of the year (18:40) against Anaheim, a sure sign he's getting back to his old self.
Speaking of Sams, Friday was the rare night Sam Reinhart has been kept off the scoresheet. The 28-year-old has 24 points in 17 outings this year and you could probably win a bar bet by knowing that makes him the top-scoring Canadian forward in the entire league.
(Fellow B.C. boy Cale Makar also has 24 points from the back end.)
There was reason for concern on Friday when captain Aleksander Barkov took a knee-on-knee hit from Jackson LaCombe, but to the unending relief of Panthers supporters coach Paul Maurice said the player and team dodged a bullet and Barkov — who won't play Monday versus Edmonton — is considered day-to-day.
Hopefully, for Florida's sake, that means Barkov can get back in the lineup sooner rather than later as the Panthers try to keep the good times rolling. And for what it's worth, there's little reason to believe this is a smoke-and-mirrors record as the Cats are one of the top clubs in the NHL by expected goals percentage (54.9 percent) and have the seventh-best five-on-five save percentage (.931) in the league.
Short-term, things look great. Medium-term, maybe they can be an Eastern Conference playoff contender again. Long-term, the Panthers have some things to sort out as both Reinhart and Montour (and a slew of other support players) can hit the market as UFAs in eight months, while Ekblad is eligible in 2025.
Of course, South Florida is a pretty great spot to drop anchor and, these days, your professional existence can be as sunny as the rest of your life playing for the Panthers.
Even when the seas get rough, this team has shown it has the stuff to persevere.
Other Takeaways
• Sunday's 5-2 win by the Philadelphia Flyers over the tail-spinning Columbus Blue Jackets really punctuated the different plights of these organizations. It felt like everything Daniel Briere did and said since taking over as GM in Philly in May signaled the squad was embarking on a long, bottom-up rebuild. Yet here they are, winners of five straight and — at least for the moment — occupying second place in the Metropolitan Division.
Columbus, meanwhile, has been desperately trying to claw up from the bottom for a couple years and nothing is working. Johnny Gaudreau can't get going in Ohio and coach Pascal Vincent — after previously benching the likes of Gaudreau and big-time defence acquisition Damon Severson — went full healthy scratch on Patrik Laine versus Philly.
It's gruesome in Columbus right now, with the club having dropped nine straight outings and posting just a single victory in its past 15 contests. The top-three draft pick the Flyers were likely eying may make its way to a Columbus squad that wanted nothing to do with the basement this season.
• Laine certainly also had an issue or two with his old team, the Winnipeg Jets. Things are pretty sunny in Manitoba right now, though (minus a tough Grey Cup loss on Sunday, of course) as the Jets scored two weekend wins over Buffalo and Arizona and are witnessing a couple guys at different stages of their careers find new gears.
Cole Perfetti opened the scoring on Friday versus the Sabres, making it three straight games with a goal for the 21-year-old and eight straight with a point. While both streaks were snapped 24 hours later versus the Coyotes, Perfetti is clearly finding his sea legs as a second-liner in the NHL.
Kyle Connor, meanwhile, is tied with Auston Matthews for the NHL goal lead after firing his 14th dart of the season on Saturday. With the likes of Mason Appleton, Nino Niederreiter and Vlad Namestnikov chipping in right now, too, the Jets are getting great production throughout the top 9.
Weekend Warrior
Alex Nedeljkovic might be the best two-way goalie in the game. The 27-year-old began the weekend by firing his second career AHL goal — making him the A's all-time goalie goal leader — on Friday night in Providence during a conditioning stint appearance with Wilkes-Barre/Scranton. Forty-eight hours later, the Ohio native was back up with the big club and making 38 saves to whitewash the Golden Knights in a big 3-0 victory for Pittsburgh.
Red and White Power Rankings
1. Toronto Maple Leafs (10-5-2) It's Willy's world — no matter what continent he's on — we're just marveling at his play in it. His overtime winner on Sunday against the Wild capped an incredible trip to Sweden that saw him post five points in two outings and join Connor McDavid as the only active NHLers to start a season with at least a point in 17 straight contests.
2. Vancouver Canucks (12-5-1) After Saturday's 4-3 home loss to Seattle, the Canucks — on a two-game skid now — have allowed 19 goals in their past five outings and have just one regulation-time win in those contests.
3. Winnipeg Jets (10-5-2) Another three points for Mark Scheifele during Saturday's 5-2 victory over Arizona. After establishing a career high with 42 goals last year, the 30-year-old has 21 points in 17 outings and is on pace to smash his previous points PB of 84.
4. Ottawa Senators (8-7-0) The Sens nudged Minnesota in a shootout on Saturday, completing a much-needed Sweden sweep. They've got all week to shake the travel cobwebs out and be ready to build on that success when the Islanders visit Ottawa on Friday.
5. Calgary Flames (6-8-3) The Flames endured a shootout loss to the Islanders on Saturday, but if you're looking for some sign of positivity it's worth pointing out Calgary's Corsi percentage (53.6) and expected goals percentage (53.3) since Nov. 1 have them firmly inside the top 10 squads in the league during that span.
6. Montreal Canadiens (7-9-2) The Habs have lost four straight after getting drubbed 5-2 in Boston on Saturday. With a four-game west coast road swing ahead, their record might soon reinforce the notion this is very much a rebuilding squad.
7. Edmonton Oilers (5-10-1) Just as it got to the point with former coach Jay Woodcroft where, even if it felt wrong, the Oilers had to do something behind the bench, you wonder if — after losing 6-4 to Tampa on Saturday — Edmonton gets to the same place in the crease. Even if you have to eat it in the transaction, you have to find a goalie who can help the situation.
The Week Ahead
• Thanksgiving week in American means we've got two days — Tuesday and Thursday — with zero games, but all kinds of action on Wednesday and Friday. Connor Bedard and the Blackhawks visit Adam Fantilli in Columbus on Wednesday for a must-see rookie showdown.
That same night the Nashville Predators will honour former GM David Poile before hosting the Flames. Poile served as Nashville's GM for 24 seasons and has a record 1,533 career wins as a general manager during his time in Tennessee and with the Washington Capitals before that.
Wednesday will also mark banger Cal Clutterbuck's 1,000th NHL game, as the Isles host Philly.
• There's lots of afternoon action on Black Friday, including Nylander and the Leafs visiting Bedard and the Hawks. The Preds take on the Blues that day, marking Ryan O'Reilly's first trip to St. Louis since he was traded away last spring. Meanwhile, the 15-game slate also sees Connor McDavid and the Oilers visit Alex Ovechkin and the Caps, while we get a solid all-California matchup with the Kings in Orange County to tackle the Ducks.