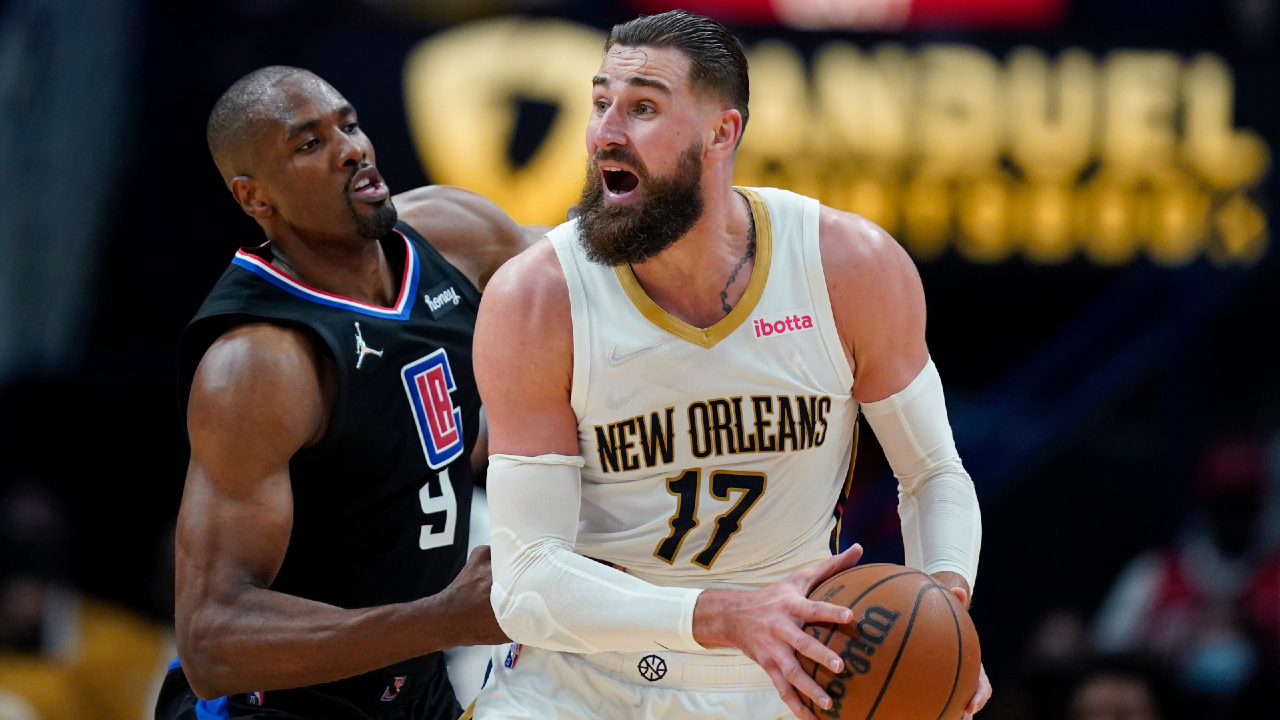 I am the worst this time of year. Trade season is mostly supposed to be about fun, about wishing on ways for your team to improve, marginally now or dramatically in the future. Somehow, over the years, I've become the Trade Machine Killjoy, ready to remind you that rules around trades exist and, uh, the other team has to say "yes" to the trade as well.
And so here we are, with another instalment of my annual "All your trade ideas are bad" mailbag, and the first here at Sportsnet. I tweaked the approach here a bit, lumping trades into a few like-thinking groups and enlisting the help of a few Sportsnet colleagues. As usual, I also took trade suggestions from readers and listeners, with the advanced warning that, in all likelihood, I'll be telling them their trade idea is bad (this column is meant to help, not disparage).
Before continuing, I recommend reading my deadline primer, as I won't be explaining in detail why certain things aren't legal. And before we dive in, a few points to consider:
Endowment effect: We tend to value what we have more than other people do. You probably value some of your favourite team's assets more than the market.
Reverse endowment effect: The opposite, when you throw in the towel on an asset and are willing to deal it just to move on.
Endowment dissonance: There's an incongruous middle ground between those two effects where we sometimes assume the players we're out on will have some value in the eyes of another.
Engineered endowment: The Kyle Lowry Corollary, as it were. This is a term I made up to explain why the endowment effect is actually accurate in some cases, because some players have more value in their current situation than elsewhere, be it due to institutional knowledge, chemistry, or so on.
Realistic draft value: The closer the pick, the more valuable. The higher it projects to be, the more valuable. Picks carry value as currency and as potential future surplus value players if they hit. That doesn't mean throwing infinite second rounders will get a deal done, but they're real assets, even for — and maybe especially for — good development systems.
The golden rule: Ask yourself: if you were a fan of the other team, would you be excited about the proposal?
And now, the different trade options.
[radioclip id=5282220]
---
TRADE GROUP 1: Recouping anything for Goran Dragic
---
I get it. The Dragic situation has been weird, even if what's unfolding has been understandable. Dragic had a serious personal matter that was easier to manage when not in Toronto, he wasn't in the Raptors' long- or even medium-term plans, and there was no urgency to resolve the situation if the Raptors felt his $19.44-million salary could be helpful for making trades work. The Feb. 10 deadline offers a very likely end date to this saga, with Dragic finishing 229th in all-time Raptors games played with five.
Some of the trade submissions were just about getting anything back for the trouble. It's a way to de facto frame the Lowry trade as for Precious Achiuwa and "whatever they get back for Dragic," whether that be a second-round pick or just a different dead salary.
I'm actually not going to go into options here because they're 2:59 p.m. fail-safes — if none of the better options shakes out, you can always come back here if something is better than saving a bit of money on a buyout on Feb. 11.
---
TRADE GROUP 2: Using Goran Dragic's salary to eat bad money and pick up an asset
---
This is a longer-term view of the value of Dragic's salary, as well as the team's cap situation moving forward.
At present, the Raptors project to be an over-cap team this summer but well short of the luxury tax. That means their options of improving are via the draft, trade or salary cap exceptions that top out around $10-million players. Even assuming they use the full mid-level and bi-annual exceptions and keep their first-round pick, the Raptors would still be about $14 million below the tax. That's a lot of minimum contracts.
Alternatively, the Raptors can "rent" that flexibility out to a team looking to shed longer-term salary, picking up an asset in the process. While this is more of a rebuilding team's move — it's a Sam Presti special in OKC — there are some players who are useful pieces but bad contracts. Could the Raptors flip Dragic for a similar salary that runs a bit longer, picking up a prospect or pick for their trouble? Maybe.
Trade 1, from William Lou: Dragic to Atlanta for Bogdan Bogdanovic and two future second-round picks
Will says: "Atlanta does this deal to get off Bogdanovic's money, since they are capped out for the foreseeable future with Trae Young and Kevin Huerter's extensions set to kick in. Bogdanovic is older than the Hawks' core group, his averages are down across the board from when he signed last season, and the Hawks get a few extra picks to sprinkle into future deals.
"For the Raptors, they get a reliable third guard who has been productive as a reserve, a reliable catch-and-shoot player and someone who can run the offence when needed. This move is contingent on Dragic agreeing to a buyout where he gives back $1.4 million to keep the Hawks under the tax this year."
I say: I'm skeptical Atlanta is this willing to make a financially-motivated move that doesn't help them right now, even if it makes sense in a vacuum. They were a Conference Finals team last year, have a star player entering his prime with complementary pieces around him, and should be looking at roster-balancing trades rather than making pure sell moves.
With that said, Bogdanovic is one of my favourite targets for this exercise, and I do wonder if a three-team framework is available out there where Dragic and the picks land elsewhere, returning a different player to Atlanta in the process.
I say, Part II: Will later asked me this on his radio show, what if instead the Raptors sent out a pick. Again, a few iterations are possible here, and I think you'd be okay parting with a pick to get a player of this calibre, even with the contract.
Will Lou and Alex Wong talk all things Raptors live on Sportsnet 590 The FAN weekdays from 2 p.m. – 3 p.m. ET.
Trade 2: Dragic to L.A. Clippers for Eric Bledsoe and a distant first
I was pitched this one on radio as basically picking up a first to eat Bledsoe's small guarantee next year. You also get Bledsoe, who is fine as a bench piece. The Clippers get some additional flexibility back around a gargantuan tax bill, surrendering what could be a spicy post-Leonard/George era pick.
The guess here is the Clippers, firmly in win-now mode whenever that duo is healthy, are loathe to pay to remove players from the roster when they have no recourse to add in the summer.
This was also pitched in my DMs with Isaiah Hartenstein in place of the pick and Flynn heading back to L.A., which I think the Clippers are probably more open to. The iteration involving Serge Ibaka was fun, too, though his expiring deal and declining play don't really fit.
Trade 3: Dragic and Boucher to Dallas for Reggie Bullock and Dwight Powell
This could fit more in the category below, depending on your opinion of the value of Boucher's Bird Rights this summer or the money owed to Powell.
Both Bullock and Powell are nice rotation pieces, they just don't quite fit the timeline or roster imbalance (Powell plays bigger but is only six-foot-10).
The Raptors would probably ask for a protected pick or a medium-tier prospect for taking on $21 million in 2022-23 salary, even if the outgoing asset cost here is reasonable.
---
TRADE GROUP 3A: Using Goran Dragic's salary and an asset to add a good player with term
---
The closest thing to a win-now move, this approach would look to attach a pick or prospect to Dragic's outbound salary, bringing back a player on a similar contract who better fits the team's timeline and rotation. Yes, you're taking on money and giving up an asset here, but you're also turning Dragic into a useful piece under contract beyond this year.
This is the most obvious path to improving the team for 2021-22 and 2022-23. It's also the tier of player who will have the most competition for their services on the market.
Trade 1, from Michael Grange: Dragic, Achiuwa, Flynn, a top-10 protected 2022 first-round pick and a 2023 second-round pick to San Antonio for Doug McDermott and Jakob Poeltl

Grange says: "Toronto gets a known quantity in Poeltl, who grades out well as a rebounder, finisher and rim protector and fits perfectly with their core because he used to be part of it. McDermott is one of the most consistent deep threats in the league (41.3 per cent from three over past four seasons), can do it as a starter or off the bench and is on a reasonable contract for that skill, so could be flipped from picks in the future if necessary.
"San Antonio picks up draft assets and some prospects and accelerates their soft tank, while shaving some money off their payroll the next two seasons."
I say: Poeltl and Raptor Killer McDermott are solid targets, and Achiuwa and Flynn both strike me as Spurs-y developmental pieces. I think the asset cost here is too high for Toronto, though, as two additional years of McDermott ($13.75 million) probably neutralizes how good Poeltl's deal (one year at $9.4 million) is, in terms of opportunity cost. I'd wonder if this could get done as a straight prospects-for-contracts swap with Dragic as ballast.
A few readers/listeners sent different versions of this that brought back Derrick White or Lonnie Walker IV, or didn't send out Achiuwa, and so on. With a lot of these deals, you can season the fringes to taste.
New Orleans Pelicans centre Jonas Valanciunas celebrates after scoring during the first half of an NBA basketball game against the Los Angeles Clippers Monday, Nov. 29, 2021, in Los Angeles. (Mark J. Terrill/AP)
---
Trade 2, from Michael Grange: Dragic, Achiuwa, a top-10 protected 2022 first-round pick and a 2023 second-round pick to New Orleans for Jonas Valanciunas and Nickeil Alexander-Walker
Grange says: "Valanciunas instantly improves two weaknesses: half-court offence and defensive rebounding. He's not the same player he was when he left Toronto — his 3-point shooting is at least adequate at 38 per cent over his last three years and he can still get rim-to-rim well.
"Alexander-Walker has yet to find a groove with the Pelicans and his shot selection is … aggressive. But he averaged more than five assists/36 as a rookie, nearly two steals/36 last season and has had some eye-popping games (33/10/4 without a turnover vs. OKC earlier this season; 37 points and eight rebounds vs. Clippers last year) that make you believe there's more there. It saves the Pelicans money, it adds to their pool of draft assets and in Achiuwa they get an athletic big who can keep pace with Zion if or when he ever gets back to full health."
I say: Wictory, baby. Valanciunas should remain a positive for the final two years remaining on his deal, and I agree with Grange's assessment that Alexander-Walker could be a nice Trent Lite developmental flier. The Pelicans are a really hard team to figure, directionally, as they appear to be a Zion away and have a Zion but … yeah. And hey, throw Jose Alvarado in the deal for me, please.
Trade 3, from William Lou: Dragic and a lottery-protected 2022 first-round pick to Sacramento for Harrison Barnes
Will says: "This could easily be part of a bigger trade as it seems the Kings are intent on shaking up their roster in a dramatic way this off-season, and Dragic could easily be rerouted.
"For the Raptors, adding Barnes aims to shore up the second unit with an upgrade at power forward over Chris Boucher. Yes, the Raptors already have an overabundance of big wings, but Barnes is a reliable shooter, a steady defender and someone with playoff experience. If it doesn't work out, you can flip Barnes' expiring $18-million contract next season."
I say: Will lays it out pretty well there, and while a first for another forward isn't exactly the most obvious roster-balance play, Barnes is 29, a very good shooter and fits stylistically. If this one is a "no" on Toronto's side, it's because you want that asset going towards guard or centre help and not quadrupling-down on six-foot-eight forwards.
A few people also sent similar deals with Buddy Hield coming back in place of Barnes. Hield fits what the Raptors lack a bit better while also carrying a worse contract and requiring more outbound salary, so it's probably close to a wash between the two options.
---
TRADE GROUP 3B: Using Goran Dragic's salary and an asset to add a good player with RFA control (or UFA Bird Rights)
---
Whereas the prior group brings back a player who's already locked up into next season, this approach would bring back an expiring deal the Raptors would have the inside track on re-signing in the summer. That can happen either by bringing in a restricted free agent (like Gary Trent Jr. was) or an unrestricted free agent who comes with full Bird Rights, allowing the Raptors to exceed the cap to re-sign them in July.
Trade 1, from William Lou: Dragic and a lottery-protected 2022 first-round pick to Portland for Jusuf Nurkic
Will says: "The Blazers are in tear-down mode and will take picks for any of their expiring veterans. Coughing up a first for Nurkic does hurt, but the Raptors acquire his Bird Rights and can re-sign him in the off-season. Nurkic gives the Raptors a legitimate rim protector, a sturdy post defender, a reliable rebounder and a crafty centre who is used to making plays as the release valve around star guards. His screening and passing will make Fred VanVleet's life so much easier.
"Unlike the other bigs on the roster, you can actually give the ball to Nurkic with some level of trust that he will do something productive."
I say: I'm not 100 per cent sure I believe Portland is in that mode yet. Whatever they do, short of dealing Damian Lillard, Nurkic's Bird Rights could be valuable this summer. Still, a first that they can turn around and flip to add a piece in the summer (or use to trade up) could be enticing if they go the tear-down route. There are also a number of iterations of this basic framework that can get bigger, including names like Ben McLemore, Malachi Flynn and more. Nurkic would be a really good fit, either way.
Someone also sent in a framework of Dragic, Boucher and a first-round pick for Norman Powell and Larry Nance Jr., which would fit the criteria of being amusing (Powell) and good (both players). It would be quite the signal from a new regime to flip two players just recently acquired for what amounts to a pick and salary relief.
---
TRADE GROUP 3C: Using Goran Dragic's salary and an asset to add a player, period
---
Consider this a more salary-oriented "recoup anything," where the Raptors decide even bad money is a worthwhile swap if it gets them someone who can contribute to the bench.
Trade 1, from Michael Grange: Dragic, Flynn and a top-10 protected 2022 first-round pick to Detroit for Kelly Olynyk and Cory Joseph
Grange says: "Olynyk is the kind of playmaking floor-spacing big that would help unlock either their first or second unit in the half-court but can handle in transition too (Coors Light logos aside). Set free in Houston last season, he averaged 19/8/4 over the last third of the year. Willing team defender.
"Joseph is quietly having a career-year offensively (TS% or 60.1) and provide 15-20 minutes of point guard relief / insurance.
"Also, more guys knowing words to O Canada, and Dwane Casey doing the Raptors a solid! But otherwise, a rebuilding team gets another first-round pick, keeps the tank rolling and get a free swing at a young player."
I say: The Canadians make a combined $18 million next year (Joseph with an option, Olynyk with an additional partially guaranteed year), so this further opens up cap space for the Pistons. Now, whether they'd use that meaningfully or once again dip into the solid-vets pool like they did with Olynyk and Joseph, who knows. If Detroit wants a re-do on that summer, they take this in a snap.
Trade 2: Dragic and Flynn or a second-round pick to Orlando for Gary Harris
The Flynn iteration is better for ducking the luxury tax but probably requires the Magic to kick an asset back in. My guess is they'd rather just move Harris for an asset and skip the hopscotch.
Trade 3: Dragic to Washington for Spencer Dinwiddie
This is a straight money-eating play from Toronto's point of view, as they take on an extra two years of (largely guaranteed) Dinwiddie money to turn Dragic into a capable rotation piece. Dinwiddie is overpaid at $17.1 million and isn't of great value off the ball, but if you're really resigned to turning Dragic into anything, this is an option that shouldn't require any additional assets going out.
Adding a first to Dragic to instead take back Kentavious Caldwell-Pope and Thomas Bryant was another suggestion. Bryant is an intriguing young centre ahead of free agency and Caldwell-Pope's deal is a year shorter and contains lighter guarantees than Dinwiddie's. KCP probably falls below the line of guys you'd be excited about, even as a significant upgrade on Svi Mykhailiuk.
There were some other nice predatory suggestions to try to nab an asset for taking back injured money like Joe Ingles or Dario Saric. I think Dragic's contract can be helpful in a scenario like that, we're just looking at multi-team deals that land those teams a win-now piece rather than salary relief.
---
TRADE GROUP 4: Swinging for the fences
---
I'm of the mind that any core-altering move makes more sense in the off-season when it can be a part of a larger, multi-pronged shakeup. Grange has also reported that a player like OG Anunoby is not on the table, at least not right now. But I'm nothing if not an inclusive teammate.
Trade 1, from JD Bunkis: Dragic, Anunoby, Trent Jr. and a lottery-protected 2022 first-round pick for Bradley Beal and Davis Bertans
JD says: "The deal is contingent on Beal agreeing to a new contract (not a super max). In this scenario, Beal is excited to be a Raptor. You get a scorer who can close. All of a sudden you have three all-stars and you try and take advantage of an Eastern Conference picture that's shaky with Brooklyn's dysfunction, Philly's Simmons paralysis, the Heat aging and the Bucks' non-dominance.
"It looks steep, but Trent Jr. is on a two-plus-one deal; is he really going to get a monster deal in Toronto? It's painful to see OG go, but Siakam and VanVleet are playing so well that maybe you're a bit more aggressive with their timelines. Washington gets a blue-chip piece with control in OG, Trent Jr. is only 23 and you get out from one of the worst contracts in basketball in Bertans, plus grab a first-round pick to sell the base on a little hope and avoid the awkward Beal super-max conversation."
I say: Beal is a great fit dropped into what the Raptors currently have established. Giving up this much to get him erodes what's currently established to too far a degree, though, turning what's already a thin, top-heavy team even thinner and top-heavier. Again, Beal is great, but two young players on very good contracts, a pick and eating a bad salary is a lot for the right to pay Beal a lot of cash past his 30th birthday.
Other trades I was sent (not from JD) included revisiting a Ben Simmons package or making a play for Domantas Sabonis.
I'd just be very shocked if this front office made a foundation-changing deal that pulled from the core four (or five) mid-season. Oh, and there were some four- and five-team scenarios I got a kick out of but are too cumbersome to include here.
Indiana Pacers centre Myles Turner, right, congratulates Indiana Pacers forward Domantas Sabonis after he hit a key basket. (David Zalubowski/AP)
---
Trade 2: Some framework for Myles Turner, Caris LeVert, or both
I'm going to chalk these up to "another team would top your best offer" if we're rolling with Grange's reporting that no core piece is on the table.
As Grange pointed out in our discussions, the Raptors are pretty light on assets if that holds true, especially if you're out on Flynn and/or want protections on a pick. I'd be making the call, at least. Jeremy Lamb and Justin Holiday were also names thrown out to me. The people demand Pacers!
---
TRADE GROUP 5: Trades not involving Goran Dragic
---
It's not a rule that Dragic has to be traded, as much as I do like F-DAP (Flynn, Dragic and A Pick) as the 2022 Raptors version of the 2013 Nets' HBAP (Humphries, Brooks and A Pick).
All of those suggestions involved Boucher, who is 29 and headed for unrestricted free agency. A swap for Coby White probably went out the window with all of Chicago's backcourt injuries. A Boucher-Holiday swap in Indiana probably doesn't do anything for the Pacers without a third team. Attaching a pick to Boucher for Poeltl is interesting depending on the protections.
The most interesting option may have been a roster-balance trade of sorts that sent Boucher to Milwaukee as frontcourt help and returned pending RFA Donte DiVencenzo.
---
Takeaways
---
Trades are hard, not impossible. The Raptors have a helpful piece of salary ballast in Dragic, some low-to-mid-tier assets in Boucher (expiring with Bird Rights) and Flynn (cheap redraft candidate) and all of their first-round picks moving forward.
My approach, if I were the Raptors, would be this: You don't project to have cap space this summer, or really any summer in the near future so long as your core stays intact. You've done your lottery year, with good fortune in it to boot. Dragic's contract (and the sweetener assets) is your likeliest path to adding a player who earns more than $10 million or so for the 2022-23 version of this team. With the opportunity cost of cap space so low and the future tax line far away, I'd be aggressive in exploring the deals in our "players with term/controllability" subsection, even if it means additional assets.
Some names that stand out: Bogdanovic, Olynyk, Eric Gordon Luke Kennard, Malik Beasley, Josh Hart, Valanciunas, Terrence Ross, and any number of Pacers, Blazers, Kings, Spurs or Wizards. Keep an eye out for larger multi-team deals, too, as that may be Toronto's best path to landing a rotation player not in this group without having to deliver win-now assets back.