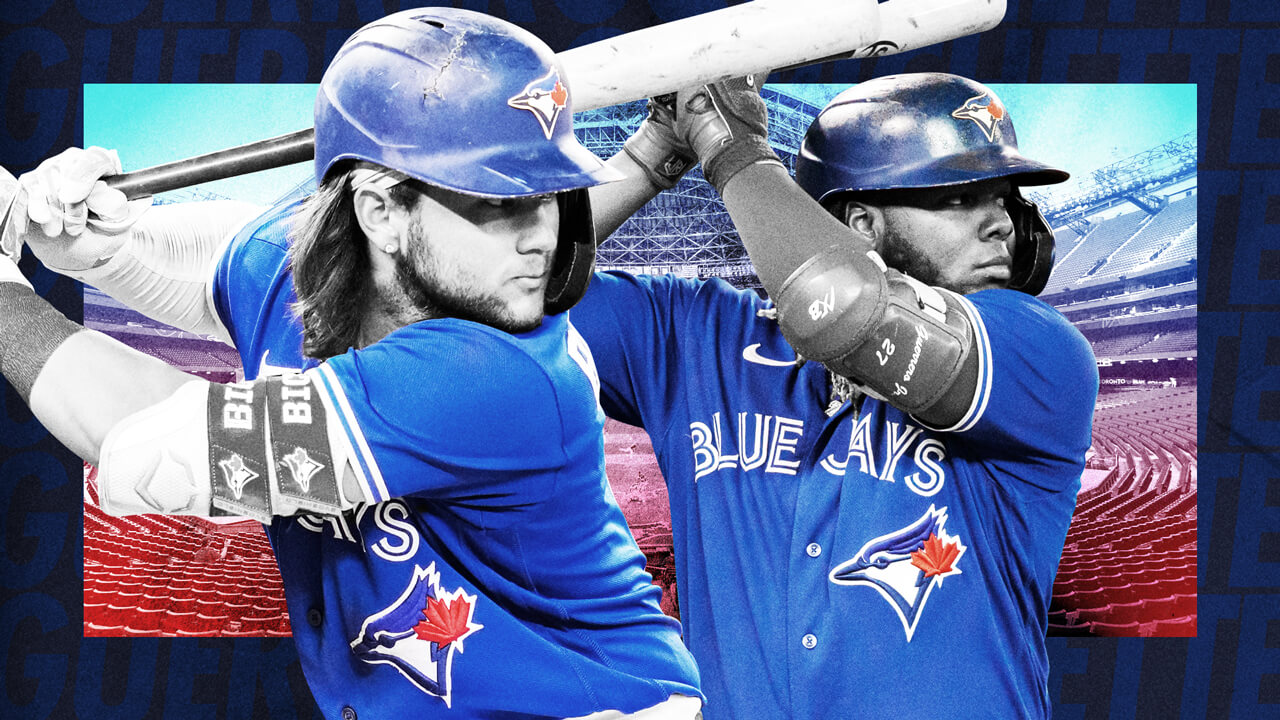 RISK AND REWARD
If the Blue Jays truly believe in the dynamic duo of Vladimir Guerrero Jr. and Bo Bichette, now is the time to get the deals done
O
n a Monday afternoon in Texas five days into the 2021 season, Vladimir Guerrero Jr. and Bo Bichette are sitting together in the Toronto Blue Jays dugout, the former with his right arm around the latter. They're staring out to the field when the slugging first baseman gently squeezes the kinetic shortstop's shoulder before resting his arm back on the bench. A quick conversation follows and they share an impish laugh.
The BFF moment, captured by a TV broadcast camera and shared widely by fans, resonated because of the genuine affinity and rapport between the two young stars, and there were similar scenes all summer long. Fate paired them in the Blue Jays farm system as potential organizational cornerstones and since 2017 they have essentially walked the same pro baseball path, graduating from level to level through the minor leagues up to the majors, succeeding at each step amid burdensome expectations and debuting as all-stars together last summer.
They have, over the past five years, become so synonymous with both each other and the franchise, that it is impossible to imagine the Blue Jays without them. For that reason, the most pivotal bigger-picture personnel matter facing the Blue Jays once the current lockout ends is whether to extend Guerrero and Bichette and ensure they remain together for years to come.
To a certain degree, this is a medium-term issue, as both players will be under contractual control through the 2025 campaign. That's four more seasons, so the risk of their departure is far from imminent. At the same time, however, the longer the Blue Jays wait, the more difficult and expensive it will likely be to lock the duo up, as each year brings them closer to the open market and incentivizes the exploration of other options.
Guerrero, with the rules as they stand, would hit free agency after his age 26 season, Bichette after his age 27 campaign, meaning both will have lots of peak left to sell. Assuming they maintain something akin to their current trajectory, interest in them will be significant. The risk that creates for the Blue Jays is that they could lose two franchise pillars at the height of their careers in the same off-season. Such a possibility factored into Jose Berrios's thinking when he signed his $131-million, seven-year extension in November, as the pitcher secured an opt-out after 2026 in case the franchise abruptly pivots to a rebuild. If the Blue Jays want to guarantee they get all the peak years from Guerrero and Bichette, this isn't an issue to punt to spring 2025.
Already complicating matters is the inflationary pressure created by Wander Franco's recent $182-million, 11-year extension with the Tampa Bay Rays, a deal that raised the floor substantially from the $100-million, eight-year contract Ronald Acuña Jr. signed in April 2019. A deal between Juan Soto, who is just three years from agency, and the Washington Nationals could just as dramatically alter the ceiling.
All of which means that if the Blue Jays have full conviction in both players, locking up Guerrero and Bichette is a matter worth exploring sooner rather than later.
T
his is obviously the most significant and contentious factor at play. The Tatis deal, agreed to after just two big-league seasons, one of which was the pandemic-shortened 2020 campaign, shifted expectations for what an emergent superstar's early career extension should look like, especially given the Acuña contract two years earlier. And while a $340-million guarantee is nothing to scoff at, it's worth remembering teams don't make such financial investments unless they expect to generate surplus value. As Bichette noted when the Tatis deal was signed, "He's probably still not going to get paid what he should have, but I think it's good for Fernando and I think it's good for the Padres. It's good for baseball."
The challenge is to find a sweet spot where both sides share risk relatively equally, the club making a significant guarantee in pursuit of long-term savings, the player locking in a substantial sum to protect against injury but surrendering the chance to truly max out.
To that end, the Tatis deal provides an interesting model, with his 14 seasons from ages 22 to 35 valued at $340 million. Guerrero will be 23 on opening day, Bichette will be 24. Like Tatis, both debuted in 2019.
Here are their career numbers heading into 2022:
Tatis hit the ground running faster than Guerrero and played more games than Bichette, prompting the Padres to jump in. When I spoke to him in November, Padres GM A.J. Preller said that they were impressed by the way Tatis "came back from his rookie season wanting to build on [it]" and the way he followed up an MVP-calibre 2020 by asking "to play winter ball because he's been working on some things with his dad," former big-leaguer Fernando Tatis.
"Obviously the talent part of it is very important," Preller added. "But that hunger to be the best no matter where you stand from a contract standpoint or anything like that, we felt like he was a guy we wanted to lockup long term."
Similar plaudits apply to the young Blue Jays duo, and while Guerrero initially lagged Tatis, he caught and even surpassed him offensively last season.
The consensus around Guerrero is that he's still just scratching the surface and that his MVP-finalist 2021 is a step on his ascent, rather than his ceiling. So, if he's performing at Tatis levels offensively at the same age, he'd understandably point to the Tatis contract as a comparable, especially given he'd be signing with nearly a full season more of service time in the majors.
Guerrero is now four seasons away from free agency — just as Tatis was when he signed last spring — but because he qualified as a Super 2 player, he will go through arbitration four times, while the Padres shortstop would have only gone through three. As a result, Guerrero is positioned to out-earn Tatis through their third through sixth service-time seasons. With a projected salary of $8 million in 2022, he'd very conservatively platform to $12 million, $16 million and $20 million over the next three years for an estimated total of $56 million — roughly double the $27 million Tatis is slated to earn over the same span.
Given those numbers, the question then becomes how to value the free-agent years portion of an extension, which Tatis locked in at an average of $31.3 million over 10 years. The most recent relevant comparable is the $130-million, five-year extension Paul Goldschmidt signed with the St. Louis Cardinals in March 2019 covering his age 32 through 36 seasons. That's an average of $26 million a season, less than the $31 million Miguel Cabrera is averaging on the $248 million, eight-year deal covering his ages 33-40, but more than Albert Pujols' $24 million per covering ages 32-41 ($240-million, 10-year deal) or Joey Votto's $22.5 million per covering ages 30-39 ($225-million, 10-year deal).
A key differentiation is that Guerrero will be offering his prime years, 27 to 31. Assuming his continued growth, they will be immensely valuable, which suggests he should be at the higher end of those averages, especially since some of those comps are now years old. The value in buying more peak than decline is why the Padres were willing to pay up for Tatis and Manny Machado, whom they landed for $300 million over 10 years as a free agent.
"Usually when you start signing guys deeper into their 30s and they're starting those contracts at 30 years old, that's maybe when you look up and see that decline phase," said Preller in that same November interview. "For us, Manny was a 26-year-old free agent, and Tatis signing at 22 years old, we're hoping to get the prime part of their careers. That was definitely a factor."
While the Tatis deal appears to have established a new baseline at the top end – at least until Soto either extends with the Nationals or cashes in after the 2024 season – the Franco extension has done the same for the bottom. Signed at just 104 days of big-league service time, no deal in baseball has guaranteed more money to a player with so little experience, nearly doubling the total Acuña secured with 159 days under his belt. Given how much more established Guerrero is than Franco, he is well clear of this threshold, so any conversation needs to start well beyond his $182 million and much more in line with Tatis.
The same is true of Bichette, who can also point to Corey Seager, who recently signed with the Texas Rangers for $325 million over 10 years as a free agent. These are their numbers through their age 23 seasons:
The shortened 2020 season leaves Bichette lacking in games played but the production rates are essentially on par. Seager is also the Blue Jays star's most similar batter by age according to the Similarity Scores tool found on his Baseball Reference page.
Over his third through sixth service-time seasons, Seager earned $26 million, which when added to his free-agent deal, totals $351 million over 14 years. As Bichette heads into his 3-6 service-time seasons, that's the type of trajectory he's on.
N
ow, let's say the Blue Jays can find common ground with Guerrero and Bichette and are willing to ante up large for their two pillars. Should they actually do it?
Without doubt such deals carry significant risk for teams as injuries and underperformance can leave clubs ruing the day, especially on the back-end. A top-heavy payroll structure can also hamper the overall roster. Still, none of that shook the Padres, who signed Machado and extended Tatis in consecutive years. That's $640 million to two players for a team that has only carried a nine-figure payroll three times in franchise history, per Cot's Baseball Contracts.
The key for the Padres is "having other young, talented players in the system," said Preller. "I think everybody understands that you have players that are outperforming their contracts. Part of that is having guys that are in the early stages of the salary scale to balance out some of those bigger deals, and then just making smart decisions on some of your veteran players. Ultimately, that's the name of the game, having some guys that are outperforming so you can balance."
As things stand, the Blue Jays' only long-term guarantees are Berrios, who is under contract through 2028, and George Springer and Kevin Gausman, who are both tied up through 2026. Extensions for Guerrero and Bichette could be structured so their big raises hit after '26, ideally right as a new wave of talent emerges to renew the roster. Basically, for it to be worthwhile, Gabriel Moreno, Orelvis Martinez, Jordan Groshans and/or others down the line are going to have to hit.
"In baseball you need impact, quality, depth and a lot of really good players," said Preller. "If having the top-end type guys affects your ability to have that depth and quality, it's probably not the best decision. For us, we felt with Manny and Tatis, we could do both. They fulfilled that portion of having real, impactful players at the top part of your payroll and your roster that you need. But we didn't feel like it was going to affect our ability to put a productive team around them and be a contender for the World Series."
One other consideration for the Blue Jays: What happens if they can only successfully extend one? It's possible neither player would want to sign first, preferring to let the other establish the market, and the relationship dynamic between team and player could be impacted if there's only one extension.
O
ne way to avoid any such awkwardness is to settle on twin deals, something that actually isn't unprecedented for the Blue Jays. In the spring of 2003, then GM J.P. Ricciardi bought out two pre-arbitration seasons and three arbitration seasons from two players he expected to become cornerstones – Eric Hinske ($14.75 million) and Vernon Wells ($14.7 million).
The Wells deal worked out very well. It eventually led to a $126-million, seven-year extension in December 2006, which ended with a January 2011 trade to the Los Angeles Angels. The Hinske extension didn't pan out though, as the infielder, the 2002 AL Rookie of the Year, plateaued before being sold to the Boston Red Sox in 2006.
On April 4, 2008, the Blue Jays unveiled another pair of extensions, a $64-million, six-year deal for Alex Rios and a $12-million, four-year contract for Aaron Hill that included three sets of options. "You have to be pre-emptive with your young players that you believe in," Ricciardi said at the time. "We've done this before. We're batting .500 on that one, but sometimes you have to take those chances."
Neither player finished out his deal with the Blue Jays. Rios was given away on waivers to the Chicago White Sox in the summer of 2009. Hill was traded to the Arizona Diamondbacks at the end of 2011.
In 2010, Alex Anthopoulos locked up two young players in his first year as GM, signing Ricky Romero to a $30.1-million, five-year deal and Adam Lind to a four-year contract that guaranteed $18 million but included three club options that were all exercised – two by other clubs.
Though none of those agreements were of the magnitude the club faces now with Guerrero and Bichette — two players who are not only stars in Toronto, but also among the most talented and popular players in all Major League Baseball – they do offer some loose precedent. So too does the quick action from San Diego, Atlanta and Tampa Bay to lock up their young generational stars. Meanwhile Soto's long-term future in Washington remains an ever-present question hanging over the Nationals. No matter which path forward the Blue Jays choose, the stakes will be incredibly high, with the outcome sure to shape the rest of the decade for the franchise, and perhaps the one that follows it, too.
Additional Credits
Getty Images (3); Cliff Welch/Icon Sportswire via Getty Images (2); Cole Burston/Getty Images. Design by Drew Lesiuczok.