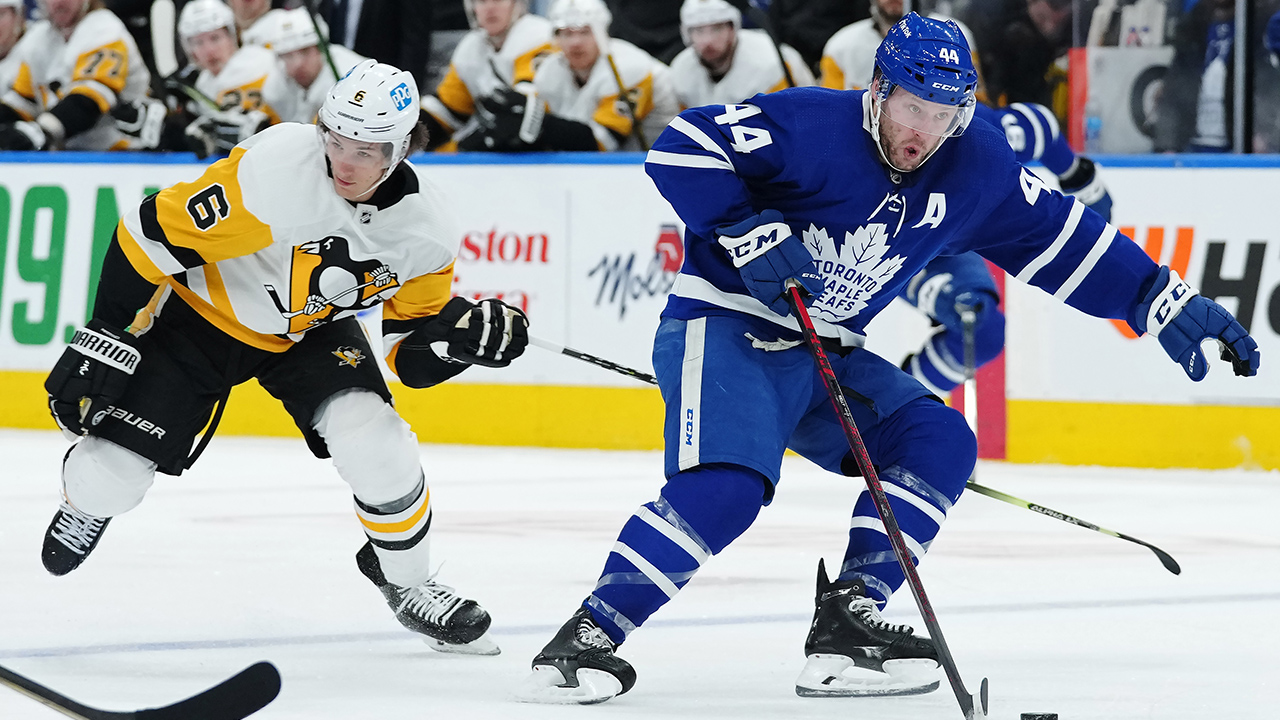 TORONTO – When Jack Campbell collected a harmless dump-in from the Pittsburgh Penguins' penalty kill and dusted off the puck at his goal line for Morgan Rielly to circle the back of his own net, he could not possibly imagine he'd be gathering his first primary assist as a Maple Leaf.
"Just left it for him perfectly," said a smiling Campbell, claiming credit.
Rielly calmly gathered the puck on his tape, slowly spun his wheels chugging north to begin pushing for a second-period power-play strike.
Surely, he'd freeze the visiting defenders with a neutral-zone drop pass — the NHL's mandatory 5-on-4 zone-entry strategy — and the best power play in hockey would set up in the zone and start whipping the puck around.
Nah. Not this time.
As the Toronto Maple Leafs discussed amongst themselves pre-game, the Penguins like to deploy a "two back drop" and send two killers beyond the puck-carrier in anticipation of the trendy drop-pass entry.
Reilly noticed an opening and pounced.
"Saw his own lane and trusted himself," Mitch Marner said.
"That's why you have your best people on the power play — because they gotta be able to read those situations and improvise," added coach Sheldon Keefe, noting that Rielly always has the green light in those situations. "Loved his initiative."
Number 44 blacked out and went full Number 4, smoothly snaking his way through all four Penguins — one by one, right up the gut — before snapping the puck clean and bar-down over Tristan Jarry's right shoulder.
"I have no words for it," said Rasmus Sandin, Rielly's PP understudy. "I was a little bit surprised because I haven't seen him do it in a game. I told him it was one of the best goals I've seen live — and I got a pretty good seat."
The phrase "Bobby Orr" was trending on Twitter. Seriously:
It was the type of play that, at once, encapsulated the Toronto Maple Leafs' electric power play, Rielly's Norris-conversation-calibre campaign, and the team's all-cylinders execution in a thrilling 4-1 statement victory over Pittsburgh Thursday.
Remember, the Penguins had coldly dished the Leafs both their most embarrassing loss (7-1 in Pittsburgh on Oct. 23) and only shutout loss (2-0 at home on Nov. 20) of the season.
The home team — welcoming back actual fans into Scotiabank Arena for the first time in 2022 — craved a slice of revenge here.
That was evident from the opening shift, when Auston Matthews beat Jarry on a breakaway. The game was all of 20 seconds old, and Matthews had extended his latest point streak, scored the quickest goal of his career, and set the tone.
"We have so much respect for how skilled they are," Penguins coach Mike Sullivan said. "Their transition game is one of the more dangerous transition games in the league. Any time we play those types of teams, we talk about managing the puck and forcing them to have to play a goal-line-to-goal-line game."
Trouble for Sullivan was, Rielly played a goal-line-to-goal-line game himself.
"Like, tonight I didn't plan on doing that," Rielly said, staying humble. "But you just gotta take what's there. That's all."
After ripping his highlight marker and eventual game-winner, the No. 1 defenceman set up defensive centre David Kämpf for his seventh(!) of the year on a pretty penalty-kill rush.
Evgeni Malkin responded for the Penguins in the third period, but Michael Bunting's rookie-leading 16th of the season provided insurance.
An excellent Campbell — stellar in a statement 45-save performance of his own — held the fort.
Matthews temporarily left the third period after running into Campbell's crossbar with his mouth during a backcheck but did return.
Life won't get easier for the Maple Leafs this weekend, as they host another upper-echelon team, the St. Louis Blues, on Saturday.
Stream the Leafs this season with new pricing options! SN NOW STANDARD and PREMIUM let you choose how much hockey you want to watch.
Fox's Fast 5
• Even with a partially full building (8,000-plus), the atmosphere and intensity were refreshingly high in Toronto. Death to the tarps.
• Jason Spezza on Sidney Crosby: "He's the poster boy for just work ethic and dedication."
• Toronto's penalty kill was nothing short of superb against Pittsburgh's star-studded power play, going a perfect five-for-five, generating multiple odd-man rushes Jarry's way, and registering its seventh shorthanded goal of the season (tied for second overall).
• The Leafs unveiled their Heritage Classic sweater for next month's outdoor game. Simple, safe, slick. May we suggest brown leather gloves.
For the Heritage Classic, the @MapleLeafs pay homage to their roots with these slick @adidashockey threads. pic.twitter.com/RyQT4XZlVC

— NHL (@NHL) February 18, 2022
• Maple Leafs long-serving house organist Jimmy Holmstrom unleashed a rendition of "Still D.R.E." on the keys during an early stoppage in play. Can't say I recall him ever playing a rap beat on the organ before. The power of the Super Bowl halftime show, folks.