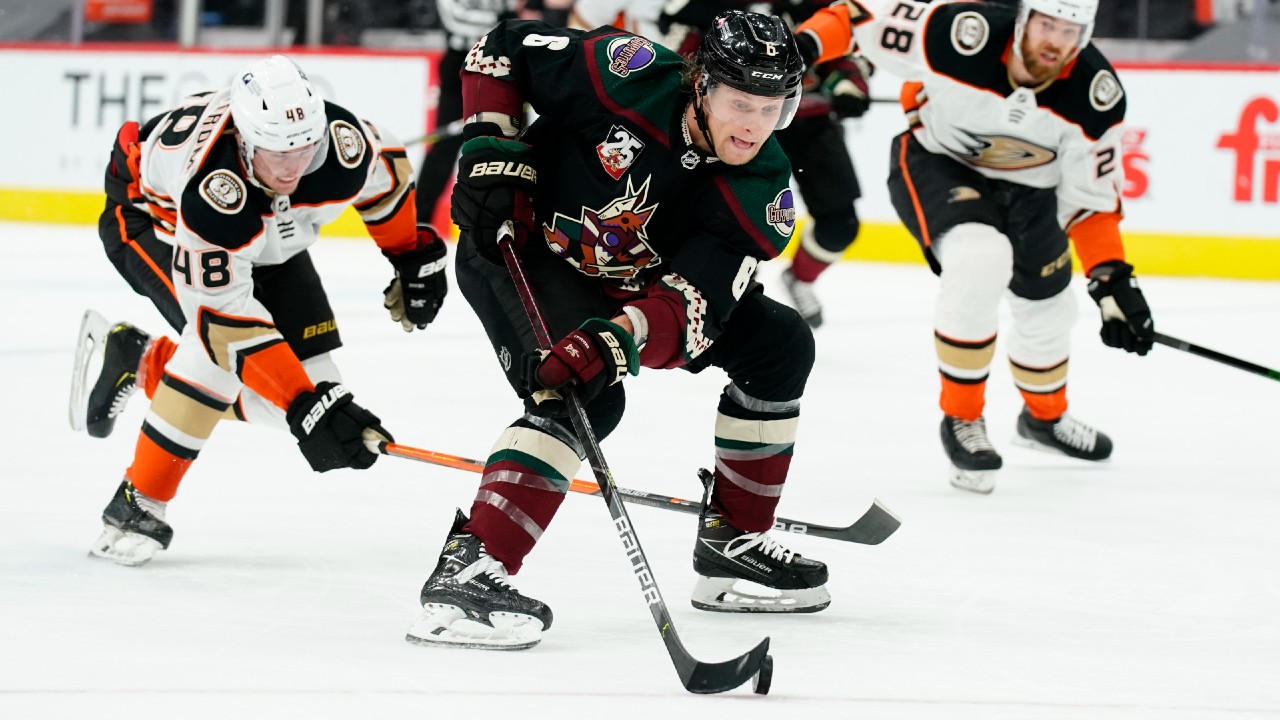 It was the summer of 2002, right after Steve Yzerman's greatest season. He led Team Canada to Olympic gold and the Detroit Red Wings to the Stanley Cup on a severely damaged right knee. Twenty years later, teammates still marvel at what he endured.
The questions became: Can his knee be fixed? Could he continue? During a visit to the industry-leading Kerlan-Jobe Orthopaedic Clinic in Birmingham, Ala., it was recommended Yzerman visit Dr. Peter Fowler at the University of Western Ontario. So, he did.
"The doctors in the United States saw him as an innovator," Yzerman said Tuesday. "He grabbed a piece of paper and a pencil, (illustrating) what he was going to do. He left a tremendous impression. He sat and talked to you as 'Pete,' not necessarily Dr. Fowler."
What Fowler diagrammed was an osteotomy, cutting the bone in the knee to re-align it and ease pain. It was unheard-of for an elite-level athlete at the time.
"He suggested to me that the damage was done and couldn't be repaired, this was about prolonging the joint itself — altering the weight-bearing point of my knee."
Fowler made it clear there were no guarantees the operation would be successful enough for Yzerman to keep playing. He did recommend Yzerman consider retirement.
"I knew I was literally on my last legs," the captain said. "I figured I'd give it a try, and went through the procedure knowing there would be rehab regardless."
Yzerman's own grit and determination are the major reasons he returned to action on Feb. 24, 2003 — the first of 152 bonus NHL games. Doubting him is foolish.
But it's also a significant part of Fowler's legacy, that he'd help someone find a way. One of two Canadians ever to be elected president of the American Orthopaedic Society for Sport Medicine, Fowler died last week at age 84. In 1974, he and mentor Jack Kennedy opened the Fowler-Kennedy Sports Medicine Clinic at Western. Local and international athletes benefitted from his care. I remember one women's soccer player in particular detailing how lucky she was that a serious knee injury happened in Fowler's orbit.
In 2004, he repaired the shattered left ankle of then-Saunders Secondary School tight end Amil Delic, an injury that sent him into podcast producing. "The attention to the process in the rehab was impressive, so detailed. Laid out perfectly," Delic says now.
"My mom was a nurse in London, so I knew him long go," another Hall-of-Famer, Eric Lindros, said Tuesday. "Whatever sports-related injury I suffered back then, we always went to 'Dr. Pete.' Knees, shoulder or wrist, whatever surgery I had, he was actively operating or in the room."
"His whole philosophy was, 'If there's a great idea, don't just sit on it.' Share it with the rest of the world. Let everyone benefit from it."
That influence crossed multiple sports, from hockey to football. Olympic skier Todd Brooker and multiple Toronto Blue Jays players also worked with Dr. Fowler.
"He was such a modest guy," Lindros said. "Didn't want any accolade, just hated it. There wasn't one thing that was great about him, just everything. A giant."
Thoughts
1. Some situations to watch: First, Florida. Anthony Duclair is on the road to recovery and the Panthers — twice forced to play with 17 skaters due to their cap crunch — must find room. Duclair's salary is $3M, so that's the figure that must be cleared, assuming (hopefully) the Panthers remain otherwise healthy.
2. Ottawa: It's not for a lack of effort that the Senators haven't added a defenceman. Name someone who might be available, they've considered it. It's one of my old lines — if you're drowning, the other GMs throw anvils, not life preservers. I do think they've considered what kind of sweetener would be necessary to move Nikita Zaitsev, but there's a limit.
3. Sounds like Ryan Reynolds has (or had) at least two meetings this week with potential Senators ownership groups. Curious to see if he ends up selecting one of them, or if the NHL — recognizing the positive public reaction — tries to place him with the eventual purchaser. The process is going to ramp up next week, and there is hope the frontrunner will be identified by mid-January. One source on Sal Galatioto, who was hired by the Senators to facilitate the sale: "He knows how to create an auction."
In wondering about The Weeknd's potential involvement (as Ron MacLean smartly alluded to last Saturday), long-time Ottawa-area reporter Chris Stevenson noted that he partners with one of the potential buyers, the Kimel family, in the esports space. Two of The Weeknd's representatives, Wassim Slaiby and Amir Esmailian, lived in Ottawa after their families emigrated to Canada.
4. Jakob Chychrun played 23:04 in his return on Monday, a 4-3 shootout loss to Nashville in a pretty entertaining game. This is an absolute showcase with the organization and the player both desirous to make this work as well as humanly possible. The most important thing is that he stays healthy. Arizona is still asking for two first-rounders (upcoming picks or recently-drafted prospects), plus something else. Apropos of nothing, the Coyotes impressively have the NHL's seventh-best power-play.
5. Conor Timmins' AHL conditioning stint ends Wednesday. Injuries are his biggest problem, but there's no denying his talent. Arizona plays hard, and that's made it even tougher for him to get in when healthy. I think there's some interest elsewhere, and we will see where this goes. He's got the OHL Sault Ste. Marie history, which means everyone wonders if Toronto is on the radar. It makes sense for the Maple Leafs, because he's not hard to handle with their tight cap and injury-related defensive holes.
6. Those injuries mean it's possible 2018 fourth-rounder Mac Hollowell makes his NHL debut soon. Eight years ago, he was a 12th-round OHL selection by Sault Ste. Marie. That summer, Hollowell travelled a few times a week from his Niagara Falls home to Burlington (for off-ice training) and then Oakville (to skate). No one thought too much of it until they realized he didn't have a car and was doing it by bus, with all of his equipment. There were people really rooting for him to make it after learning that. No guarantees for Hollowell to make it this far.
7. This might be purely in my head, but I wonder if Los Angeles makes a pitch for Patrick Kane. The Kings' .571 points percentage is sixth in the Western Conference, but their goal differential (minus-four) isn't good. They have the picks and prospects to make this move.
8. Vancouver GM Jim Rutherford has indicated he's in no rush to decide what he's going to do with Bo Horvat. The Canucks pulled an about-face with J.T. Miller, so I always assume that can happen here, too. We'll see. I believe Vancouver has talked to some potential coaches, but not sure there's a timeline to make a move.
9. One week after San Jose GM Mike Grier said he'd listen on any offers for Comeback Player of the Year, Erik Karlsson, what is clear is that the most important intel being gathered is what potential suitors are willing to do with the four years remaining on the defenceman's deal. What the Sharks could or would get in return depends on that being established.
10. Haven't watched all of Jonathan Huberdeau's career shootout attempts, but after scoring last Saturday in Florida, he indicated that it was the first time he simply shot instead of deked. I wonder if it will be a turning point in his season. The adjustment hasn't been easy, and it's understandable if he was still wrapping his head around the stunning off-season trade. Sometimes, you need that closure and the "official goodbye" on the weekend should do it. He scored again in Monday's 5-2 win in Philadelphia.
11. A story that hasn't received enough attention: Columbus's Nick Blankenburg — expected to be out until the new year — played several shifts on the broken ankle he suffered during the Blue Jackets' 5-2 win over Philadelphia on Nov. 10. He scored an empty-netter, too. Blankenburg, who signed seven months ago as a free agent out of NCAA Michigan, stayed in the game because Columbus was down to four healthy defencemen.
12. Courtesy of friend-of-the-blog John Davis: 14 of Boston's 17 wins are by at least two goals. The Bruins' goal-differential is plus-40, 11 better than second-place New Jersey. Checking some history, it's not really going out on a limb to suggest they won't catch the 1976-77 Montreal Canadiens' record of plus-216. But in the salary-cap era, the 2005-06 Senators set the standard of plus-107. That Ottawa team is the only cap-era club in the top 30 all-time, right at No. 30.
13. Wanted to send a note of support to Jagger Joshua, who revealed that he was the victim of a racial slur during a Nov. 11 game against Ohio State. Brother Dakota, now in Vancouver after playing for the Buckeyes, spoke out in support of his sibling to NHL.com's William Douglas.