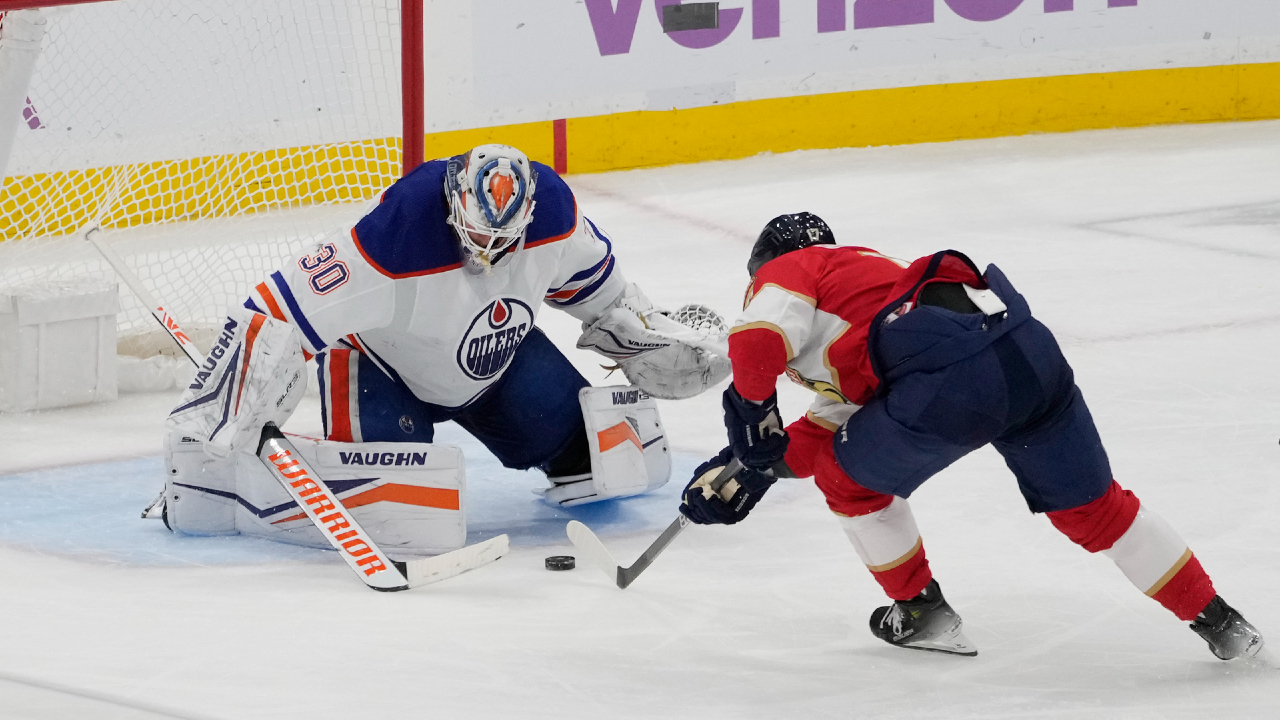 SUNRISE, FLORIDA — The son of an air traffic controller, goalie Calvin Pickard might be the only one able to make sense of the routes his teammates are travelling in their defensive zone these days.
"We have a lot of games left, but obviously the runway is getting shorter and shorter every day," admitted Mattias Ekholm,
Forget "zone" and "man."
These days, the Edmonton Oilers' defensive system resembles something between "poked wasps nest" and "draft lottery bingo balls," as a confused hockey team watches its season whittle away amidst a cacophony of odd-man breaks, missed assignments and Evan Bouchard's nightly front row seat to a goal against.
Edmonton blew leads of 2-0 and 3-2 — after gassing three separate leads just two nights prior in Tampa — eventually losing 5-3 to the Florida Panthers Monday. Connor McDavid scored twice, but a power play that was 0-for-5 in Tampa went 0-for-3 Monday, while the penalty killers surrendered the 2-1 goal that sent a fragile team plummeting to the next goal against.
"They score, and I'm sure the guys are thinking, 'Oh, here we go again,'" said head coach Kris Knoblauch. "We should have been happy with the 2-1 lead at that moment."
So, why aren't they?
"Confidence," assessed the new coach. "Just playing the right way and not cheating the game. We're up 2-0 — they need to open up. They need to change the way they're playing, and we should be able to take advantage.
"Unfortunately, we were giving them the opportunities."
For the second straight night Edmonton leaked away a 2-0 lead. The Oilers are so brittle this season, you'd never believe they took the Stanley Cup champs to six games only last spring.
"We were harder to play against in those (last) 25 games last season," said Mattias Ekholm of his arrival last March. "That showed up in the win column too. We won a lot of hockey games.
"It's not always about what you get — it's what you leave out there. And right now, we're leaving a little bit too much for my liking — for our liking — and for us as a team to get wins."
This team is, as the kids say, a tire fire in their own zone these days. A team that's blown 2-0 leads all season long, it's a coin flip as to whether Bouchard is more derelict defensively than Darnell Nurse, or whether Ekholm turns over more pucks than Vincent Desharnais.
Philip Broberg stepped on a stick while skating backwards, creating a two-on-one. Bad luck.
Nurse stuffed the ensuing puck into his own net by mistake. Bad luck? Or bad play?
Ekholm's clearing pass bounces off of Zach Hyman's rear end, stays in the zone, and ends up in the net. A veteran NHL defenceman should make a better play than that.
As a five-man unit, the Oilers have not recovered defensively from the new system instituted by the fired Jay Woodcroft. Now Knoblauch is tweaking that same system, and his players look lost.