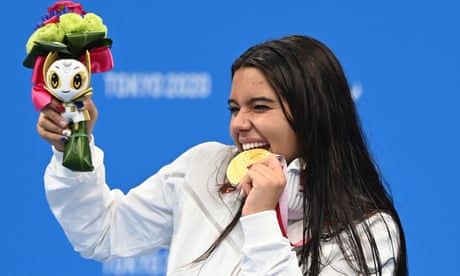 Teenager wins 400m freestyle S11 in world record time
Long Island native has huge social media following
Seventeen-year-old Anastasia Pagonis cheered Team USA – and her millions of fans on social media – after winning her country's first gold of the Tokyo Paralympics.
The teenager was racing in the first major international competition of her career but, if she was nervous, she didn't show it. She finished more than 10 seconds ahead of the field to win gold in the 400m freestyle S11. Her time of 4min 54.49 seconds was also a world record. Liesette Bruinsma of the Netherlands and China's Cai Liwen took silver and bronze respectively.
Related: Team USA should dominate the Paralympics. So why doesn't it?