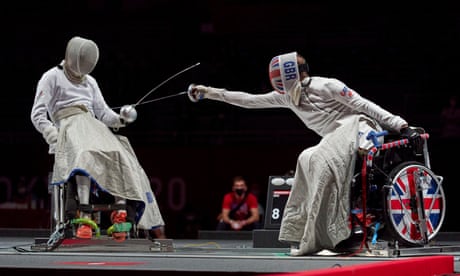 The sport continued in Tokyo with plenty of medals up for grabs
Thanks for your company today. I hope you've enjoyed the action as much as we have. We'll be back again tomorrow. See you then.
Dressage: The 14th and final rider, Valentina Strobl can only score 64.619, which leaves her in 13th overall. That's good news for Sophie Wells, who holds on to second place and her silver medal
Michèle George wins gold; Wells grabs the silver and Frank Hosmar lands the bronze.
Dressage: Sophie Wells is guaranteed a medal. "I'm not an emotional person but I feel so emotional," she says as she chokes up. That's great.
With one rider to go, Michèle George is in first position and Sophie Wells is second and Frank Hosmar of the Netherlands is third.
Dressage: Sophie Wells has scored 74.405% and gone into the silver medal position with two riders to go.
It's going to be close but she has a great chance of winning another medal for Great Britain here. Michèle George of Belgium is in the lead and – by my calculations – is now guaranteed a medal.
On the subject of dressage, Lee Pearson won a gold medal earlier for Great Britain – the 12th of his career – and then made a heartfelt plea:
Love has to prevail, really. Whatever shape or form, I think love has to prevail. If you're born with a disability, if you have a child with a disability, if you're born with same-sex attraction, if your daughter comes out or your son, then just love them. Nobody wants to be different but we have to embrace different people because that's society, that's the world. Those different people they're not going anywhere. So you can say it's illegal, you can make them feel awful, but somewhere in the world another gay boy or girl will be born. Somewhere in the world someone will be born with no limbs. Do you know what I mean? Life goes on and it's silly in this day and age when we have countries that are still in the stone age, as we say, 100 years behind. But I'm just a horse rider. Promise.
Related: 'Love has to prevail': Pearson sends LGBTQ+ message of support after gold
Equestrian: British athlete Sophie Wells is in action in the grade five dressage event.
As I was mentioning earlier, Sophie's career in the sport started when she rode a pony at a friend's birthday party and discovered she was allergic to horses. She had come a long way since then, winning gold medals in 2012 and 2016.
Let's have a look forward to tomorrow's action in Tokyo, courtesy of my colleague Edward Gibbes, who has picked out the highlights for every day of the Games.
Day three
In the men's –59kg powerlifting at 11.00am (3.00am), Ali Jawad will be looking to lift more than three times his body weight to outdo the silver he won in Rio, where he hoisted 190kg. The United States swimmer Jessica Long goes in the women's S8 100m backstroke heats at 9.22am (1.22am) and, with 13 Paralympic golds already, she will be a strong favourite to feature prominently in the final at 5.21pm (9.21am).
Related: Your guide to all the best action at the Tokyo 2020 Paralympics
As we begin to wind up for the day, here is the medal table from Tokyo.
It has been a good day for Great Britain, who are currently second behind China. China topped the table in 2016 – above Great Britain.
Related: Tokyo 2020 Paralympic Games: full medal table
The day's table tennis matches have just come to a close in Tokyo, which gives me an excuse to tell you a little about Ma Lin, who is competing for Australia at these Games having previously represented – and won multiple medals for – China.
Ma Lin has an unbelievable story. He was five years old when he lost his arm during a trip to the zoo, where he was bitten by a brown bear. Lin had been friendly with the animal but it turned on him, biting through his right arm.
A few of our favourite photos from the Paralympics today.
They are all brilliant, but the goalball, basketball and table tennis pics – oh, and the rugby one – stood out to me. Actually, they are all great.
Related: Tokyo Paralympics 2020: day two – in pictures
The view from Australia.
Related: Australian swimmers, cyclists add more medals to Tokyo Paralympics haul
Wheelchair rugby: A great result for Great Britain, who have beaten New Zealand 60-37 in their group game in the wheelchair rugby event.
Great Britain dominated the match from start to finish. They were 16-5 up after the first quarter, 32-17 up at half-time, 45-27 up with a quarter to go and won it 60-37.
Another win for GB Fantastic game @ParalympicsNZ #roadtotokyo #wheelchairrugby #paralympicgames #paralympics pic.twitter.com/YT7swlBkbV
Swimming: Anastasia Pagonis won gold for USA in the pool earlier.
Tom Lutz, our sports editor in the US, has the full story – which includes some lovely quotes from the 17-year-old:
Anastasia Pagonis cheered Team USA – and her millions of fans on social media – after winning her country's first gold of the Tokyo Paralympics. The teenager was racing in the first major international competition of her career but, if she was nervous, she didn't show it. She finished more than 10 seconds ahead of the field to win gold in the 400m freestyle S11. Her time of 4min 54.49 seconds was also a world record. Liesette Bruinsma of the Netherlands and China's Cai Liwen took silver and bronze respectively.
Pagonis was already one of the highest-profile athletes coming into the Tokyo Games even before she won gold. She has more than 2 million followers on TikTok, where she uses her platform to give an insight into the life of a blind athlete – as well as introducing fans to her co-star, guide dog Radar. One video in which she explained how she brushes her teeth clocked up 12m views.
"I do this for that random little girl that's sitting out there scrolling through her phone and just listens to one of my videos and hopefully I can help her and change her life in some way," she told the Washington Post. "And I do it for myself. People are going to make fun of me. People are going to laugh at me. I might as well make fun of myself."
Related: Anastasia Pagonis cheers USA – and her 2m TikTok followers – with Paralympic gold
Goalball: Canada have beaten Israel 6-2 in their group game in the women's goalball event.
The sport has a big Canadian heritage – especially when it comes to their women's team.
Cycling: Fin Graham won a silver medal for Great Britain earlier.
The 21-year-old from Strathpeffer, in Scotland, set a new world record in the semi-final and then his teammate, Jaco Van Gass, broke that record in the final as he picked up the gold medal. Graham is delighted with his silver medal.
PARALYMPIC SILVER MEDALIST
.
I don't really know what to say?! Thank you so much to everybody that got up in the early hours of the morning to watch my racing! The amount of messages I have received has been unbelievable and I will respond to everyone as it means so much❤️ pic.twitter.com/Crap8sWI4Y
Wheelchair rugby: We are into the final quarter and Great Britain are beating New Zealand 46-27.
USA and Canada are the other two teams in this group.
Equestrian: The British athlete Sophie Wells is currently in action in the Grade V dressage event. (There are five grades in total).
I love this little bit of her backstory. Sophie's first experience of horses was when she sat on a pony at a friend's birthday party. Despite being very allergic to horses, she was soon she was attending her local riding school and building a connection with the animals.
Goalball: Canada have a 1-0 lead over Israel in their group game in the women's goalball event.
The sport has a fascinating backstory – it was devised in 1946 as a rehabilitation activity for veterans of the second world war. Here's the story of goalball.
Fencing: Wheelchair fencer Piers Gilliver won gold for Great Britain earlier. What a fantastic photo of his moment of glory.
Gilliver's training partner, Dimitri Coutya, won a bronze.
This is what it means to @PiersGilliver
Magic. Just magic.#ImpossibleToIgnore #Paralympics pic.twitter.com/HRIPuTpAQJ
Tell us: Are you enjoying the Paralympics? If so, we want to hear from you.
Related: Tell us: what are you enjoying most about the Tokyo Paralympic Games 2020?
Wheelchair rugby: Great Britain are winning 33-17 against New Zealand at the halfway point of their group game in the men's wheelchair rugby tournament.
Great Britain finished fifth in the event in Rio five years ago, when Australia beat USA by a single point in the final.
Thanks Geoff and hello everyone.
We're coming towards the end of the second day of action at the Paralympics. What have you made of the event so far?
A blur of activity, as ever.
Wheelchair rugby: Great Britain are smashing up the Kiwis in the late game, leading 17-5 after the first quarter. Can't see a comeback from that position. This after the New Zealanders lost to the USA yesterday.
Equestrian: Gold for Sanne Voets and Demantur in the Grade IV dressage. Ridolpho Riskalla gets silver, Manon Claeys bronze.
That goes: Netherlands, Brazil, Belgium.
Swimming: They go top of the table on all measures, and obliterate the world record in the 4x50m relay. This is the race that uses athletes from different ability classes and genders to meet an overall team mixture.
China's team is Yuan Weiyi (S5), Lu Dong (S5, SM5), Zhang Li (who we met earlier, SB4, S5), and Zheng Tao (S5).
Swimming: The women's 100m breaststroke SB8 category brings Ireland into the medal tally with a gold. Ellen Keane holds off New Zealand's Sophie Pascoe for the win, with Adelina Razetdinova grabbing another Russian bronze behind them.
What a moment for Keane. She's only 26 but has swum at Beijing, London, and Rio, and until now her best was a single bronze medal. She did win this event at the European championships three years ago, but had never finished higher than third at the worlds. Now she's a Paralympic gold medallist.
Six golds each at this stage, equal with China. A three-way tie on gold. China has the most overall medals though, currently 20 to GB's 16 and Australia's 14.
Katja Dedekind gets in third in the women's 100m S13, a big result for the 20 year old, and her best in her short history at major meets.
Gia Pergolini is the winner, breaking her own world record to become the first woman under 1:05. She was out of the medals last night in the butterfly but owns this event. Bronze for Carlotta Gilli, as the Italian pool success keeps coming.
Swimming: This bloke. Gold medal? Of course he did. The Belarussian won six in Rio, five in London, and he's got his second in two nights here. Last night in the butterfly, tonight in the men's 100m S13 category.
World record? You betcha. 56.36 tonight, shaving a delicate third of a second off his Rio time.
Powerlifting: Gold for David Degtyarev and Kazakhstan, after he lifts an absurd 174 kegs in the men's -54kg category. France silver, Greece bronze, with Axel Bourlon and Dimitros Bakochristos lifting 165kg.
I'm not sure how they separate those last two medals, given Bourlon had one failed lift and Bakochristos didn't. Let me know if you know.
Wheelchair fencing: Things didn't work out for him in the sabre yesterday, but in the men's épée Category A there's a gold medal for Great Britain. Gulliver outstabs, outpoints and outpokes Maxim Shaburov 15-9. Silver for Russia.
Swimming: That's one of the nicest moments of the Games so far. Chantalle Zijderveld and Lisa Kruger win a Netherlands one-two in the women's 100m breaststroke SB9. Zijderveld gets a world record, too. Keira Stephens gets bronze, and looks overwhelmed by it. Immediately after the race, the three of them gather at one of the lane ropes. They embrace each other in a triplet, and it's not the cursory post-race hug. They hold on, and they're laughing, and crying, and all looking completely delighted in what they've each achieved. I don't know the back story, perhaps they train together or have other shared history, but it's a special thing to see.
Wheelchair rugby: That was a tough contest, all the way through. The French fought hard, but Australia managed to force a couple of key errors that made the difference in the end. Ryley Batt scored 25 times, his counterpart captain Jonathan Hivernat 29 times.
But Australia stay alive. After a surprise one-try loss to Denmark to open their campaign, that was the concern. And they trailed for much of this match, before getting ahead in the second half.
Wheelchair rugby: Hivernat scores the first try of the night in reverse, showing some skills backing through a congested goal line. But Batt counters it, rolling clear for his 23rd try of the night. The duel between these two has been special.
It's 45-47.

Wheelchair rugby: Another break in possession! The French are rattled now. They lose possession near the sideline, and Batt pounces on the counter to make it 41-44. Surely that's enough for Australia to hold onto.
Wheelchair rugby: Australia push out to a two-try break! Ryley Batt, an inspiration as captain, piledrives into a French player and pushes him back across the halfway line. Going back over the line while in possession means a turnover, and Australia double their present lead to make it 41-43. That can be all the difference in a turn and turn about sort of sport like this.
Goalball: Ukraine beat Germany 11-5 in the pool match a bit earlier.
Wheelchair rugby: 41 plays 41 between Australia and France, with under five minutes to go.
Further on the Individual Test Grade II, it qualifies horses and riders for a later event, but also carries medals in its own right. That means that Lee Pearson has won gold and Georgia Wilson bronze, with Pepo Puch taking silver for Austria.
Wheelchair rugby: The Australians' defence has got super intense in the last few minutes. They block out the French until the shot clock runs down, causing French captain Hivernat to call a timeout with less than a second to go. Which means the clock resets with more time on it when they restart. Can't say that rule seems reasonable, on the face of it. Australia's Howe gets sent off for a violation of some kind, for a quick sin-bin. He's back after one play.
But the French manage to pull the move that Australia did before half time. A try with only a couple of seconds on the clock, denying the oppo time to score. Batt nearly does score after a Hail Mary throw the length of the court, but loses control and tips his chair as he tries to reel it in.
Wheelchair basketball: The USA women have swept aside Spain 68-34 in their pool match.
Wheelchair fencing: A bronze for Great Britain after a 15-11 win by Dimitri Coutya. Unfortunately there is no television coverage of the fencing, so we don't get to bring you any description. A close match though right up until Coutya hit double figures and pulled away. Andrei Pranevich was his opponent, from Belarus.
Swimming: Yet another world record in the pool, this time in the women's 400m S11 final. Anastasia Pagonis advances her own world record by a second and a half to finish in 4:54:49.
Wheelchair basketball: USA women racing away with this, 53-31 over Spain after three quarters.
Wheelchair rugby: Australia up 25-24 at half time, and some smart tactics seem them delay that 25th try in order to leave only five seconds on the clock for France to try scoring afterwards. France can't level up before the break.
Goalball: Ukraine leading Germany 5-3 in the men's match, into the second half.
Wheelchair rugby: After a strong wrestle back and forth, with both teams scoring whenever in possession, Australia finally force a turnover with a couple of minutes to go before half time. They score on the rebound to take the lead 21-20.
Ryley Batt has 11 tries already for Australia. Shae Graham, one of the few women so far to get court time in this mixed sport, has also scored her first try at the Games.
Wheelchair rugby: Quarter time there, Australia trailing France 12-13.
Wheelchair basketball: Half time between the USA and Spain in the women's pool match. Los Americanos lead 32-20.
Equestrian: Lee Pearson of GB has qualified in top spot from the Grade II dressage event, joining his teammate Georgia Wilson in the freestyle final. Australia's Victoria Davies misses out by one spot, finishing ninth.
Powerlifting: Gold for Nigeria, as expected, thanks to Latifat Tijani. Her attempt at 117kg fails, but no one else tries to go past her top lift of 107. Cui Zhe silver, Kozdryk bronze.
Swimming: Another Great Britain gold, they're coming in fast today. Summers-Newton looked just behind world record time but makes up group late in the freestyle leg of the 400m individual medley SM6 category. Her new mark is 2:56:68.
Yelyzaveta Mereshko held that world record, and won gold last night in the S6 50 metre free, but has to settle for silver for Ukraine this time. Germany's Verena Schott is bronze.
Swimming: Home gold for Suzuki Takayuki in the men's 100m S4 final. Another silver for Italy via Luigi Beggiato, bronze for Russia's Roman Zhdanov who won gold in the breaststroke last night.
Then in the SM6 individual medley 200m final, Nelson Crispin Corzo wins Colombia's first gold in a world record time. Huge swim. Andrei Granichka gets silver for Russia, Jia Hongguang extends China's overall lead with bronze.
Powerlifting: Tactics ahoy. Justyna Kozdryk of Poland lifts 101kg on her third attempt to go past Cui Zhe. Who then returns the favour by lifting 102, happy to make an effort to lock in silver rather than risk a bigger lift to get into the gold position. Tijani sits there with 107 on her third lift.
Everyone has one more to come, though. Tijani has listed 117 as her target. Wonder if she'll stay with that, or go more conservative.
Swimming: What a barnstormer for the British swimmer. She was a surprise silver medallist in the women's S5 200m last night, a race that she was expected to win, but she leaves no doubt about the result in the 100 metres. She already holds the world record in this event, but demolishes it by two full seconds to win in 1:14:39. She hangs on to the side of the pool with a beaming smile that looks like part joy, part relief.
Zhang Li, who out-touched Kearney last night, trails her in for silver in this race, while Monica Boggioni gets bronze. Zhang takes China past Australia on 13 medals so far at these Games. Boggioni has Italy's seventh medal, all in the pool.
Swimming: A golden double for Francesco Bocciardo. The Italian won the men's 200m S5 freestyle final yesterday, and backs it up with 100m gold today.
Wang Lichao gets silver for China, Daniel de Faria Dias bronze for Brazil.
Powerlifting: Interesting. Cui Zhe was leading the women's -45kg final with a lift of 95kg, butLatifat Tijani has blown that out of the water with 105kg, and her next attempt set at 110. Cui Zhe has gone on to lift 100kg and will also attempt the 110 lift. So it's China battling Nigeria for gold.
Equestrian: Georgia Wilson and Sakura are Great Britain's first guaranteed qualifiers from the Individual Test to the Individual Freestyle Test. She's currently second with six riders yet to come. The top eight go through.
Wheelchair basketball: Australia's men have just wrapped up a big win over Iran, ending at 81-39. And that's with the Iranians getting a bit of a run on in the last few minutes to score a few baskets. Australia joins USA and Great Britain as the teams in Group B with a win to their names. Six teams per group, the top four go through to quarters.
Cycling: Jaco steps on the… van Gass. Great Britain can't lose in this final, as the 35-year-old takes the medal up against his compatriot Graham Finlay. Jaco van Gass already set a world record in qualifying, but he cruises to gold about three seconds slower, and still two seconds ahead of Finlay.
All events on Tokyo time.
Hey gang. Best regards also to Kool. David Nicholas is going around the velodrome right now looking for a bronze medal for Australia in the men's C3 individual pursuit. Busy night ahead. What have we got on, I hear you ask?
I'm handing you over to the one and only Geoff Lemon now. He tells me he's feeling the vibes and is ready to impart them onto you all.
Alexandre Léauté has done it in the men's C2 3000m individual pursuit and done it with little fuss. In a world record, mind you. He led Hicks by more than three seconds with 100m to go and finished in 3:31.478. Hicks claims silver in 3:35.064, and it's a silver he wouldn't have been expecting earlier today when he qualified for the bronze medal race instead of the big one. This young Frenchman is one to watch for the future. And one to watch now, to be fair.
They're off, and this is a battle of experience v youth – Hicks is 36 and Léauté 20.
Track cycling: China's Liang Guihua has just won the bronze medal from Japan's Shota Kawamoto and Australian Darren Hicks, promoted thanks to a disqualification, is about to contest the gold medal race against French star Alexandre Léauté.
Wheelchair basketball: The Australian women's team face a fight to reach the quarter-finals after a 77-58 loss to Germany. A day after losing their opening clash to Japan by 26 points, the Gliders have a 0-2 record in Group A and with just two games remaining.
They will need to win at least one of those remaining matches – against Great Britain on Saturday night and Canada on Sunday – to have any chance of progressing to the last eight. Eight of the 10 teams across Group A and B qualify for the quarter-finals.
Related: Georgia Munro-Cook hoping to trade red for gold at Tokyo Paralympics
Wheelchair rugby: Japan have done it against Denmark, emerging on the right end of a 60-51 scoreline.
That was exciting. Russian Mikhail Astashov overlapped Canadian Tristen Chernove while China's Li Zhangyu (3:39.273) walks away with bronze after seeing off Saniard Ricardo Ten Argilés (3:43.351) in the bronze medal race.
Spaniard Alfonso Cabello Llamas has absolutely blitzed the men's C4-5 1000m time trial field in the final ride to win in a world-record time of 1:01.557. And it is an upset of Jody Cundy, who was out to defend his Rio 2016 title. Still, the British great claims silver to add yet another medal to his bulging cabinet in a Paralympic-record time of 1:01.847. Slovakia's Jozef Metelka claims bronze in 1:04.786. Wowee.
Track cycling: The time trial is almost complete, and Great Britain's world record holder Jody Cundy and American Chris Murphy are up very soon. Slovak Jozef Metelka has usurped Wu at the top.
Wheelchair rugby: Japan's men are leading Denmark 34-30 in the third period. The host nation are known for their strong form in this sport, and Denmark are the team which beat Australia on Wednesday to consign the Steelers to their first Paralympics defeat in 13 years.
Here's what Australia's captain Ryley Batt had to say about the upset:
Here's an update from my colleague Paul MacInnes in Tokyo on the Covid cluster in the athletes' village.
An outbreak of Covid-19 at the Tokyo Paralympics has grown in severity after a foreign participant infected with the virus was admitted to hospital.
Track cycling: The time trial is a little over halfway done and China's Wu Guoqing (1:05.548) is sitting in the gold medal position, France's Kévin Le Cunff (1:06.357) in second and Malaysia's Zuhairie Ahmad Tarmizi (1:06.472) has just slipped into third. Tarmizi was an up-and-coming able-bodied football player, but had his arm amputated at the wrist after his palm got stuck in the sugarcane machine while helping at his family's stall as a kid.
Goalball: That men's preliminary game turned into a goal-fest, with the USA seeing off Brazil 8-6 to lay down some early medal credentials.
We have a winner at the powerlifting and not one but two new world records. The Chinese lifter Guo Lingling completed a weight of 109kg in an extra powerlift round to seal gold in a dominant performance. Guo beat her second-placed rival, Ni Nengha Widiashi, by a clear 11kg, with Clara Sarahy Fuentes Monasterio finishing with a bronze medal after lifting 97kg. It was disappointment and fourth place for Britain's Zoe Newsom who was twice unable to complete the press sequence at 97kg.
To recap on the news in just before, Australian Darren Hicks has been promoted to second-fastest qualifier for the final of the men's C2 3000m individual pursuit. That is by virtue of Ewoud Vromant's disqualification after the Belgian breached a rule around the use of his saddle. Vromant qualified fastest a few hours ago and set a world record, which has now been wiped out. French star Alexandre Leaute also set a world record (3:31.817) even in qualifying second-fastest, which means Leaute now holds the WR. The Frenchman is the man for Hicks to beat in the final.
Track cycling: We're going to stay at the velodrome for a bit because there are a heap of medals up for grabs. Colombia's Diego German Dueñas has just had some awful luck, unable to start men's C4-5 1000m time trial because the bolt wasn't screwed onto his back wheel tight enough. A mechanic has the Phillips out and Dueñas has been allowed a restart. He gets away with no problems this time and clocks 1:10.702, which is enough for an early lead as the third of a 21-rider field.
Track cycling: Some big news in that Edwoud Vromant has been disqualified after his world-record time, which means Australian Darren Hicks is into the gold medal race in the men's C2 3,000m individual pursuit.
We've just finished the second round of lifting here at the Tokyo International Forum and there has been no shortage of tension. China's Guo Lingling has already set a new Paralympic record of 105kg and just had a world record lift of 108kg denied by a perceived failure in the chest sequence of her lift.
Britain's Zoe Newsom is clinging on for hopes of a bronze medal after she failed to complete the press on her second round lift of 97kg. She got a reprieve after her rival, Indonesia's Ni Nenga Widiashi was adjudged to have a failing of technique on her 98kg lift. Newsom has opted to go again at 97 and Widiashi at 98 so a medal bid is out of her hands, but not yet over.
Goalball: Leomon Moreno has just brought Brazil back on level terms early in the second half. Moreno is a pretty special player. He was the tournament top-scorer with 44 goals when his team successfully defended their world title in Sweden in 2018 and has been key to Brazil winning a medal at every major competition since London 2012. He scored three times in Wednesday's 11-2 walkover of Lithuania.
Goalball: There's a heated battle happening between the USA and Brazil men's teams at the Makuhari Messe Hall. The US lead 3-2 after a first half that started with a penalty and ended with an own goal when Josemarcio Sousa sent the ball into his own net.
For those unfamiliar with this sport, goalball is played indoors by athletes with vision impairment. The object of the game is to roll the ball into the opponent's goal while the opposing players try to block the ball with their bodies. Bells inside the ball help orientate the players by indicating the direction of the oncoming ball.
Table tennis: Australian Samuel Von Einem has just accounted for Korea's Kim Gi-Tae 3-0. The 26-year-old, who has autism, is the Rio 2016 silver medallist in the men's Class 11 singles and is well on the path again here.
Thanks Luke and hello! Depending where you are in the world good afternoon, good morning, good some ungodly hour at night.
There are more track cycling finals coming up this afternoon. Australia have strong medal hopes in Nicholas David and Darren Hicks while Team GB is guaranteed a gold in the men's C3 3,000m individual pursuit with Jaco van Gass and Finlay Graham facing each other in the final.
I'm going to pass you on to my colleague Emma Kemp now. Enjoy the action to come!
Wheelchair rugby: USA vs Canada ends with a win for the Americans, 58-54. That's their second win, and they look good to progress to the knockouts. The Canadians, who were very much in this contest, are zero wins and two losses so far. Fair to say the Americans are happy with this win: at full-time they form a circle and start chanting: "Who are we? USA. Who are we? USA."
Women's wheelchair basketball: Japan has defeated Great Britain 54-48, their second win from two matches.
The countdown to the women's -41kg category has begun (to a soundtrack of solid 80s hits, and a DJ who effectively mixed Huey Lewis's Power of Love into Whitney's I Wanna Dance With Somebody, respect). I'm here to follow the prospects of double bronze winning Brit Zoe Newsom, in what is likely to be her last games. It's a bench press event and athletes are regularly lifting more than twice their own bodyweight. Leading contender for gold is world-record-holder China's Lingling Guo, whose starting lift is at 103kg (she weighs 40.13kg). Newsom starts at 92kg.
Cycling: Back at the velodrome, Team GB is guaranteed a gold medal later today after securing the top two qualifying times in the Men's C3 3000m Individual Pursuit. Jaco Van Gass posted the top time, ahead of Finlay Graham. In keeping with what we've been seeing these past two days, both recorded world record times. It'll be a generational battle, as Van Gass, 35, takes on the 21-year-old Graham. Australia's David Nicholas will race for bronze against Eduardo Santas Asensio of Spain.
My colleague in Tokyo, Paul MacInnes, has passed on this update.
Two more athletes have tested positive for coronavirus inside the Paralympic Village.
One to watch out for later: Team USA's 17-year-old Anastasia Pagonis will race for gold in the women's 400m Freestyle S11, after breaking the world record in the heats earlier today.
Pagonis, who lost her sight at 14, now has nearly two million followers on Tik Tok, where she uses her account to normalise blindness. She's vying for her first Paralympic gold.
✅ A world-beating swimmer
✅ A social media star
✅ And the coolest goggles in the pool @USParaSwimming #Tokyo2020 #Paralympics pic.twitter.com/10EoLQ6xJk
Cycling: I hope Alexandre Laute savoured his time as the world record holder, because it's over for now. Belgium's Ewoud Vromant has qualified fastest in the Men's C2 3000 individual pursuit, eclipsing Laute's record time in the process. Those two will go head-to-head in what shapes up to be a very exciting final later today. Australia's Darren Hicks and Guihua Liang of China will compete in the bronze medal race.
Hicks was disappointed to miss out on the gold medal race, but is hopeful he can leave the Games with bronze. "Look, before we flew here I said, "Any medal chance will be amazing,'" Hicks said post-race. "I can't go back on that, that's for sure. Fighting for a bronze is bloody awesome."
Powerlifting: Omar Sami Hamadeh Qarada, of Jordan, wins gold with a top lift of 173kg. He beats the winner at Rio 2016, Vietnam's Le van Cong, to the gold, while Azerbaijan's Parvin Ammadov takes bronze.
The first #ParaPowerlifting medallists of #Tokyo2020, ladies and gentlemen!
Men's up to 49 kg#Gold Omar Qarada #JOR – 173kg #Silver Le van Cong #VIE – 173kg#Bronze Parvin Mammadov #AZE – 156kg#ParaPowerlifting #Paralympics #Tokyo2020 @paralympics pic.twitter.com/cwOZMbPILn
For our Australian readers, a little bit of background about Darren Hicks. He had a lifelong love affair with BMX riding until the age of 29, when in 2014 he suffered severe leg and neck trauma in a horrific road accident. His right leg was amputated. Three months after the accident, he rode a bike against for the first time. Now 36, he's competing at his first Paralympics.
Cycling: Thrilling stuff at the velodrome. Alexandre Laute, of France, beats the world record time just posted by Japan's Kawamoto, in the C2 3000 individual pursuit. Riding against Laute in that heat was Australia's Darren Hicks, who also went under Kawamoto's time, meaning he's sitting in second place and has a chance of racing for gold tonight unless his time is beaten in the final heat.
Women's wheelchair basketball: Half-time between Japan and Great Britain, with the hosts leading 25-21. Great Britain are looking to bounce back after a tough first outing against Canada yesterday, while Japan are hoping to build some more momentum following a big win against Australia. Amy Conroy leads the scoring for Team GB with nine points.
Cycling: Cheers reverberate around the Izu velodrome as Japan's Shota Kawamoto breaks the world record in the Men's C2 3000m individual pursuit. We're about halfway through qualifying here, with the fastest two riders competing for gold later today, and the next two fighting it out for the bronze. Australia's Darren Hicks is coming up soon.
Wheelchair rugby: Wheelchair rugby action is underway and the day begins with a grudge match: After the first period, the USA leads Canada 17-16. Canada's Zak Madell is starring with nine tries, while the USA's Charles Aoki has eight. Wheelchair rugby is one of the sports at the Paralympics that allows people with different impairments to compete alongside and against each other. Each player is given a points classification based on their disability – and the four players on each team cannot exceed eight points.
Powerlifting: They're three quarters of the way through the Men's 49kg category and Jordan's Omar Sami Hamadeh Qarada and Le van Cong of Vietnam are on top with best lifts of 170kg. Powerlifting at the Paralympics is a benchpress competition, with each athlete having four attempts.
Women's wheelchair basketball: An easy 77-58 win for Germany over Australia in the end. A tough start to the Games for Australia's Gliders, who've lost their first two preliminary round matches.
That's a very very impressive effort from the US' Gia Pergolini, 17, who is competing in her first Paralympics. She was diagnosed with Stargardt's disease in 2014, causing progressive central vision loss during childhood. She'd been keen on lacrosse, soccer and gymnastics, but focused on swimming when she was diagnosed with Stargardt's disease. "Once I started swimming for Para, I saw that there's other kids with the same disability as I," she has said previously.
"It opened my mind up more, and I started having a closer and closer relationship with Para swimming."
Swimming: And more records go. This time in the women's 100m Backstroke S13. Australia's Katja Dedekind breaks the paralympic record in heat one. And interviewed post-race she's speechless. "That's just awesome," says Dedekind. But Dedekind says she won't be surprised if that record falls in the second heat, and she's right. Dedekind will go into tonight's final second fastest, after the US swimmer Gia Pergolini broke the world record.
Swimming: The records are tumbling at the pool once again. The Netherlands' Lisa Kruger beat the Paralympic record in heat one of the women's 100m Breaststroke SB9. But it didn't last long, with compatriot Chantalle Zijderveld beating own world record time in heat two. Australia's Keira Stephens was delighted to also make it through to tonight's final. It looks like the Dutch will be tough to beat.
Just summarising that medal event at the velodrome, the British at one stage looked like they may claim all three places as the time trial neared its conclusion. But the last rider of the event, but the Netherlands' Larissa Klaassen (with pilot Inke Brommer) was just too good, eclipsing Aileen McGlynn's time by about a second and a half. And Belgium's Griet Hoet was good enough for third. Team GB's Lora Fachie and Sophie Unwin finished in fourth and fifth. It's a great triumph for Klaassen, who improves on her silver from Rio in the same event with a spot on the top of the podium.
Cycling: Larissa Klaassen wins gold for the Netherlands in the women's B 1000m time trial. Silver goes to Great Britain's Aileen McGlynn, while Griet Hoet of Belgium gets bronze.
Men's wheelchair basketball: USA defeat Germany 58-55. What a game that was! Germany, who had been in front for most of the match, surrendered the lead to the reigning champs in the fourth quarter. From there it was a see-sawing contest. The Germans held possession in the final 10 seconds, but couldn't hit the three pointer on the buzzer.
Men's wheelchair basketball: Well, well, well. Team USA have come roaring back here against the Germans. The Americans have taken the lead (52-51) with two minutes left!
Cycling: They've kicked off at the Izu Velodrome in the women's B 1000m time trial. This is today's first medal event, and will see 10 tandems of a visually impaired rider and their pilot race for glory. With five riders to go, it's Team GB in first (Aileen McGlynn) and second (Sophie Unwin). Dominka Putrya of Poland is currently in the bronze medal position. McGlynn, 48, was born partially sighted, and started cycling at 18 in Glasgow. Initially reluctant to tell her teammates about her disability, she was embraced by the club and is now a three-time gold medallist.
Men's Goalball: It's all over between Belgium and China: the Belgians winning 10-3. The star for the Belgians was 28-year-old Klison Mapreni, who scored eight of their 10 goals.
Wheelchair basketball: Germany is having a very good start to today's wheelchair basketball action. Early in the third quarter, the men are up 32-26 against reigning gold medallists Team USA, while the women's team have a comfortable 45-25 lead against Australia at half-time.
Table tennis: Australia's Ma Lin had a comfortable win in the Men's class 9 singles, beating Italy's Mohamed Kalem. It's his second win for the Games so far. A little bit of background about Ma Lin. He's a four-time gold medallist for his native China, but is representing the green and gold for the first time at Tokyo. He lost his right arm at the aged of five, after he was bitten by a bear in a zoo accident.
Swimming: In the men's 100m freestyle S5, Brazilian champ Daniel Dias qualified second-fastest, behind China's Yuan Weiyi. He needs two more gold medals to become the most-decorated Para swimmer of all time. (He already has 14 gold, seven silver and four bronze).
Women's wheelchair basketball: It's a slow start for Australia's Gliders, down 22-13 late in the first quarter against Germany in their second hit-out of the Games. The Gliders went down 73-47 to the hosts Japan in their first round match yesterday, so they'll be looking to turn things around.
Men's Goalball: Belgium looks the goods against China here, extending its lead to 4-1, courtesy of a Klison Mapreni goal late in the first half. For the uninitiated, goalball is a sport designed for people with vision impairment. It's a bit like handball, but with two teams of three attempting to throw the ball into a goal, which covers the length of the court. The ball has a ball in it, and eyeshades are used so that partially blind players are on an equal footing against blind opponents.
Men's wheelchair basketball: This is one to watch today. It's still early days but Germany is up by six points (16-10) against reigning champs Team USA at quarter time.
This is what the medal tally looks like as the action gets underway today.
It looks pretty good if you're looking at it from Australia. But my colleague Martin Belam warns, "Savour this one Australia, because I doubt there will be many days when China are not top."
There's about to be a flurry of live action, with swimming heats and cycling and plenty more, so let's quickly take a look at some of the highlights of yesterday before we get in to that.
Australia dominated in the pool yesterday, claiming four gold medals. Of particular note was Lakeisha Patterson, who bested Hungary's Zsófia Konkoly and Team GB's Toni Shaw in a thrilling race. Gold also went to William Martin in the men's 400m freestyle S9, Rowan Crowthers for the men's 50m freestyle S10, and Ben Popham (men's 100m freestyle S8).
Hello and welcome to our coverage of day two of the Tokyo 2020 Paralympics. We're delighted to have you joining us again today.
I don't know about you, but post-Olympics it's felt like there's been a bit of a void in my life, so thank goodness there is so much more elite sport for us to enjoy in these next two weeks.