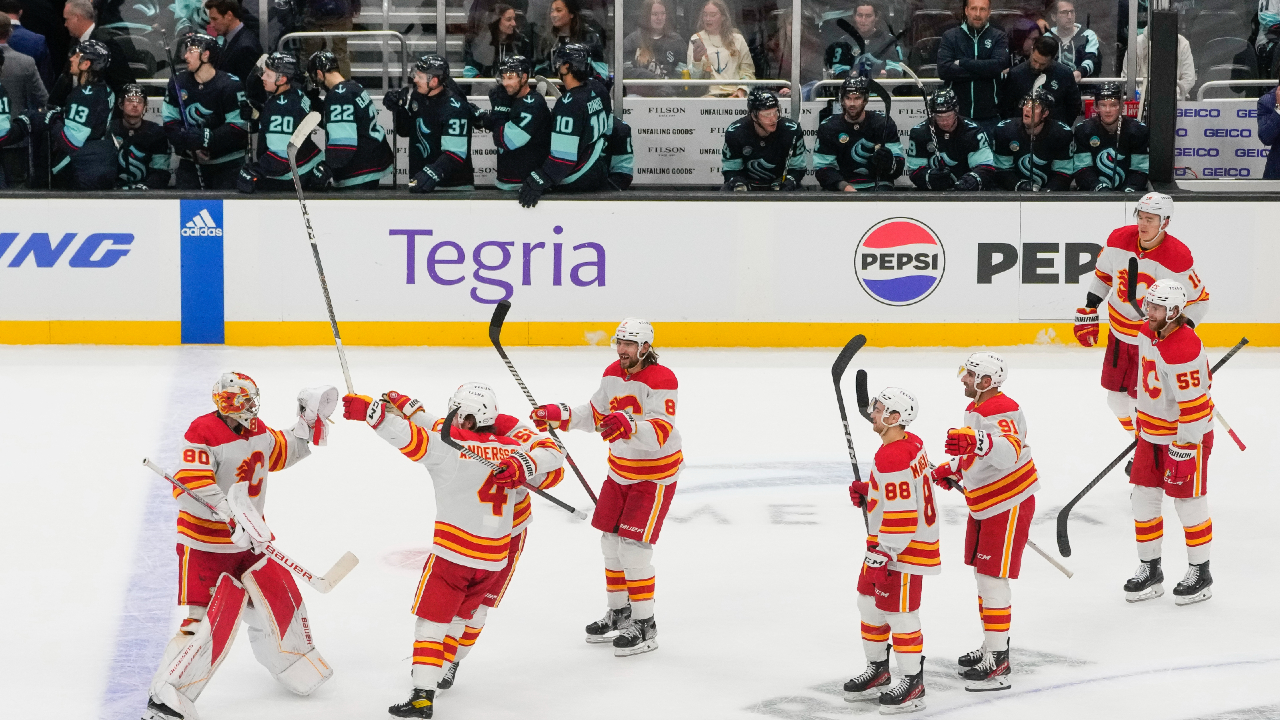 SEATTLE – Two milestone pucks, two surprising points and one memorable celly from the game hero.
It's not very often the Calgary Flames emerge victorious in extended time, so when Rasmus Andersson buried his own rebound on a wraparound to complete a comeback win in overtime over the Seattle Kraken Monday night, his celebration was understandably, well, unpredictable.
"I told Tanny (Chris Tanev) before that I was going to end it, so I kind of felt like I had to," smiled Andersson, who calmly skated towards centre ice, facing the bench with arms open wide, as if to say, 'told ya so.'
"When you score an overtime winner, you're not really thinking about the celebration, it just comes to you.
"A lot of emotions today and it's a good start to our road trip.
"It's nice to see us win in overtime, I feel like it has been a while.
"A big win against a division rival."
As dramatic as it was for a team to win after having compiled a 7-20 record of late, it was the way the Flames did it that only added to the flair.
A horrid second period in which the Flames surrendered two goals to fall behind 3-2, was followed by an appropriately desperate third period in which Andrew Mangiapane tied things late with his 100th NHL goal – a blue paint tap-in, much like 70 or so of his previous tallies.
It set the table for Mikael Backlund to hit the 500-point mark with an assist on Andersson's winner.
"Feels good — a pass for a winning goal and a big win for us," said Backlund, before he and Mangiapane posed for dressing room pics with their souvenir pucks.
"It's a big milestone.
"When I came into the league in my first years, I never thought or expected I'd get to 500 points, or would stay in the league this long.
"I worked hard to get here today, so I'm proud and excited about it."
More excited about a win that keeps the Flames on a 5-1-2 run that sets up the remaining three games on this four-game roadie.
"Well, we talked last time in Calgary, we don't want to go to a shootout, so it's nice to be able to get that," joked coach Ryan Huska, whose club is 0-for-3 in shootouts this year.
"The win is big, but I think more importantly was the response after a terrible (second) period. "It could have been easy for the guys to roll over and move on to Nashville (Wednesday), but I love the response in the third period."
Loved seeing two of his longtime players making memories when it mattered most.
"That's where he scores most of his goals, in there, so great for him," said Huska of Mangiapane's goal with four minutes left, which he calmly deposited into an open net after it bounced off him.
"Great for Mikael.
"Those are two pretty good milestones for important players on our team."
Another important milestone came in the form of the team's first power play goal in seven games — a stretch that saw the Flames go 0-for-16 before Jonathan Huberdeau scored with a point shot through traffic midway through the first.
Earlier in the period, Elias Lindholm scored 76 seconds into a game to silence a crowd at Climate Pledge Arena, where the Flames have never lost.
When the Flames wake up Tuesday to board their charter to Nashville, they'll do so just two points behind Seattle and St. Louis for a wild card spot — an encouraging spot given the six-game losing skid that preceded the team's recent run of success.
Dan Vladar made 28 saves on a night in which Huska felt he needed to shorten the bench in a third period in which his surging club outshot the Kraken 16-3.
Connor Zary, Yegor Sharangovich and Walker Duehr all saw just a few shifts in the third, as the coach explained afterwards he needed more from all three.
"We had a good talk in between periods — we knew we weren't good enough in the second and we knew we had to be better," said Backlund.
"We came out and we pushed right away and we never took the foot off the gas through the third. Just kept going and it paid off."
As for his pal Mangiapane's success?
"Great timing – huge goal for us," he smiled, in a room full of significantly more levity than mere weeks earlier.
"I'm very happy for him.
"He picks 100 when I don't pass to him, because I passed on probably 90 of his goals.
"But I'll give some other guys a chance, I guess."