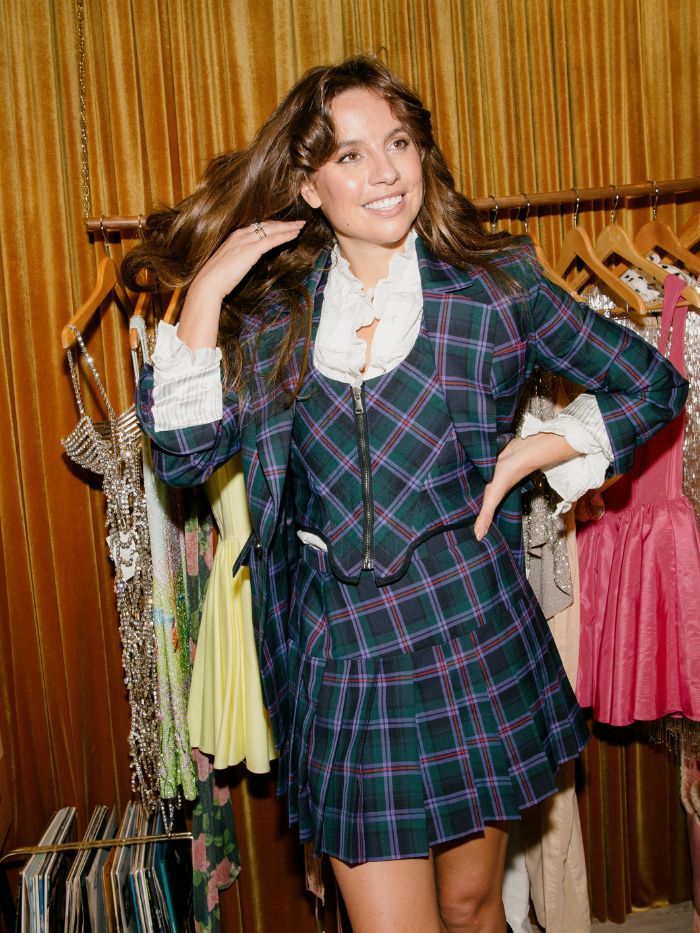 She might consider the island of Ibiza a second home, and be able boast a roster of clients that includes Kate Moss, Paris Hilton and Cara Delevingne, but Annie Doble is far from the typical "party girl". When we meet her in her busy Carnaby Street boutique, she's sat in the middle of a throng, simultaneously sending emails, approving looks, and curling her hair, and there's a sense that everything moves ironically fast in her world of slow and considered fashion curation.
It's a keen eye that brings Doble to this point after all, from selling preloved clothes at Spitalfields market as a teenager, to collecting archival pieces for international clientele, and despite falling in love with fashion at a young age, Doble's attitude to style is wise beyond her years. "I believe style is so individual and you should wear whatever makes you feel most confident and your happiest self," she muses. "Trends really do come and go, so a lot of my inspiration comes from pieces that were once a trend in bygone eras that have been long forgotten. It is so hard to 'stay up to date' with so much available but I believe if you stick to your true style you will always be happy."
We managed to catch up with Doble ahead of her London Fashion Week debut (that is, as a designer and not in her usual showgoing capacity), and had a look inside her favourite and most cherished wardrobe, the Annie's Ibiza boutique.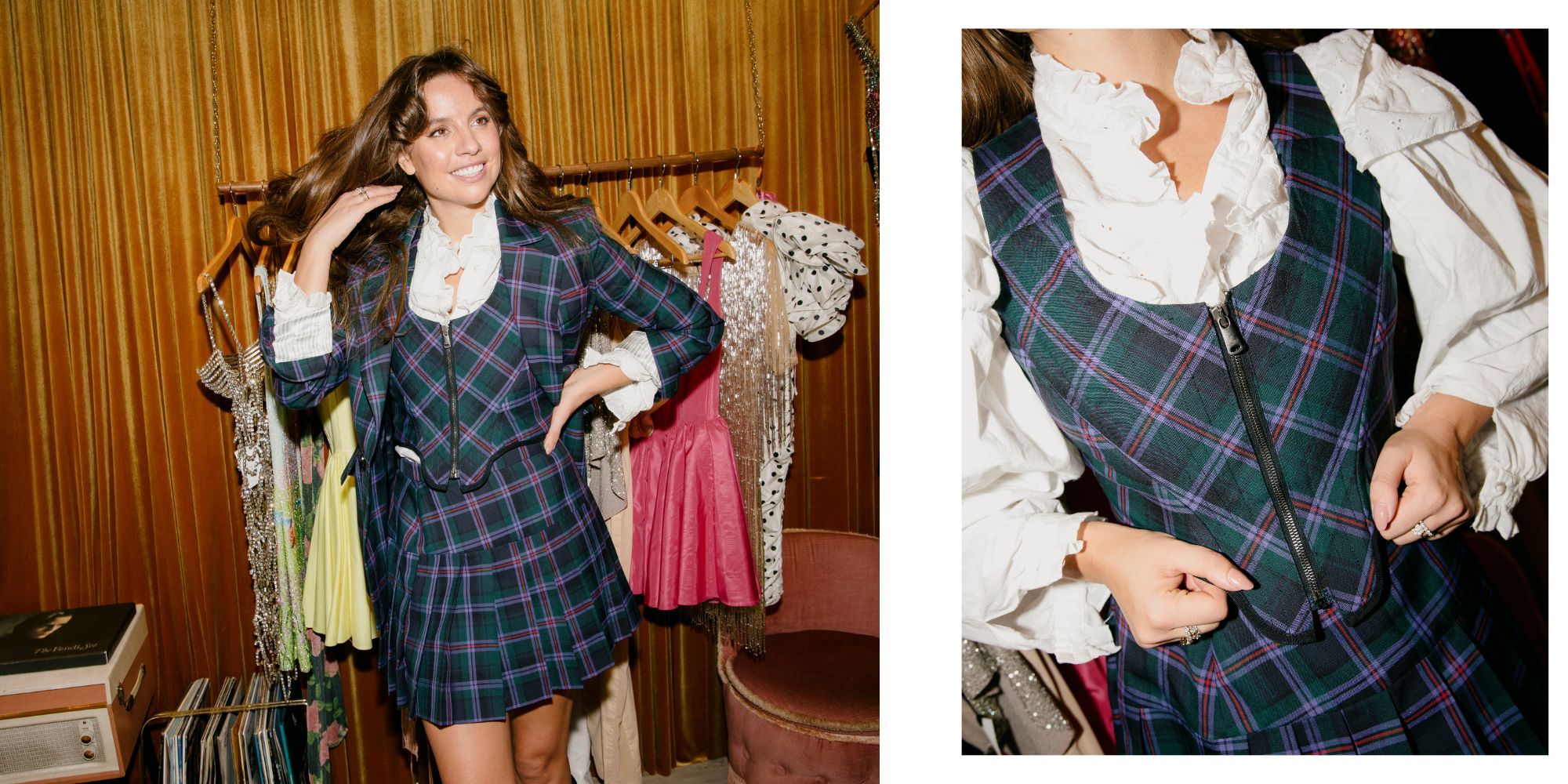 You're a boutique owner and buyer, vintage expert and Fashion Week fixture, but if we go back to the beginning, what your first fashion memory?
Yes. So, I think my first fashion memory would be the first time I looked inside a women's clothes shop, I must have been about four or five. I remember thinking, "I know exactly how I'm gonna dress when I'm a grown up", and I couldn't wait to be able to dress myself. I designed my first shoe collection at six if you can believe it, they were flame shoes, quite Terry De Havilland, a little bit Prada now [that]I think about it. But it meant that moving into fashion just felt like the most natural thing for me. I never thought that I wanted to go into the "fashion industry", it was always just inside me. You know, the kind of intuition you can't ignore. It was the most natural thing in the world for me to do, and the thing that made me the happiest, so it just came to me without any need to think about it. Ultimately, just my gut deciding for me.
What did your first steps into fashion look like?
I used to get the train up from school when I was about 13 to work backstage at the shows in London. Looking back, I was really young; they didn't know my age, I just used to lie my way in. I was so desperate to be there and to go and see the shows. I mean, the first time I went to New York Fashion Week, I was around 14, and I actually climbed under the tent at Bryant Park to get in. My dad was already working out there, and it actually lined up with half term with Fashion Week in February, but they ended up calling me back every season to assist. I used to do something crazy like, 13 shows, and I was only about 14 or 15, but my dad just told me not to say my age!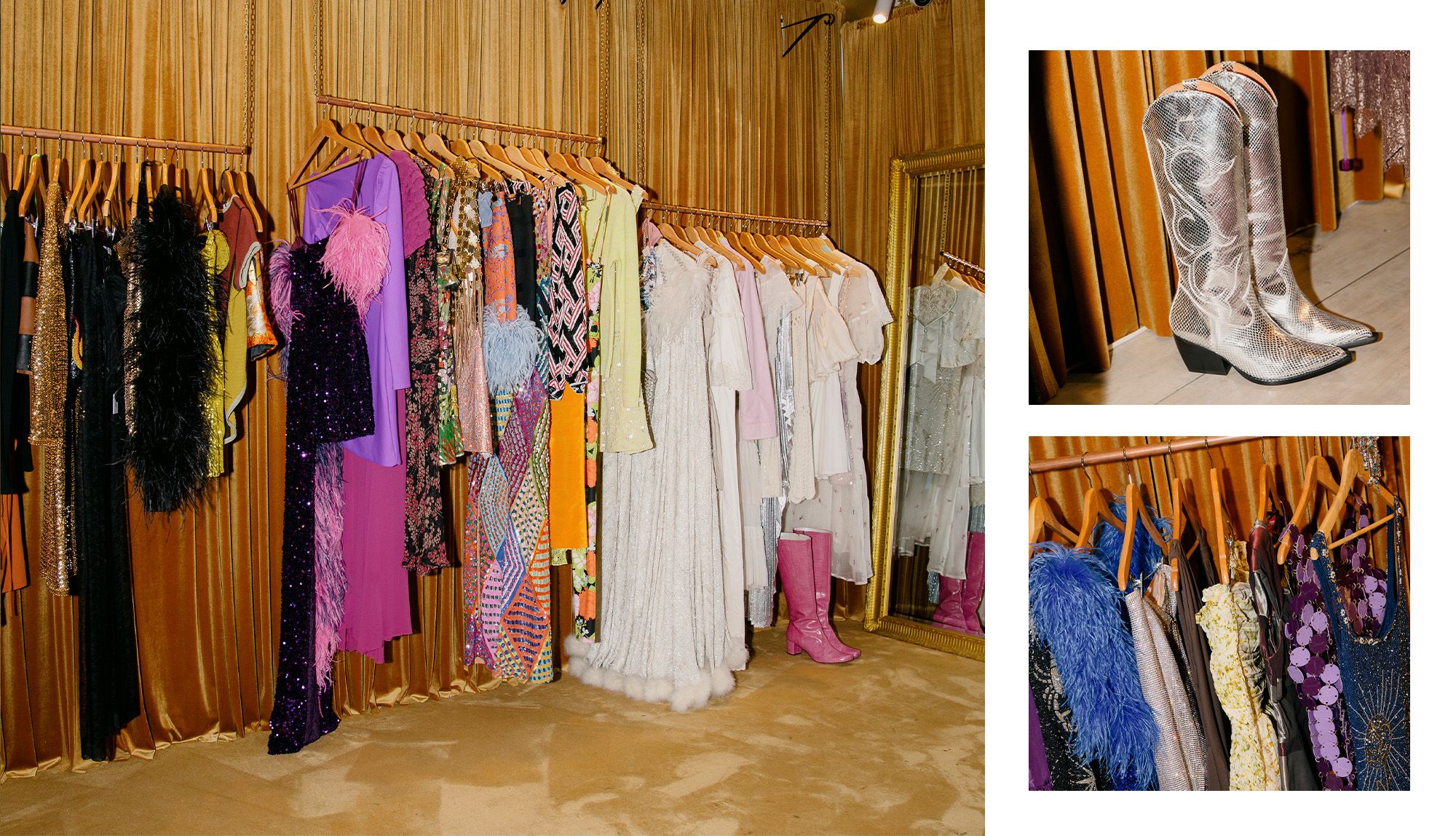 So you must have fallen in love with the industry pretty young, how did the way you grew up influence your interest in fashion?
Absolutely, I used to read Vogue as a child, and from the age of, about six, I asked for a subscription, but that was because nobody in my family worked in fashion.There wasn't anybody that I ever looked to, or was inspired by, so I would just read and read fashion magazines to learn.
I grew up just outside of London, where my parents still live in the countryside, and there wasn't anyone that got excited about fashion other than my Nan, who gave me the subscription I still have even though she died 10 years ago.To still have that sent to me is really lovely. Ultimately, my parents gave me the love and support I needed, and they believed in me and taught me that I could do anything that I wanted to do. So it was the love and drive from them that made all of this possible.
You officially opened your first Annies Ibiza store when you were 25, but is it true that you were running boutiques even earlier than that?
I've had a shop since I was like 19/20, but it was in Ibiza. Because I used to work in PR, even before then, I always wanted to shop to be a well-kept secret because the stuff that we had was so amazing. You'd never hear of a shop that was only popular by word of mouth, and so I wanted it to be something quite original.
I wanted my shop to grow organically, and even when I had magazines knocking on the door, I said no for years because I wanted it to feel exclusive. I already had my big clients back then that I do now, so I wanted it to be private for them, and I think that's partly why the shop has been so successful, having kept the same clients for over 10 years. When I was 25 I officially opened the shop and called it Annies, and thats when I eventually said yes to press and putting ourselves out there.
I really only opened the shop so that I could wanted to work in charity and do something for the planet. I knew back then, even 10 years ago, that I wanted to do something, so I thought, if I have a shop, people might actually start to listen to me. Maybe they'll take me seriously, because I know people take notice of my clothes and self expression, and that it could be a great platform to inspire change. And now it's great–Greenpeace and I work on projects, and I'm an ambassador for Project Zero. So I get to do all the things that I love that are a huge passion of mine.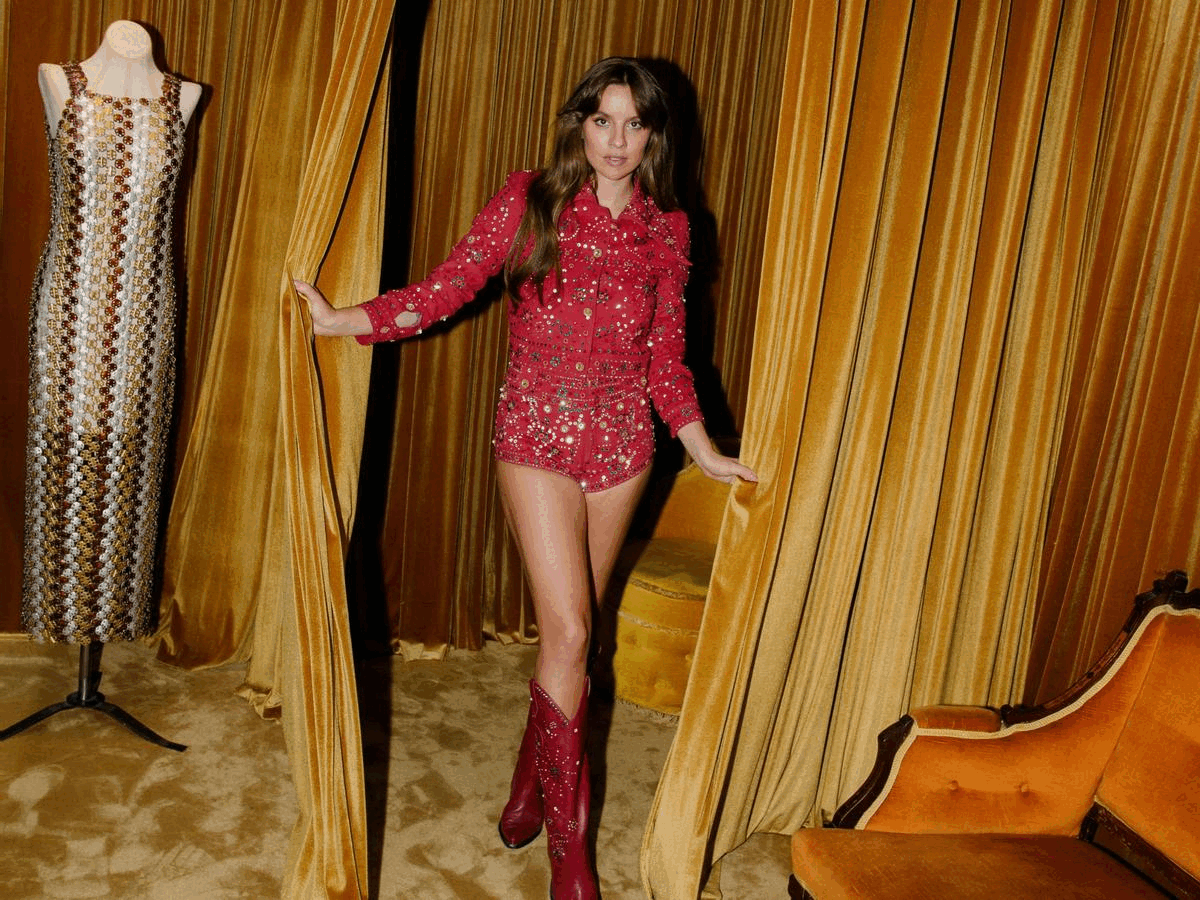 That must go in hand in hand with your love of vintage clothing?
Exactly. It all brings together my love of history and my passion for reusing everything. I mean, we were one of the first [brands]to do any sort of sustainable dresses using things like recycled beads. We made a dress for new collection that's literally made out of plastic that we collected here in the shop. It gets put through a little machine right here in Carnaby Street, and then pressed into sheets to make the beads, and then we put the dress together in here [the store]. So it's the first time ever that a dress has zero lifecycle. No footprint, no waste. No one else is doing wild, crazy, fun clothes that are completely sustainable.
So, with opening a store at such a young age—what did you learn from that experience?
I mean, obviously I had to learn everything about running a business from scratch. We didn't have a team like this up until two years ago, and now there's 25 of us. But before you can expand, you learn everything as it comes, so we're always changing.
I've lived in New York, worked in London, and then I came to Ibiza for the first time when I was about 18, and I just fell in love with it, I knew I couldn't leave. I'd been selling vintage pieces since I was about 16, and doing Spitalfields market, but vintage wasn't that popular back then as it is now, it was a really different thing to invest in. It was only when somebody said to me "you should open a shop, your things are amazing" that I thought okay, I'll try it. And I didn't think it would last more than a year!
What was it about Ibiza–the location and the vibe, that just was right for you?
The total freedom, the hedonism and way of living—it feels like you're living back in a different time. It doesn't feel like you're living in an over- commercialised world. I think it fits really well with the way that I live, and the way that I see the world. It's nice to be able to lead more of an authentic life, you know? That's really special.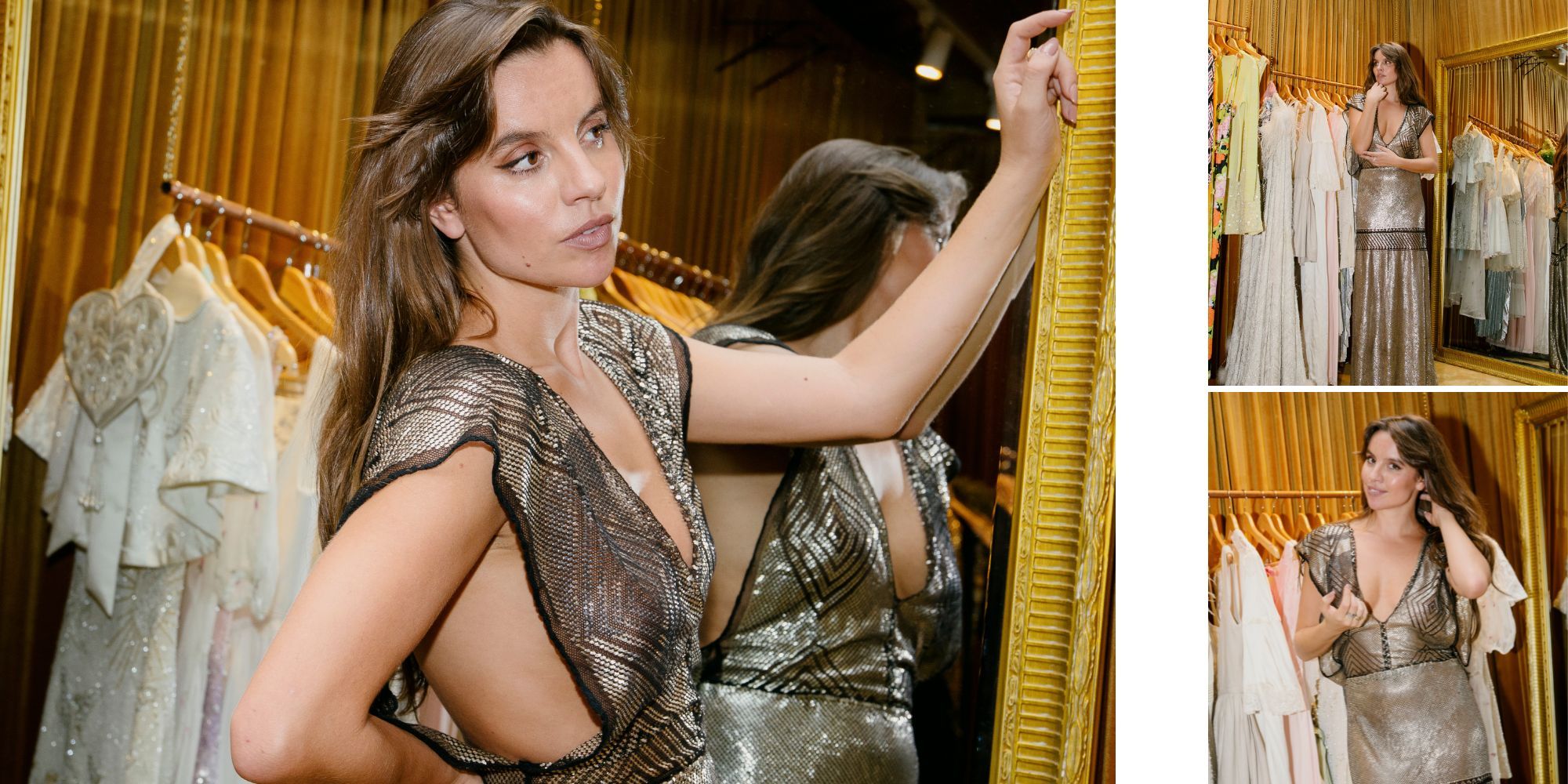 Looking at the store's Instagram, it feels like you've tapped into that energy. There's always a party in the shop!
Yeah, sure. It is like a constant party. Every day is just so fun. And, we work really, really hard, all of us girls, but we love each other so much that we just have like the best time together. We're always in hysterics.
If it's possible, what is a "normal" day for you? And what do you wear for it?
Ah, well I would wear one of my suits—one of my Westwood suits. They're just the easiest and they're surprisingly comfy. I always wear a skirt and tights as I like to sit with my legs crossed, and I spend the majority of my day running around. But that will always be in a skirt.
You've obviously been wearing vintage for a long time, but is there anything in your wardrobe that you're particularly sentimental about?
Oh my god, so many things! But my favourite piece is the skirt—an 18th century skirt that I have in my wardrobe. I love to wear it and it's so special because you'll never feel fabric like that again, it's pure silk and made from the old method. It was originally an under-layer of a 18th century dress that I bought, I ended up wearing the underskirt separately. I've managed to acquire a whole new wardrobe with pieces that I've always dreamed of and for every single occasion, and I think that's the most exciting thing about designing my own collection. I now have the freedom to wear exactly what I want from visions I have made.
How do you search for vintage? What kind of thing do you look for, and where you find them?
I mean, obviously after doing this for 16 years you just sort of, know everything there is to know! I source my vintage from all over the world, but I can't give away my secrets…but, in the end my gut always decides for me. I'm never looking for anything in particular It's just how I feel about it. I don't like to overthink at all. I know immediately whether I like something or not and I don't know how really to explain that. It's just my going with my instinct, and you can't learn that, you're born with it. I really do believe that somebody with true style is something that comes from inside you.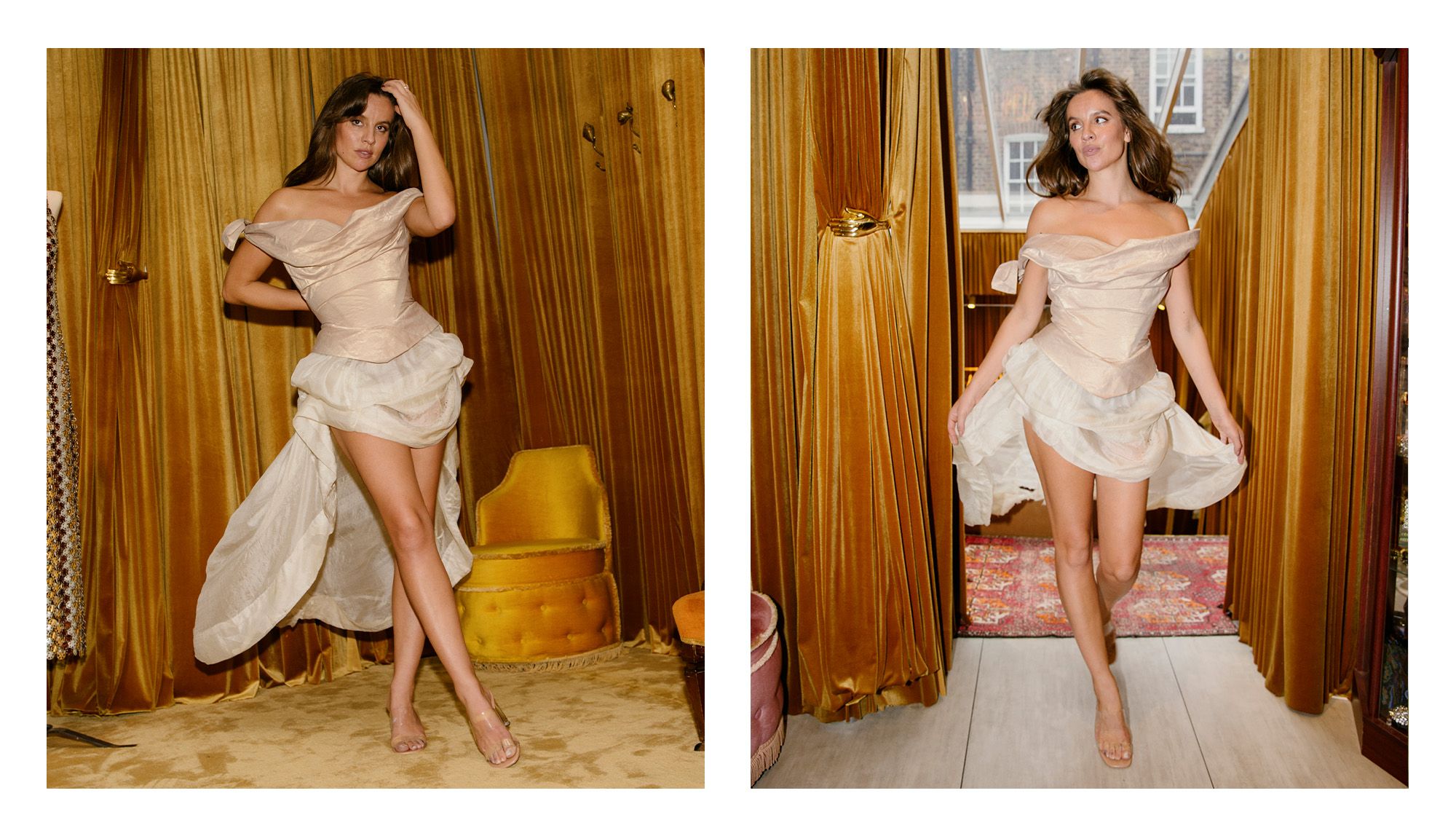 And do you think that's a big factor in why you have such an amazing clientele and why people have been keen to work with you for such a long time? What is it that attracts them to you and the store?
It's beautiful clothes at the end of the day. Very well-made clothes, and we never we never compromise on quality, and stock rare pieces. And I guess maybe the way I look at things or like the way I curate, I think that's maybe the way they like it. A lot of things here are one offs so that's always really nice as a customer. There are pieces you won't find anywhere else, they are only sold in here. I find that I hate shopping anywhere else! You come in here and it feels nice, like we're at home and you're trying things on in your bedroom. I can't stand any big shops or anything like that—it's far too boring out there.
Since the pandemic there's been a real uptick in people wanting to dress up and go out, and I feel like this store really captures that mood.
Absolutely, and especially as people have become more environmentally conscious. Us selling sustainable party clothes came at exactly the right time.
Is there anything that you've bought recently that you feel really pleased with?
For myself, again, it's the 18th Century Victorian silk skirt that flows so incredibly, the silk is so well made, I would wear that everyday if I could. But otherwise, there are so many pieces I have sold and haven't stopped thinking about. One of the most memorable is a very rare 1920's pearl theatre jacket that I sold because it didn't fit me, but I remember getting teary eyes when I sold it. I just remind myself that the person who now owns this piece will love and cherish it as much as I once did and I love seeing people enjoy and wear items that I have sourced along my journey.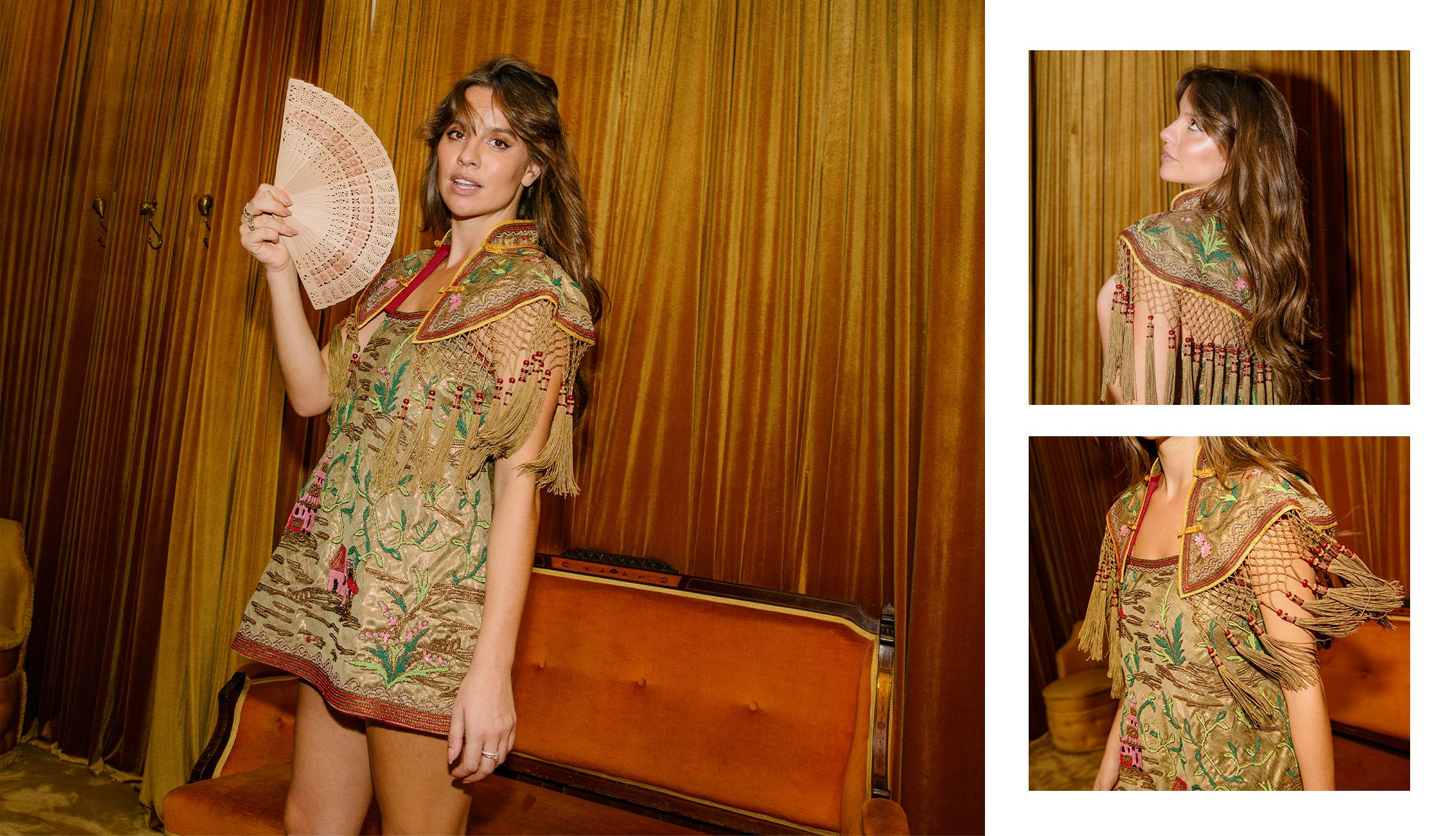 So tell me about your first collection—what was the kind of the gap in the offering that you could see to fill?
People always really loved my archive pieces but nobody could ever buy them, so I really wanted to make pieces that used old techniques—for example, we used a technique of stitching from the Ottoman Empire that is over 150 years old, and because these are long forgotten, they're so hard to find—so we're using traditional techniques to bring back some of the really special pieces that cannot be found anymore.
I already know which pieces are gonna be the ones that go crazy. I think people are gonna love the red Ziggy shorts in particular, there's also a really incredible red dress with plenty of beading. That one is amazing. There's also this Victorian lace dress that looks incredible with a little corset. Each piece from the collection can be worn all year round and for any occasion, and one thing that always excites me while designing my pieces are the vision of wearing them myself. I spend half my time in Ibiza so I always have summer attire in mind.
There's obviously a lot of party pieces, how do you take those pieces into the day if you want to get more wear out of them?
I'd wear that gold shift dress all the time. I'll put tights on, my Gucci loafers, and I might even put like a little polo neck underneath it to make it more casual. But that's my favourite piece to wear all day because it's so comfortable.
If you could try and sum up your personal style, how would you describe it?
It actually changes all the time. There's never one thing that I like, and I change my mind all the time, so it's ever changing. I think it's just growing with me. It's quite nice because it's the same with my customers, we grow, change, we move, and we could be 14 years old or 80 years old, but you can still shop here. I suppose I'd say my style is quite timeless because I don't follow trends. I still have items from my wardrobe from when I was 18 that are still perfectly good to wear. I guess that's the most sustainable thing you can do overall, is to just keep loving the same items. It's why we do what we do, and we make timeless pieces even though they're not basic, so you invest in them and wear them for life.
And is there anyone you look to who you think has really fantastic personal style?
I've never really looked at anyone where I'm like, "oh, their style is amazing!" apart from Tish Weinstock. She's got good, really good taste. The only other person I've connected with so well with style wise is Kate [Moss] as well. We click on when I'm dressing her, and I love, love, love her eye—it's amazing.
Has there been a purchase in your past that felt particularly significant? Maybe it marked a moment or felt like a milestone?
I have a memory of buying my first grown up jumper or I should say, the first thing that I picked for myself. And I think that changed sort of everything. It was a velvet, purple high neck with a little zip. And I was so young that it meant a lot. It was the first piece I ever picked out for myself, and it's so weird how I remember how that made me feel.
What I do know is that I would spend the majority of the day in my knickers as a child because I would change outfits all day. I'd get old scarves and make dresses and turbans out of them, so it made more sense for me to just stay my underwear because it made it easier for me to change.
After a year and a half of expanding and evolving, what can we expect next for the brand?
The inspiration for the collection was very much an eye into my mind. It was very personal to design this first collection, and the process was the most fun part. I found it so rewarding and inspirational, and such a dream come true. My best piece of career advice has always been to to stay true to your ideas, your journey of success is determined by your hard work and dedication. What's next for Annie's? Continuing to following my heart and do something I truly enjoy, and working as hard as possible. Although, when you find something that you love and enjoy it doesn't feel like "work". Potentially we'll be opening more shops, and working on another collection to launch in September in time for next season's Fashion Week. It's all really Exciting.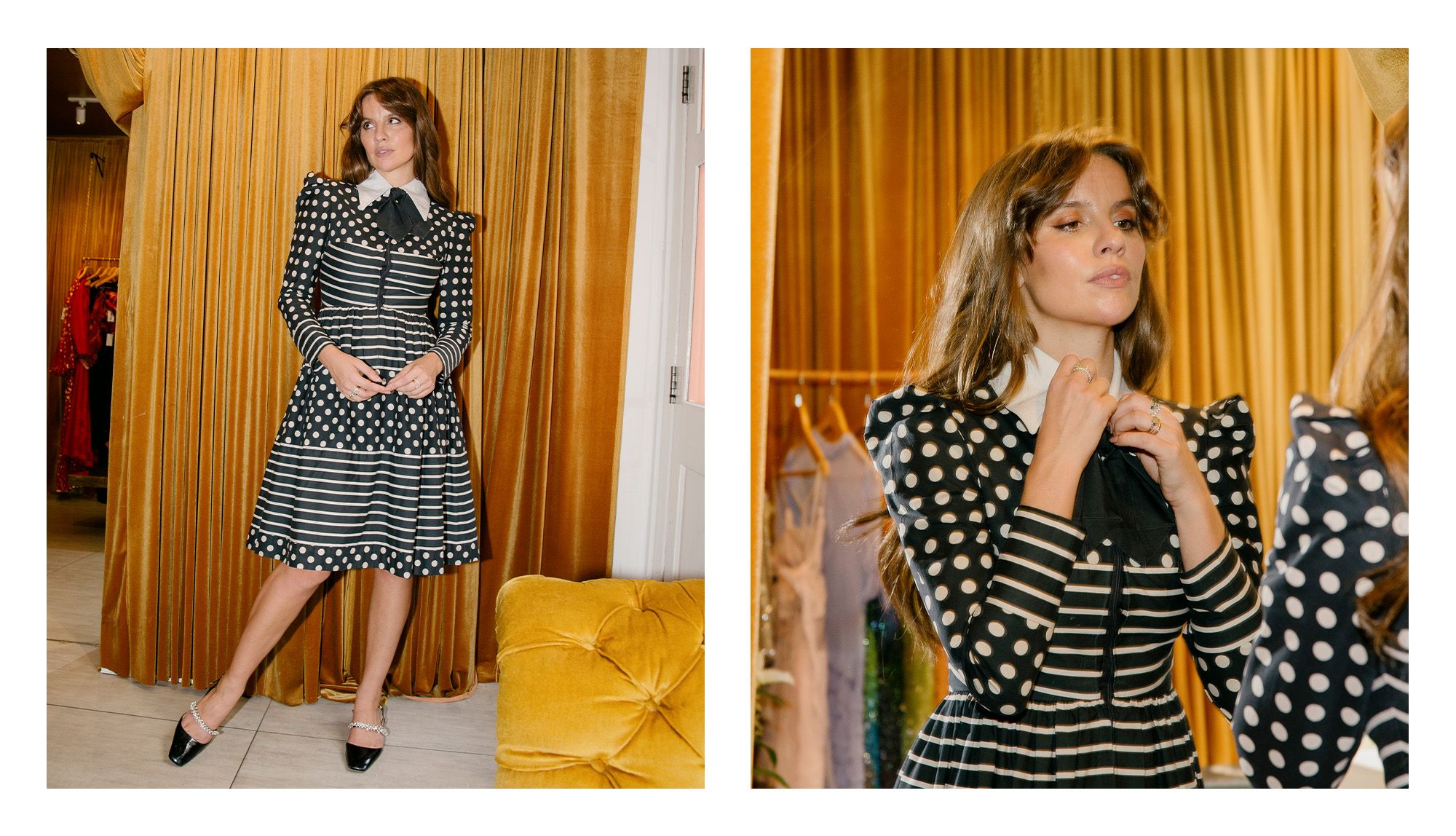 Thanks for having us, Annie!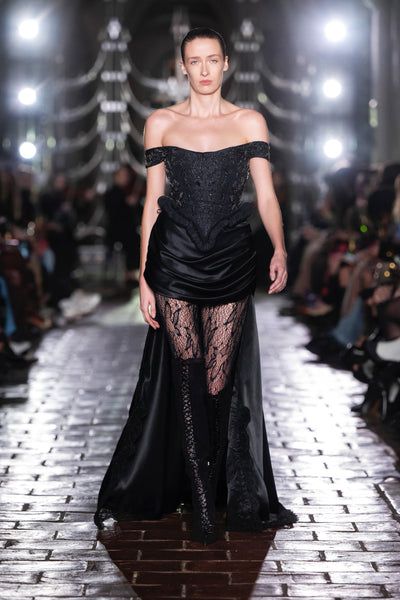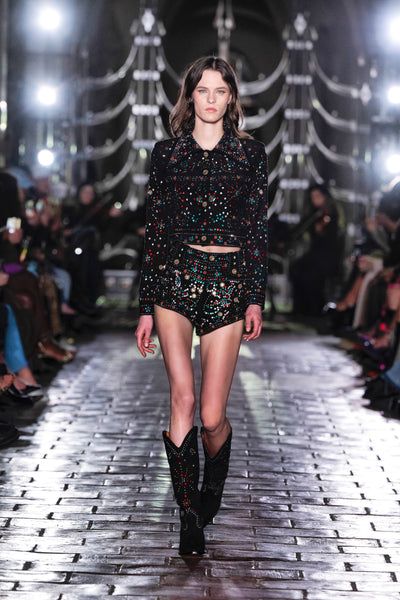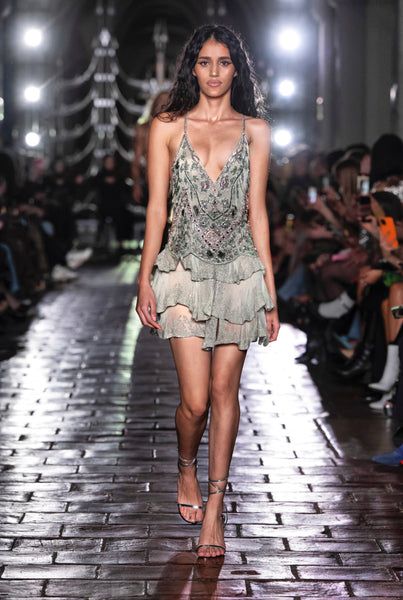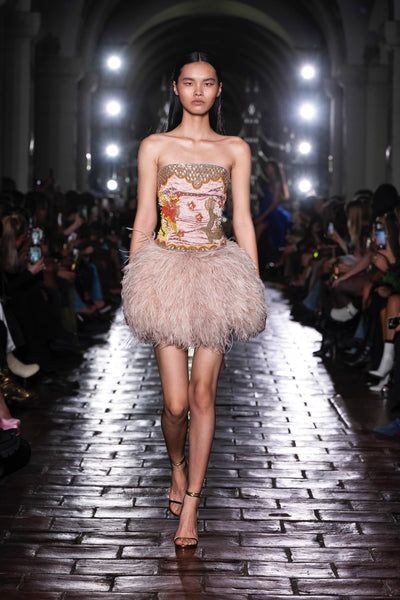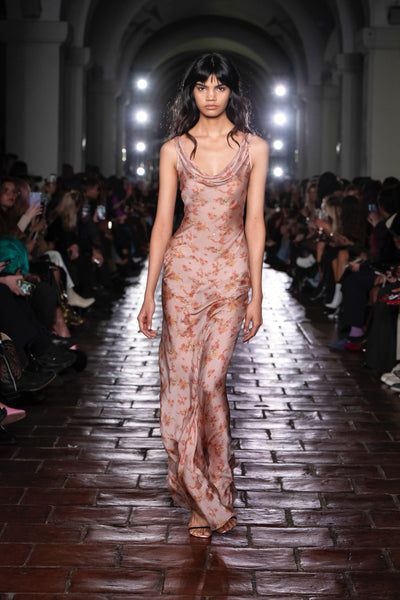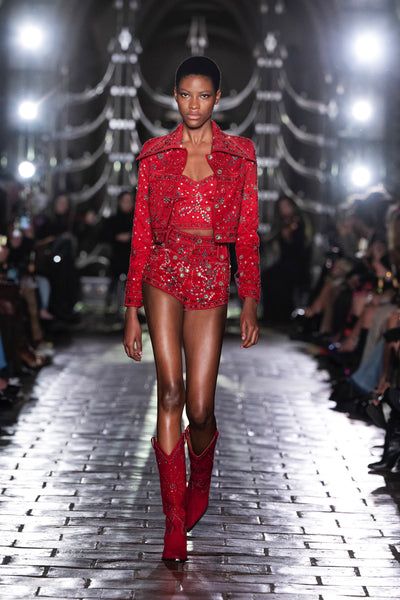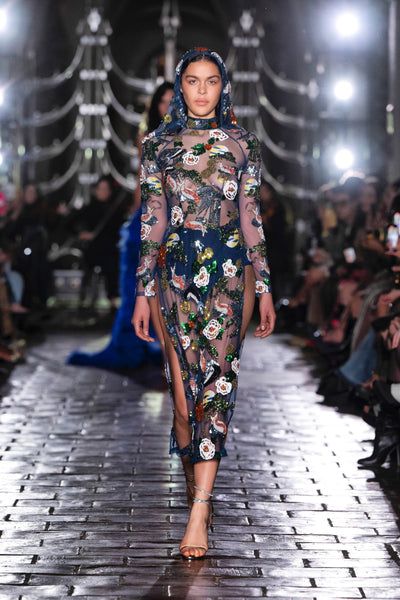 Up Next, The Outfit-Elevating Basics That Are Well Worth the Investment This Spring