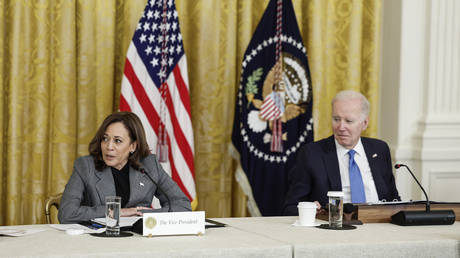 Kamala Harris is accused of not "rising to the occasion" in her role as US vice president
US President Joe Biden has been underwhelmed by the performance of his vice president, Kamala Harris, Reuters has reported, citing former White House officials. According to the outlet, Biden still intends to keep Harris as his running mate if and when he confirms his bid for re-election in 2024.
Harris, who is the first female vice president in US history, has battled low approval ratings since she assumed the role following Biden's victory against Donald Trump in 2020.
Although Biden has publicly praised Harris, privately he has noted his concerns to Washington insiders, according to anonymous former White House officials quoted by Reuters. "A point of tension in their relationship is that I don't think the president sees her as somebody who takes anything off his plate," one source told the news agency. The former official added that they believe Harris to be unwilling to take on certain tasks due to a "fear of messing up."
Should Biden confirm a second run at the Oval Office in two years' time, it would make him the first octogenarian ever to be elected to the White House. That factor would place further scrutiny on Harris, who would succeed Biden as president should he become unable to fulfil the role.
"If he did not think she was capable, he would not have picked her," another Reuters source said. "But it is a question of consistently rising to the occasion."
Speaking on Wednesday at a Women's History Month event, Biden said Harris – who was only the second black woman ever to be elected to the US Senate – has "shattered so many barriers" in rising to become the first female US vice president.
Harris is also thought to retain political capital due to her appeal to various minority voting bases, which could be tactically crucial in another hypothetical election showdown with Donald Trump.
"The re-election could be her moment to shine," Democratic political strategist Lis Smith said via Reuters on Thursday. "[Harris] is at her best when she gets back to her prosecutorial roots… the Democrats are going to need to make one hell of a case to win in 2024."
Harris has had an average favorability rating of 39%, slightly below Biden's tally of 42.3%, according to polling estimates by RealClearPolitics.