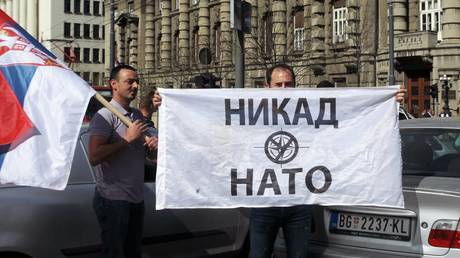 Ambassador Christopher Hill addressed the anniversary of the 1999 NATO air war
In a carefully worded statement to the public on Friday, US ambassador in Belgrade Christopher Hill commented on the 78-day bombing campaign against Yugoslavia by calling on the Serbs to build a "better future" together with Washington.
"I offer my personal condolences to the families of those who lost their lives during the wars of the 1990s, including as a result of the NATO air campaign," Hill said in a series of tweets on Friday.
"I know that the Serbian people will never forget that terrible time, nor should they," he added. "The Serbian people will never set aside their grief, but I believe they are strong enough to set aside their grievances."
The US has an "unwavering" commitment to diplomacy and "partnership" with Serbia, Hill claimed. "Together, we can build the better future the Serbian people deserve and want for future generations."
His comments came on the anniversary of 'Operation Allied Force', the 78-day air war launched by the US-led bloc on behalf of ethnic Albanian insurgents in Kosovo. Against the UN Security Council Resolution 1244 that ended the war, the US-backed Kosovo provisional government declared independence in 2008.
As the immediate pretext for the bombing, NATO had cited Belgrade's rejection of the ultimatum presented by then-US Secretary of State Madeleine Albright at Rambouillet, including a deployment of NATO troops in Kosovo and independence of the breakaway province within three years. Annex B of the proposal also demanded unrestricted access of NATO forces to all of Yugoslavia – present-day Serbia and Montenegro – which the government in Belgrade could not accept.
Hill was present in Rambouillet, and in what seemed to be a nod to that episode, he claimed in his statement that he had learned during his long career that "sometimes diplomacy fails. When it does, the results can be tragic."
According to official casualty figures by the Serbian government, the 1999 war resulted in the deaths of 1,031 soldiers and police officers, as well as 2,500 civilians – including 89 children. On Friday, Russian Ambassador Aleksandr Botsan-Kharchenko laid a wreath at the children's memorial in Belgrade.