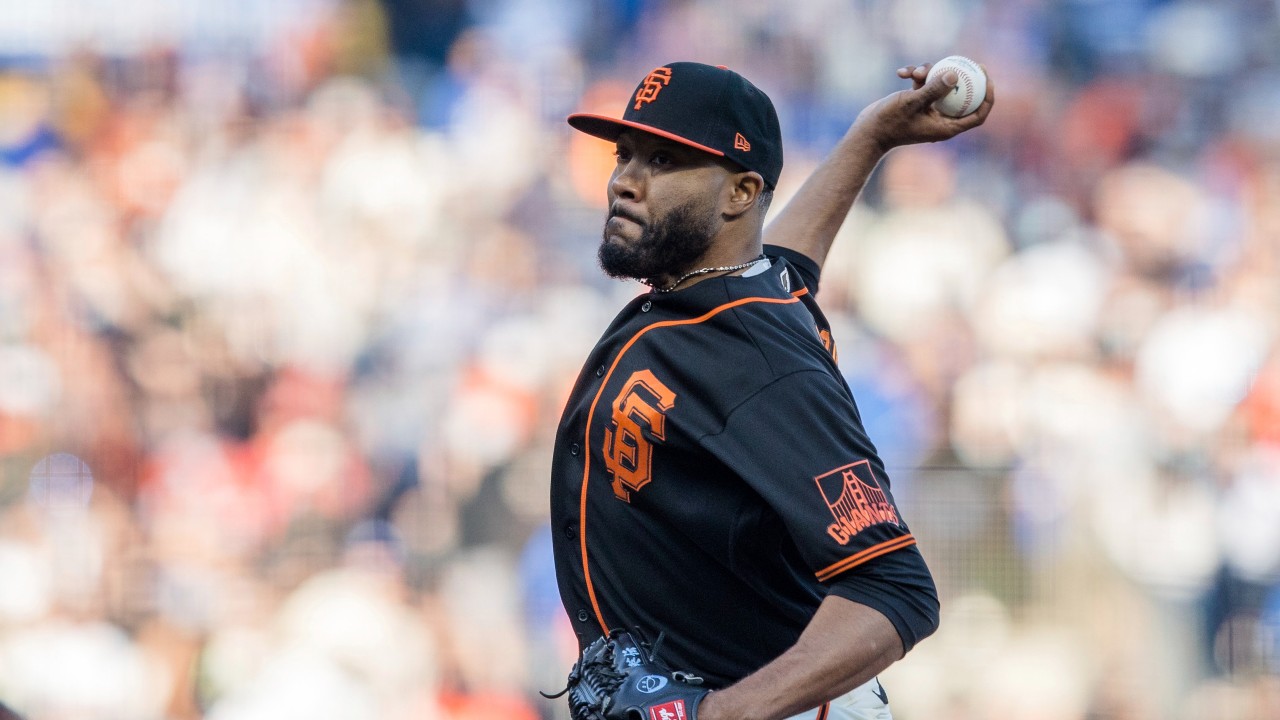 DUNEDIN, Fla. — Jay Jackson's played on teams with Alfonso Soriano and Ramon Ortiz as they were on their way out. He's shared clubhouses with JT Realmuto and Christian Yelich on their way up. He's been managed by Ryne Sandberg and Ron Hassey. He's hit a homer off Barry Enright and three doubles off Lance Lynn. He struck out Giancarlo Stanton in A-ball before anyone knew who Giancarlo Stanton was.
In Mexico, he pitched against Miguel Olivo and Russell Branyan after their MLB careers were through; he saw Joey Meneses and Ramon Urias before theirs had begun. In Asia, he faced Shohei Ohtani more than a few times, including before 40,000 in the Japan Series. In the big-leagues, he retired Adrian Gonzalez while protecting a seventh-inning lead and struck out Paul Goldschmidt with the bases loaded in the ninth.
This spring with the Toronto Blue Jays, he's beginning his 16th professional season, playing for his ninth MLB organization, looking to take the mound for home games in a fifth country. Baseball has taken Jackson a lot of places where he's done a lot of things over a lot of years. But he's still chasing something.
"The one thing I feel like I'm missing from my resume is making it to a World Series in MLB," Jackson says. "I really want to do that. And I feel like this team has a great chance to make it to a World Series. That's why I'm here."
Jackson could be a few places. With a 121 ERA+ over 25 MLB appearances across the last two seasons, and even stronger triple-A numbers that saw him pitch to a 1.87 ERA with stellar strikeout (38.3 per cent) and walk (3.9) rates, the right-handed reliever had options when choosing a 2023 employer.
The Blue Jays were one of a half-dozen MLB teams that reached out to Jackson early in the off-season to express interest. He bided his time until the new year, watching how rosters were developing and gaining as much information as possible about where he felt his best opportunity could be. Come January, he accepted Toronto's offer of a minor-league deal with an invite to spring training.
At first blush, the decision may seem like a curious one for a veteran reliever trying to pitch at the game's highest level. Toronto's projected big-league bullpen is talented and experienced. And beyond it, several capable relievers who could easily hold down jobs on less competitive clubs — Nate Pearson, Zach Pop, Zach Thompson, Trent Thornton — already have 40-man roster spots.
There were situations elsewhere that would have afforded Jackson a more direct path to the majors. ZIPS projects him to be worth more WAR with a lower ERA than any reliever on the Oakland Athletics and Washington Nationals rosters. Jackson's a big-league reliever. And he knows he'll likely begin his season at triple-A.
But at this point in his career, Jackson isn't after service time. He'd need two more years just to qualify for arbitration. What he told the Blue Jays in his entry meeting at the beginning of spring training was that he's healthy, ready to work, and chasing a ring.
"I want to be a part of a competitive team. I want to help a team that's going to get to the playoffs. I want to be on a team that's going to win as many games as possible," Jackson says. "I'm just trying to win a championship. That's the name of the game for me."
And forcing his way onto a talented roster is nothing new. Jackson spent 2022 with Atlanta, a 101-win club with an absolute buzzsaw of a bullpen featuring a half-dozen relievers that made at least 40 appearances and pitched to a 3.50 ERA or lower. The year prior, he was in San Francisco, contributing 23 appearances of 3.74-ERA ball to a relief corps that finished with MLB's lowest ERA.
"You even look at the bullpens I was on in Japan, they were in the top two or three in the league when I was there," says Jackson, who pitched to a 2.16 ERA with 95 holds across his four NPB seasons. "So, it doesn't matter what the bullpen looks like. I don't really worry about what my opportunities are going to look like. Because I know if I'm healthy, I can crack any bullpen."
More than anything, Jackson's simply hoping to start the year off on better footing than his last two. His 2021 season didn't begin until mid-June after he tore his hamstring running sprints during spring training. Last year, he tore his latissimus dorsi playing long toss while waiting for MLB's lockout to end, which kept him out of action until nearly July.
Each time, Jackson began at triple-A, put up phenomenal numbers, and forced his way to the big-leagues late in the season. But this year, he'd like to skip over the part where he spends three months rehabbing.
And so far, so good. Beyond the fact he's yet to allow an earned run over eight spring appearances, Jackson is feeling progressively stronger on the mound. He's averaged 94 m.p.h. with his fastball and was running it up to 96 on Monday against Detroit. He thinks there will be a bit more in the tank, too, as he continues to put more distance between himself and the injuries.
Here's a fun sequence from that outing — with a runner in scoring position and two out no less — in which Jackson starts Tigers infield prospect Jace Jung with a nasty slider down in the zone, doubles up with 96-m.p.h. fastballs on the edges, and finishes him with a slider up he probably mis-threw but still got a result from:
"Things are finally clicking. I'm feeling more and more like myself. I've been working on a lot of stuff since the off-season just to trust myself again, trust my body again," Jackson says. "You get older, you have injuries, you start questioning what you should be doing. So, being able to plant and trust that my legs are strong enough to carry my body through a season — that's huge."
What's been consistent throughout Jackson's long, winding career is his best pitch — a mid-80's bullet slider. He got three whiffs on six swings against the pitch earlier this week against Detroit, after getting four on six in his prior appearance, and five on nine in the one before that. It's a versatile weapon. Sometimes, Jackson will simply spam hitters with it and tie them in knots.
To wit — here he is during an outing last week against the Phillies, tripling up on his slider to strikeout Garrett Whitley:
Jackson can vary his grip and release to get the pitch to behave differently in certain scenarios. Throughout an inning you'll see him throwing some that stay flat across the zone and some with more depth that drop almost like curveballs. Those are the two distinct variations he'll use, but Jackson says there are subtle ways he can continue varying from them. Ultimately, he doesn't want hitters seeing the same pitch twice.
"I've got a good feel for it, so I'll mess around with it a lot," he says. "I'll try to hit different spots and have different thoughts in my head on different counts. It's like what guys do with two-seamers and four-seamers — trying to make them rise or cut or sink a little bit more here and there. It's the same thing with my slider. I try to give different looks on it. That gives me more ways to get out of certain situations."
When he's on, Jackson will throw his slider as often as 65 per cent of the time, landing it on the plate for strikes or using it off the edges to generate swing-and-miss. Teams keep telling him he should throw it even more often. It's the same thing teams were telling Anthony Bass for years until he finally bought in. Jackson's still not sold.
"I feel like my fastball, especially when I'm hitting spots, is also a good weapon," Jackson says of his high-spin four-seamer. "I might not throw 98 like a lot of guys do these days. But 95 still works. Or 94 in the right spot. I want to make sure hitters understand there's a fastball that can beat them, too."
There's actually two — his mid-90's four-seamer and a 92-93-m.p.h. two-seamer he likes to use down-and-in on the hands of a right-handed hitter. And there's a changeup for lefties. It's a wider arsenal than you might expect from a short-stint reliever. But if you want to pitch professionally for a decade-and-a-half, you have to reinvent yourself once or twice.
Yes, Jackson was a different guy when he broke into pro ball in 2008. A different dude when he was on the rise with Realmuto and Yelich, when he was striking out Stanton and doubling off Lynn. Through Mexico, Japan, parts of four MLB seasons, baseball has taken Jay Jackson a lot of places where he's done a lot of things over a lot of years. But he ain't done yet.
"There's been a lot of Jay's. Japan Jay. Brewers Jay. San Diego Jay. All those Jay's. I've done a lot of things in my career," he says. "Now, I'm just hoping I can be all those Jay's combined into one. Having the velo and the slider that I've been able to use over the past couple of years. Having something left in the tank to give these guys to make a run, win a championship, bring one to Toronto. Man, that'd be awesome."