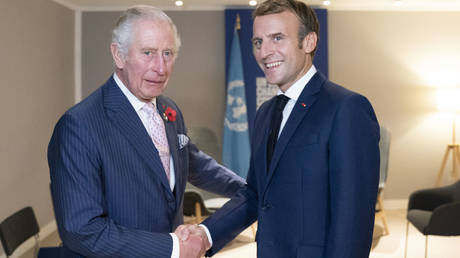 France has been gripped by protests against unpopular pension reform
King Charles' state visit to France, which was to be his first such trip as a sitting monarch, has been postponed amid ongoing violence and mass strikes in the country against controversial pension reform plans, the office of French president Emmanuel Macron has said.
The royal visit will be rescheduled "as soon as possible" and "in conditions that correspond with our friendly relations," a statement released by the Elysee Palace confirmed on Friday morning, following a telephone call between King Charles and Macron.
King Charles had been due to visit the country on Sunday before arriving in Germany for a further state visit the following Wednesday. It was to be his first official foreign visit since he succeeded his mother, Queen Elizabeth II, to the British throne following her death in September.
The cancelation comes amid deepening unrest across France at controversial pension reform plans introduced by Macron's government that have sparked extended protests, demonstrations and strikes across the EU country. French officials had previously stated that they expected the visit to proceed as planned.
King Charles had been scheduled to visit both Paris and Bordeaux – however, these cities emerged as flashpoints in the unrest in recent days. Bordeaux's town hall was set ablaze on Thursday as part of widespread protests, which saw more than one million people take to the streets across France, per the country's interior ministry.
Around 119,000 people were also estimated to have joined protests in the French capital on Thursday, with some fired upon with tear gas by the police. The French government said that 903 fires were lit in Paris on Thursday, where refuse has sat uncollected outside since March 6 due to a strike by garbage collectors.
The widespread protests were sparked by plans by Macron's government to introduce unpopular pension reforms which would, in part, increase the retirement age from 62 to 64. His government used special constitutional powers to push the legislation through parliament without a vote.
This led to the tabling of a no-confidence vote in Macron's government from opposition figures, which it narrowly survived earlier this week. A second no-confidence motion was also proposed this week by Marine Le Pen, the leader of the right-wing National Party, though this too was unsuccessful.