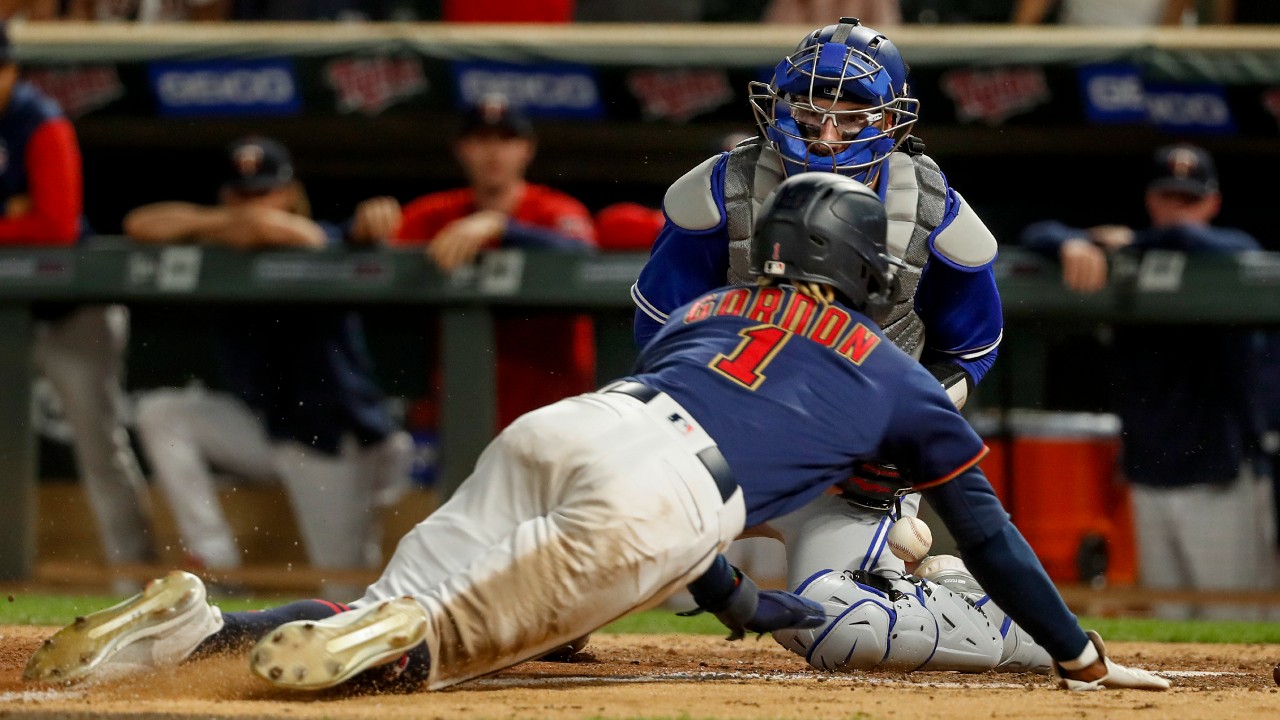 MINNEAPOLIS — In tight games, in meaningful games, and in the kind of games the Toronto Blue Jays hope to be playing down the stretch and into MLB's postseason, execution will be crucial. They're not going to blow everyone out. They're going to need to win the close ones.
And Friday night, when one of those games developed against another team with aspirations of playing the same kind of baseball over the next two-plus months, that execution wasn't there.
That is, ostensibly, why the Blue Jays lost to the Minnesota Twins, 6-5, in 10 innings.
A tough night from Jose Berrios didn't help, either. The Blue Jays starter lasted only 3.2 innings, coughing up five earned before giving way to a procession of six relievers from Toronto's bullpen. And yet, that group did its job, holding the Twins steady as Toronto's offence fought its way back into it, eventually tying the game while down to its final strike in the ninth.
But that's when the miscues began. First, there was a routine groundball to Cavan Biggio in the bottom of the ninth that the Blue Jays second baseman whiffed on.
Then there was the scoring opportunity in the top of the 10th, when Lourdes Gurriel Jr. roped a Michael Fulmer slider over Twins second baseman Luis Arraez's head. The ball was struck well enough, and high enough, that Biggio could have gotten a better read off second and broken for third immediately. But instead, his first move was back to the bag, eliminating the possibility of scoring the go-ahead run.
And, finally, there was the bottom of the 10th. With a runner on second to begin the inning, Jordan Romano struck out Nick Cave with a slider in the dirt. But Blue Jays catcher Danny Jansen first missed an attempt to tag Cave, and then air-mailed his throw to first, letting the Twins outfielder reach and the runner on second — Nick Gordon — advance to third.
Two pitches later, Romano got Tim Beckham to bounce a grounder to Matt Chapman at third as Gordon took off for home. But Chapman's throw short-hopped Jansen, who couldn't come up with it as Gordon slid in head-first with the game-winning run.
"There was a lot going on there," said Blue Jays interim manager John Schneider. "Obviously in the ninth there defensively (with Biggio). With Gurriel's hit — tough read by [Biggio] there with one out on the line drive. It's a really tough one for a runner at second.
"And then in the 10th inning — I think if you want the ball hit to anyone, it's Matt Chapman. And the strikeout to Cave — Jano blocks everything and I think when he tried to tag him, he kind of lost his angle a little bit on the throw to first and made it a little bit of a tougher play than it probably should have been. So, you look at those things as opportunities to get better."
The Blue Jays will certainly need to as will Berrios, whose recent run of success came to a skidding halt Friday at the ballpark he spent the first six seasons of his career calling home. It looked like Berrios was going to complete another outing in cruise control as he breezed through his first two innings on only 14 pitches. But he coughed up a Mark Contreras solo shot in the third and started the fourth allowing the first three batters to reach — double, walk and single.
Berrios' very next pitch — following a mound conference with pitching coach Pete Walker — was a changeup that wasn't fooling Gordon, who punished it 410-feet over the right-field wall. Berrios got a couple outs from there, but his 26th pitch of the inning was ball four to Sandy Leon. And that was that.
"Tonight I wasn't able to make quality pitches. But I go out there and compete and try to do my best," Berrios said. "Fastball, breaking ball, my changeup — I was leaving them up, not throwing quality pitches. But I'll just turn the page and keep moving forward."
Ultimately, Berrios didn't have the same curveball he rode through six strong outings in July, posting a 3.00 ERA and 3.25 FIP while striking out 42 and walking only seven over 36 innings. He didn't have his fastball command, either, as he missed either too far off the plate with four-seamers and sinkers or too far over the heart of it. It was an untimely regression for the Blue Jays starter who's battled inconsistency all season and appeared to finally be finding his groove.
"The last month, I've been pitching well. Today, I came to a ballpark and I felt healthy and strong. But that's one of those nights I couldn't make my pitches," Berrios said. "I'll keep on track, try to get that consistency. Obviously, tonight I didn't throw well. But I'm going to turn the page. I know I've been throwing the ball pretty well lately. So, I want to get back to that."
Meanwhile, Twins starter Tyler Mahle was cruising right along until the sixth, when Santiago Espinal tagged him for a first-pitch solo shot, Whit Merrifield beat out an infield single, and Vladimir Guerrero Jr. turned around a cookie slider for one of those insane line drive homers he hits that just never come down:
But Mahle arrested the damage from there and completed the sixth, giving way to a string of hard-throwing relievers, including trade deadline acquisition Jorge Lopez, who entered the ninth throwing 99-m.p.h. gas and unfair curveballs as he attempted to protect a one-run lead and secure his second save for his new team.
Ultimately, he wouldn't. Bo Bichette and Jansen reached on singles before Raimel Tapia somehow flared a two-out, two-strike, 98-m.p.h. Lopez sinker on the inside black up above no man's land in shallow centre. It came off Tapia's bat at 75.5-m.p.h., just soft enough to drop in as Bichette crossed home with the tying run.
It was an almost unbelievable result against one of this season's most electric closers. It ignited the Blue Jays dugout, and the thousands of blue-clad Toronto fans lining the stands behind it. Just as Yimi Garcia set all those folks off again in the bottom of the inning when he pitched out of a bases-loaded, one-out jam created when Biggio fumbled that routine grounder at second.
But the Blue Jays couldn't capitalize against Fulmer in the top of the 10th, as Minnesota's other deadline bullpen acquisition mixed 95-m.p.h. sinkers off a ridiculous slider he ran up to 92. Fulmer was in and out of the zone, as he tends to be, but still got the job done, working around a Guerrero walk, the Gurriel single and Biggio didn't get a good jump on to strike out the side and strand the bases loaded.
That put the Blue Jays in an awful position, needing to prevent a runner on second from scoring with none out in the bottom of the 10th. And Schneider put his team in the best possible position to win, summoning his closer, Romano, into the spot.
But you know what happened next. Toronto's execution lapsed again, a throw was air-mailed to first, a play wasn't made at the plate, and the Blue Jays lost.
"It was a roller coaster. But I think everything lined up the way that we wanted it to line up. We just didn't execute at the end," Schneider said. "You learn from it, you move on. And you've got another game tomorrow."