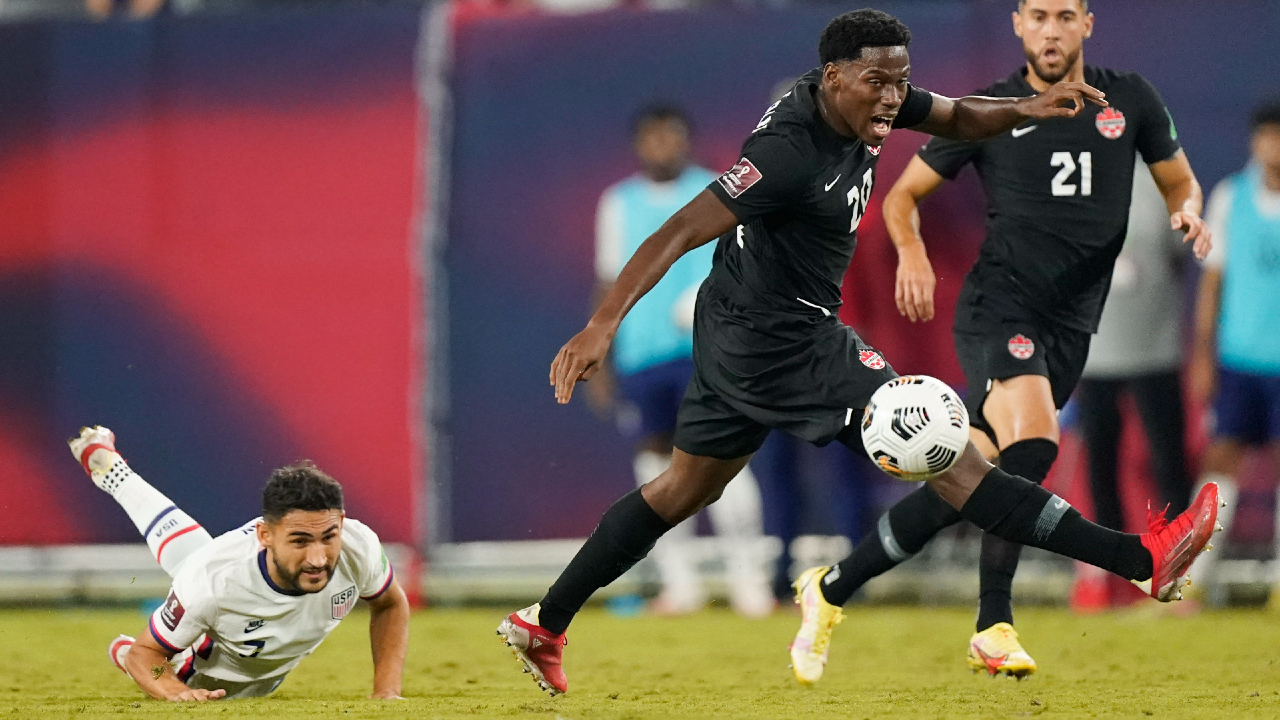 After nearly two decades of under-achievement, the Canadian men's team is asserting itself as a threat to be reckoned with, one that should no longer be taken lightly by Concacaf's traditional heavyweights.
You can forget all about the previous failed attempts to qualify for the World Cup, and the embarrassing results like the 8-1 loss to Honduras in 2012 that defined the Canadian team for so long. That's the "old Canada," and it has been replaced by an exciting and dynamic attacking version — featuring players the calibre of Bayern Munich star Alphonso Davies — and that is secure in the knowledge that it can go toe-to-toe with the top nations in Concacaf.
The "new Canada" first appeared on a crisp October night two years ago at Toronto's BMO Field, when it comprehensively dispatched the United States in a 2-0 win in Concacaf Nations League play, notching its first victory over the Americans since April, 1985. A solid semifinal run at this summer's Gold Cup was Canada's way of issuing a further warning to the rest of Concacaf that the win over the U.S. was no fluke, and that it should be taken seriously going forward.
Canada assertively drove home that point once again this past weekend, coming from behind to earn a 1-1 draw against the U.S. in Nashville in a crucial World Cup qualifying match for both countries. The Reds are competing in the final round of the Concacaf qualifiers for the first time since the buildup to the 1998 World Cup in France, but are demonstrating that they won't be a pushover after only two games, a lesson that the Americans rather emphatically learned on Sunday.
Watch Canada's World Cup quest on Sportsnet
The final stretch of Canada's road to the 2022 FIFA World Cup is here — and it's on Sportsnet. Watch 13 of the country's 14 matches live, starting Sept. 2.
After a fairly even first 45 minutes, the U.S. came out of the halftime break in full-attack mode, and scored early in the second half on a blistering counter-attack that ended with midfielder Brenden Aaronson stabbing a shot home from in close. Buoyed by the large Nashville crowd, the Americans were riding high over the reeling Canadians and could smell the blood in the water. A second U.S. goal to pad their lead seemed inevitable.
But Canada held firm and equalized minutes later on a brilliant attacking play down the left side. Defender Sam Adekugbe's perfectly weighted ball released Davies down the flank, and the Canadian speedster easily blew by U.S. wingback DeAndre Yedlin as he burst into the penalty area before cutting the ball back for Cyle Larin to tap home.
"It was disappointing to concede the goal, but there was a lot of time on the clock and we knew we had to stay mentally strong. We had chances for ourselves and we just had to keep pushing and keep pursuing. I think the way we responded to the goal shows the mentality of the squad," Adekugbe said in the post-match news conference.
In a bold move, coach John Herdman brought on star attackers Jonathan David and Tajon Buchanan off the bench in the 65th minute in an awe-inspiring display of Canada's amazing depth. Buchanan nearly made an immediate impact, as he skinned defender John Brooks when he peeled off the right wing and made a beeline for the U.S. goal, only to fire his angled shot just wide of the far post. Just a few more inches to the right, and Buchanan's shot would have likely sealed an historic win for Canada, whose previous victory on American soil in a competitive game came in 1957.
That double-substitution move not only put the Americans back further on their heels, but it was also a sign of how much the culture around this Canadian team has changed since Herdman took over the coaching reins in 2018. The "old Canada" would have held on to what it had, and played for the draw. But Herdman has instilled this Canadian side with belief that it can win every game, no matter the situation and no matter the opponent.
It says a lot about how far this program has come under the English-born coach that Canada wasn't entirely happy with earning a valuable road point, which are expected to be at a premium in this marathon World Cup qualifying campaign.
"We're actually disappointed in the draw, we felt like we could have got the three points, but it's a tough environment to come here and play, so we'll move and look forward to the next match," Adekugbe said.
After being held to a 1-1 stalemate in its opening game at home against Honduras last Thursday, Canada travelled to Nashville looking to put one over on the Americans. Herdman's side fell just short, but the maturity of its performance in earning a point on the road before a hostile American crowd speaks to the overall strength and guile of this team.
"I asked for heart, I asked for a lot of heart in this game; I asked for each man to bring a level of intensity and show their brothers that they're committed to each other and I thought they did that," Herdman said.
---
John Molinaro is one of the leading soccer journalists in Canada, having covered the game for over 20 years for a number of media outlets, including Sportsnet, CBC Sports and Sun Media. He is currently the editor-in-chief of TFC Republic, a website dedicated to in-depth coverage of Toronto FC and Canadian soccer. To check out TFC Republic, click here.
---