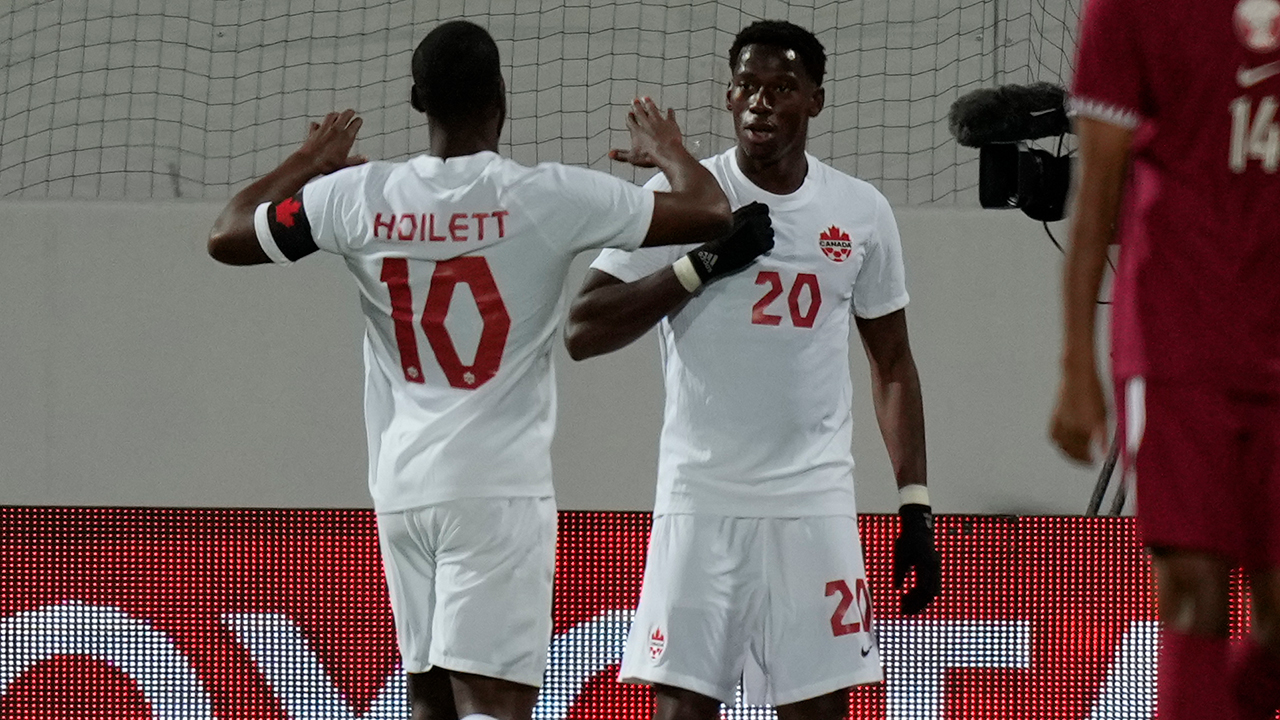 The Canadian men's national team kicked off its September window with a dominant 2-0 win over Qatar in an international friendly on Friday.
Cyle Larin and Jonathan David both struck inside 15 minutes as Canada cruised to a comfortable victory the rest of the way.
Here are three key takeaways from Friday's game as we look ahead to the Uruguay friendly on Tuesday:
DOUBLE PIVOT EXCELS
Considering Atiba Hutchinson and Jonathan Osorio were injured, that left Canada with just four fit midfielders for these two September friendlies.
Canada coach John Herdman had been using some variation of a double pivot in at least eight of Canada's previous 10 games, but the depleted depth only improved those odds of him utilizing a midfield pairing.
Samuel Piette ended up earning the nod next to Stephen Eustaquio with Mark-Anthony Kaye still gaining match fitness and Ismael Kone playing the role of impact substitute with CF Montreal.
However, Piette and Eustaquio are also in scintillating form entering this window for their respective clubs, only bolstering the argument that they should start together.
The hour they played together was nothing short of flawless and proved that Herdman's decision was the correct one.
The truly did it all in this game. For example, Piette (No. 6) and Eustaquio (No. 7) routinely won second balls and hitting quick passes when possession was lost.
They shuttled across to combine with the wide players to create triangles on the flanks and dragged Qatar's compact 3-5-2 across the pitch before hitting quick switches to stretch their defensive shape even further.
There were some vital defensive interventions, too.
Piette eventually checked out of the match for Kone (No. 8), and the 20-year-old made an immediate impact off the bench.
Had Sam Adekugbe not corralled that pass instead of Ike Ugbo, the latter might've been in behind and had a clearer shot on goal.
The only question now is whether the Eustaquio-Piette partnership has adequate pace to keep up with a more dynamic side, such as Uruguay, Japan or Belgium. Those are Canada's next three opponents and will surely put that theory to the test.
Kone injected more speed when he replaced Piette but lacks the necessary defensive awareness to fully optimize a two-man midfield. These are the conundrums Herdman has to mull over the next few days.
LARIN REWARDS FAITH
Cyle Larin's appearances for Club Brugge this season have been brief, if not non-existent. Benching the men's national team's all-time leading scorer when the World Cup is right around the corner is a bold decision, though, and Larin has usually done the business for his country over the past 18 months, no matter his club situation.
Herdman's commitment paid off with Larin scoring inside four minutes via a header. The defending on the goal was questionable at best but it clearly buoyed the 27-year-old for the rest of the half.
Larin had a decent opportunity a few minutes later. With Canada quickly weaving its way through Qatar's high line, Larin executed a run in behind with Alistair Johnston supplying a lethal through ball in behind. The Canadian forward tested goalkeeper Saad Al-Sheeb with a sizzling shot at his near post to no avail.
Overall, it was an active match for Larin, who checked out at halftime, perhaps sparring him for the Uruguay friendly in a few days.
PREPARING FOR URUGUAY
The result was essentially secured after 15 minutes. Canada had full control and Qatar wasn't threatening Milan Borjan's goal all that often. That meant preparation for Uruguay began early.
Canada began the game with a back four off the ball, which had Sam Adekugbe at left-back, Kamal Miller and Steven Vitoria as the centre-backs and Alistair Johnston on the right. In possession, both full-backs pushed up to form a fluid 3-4-3.
This changed after Canada took a 2-0 lead. Instead of reverting to a 4-4-2 off the ball, Canada shifted into a back five when it lost possession.
Yet they also reverted back to the 4-4-2 with four players along the back line – even if it involved Eustaquio covering for substitute Richie Laryea in the following sequence.
The back five might be Herdman's strategy for the Uruguay game. The Charruas have a lethal midfield and quality wide attackers, so loading up the half spaces and central channels could be a wise strategy.