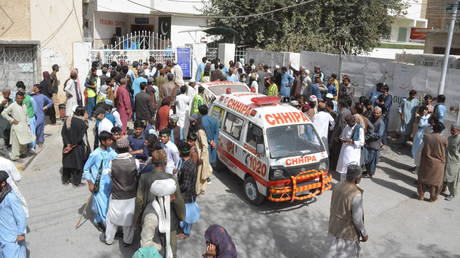 The blast occurred at an event marking the birthday of the Prophet Muhammad
At least 52 people have died and dozens more are injured following a suspected suicide bombing on Friday at a procession marking the birthday of the Prophet Muhammad, close to a mosque in Pakistan's Balochistan province, according to officials and media. Many of those injured are understood to be in a critical condition.
The explosion in the Mastung District is being presumed to have been a suicide attack, Mastung Assistant Commissioner Atta Ul Munim told reporters. The official claimed that a senior police officer, Mohammad Nawaz, who died in the blast, was the primary target of the attack.
"The Prime Minister expressed his condolences to the families of those who died in the blast," a statement from the office of Pakistan's caretaker prime minister, Anwar-ul-Haq Kakar, said. "Prime Minister's prayers for forgiveness for the deceased and patience for the families."
Balochistan, the largest province in Pakistan by area, has seen several flashpoints in recent months following a decades-long insurgency, waged by separatists who accuse Islamabad of unfairly exploiting the province's resources.
No group has claimed responsibility for the attack so far. The Pakistani Taliban, known as Tehreek-e-Taliban Pakistan (TTP), a collective of various Sunni Islamist militant groups, has denied any involvement.
There has been an increase in militant attacks in Pakistan's west ahead of national elections scheduled to take place in January. Earlier in September, at least 11 people died in another bombing in Balochistan. More than 40 were killed in a July suicide attack at a political party gathering in the northwestern Khyber Pakhtunkhwa province.
Authorities in Karachi, Pakistan's most populous city some 370 miles (600km) from Mastung, have been ordered to increase security and remain on "high alert," according to the region's inspector general.
Officials had asked police to be wary of militants targeting gatherings celebrating the Prophet Muhammad's birthday, Mawlid an-Nabi, a national holiday which features day-long celebrations and the distribution of free meals. Pakistan's caretaker interior minister, Sarfraz Bugti, denounced the bombing as a "heinous act."
Meanwhile, reports also indicate that there was a second explosion on Friday at a mosque near the city of Peshwar in the Khyber Pakhtunkhwa province. The number of casualties remains unclear, but authorities say that some victims could be trapped under rubble. The capacity of the mosque is 40 to 50 people, officials said.