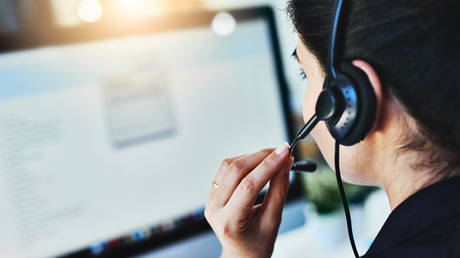 Ukrainian authorities along with their Czech colleagues uncovered several 'call centers' specializing in bank card data theft
Ukrainian police along with their Czech counterparts have apprehended several suspected scammers in a large-scale operation across Ukraine. The criminal group is believed to have set up a number of phishing 'call centers,' which they allegedly used to defraud dozens of Czech citizens.
According to the Ukrainian authorities, a total of 29 searches were conducted in Kiev as well as Dnepropetrovsk (the city now known as Dnepr), Kirovograd, Ternopol, Poltava, and Chernigov regions. Three ringleaders and five members of the group were detained as a result, with officials looking into the roles of more than 40 other individuals.
The suspects are believed to have sought potential victims in Czech online marketplaces, with 'call center' operators contacting them and luring into opening phishing links. The customers were asked to share their bank-card details to buy goods. Having gained access to the victims' money, the suspected scammers would then allegedly withdraw it and convert it into cryptocurrency.
The group is believed to have conned nearly 2 million Czech korunas ($87,000) out of citizens in the Central European nation, a police statement revealed.
If found guilty, the suspects could face up to 12 years behind bars in Ukraine.
In a separate case, Ukrainian authorities handed over five suspected members of a transnational criminal group to the Czech Republic on Monday, with one more individual awaiting extradition.
According to the Ukrainian police, the criminal group was dismantled in April as a result of a joint operation by Ukrainian and Czech officers. The suspected ringleader is a Ukrainian national, who had a number of Czech and at least one Belarusian citizen allegedly working for him.
The suspects are understood to have operated several 'call centers' in the Ukrainian city of Dnepr between March 2021 and November 2022. The alleged scam involved call center operators contacting clients of Czech banks and posing as security officers from those financial institutions. The suspected con artists would then strongly recommend that their victim transfer their money to a safe account to prevent it from being stolen. Shortly thereafter, another call center operator would call the victim, this time posing as a police officer and advising the person to follow the instructions of the "bank security officer."
Czech and Ukrainian authorities believe that at least 665 Czech citizens have fallen victim to the scam, parting with more than 186 million Czech korunas ($8.1 million).