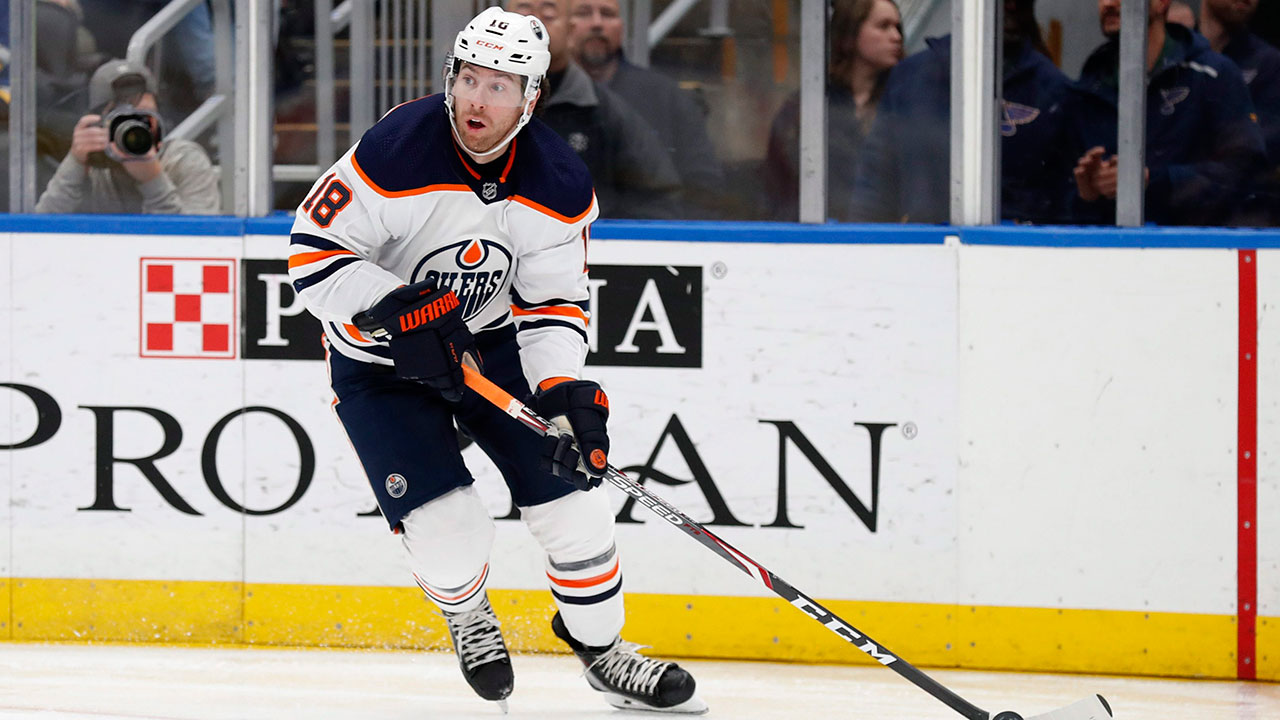 Is there anything more wonderful than a mulligan?
Believe us, NHL GMs will be clamouring for them this fall as they try to solve their financial puzzles around overpaid players. Problem is, those do-overs won't come cheap.
With the 2020-21 salary cap flattening in response to the COVID-19 pandemic, anchor contracts will weigh even heavier on the minds and spreadsheets of the NHL's spend-happy general managers.
While owners were not in favour of easing their executives' jobs with a round of compliance buyouts — those get-out-of-jail-free cards handed out after the 2013 lockout — the traditional buyout window is right around the corner.
GMs are permitted to buy out contracts of their untradables beginning Sept. 25 — with ownership's blessing, of course. That first buyout window shuts on Oct. 8.
Here is a breakdown of 14 players who might be considered for a buyout, and the pros and cons of pulling the trigger on arguably the most uncomfortable tool at a GM's disposal.
(For all the fine print on buyouts and a nifty buyout calculator, head over to the wonderful CapFriendly.com.)
Karl Alzner, two years at a $4.625-million cap hit
Although Alzner did work his way back to the NHL for four games this winter, there is no mistaking the defenceman has been a supreme bust, a classic July 1 overpay. In the summer of 2019, he ranked second to Milan Lucic among CapFriendly.com's most-searched buyouts.
After eight years of perfect NHL attendance, Alzner was scratched on opening night of the 2018-19 season and appeared in just nine big-league games for the organization before being demoted to Laval, where he's quietly put in solid if overcompensated work for two seasons.
James Neal, three years at a $5.75-million cap hit
No stranger to cutting cheques in order to enhance cap comfort, the Oilers are currently paying three players to not be in Edmonton: buyouts Benoit Pouliot and Andrej Sekera, plus the traded Lucic, for whom they retained salary.
No doubt, Neal bounced back nicely with 19 goals in 2019-20, but he's a dash-20 winger on the books until age 35. There are better ways than a power-play specialist to allot that salary during Connor McDavid and Leon Draisaitl's prime.
Edmonton is expected to be active in the trade and free agency markets, but if Ken Holland needs to create space, buying out Neal and carving out an extra $3.83 million in cap space over the next three seasons should be a serious option.
Henrik Lundqvist, one year at a $8.5-million cap hit
This one is more about carving out space than saving money, and there was a distinct feeling that Lundqvist had played his final game for the Blueshirts when he left the Toronto bubble in August.
Awkwardly carrying three NHL-calibre goaltenders into 2020-21 is not a wise play for GM Jeff Gorton.
An affordable young duo of Igor Shesterkin and Alexandar Georgiev could set the Blueshirts' crease up well for years to come.
Buying out the King would bring an unceremonious — and potentially friction-sparking — end to a Hall of Fame career, but it could also be coldly chalked up to the business of sport.
Understanding it's not his first choice, if Lundqvist wants a backup gig elsewhere, surely a handful of NHL teams would welcome him with open arms.
Olli Maatta, two years at a $4.08-million cap hit
In addition to Alex DeBrincat's monster raise kicking in for 2020-21, cap-tight Chicago has a few young players in need of a pay bump this summer: Dominik Kubalik, Dylan Strome and Drake Caggiula. The Blackhawks also need to hire a goalie or two.
While the recovering Brent Seabrook and Andrew Shaw might also appear to be buyout options here, GMs cannot buy out injured players.
Furthermore, buying out Maatta's contract would actually supply more immediate relief — $3.4 million for each of the next two years.
Marc-Andre Fleury, two years at a $7-million cap hit
No club in the Western Conference will face the ill effects of a flat cap like the Golden Knights, a perennial Cup contender that has not been afraid to spend.
Fleury, 35, lost his No. 1 status this post-season to rental Robin Lehner, and the rumour mill is a-swirl that Lehner is targeting a long-term extension with Vegas at an AAV around $5 million.
Big if true.
So where does that leave the first face of the franchsie? Fleury has submitted his 10-team no-trade list, but how many of the other 20 franchises can afford an aging goalie, however great, at a $7-million ticket?
If a trade cannot be arranged, a Fleury buyout would save the Knights $4.4 million in cap space for 2020-21 and $3.9 million in 2021-22.
Owner Bill Foley has not been one to tighten the purse strings.
Loui Eriksson, two years at a $6-million cap hit
In the summer of 2016, Vancouver signed a 30-goal, 63-point stud out of Boston. In four runs as a Canuck, Eriksson has never scored more than 11 goals or 29 points. His slowing feet have also led to an increase in minor penalties and occasional benchings.
That Eriksson's actual annual salary drops to $4 million in 2020-21 and 2021-22 makes him slightly more tradeable, but the 34-year-old winger is long past his prime — and an exciting Vancouver core is coming into its own.
Jim Benning is a spender, and he's up against it with Roberto Luongo's cap-recapture penalty and his highest-priced forward under-delivering.
With Jacob Markstrom, Chris Tanev, Tyler Toffoli and Jake Virtanen all speeding toward free agency, Vancouver needs wiggle room.
The catch with buying out Eriksson is the cap relief isn't so great. The Canucks would be stuck with a $5.67-million hit in Year 1 and a $3.67-million hit in Year 2 before the real savings kick in. One wonders if they try demoting Eriksson to Utica if a trade can't be worked out.
Sven Baertschi, one year at a $3.37-million cap hit
One of the rare players who chose not to enter the playoff bubble, Baertschi's absence didn't hinder the Canucks' respectable run.
Benning needs to scrape together every penny he can, and a buyout would drop Baertschi's hit on his cap to $1.6 million. Decent value for a winger who spent most of 2019-20 in the minors and only contributed two assists in six NHL games for Vancouver this past season.
Baertschi's future in Vancouver is bleak, and it would be best for both sides to move on ASAP.
Kyle Turris, four years at a $6-million cap hit
David Poile is stuck in the unenviable position of suffering cap problems without a recent deep playoff run to show for it. The GM has swung big and missed with some pricey centres.
Point blank: Three seasons into his Predators tenure, Turris has not worked out. With one goal in 23 playoff games and 29 goals spread over 182 regular-season appearances in Music City, we can't see anyone wanting to trade for his contract.
A Turris buyout would give Poile a do-over on this miss and save the franchise $4 million in cap space in each of the next four seasons.
Andrew Ladd, three years at a $5.5-million cap hit
That Ladd was nearly dealt to Minnesota at the trade deadline in a complicated transaction for Zach Parise is a strong indication of how the organization views the veteran.
Ladd, 34, is just 50 games away from joining the NHL's 1,000-game club. He did score 11 goals in 34 appearances with AHL Bridgeport this season, and once in his four Islanders games. Perhaps, at a reasonable cap hit, he could play a valuable bottom-six role.
But the Maple Ridge, B.C., native is still making money in line with his 20-goal, 60-point Winnipeg days of 2014-15. And in the coming months, GM Lou Lamoriello will need to add about three zeros to Mathew Barzal's salary and find a way to keep RFA defenders Ryan Pulock and Devon Toews.
The savings on a Ladd buyout would not be great — he'd still be a $4.8-million hit the next three seasons — but every dollar counts in a flat-cap world.
(Another buyout candidate on the Island: Leo Komarov.)
Justin Abdelkader, three years at a $4.25-million cap hit
Because the rebuilding Red Wings are in no rush to spend to the cap and assemble an immediate contender, and because they'll also have a bunch of expensive contracts coming off the books this summer (Jimmy Howard, Jonathan Ericsson, Trevor Daley), they can still absorb overpaid veterans like Abdelkader and Frans Nielsen (two more years at a $5.25-million hit) with ease.
Here's the question: Does Steve Yzerman still want a 36-year-old Abdelkader taking up cap space in 2023? Or is it worth keeping some good pros around to groom the next wave?
It's easy to look at Abdelkader's 2019-20 numbers — zero goals, three assists, minus-14 rating — and start dreading another three declining years of overpaying a depth winger.
There could be sentiment at play here, with Abdelkader being a loyal, career-long Wing and a respected leader.
But remember this: Yzerman once bought out local hero Vincent Lecavalier when he served as Tampa's GM.
A more modest but effective move might be buying out veteran Darren Helm, who is due $3.85 million for one more year.
Anton Stralman, two years at a $5.5-million cap hit
Word is, rookie GM Bill Zito will be tasked with cutting the Panthers' payroll, so paying a good veteran like Anton Stralman to not play might interest ownership.
The Cats would spread out Stralman's cap hit and save a $3 million hit in each of the next two seasons and $3 million in real money over the next four.
Stralman is an excellent role player and superb penalty killer, but he is no longer a $5.5-million asset.
Kyle Okposo, three years at a $6-million cap hit
A scan of the Sabres' recent buyout history — Christian Ehrhoff, Ville Leino and Cody Hodgson all had line items this season — is a reminder of the franchise's love for a good overpay.
God bless Okposo, but the injury-plagued pro has fallen into the same pattern as Matt Moulson: great years next to John Tavares on Long Island, followed by an inability to live up to his contract in Buffalo.
Okposo, 32, is making top-line dollars but put up nine goals and 10 assists in 52 games this season, the fourth consecutive year his point total has dropped.
The Pegulas could also consider a do-over on its starting goalie position with the market bubbling with options this season. Carter Hutton, 34, has one more season at $2.75 million and a buyout would chop his cap hit to $916,667.
David Backes, one year at a $6-million cap hit
The urgency to buy out Backes, previously a strain on the Bruins' cap structure, is not as severe as you might imagine.
The Ducks have a room full of young forwards who could benefit from Backes's mentorship, work ethic and experience. Further, the guy only has one more season left on his deal, and Anaheim is not expected to be a contender/spender in 2020-21.
Absolutely, Backes is overpaid. He scored once and played a scant 22 games in 2019-20. But he'll "only" make $4 million in real money next season.
John Moore, three years at a $2.75-million cap hit
Hard decisions are coming to the Bruins' blueline.
It is uncertain whether either UFA, Torey Krug or Zdeno Chara, will be back in black and gold. And a building block on the back will be due a raise in each of the next three off-seasons: Matt Grzelcyk (RFA 2020), Brandon Carlo (RFA 2021) and Charlie McAvoy (RFA 2022).
Where does that leave Moore, a sometime healthy scratch and a 29-year-old who is overpaid for a guy who provided three points in just 24 appearances this past season?
GM Don Sweeney is hard against the cap, the Bruins are one of the NHL's most cash-rich franchises, and more than half of Moore's cap hit could be chopped in the event of a buyout.