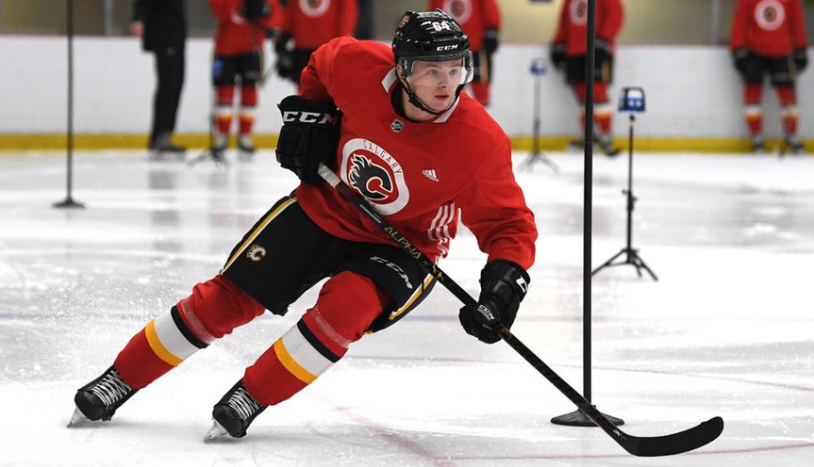 The kid they called The Norwegian Gretzky is now a member of the Calgary Flames.
Emilio Pettersen, a 20-year-old standout at the University of Denver, signed a three-year entry level deal with the Flames Monday, a mere decade after he became a YouTube sensation.
Shown on several videos demonstrating a stride, hands and a hockey sense that belied his tender age of 10, Pettersen left Norway for the U.S. at age 13 to chase a day just like this.
"I'm so excited for this new opportunity," said the Flames' sixth-round pick in 2018, whose father, Flemming, was a pro hockey player in Norway. "When I came here (to Denver) I wanted to stay four years, but that didn't happen."
Instead, at his urging, the Flames decided to accelerate his progression to pro hockey by agreeing he was better served starting in the American Hockey League next year than returning to college.
Senior Writer Ryan Dixon and NHL Editor Rory Boylen always give it 110%, but never rely on clichés when it comes to podcasting. Instead, they use a mix of facts, fun and a varied group of hockey voices to cover Canada's most beloved game.
Another factor in the change of plans may have something to do with the likelihood that pro hockey has a better chance of returning to action next fall than college hockey does, due to the COVID-19 pandemic.
The pandemic already cost him a golden opportunity, as he was slated to play for Norway at the men's world championships this spring before the event was cancelled.
"They told me I'll be playing in Stockton next year, but I'm ready to make an impression," said Pettersen, a confident, driven winger who has been under the Norwegian hockey microscope since he was six.
"Since the season ended it has been pretty straightforward – they wanted me to sign and I wanted to sign. They felt I'd develop better at the next level."
[radioclip id=4897265]
Flames GM Brad Treliving said the plan, until the last handful of weeks, was for the five-foot-10, 175-pound playmaker to continue at the highly respected college next season. However, with more and more discussion with the player, scouts and management, it was determined he deserved to be fast-tracked.
"He's an ultra-serious and determined kid who has high-end skill," said Treliving, who said staffers watched almost every one of his games this year.
"He was a YouTube sensation when he was a little kid – they called him the Norwegian Gretzky. Our plan probably all along was he'd go back another year and when I talked to him at the end of the year this is what he wanted to do. He's got his head screwed on straight and I have no qualms that he's going to be putting in the work he needs to put in."
[radioclip id=4897358]
That work includes getting stronger, so he can better prepare himself for a more rugged ride in the pros.
"He's relentless in terms of his work ethic and determination," said Treliving, who recalls first seeing the videos that drew attention to him as a youngster.
"His biggest thing he'll have to work on is his defence – that will be a growth area for him. He's got great vision, he can drive a line, but an area he needs to improve upon is his play away from the puck."
With the puck he continues to shine, as he did as a child, leading all DU scorers this year with 13 goals and 35 points in 36 games.
The left-handed native of Oslo was named to the NCHC Academic All-Conference team, as well as the NCHC Second All-Star team.