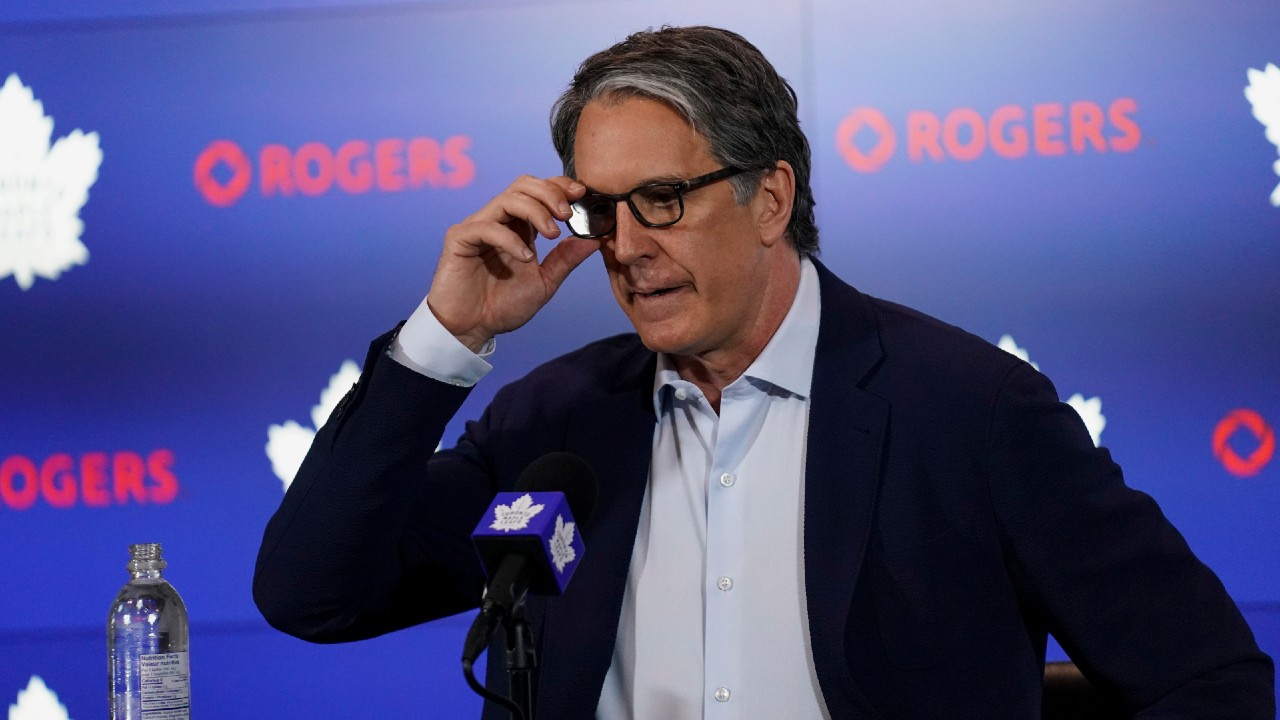 Over the past couple seasons, Leafs fans haven't heard much from Brendan Shanahan, and that's just fine. He's weighed in at the beginning and end of the seasons, but by and large the team has been good, light on drama and mostly successful, humming along without much reason for the President to speak to the media.
His last presser, of course, was different than anything he's offered before, with the minute-by-minute recap of how contract talks between Kyle Dubas and the organization derailed.
It justifiably put a lot of heat on Shanahan, as the first real "Shanaplan" (a phrase that I'm sure he hates) fell apart with the departure of Dubas. What Shanahan didn't need then, with this increased public scrutiny, was to come out and hire someone totally off the board, opening himself up to further criticism.
Years ago, the Dubas hire was seen as an attempt to "get ahead of the curve" of the league, and to outsmart everyone with progressive ideas. It was numbers, yes, but it was leaning into speed and skill over the more crash-and-bang elements of the game. It was seen as bold, and while you can argue this hire of Brad Treliving is good or bad or whatever, it's certainly a departure from the word "bold."
Bringing in an analytics wonk would've invited criticism for going further in the wrong direction, an old-school "hockey man" would've validated the idea that Shanahan got the Lou Lamoriello/Dubas decision wrong, so this was the safest hire he could make. He got an experienced person with some good decisions on his resume who people genuinely seem to like, myself included.
Treliving may help the Leafs – he's building from a good position to do so – or he may not, but one sure thing is that he's inoffensive to those who care the most here.
Evaluation of Treliving's previous work reveals a guy who's made some nice trades and drafted fairly well, but signed some poor UFA deals, which is not that uncommon a review for most GMs in the NHL. With that in mind, he looks as much up to the task as anyone to handle the much-publicized Leafs decisions that are rising on the horizon with alarming speed.
There's where I will express some concern: new GMs love nothing more than to come in and "take their time" and "not rush anything" and to leave the status quo for a while before doing anything bold. Not only does it buy them time, but it prevents them from a poor decision made from incomplete information. Unfortunately, all the rain that's fallen on this Leafs team had settled and stagnated to a degree that has come to feel like a still puddle in the hot sun, breeding bugs and growing its own forms of unhealthy life. The longer you let it sit without action, the less appealing it's going to look.
Because the Leafs were what they are this past season, doing little will be an easy sell for the new GM. They had 111 points, they actually won a playoff round, their core is still under contract next season, we have almost $20 million in cap space to add, why would I come in here and blow this up?
Where Dubas had been a part of that festering puddle, and would've felt how badly he needed to get the water moving, Treliving will just be dipping in his toe, starting at his expected media conference on June 1.
We've already seen an implication from our own Elliotte Friedman that it's possible head coach Sheldon Keefe – entering the last year of his contract – may begin the season as the team's head coach:
And we've seen the implications that the core of this team now believes — after phone calls from Shanahan himself — they'll be back together to start the year.
If Dubas had signed a new deal to be GM of the Leafs and sat at a press conference where he said, "Nothing with the core of this team or coach is going to change heading into next year," fans would've been apoplectic.
The Treliving hire seems like it can be trotted out as "big change," while waiting to make a move later in the season.
And sure, in-season you can hire a new coach, if desired. But then you get the whole, "He didn't get a training camp with the group, what can you expect" excuse. Sure, you can still trade William Nylander in-season after his no-trade clause kicks in. But it's a 10-team no-trade list, which would badly hurt the team's leverage. Maybe you could even trade Marner in-season by getting him to waive his no-trade, but boy, you'd really be without leverage in that case, and good luck getting value in a return package.
One thing I do believe is that it's unlikely they'd hire Treliving if Auston Matthews wasn't at least OK with that decision. Not that last year's Hart Trophy winner would have real say on who the GM would be, but if it were someone he loathed for whatever reason, that might disqualify them since signing Matthews is the biggest responsibility for Treliving. (Our own Luke Fox mentioned that Judd Moldaver and Treliving have a quality working relationship, and things seem positive on the likelihood of Matthews committing to remain a Leaf.)
In the end though, Treliving feels like a reasonable selection for Toronto's new GM, even if he hasn't yet led a team past the second round of the Stanley Cup Playoffs. How relatable for Leafs fans. But I believe in the idea that people haven't won up until they do (see: this year's Cup Final), and Treliving's resume implies someone who could end up there just as easily as the next guy.
But one thing seems sure here: Treliving's deal doesn't come with whatever increased authority it was that Dubas looked for, which puts Shanahan squarely in the crosshairs. There's no doubt some measure of veto power and input remain with the team's president. His name and ideas have been all over this team, and it feels like their success or failure now falls more squarely on Shanahan's shoulders than ever.
And, hey, if the Leafs win, there would be no sweeter vindication. Maybe digging in and bringing in a fresh set of eyes will be just what the Leafs need to push it past the second round and bring glory to the blue and white. But if they don't win, hey, there are two sides to every coin.
In the end, this is what sports are. The people doing the hiring can only look as good as those they hire, and Shanahan has made his selection. We now go live to Brad Treliving, as a new era of Leafs hockey begins where the old Shanaplan left off.