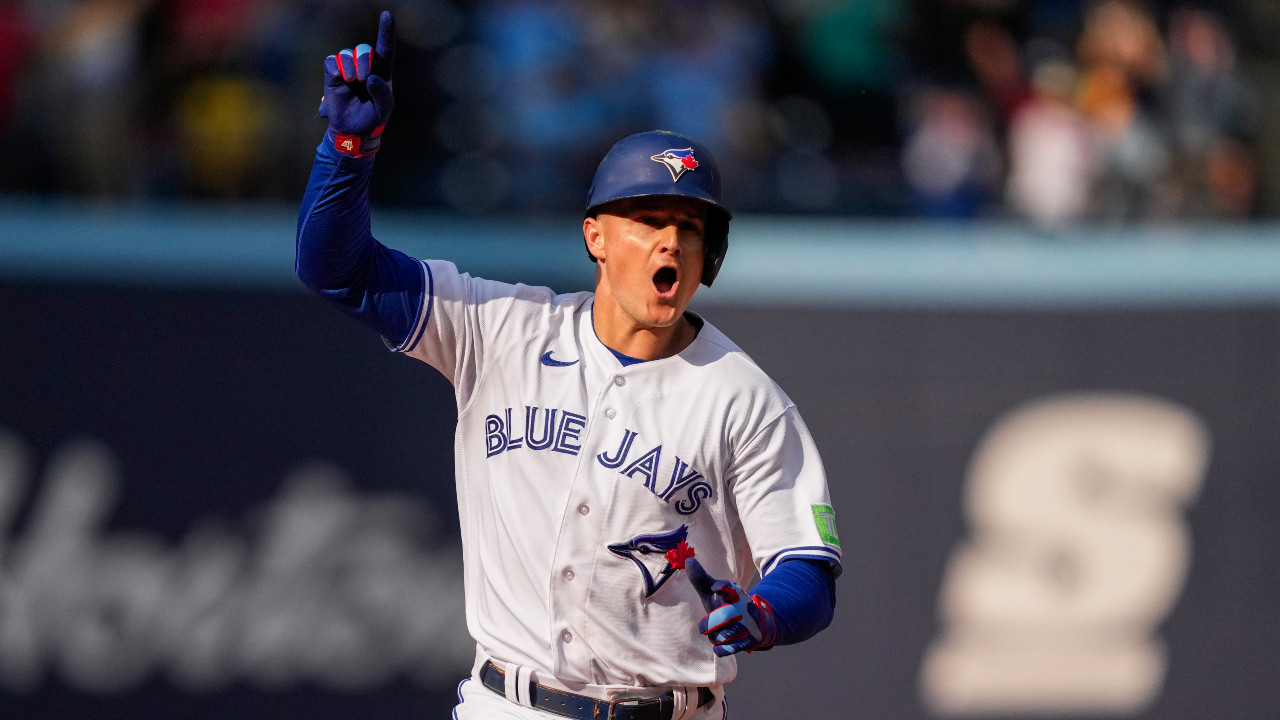 TORONTO — Somehow, the Toronto Blue Jays followed up the worst week of their 2023 season with a weekend that could hardly have gone better.
Now granted, they didn't play perfect baseball. Far from it, in fact. They made multiple errors in the field and more mistakes on the bases. And while Vladimir Guerrero Jr. and Cavan Biggio had big offensive weekends, the Toronto lineup was generally pretty quiet. On both Friday and Sunday, they were actually out-hit by the visiting Red Sox.
And yet the results were pretty close to ideal. Not only did the Blue Jays pitch well and get just enough timely hits, the out-of-town scoreboard also cooperated, with the Mariners, Rangers and Astros all losing their series. Now 83-67, the Blue Jays are back in playoff position as the second American League wild-card team … just how they drew it up.
With 12 games remaining over the course of the season's final two weeks, the Blue Jays still have plenty of work ahead. As they enjoy a day off in New York, let's examine how this weekend's sweep of the Red Sox could shape the week ahead at Yankee Stadium …
TOP BULLPEN ARMS NOW RESTED
With narrow leads to preserve Friday and Saturday, the Blue Jays called on Jordan Hicks and Jordan Romano on back-to-back days. That meant three appearances in four days for Hicks and three innings in two days for Romano, but the usage paid off with wins in each of the first two games of the series.
As a result, both right-handers were unavailable Sunday, giving them two days of rest ahead of the Yankees series. By Tuesday night, both should be fully available once again.
BULLPEN CONFIDENCE RANKINGS SHIFT
Because Hicks and Romano were down Sunday, manager John Schneider had to get a little creative with his bullpen usage. By and large, it worked, as Yimi Garcia, Genesis Cabrera, Chad Green and Erik Swanson combined for 4.1 innings of relief work, while striking out seven and allowing two earned runs.
The common theme was velocity, as Garcia (99 m.p.h.), Cabrera (98.6 m.p.h.), Green (97.1 m.p.h.) and Swanson (96.5 m.p.h.) all showed off significantly more max heat than usual.
That's especially impressive in Green's case as he was pitching for the second day in a row. He'll ideally get a couple of days off now, but once he's available again, he could be counted on in more high-leverage spots against his longtime team. This is undoubtedly the best he's looked as a Blue Jay.
Cabrera, meanwhile, had trouble throwing strikes Sunday. As tantalizing as that velocity is from the left side, the Blue Jays need him to be around the strike zone more. For now, calling on him in leverage comes with real risk.
BENCH ROLES COME INTO FOCUS
Cavan Biggio has been playing his best baseball of the season lately, both at the plate and in the field. On Saturday, he combined with Bo Bichette for a glove-to-glove flip play at second base and on Sunday he opened the game with an athletic diving catch in right field.
Offensively, he was just as productive with a clutch pinch-hit single Saturday and two more hits Sunday. With three right-handed starting pitchers slated to face the Blue Jays in New York, there's plenty of reason to keep the left-handed hitting Biggio in the lineup.
Meanwhile, it was interesting to see Tyler Heineman catch Hyun Jin Ryu again Sunday. They've worked together three times, while Kirk has yet to catch Ryu this season. It wouldn't be a surprise to see that combination again this coming weekend against the Rays.
(And speaking of Kirk, set aside his lack of speed, the Blue Jays simply need better decision making from a player who needs to offer more hustle on borderline plays and shouldn't be trying to stretch singles into doubles against right-fielders with good arms like Alex Verdugo or, looking ahead a bit, Aaron Judge).
GUERRERO JR. HEATING UP
We can talk about the bullpen and bench all day, but nothing changes this team's outlook more than a locked in Vladimir Guerrero Jr. With five hits — including two home runs — plus three walks this weekend, the 24-year-old is clearly seeing the ball well after putting in lots of work behind the scenes. And if there is any opponent he likes beating, it's the Yankees, the team he says he'd never play for, "not even dead." Should make for an interesting week in the Bronx.