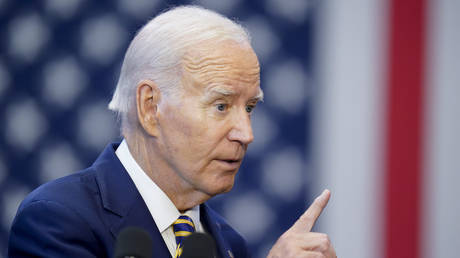 Even fewer believe that the president has the mental capacity to serve, a CBS News poll has found
Just over a third of registered US voters think that President Joe Biden would complete a second term in office if reelected next year, according to a CBS News poll published on Sunday. The poll is the latest in a series of surveys showing low public confidence in Biden's mental and physical health.
According to the poll, 34% believe that Biden would see a second term to its conclusion, while 44% think he would step down before 2029. Some 22% said that they weren't sure.
Biden would be 86 by the time a potential second term ended. His presumptive rival, Donald Trump, would be 82. According to the poll, 55% of voters believe that Trump would finish a second term, while 16% said that he would retire early. Some 29% were unsure.
Both Biden and Trump have insisted that their advanced age is not a problem. Biden recently told a crowd that his age granted him "a little bit of wisdom," while Trump told NBC News on Sunday that he had inherited longevity from his parents, who died at 93 and 88.
"I don't think Biden's too old," Trump told NBC. "But I think he's incompetent, and that's a bigger problem."
Trump has repeatedly hammered Biden over his apparent cognitive decline. "I watched him yesterday, he couldn't put two sentences [together], he can't talk," he said of Biden last week. "It's not an age thing, it's a competence thing."
With Biden regularly misspeaking and exhibiting visible confusion at events, voters have expressed similar concerns too. Only 26% of those polled by CBS said that the president had the mental and cognitive health necessary for his job, while 44% said the same of Trump. Roughly 23% think neither man is up to the task.
Recent polls paint a similar picture, with a Wall Street Journal survey in August finding that 73% of voters believe Biden is too old to serve as president, with 60% concluding he lacks the mental capacity for the job. Biden's own voters are just as worried as Republicans, with an NBC News survey in June revealing that 43% of Democrats have moderate to major concerns about Biden's health, up from 21% in 2020.
Most polls show Biden and Trump neck-and-neck with more than a year to go until the 2024 election. The CBS survey showed Trump beating Biden by a single percentage point, at 50%-49%, with 1% undecided.